I've always loved the idea of macaroni salad, but never found one that excited me. This easy, preppable recipe does – for me it is the best macaroni salad!
Anytime somebody makes a claim that something is "the best" I'm sure we all just shake our heads a little and think, "The best. Really? What makes this the best (insert recipe here) compared to other recipes?
I think what this usually means, or at least in my case means, is that within my circle of family and friends, the recipe has been received extremely well, maybe someone insists on getting the recipe for themselves, or even perhaps, I made a believer out of someone around a dish they formerly didn't like…which is the case with this macaroni salad!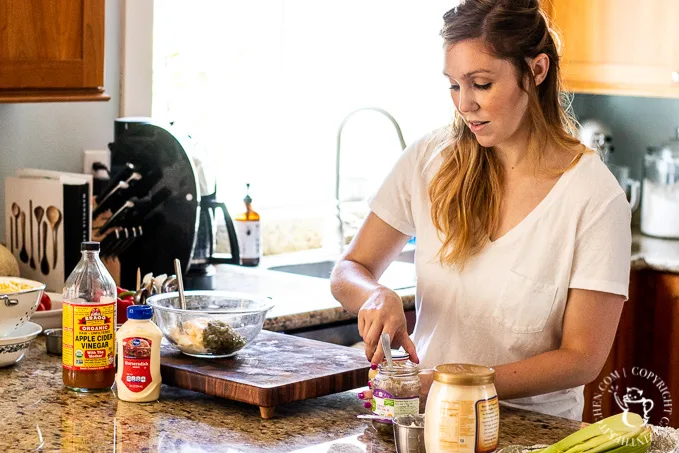 I've always loved the idea of macaroni salad, but I've rarely ever had a macaroni salad that has excited me. The issues that I usually run into are is that they lack texture and flavor or there is too much of a mayo dressing that overpowers the rest of the salad.
I set out to create my own macaroni salad recipe because on both sides of my family there isn't one. My mom doesn't have one and Josh's family didn't either – so I just decided to add some of my favorite ingredients that would add texture, like peas, bell pepper, and celery, chopped egg and, sorry, no onions. Generally I really like onions, but in macaroni salad, I don't. I feel like the onion just overpowers the whole salad, so I left it out.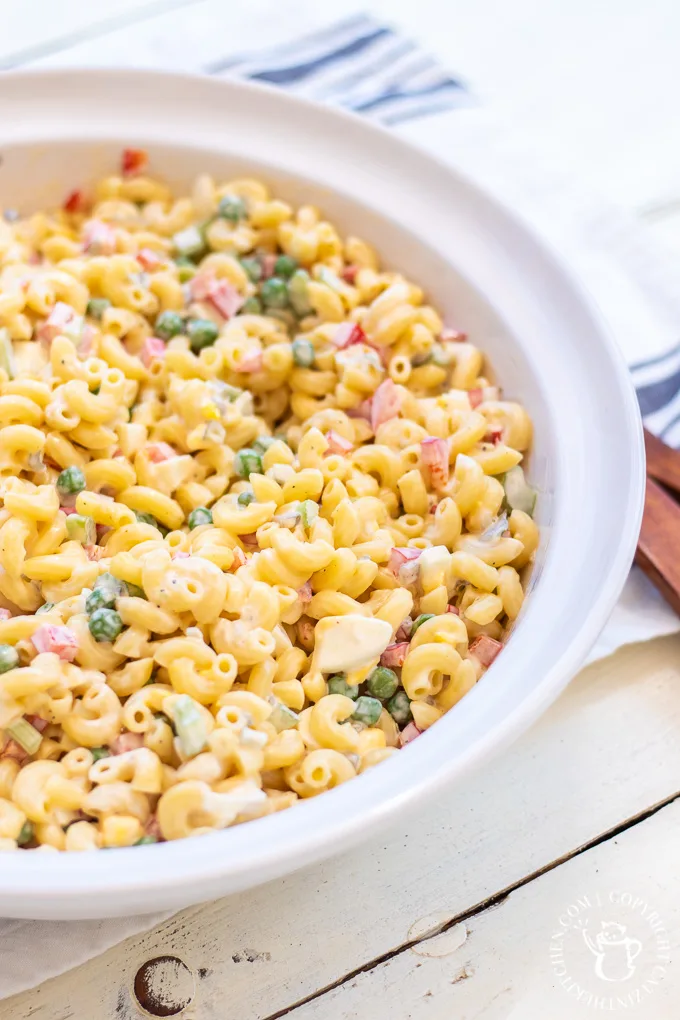 For the dressing, I kept it simple with a mayo base, but added dijon and horseradish – that combo gives the dressing the perfect amount of zest and tang. You do need some acidity with any dressing and apple cider vinegar is kind of a perfect component to any dressing mixed with a little sugar, salt and pepper. If you taste the dressing on its own, it will taste more acidic – that's normal, but when combined with the salad ingredients and after chilling a few hours it mellows and just holds flavor for days…
I'm telling you, I've made this salad a few times now and the longer it sits, I swear it just gets better!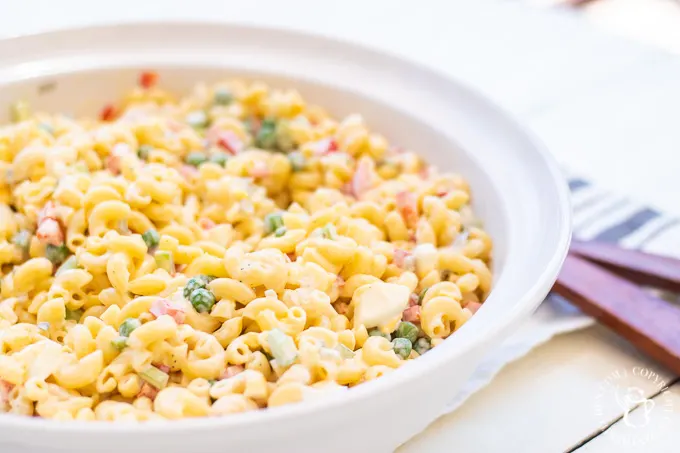 Now, why is this, in my humble opinion, the best macaroni salad? Well, One evening when Josh was out of town, I was making the salad to test, and after looking at it, I knew the kids and I were not going to make much of a dent in it, and to really get opinions on my recipes, I like to try them out on other people, so I invited Josh's family over for dinner – his grandmother is still in town, and I thought she might like to have a change of scenery and give Josh's mom a night off from cooking, so they all came down for dinner.
After dinner, Josh's dad pulled me aside and said that he is not a macaroni salad person, but he took some because he didn't want to be rude and ended up loving it – saying it was the best he'd ever had – to which Josh's mom also agreed! And then a few days later, Josh took leftover salad to work with him and he loved it too…and he doesn't like macaroni salad either!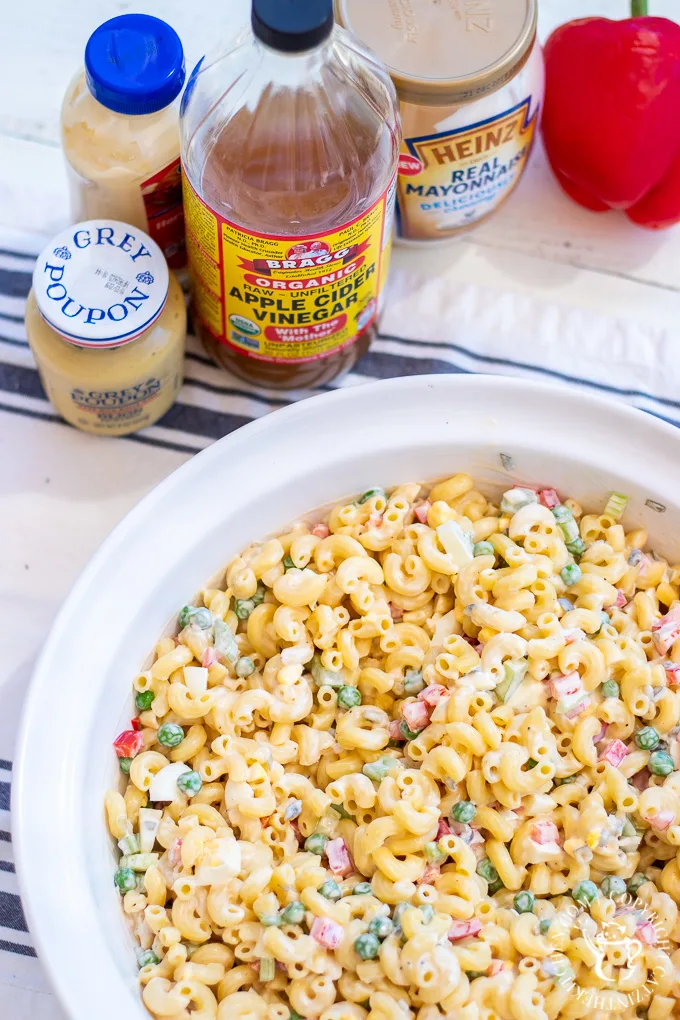 So…in my case, this is the best macaroni salad because family members (several more than mentioned) who've never really been a fan were now requesting that I bring this dish for the 4th of July and still talking about how good it was. Which makes my heart happy!
I would say, if you've never been a fan before, give this recipe a whirl. It's really easy and keeps in the fridge, so it's a great make-ahead salad. Perfect for potlucks, barbecues, parties, small groups, or just because.
I guess I can't say that I don't have a family macaroni salad recipe now, because this is definitely one I can feel good about passing down to all of my kids for their families, maybe even for generations to come!
The Best Macaroni Salad
I've always loved the idea of macaroni salad, but never found one that excited me. This easy, preppable recipe does - for me it is the best macaroni salad!
Ingredients
1 lb. short cut pasta - like elbow pasta
3 hard-boiled eggs, coarsely chopped
2/3 cup celery, diced
1 red bell pepper, seeded and finely diced
3/4 cup frozen peas
Dressing
1 cup mayo
1/4 cup sweet pickle relish
1 tbsp dijon mustard
1 tbsp horseradish sauce
1/4 cup apple cider vinegar
2 tsp sugar
Salt and Pepper, to taste
Instructions
Cook pasta according to package directions, drain and rinse with cold water and allow to drain in colander.
In a large bowl, add drained pasta, celery, bell pepper, eggs, and peas.
In a medium bowl, whisk mayo, relish, dijon, horseradish, vinegar, sugar, salt and pepper until combined.
Pour the dressing over the salad and gently toss until combined. Taste and season with additional salt and pepper if needed. Cover with plastic wrap and chill for 2-4 hours. Gently stir again before serving - it will look less creamy after chilling and this is normal and how you want it to look.
Notes
Salad will keep for 4-5 days in the fridge.
Nutrition Information:
Yield:

12
Serving Size:

1
Amount Per Serving:
Calories:

246
Total Fat:

16g
Saturated Fat:

3g
Trans Fat:

0g
Unsaturated Fat:

12g
Cholesterol:

55mg
Sodium:

256mg
Carbohydrates:

20g
Fiber:

2g
Sugar:

4g
Protein:

5g