This grilled burrata salad recipe is the kind of simple and rustic (but elegant) late summer dish we love – the torn croutons are amazing!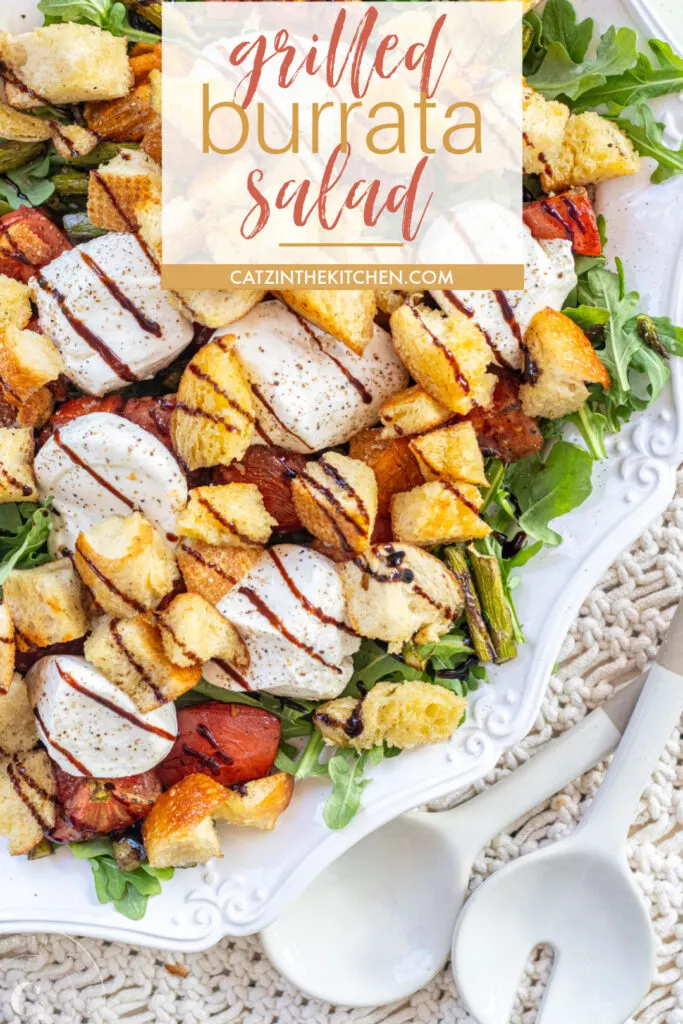 This grilled burrata salad is fresh late summer goodness on a plate. Or a platter, as the case may be. It's beautiful to behold, with its fresh green and red vegetable colors offset by the luscious white of the burrata (if you don't cook with burrata…you will after trying this recipe). That beautiful appearance translates to the flavor and texture as well – a little charred, a little buttery, a little crunchy, a little juicy, a little salty…can you tell I'm more than a little smitten with this dish?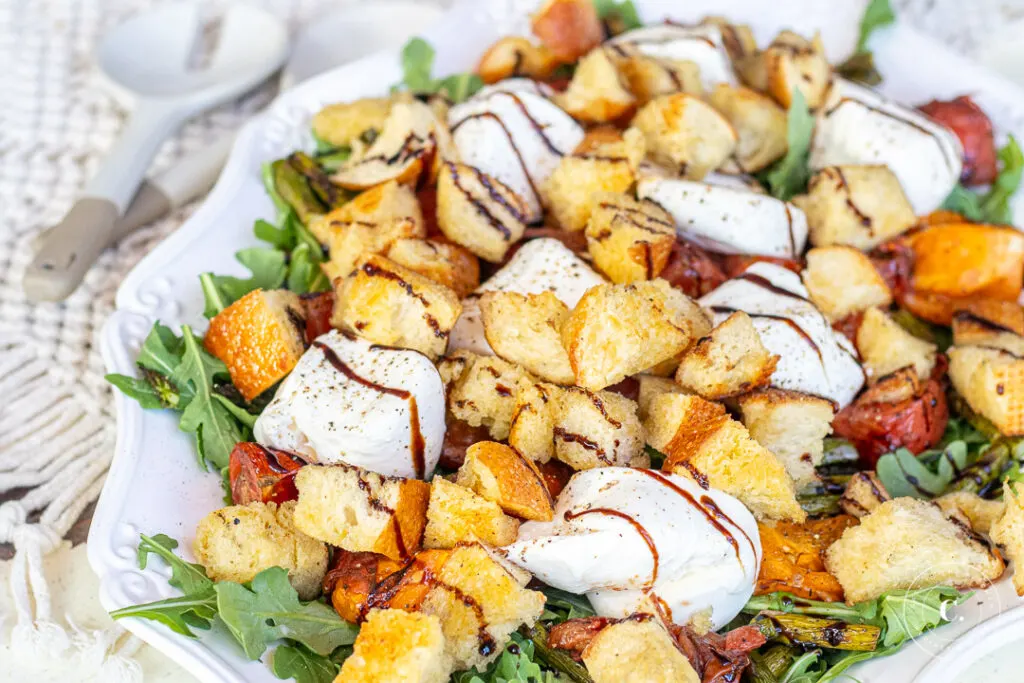 I'm always a bit of a sucker for dishes that feel rustic and seek to showcase a particular ingredient. I love bœuf bourguignon for that reason. You may not have a farm in the French countryside yourself (I don't…yet), but you can envision (or imagine) each ingredient being grown and harvested there, ideally rustic and just slightly roasted or grilled to perfection from its raw state.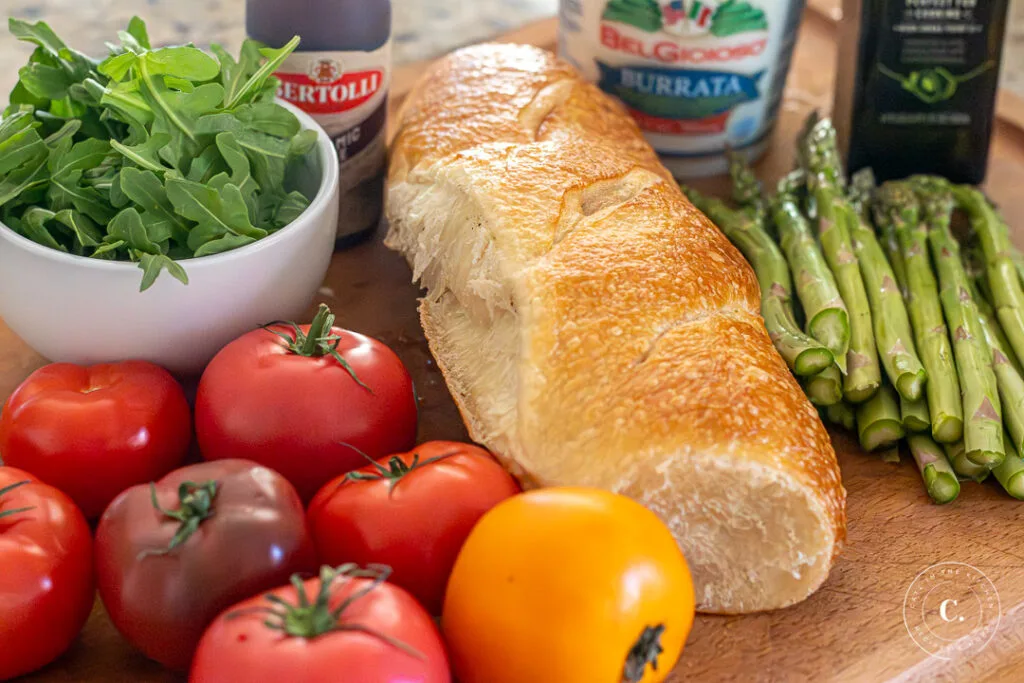 Here, the star ingredient, the rustic, raw, spectacular headliner is the burrata cheese (though, depending on your persuasion, the croutons may steal the spotlight for you…they are that good). Mozzarella is wonderful – fresh mozzarella being among the best things one can taste, in my opinion – but burrata is like someone said, hey, you know how great mozzarella is? What if it was…just a little bit better?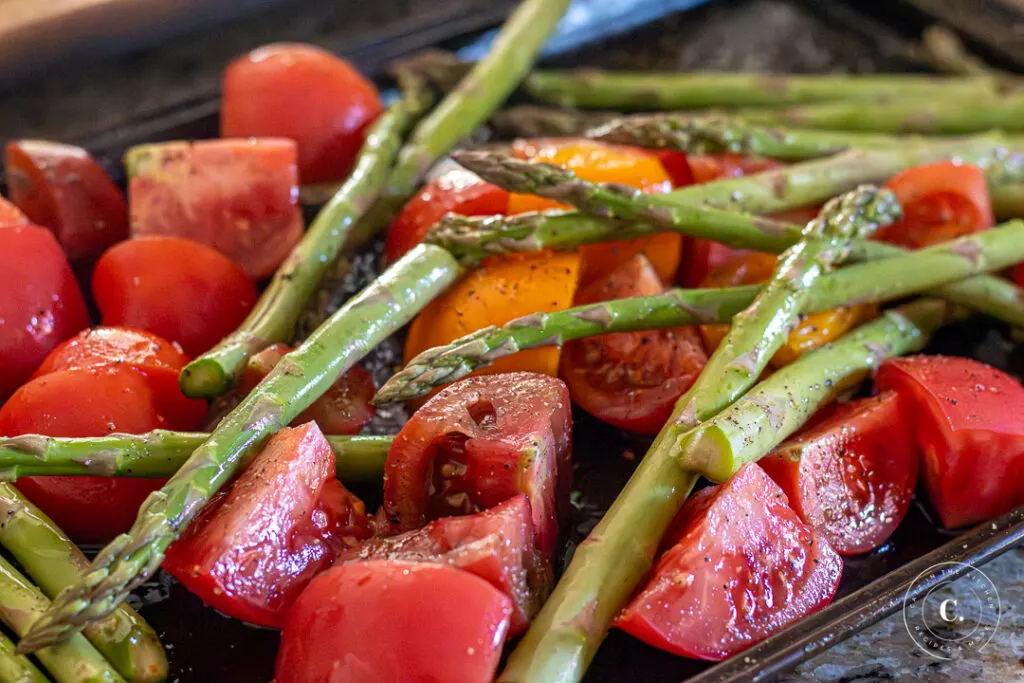 Getting a hold of fresh burrata is probably a challenge unless you live in rural Italy, but thankfully, if you have access to a Costco, BelGioioso (of Green Bay, Wisconsin) has you covered (No, this post is not sponsored or affiliated with BelGioioso or Costco), doing their level best to bring you fresh burrata, sealed in water as is only right and good. I don't know a lot about BelGioioso, but I do know they were founded by one Errico Auricchio about 40 years ago, Errico being a fourth-generation cheesemaker who moved here from Italy. So, given the challenges of acquiring cheese directly from Italy here in the US of A, I'm giving this burrata my (completely meaningless) seal of approval. Also, it's outrageously delicious.
Given the above commentary, you can probably imagine that this is one of those recipes that, while very simple, requires exemplary ingredients. Get the good burrata (is there bad burrata?!!). Buy a freshly-baked loaf of French bread. Pay the extra money for heirloom tomatoes (or, better yet, find some at your local farmers' market!). Because the ingredients are eaten in something fairly close to their raw form, the success or failure of this meal will largely depend on the quality of those ingredients. Heck, spend the extra couple of bucks for the Jacobsen flake salt. You won't be sorry.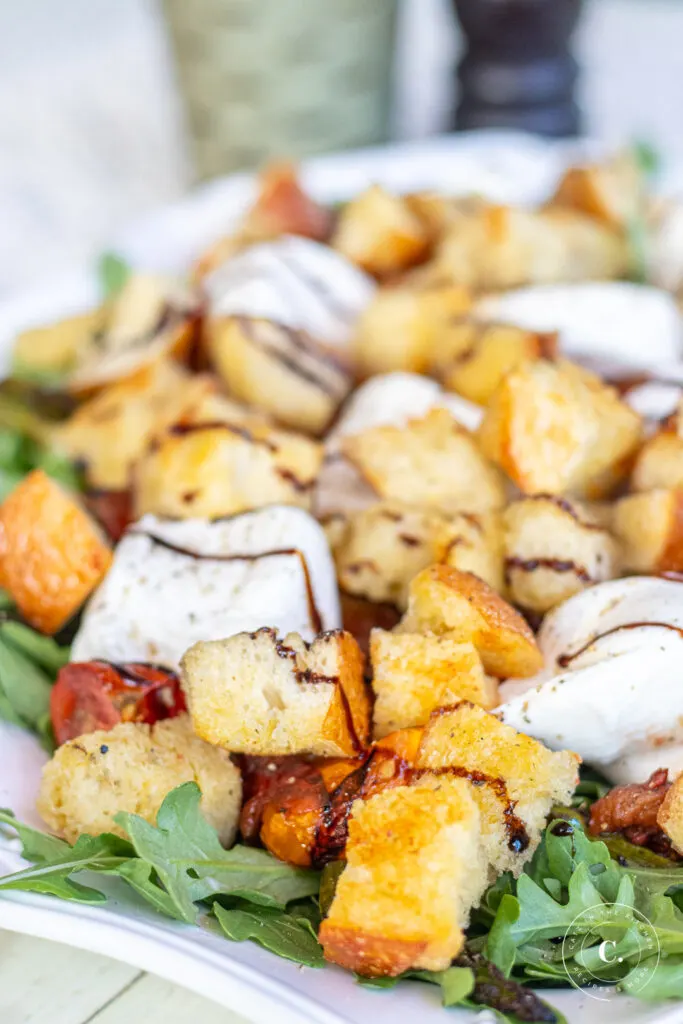 One shortcut I do recommend? Buy yourself some Bertolli balsamic glaze. Is it hard to reduce balsamic vinegar in a saucepan? No, but it's time-consuming, and the result is very, very close to what Bertolli is offering in a squeeze bottle. We keep a bottle of this "pre-reduced" balsamic in the fridge and dang it makes drizzling this balsamic goodness easy. (Again, no affiliation with Bertolli here – we just like it!)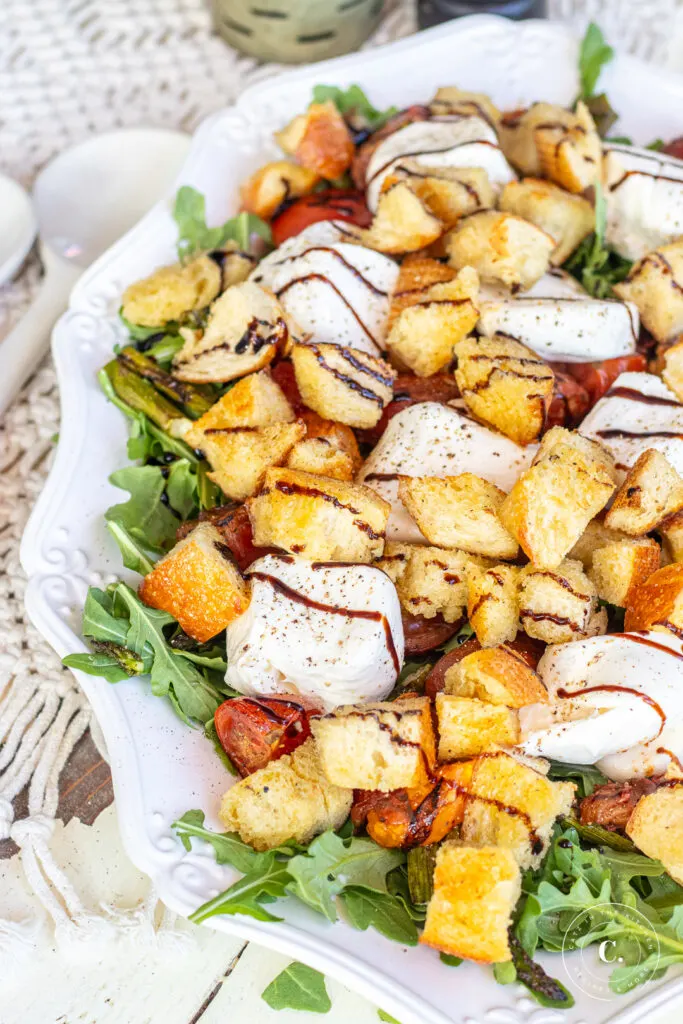 So what do I love about this recipe? I love that it's quick and easy. I love that the ingredients are showcased and appreciated. I love the burrata at center stage in all its glory. I love that you can make it on the Traeger (could you make it in the oven? Sure, but what's the fun in that?) In short, this is the kind of salad I can get behind. And (shock!) there's not even any bacon involved.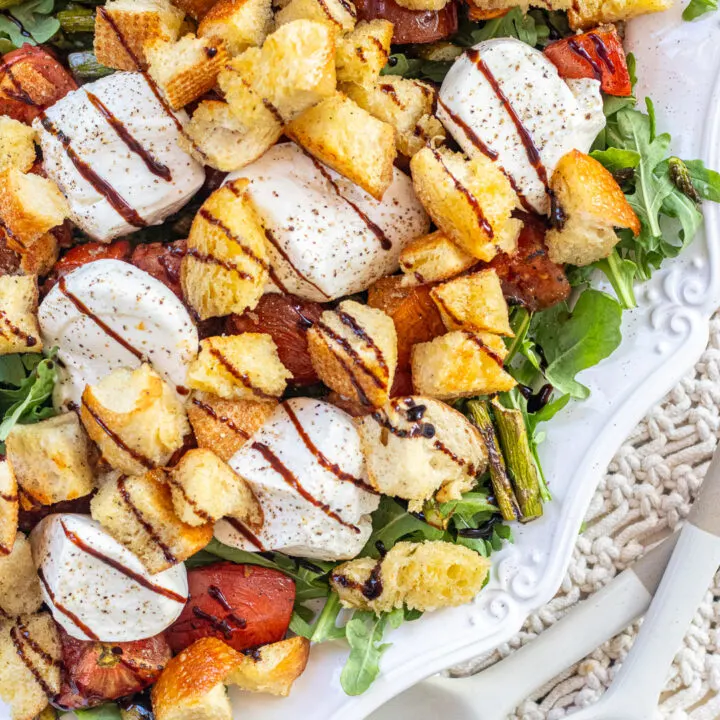 Grilled Burrata Salad
This grilled burrata salad recipe is the kind of simple and rustic (but elegant) late summer dish we love - the torn croutons are amazing!
Ingredients
about 6 heirloom tomatoes
one bunch (15-20 stalks) asparagus spears
about 4 cups arugula
one loaf French bread
1 lb (16 oz) burrata cheese
1/2 cup butter, melted
1/2 cup avocado oil
1 tsp garlic salt
balsamic reduction
good quality kosher or flake salt
freshly ground black pepper
Instructions
Preheat grill to high heat (if using Traeger, set to high or 500).
Trim asparagus (cut of break off thick bottom portion of spear). Depending on tomato size, you may either choose to keep them whole or cut them into halves or quarters. Toss tomatoes and aspargus in avocado oil and season well with salt and pepper.
Rip or cut French bread into chunks roughly once inch across (large croutons). Place on a baking sheet and toss with melted butter and garlic salt.
Place aspargus and tomatoes directly on the grill grates, and place the baking sheet with the French bread on the top rack of the grill. Grill for 20-25 minutes, or until bread is toasted and golden, aspargus is cooked, and tomatoes are blistered.
If desired, chop aspargus into smaller pieces for easier serving and eating.
On a large platter, put down a base layer of arugula, followed by tomatoes and asparagus, and then the rounds of burrata and the croutons. Finally, drizzle with balsamic reduction and sprinkle with more salt and pepper.
Nutrition Information:
Yield:

8
Serving Size:

1
Amount Per Serving:
Calories:

422
Total Fat:

28g
Saturated Fat:

10g
Trans Fat:

1g
Unsaturated Fat:

16g
Cholesterol:

34mg
Sodium:

747mg
Carbohydrates:

36g
Fiber:

3g
Sugar:

7g
Protein:

8g
Nutrition information isn't always accurate.