For a vibrant, mouthwatering Italian summer appetizer that requires no cooking at all, look no further than this Mediterranean Caprese Salad!
Chels and I have this Italian restaurant we love to visit for date nights. If you're local to Portland, Eugene, or Central Oregon, you'll very likely be familiar, as the owners have expanded it over the past couple of decades to eight locations, all of which, to my knowledge, survived the pandemic! It's called Pastini, and they seem to thrive on a fairly simple menu with minor seasonal rotations, a great wine list, freshly made pasta, and authentic, craveable appetizers. It's one of those appetizers – our favorite – that inspired this post. But, hey, before we get to that, if you're in the Pacific Northwest and somehow you've missed grabbing a meal at Pastini, do yourself a favor and get down there! Don't forget the tiramisu for dessert (we try it anywhere it's on the menu, and have never found one to compare…). This post is not sponsored by or affiliated with Pastini in any way.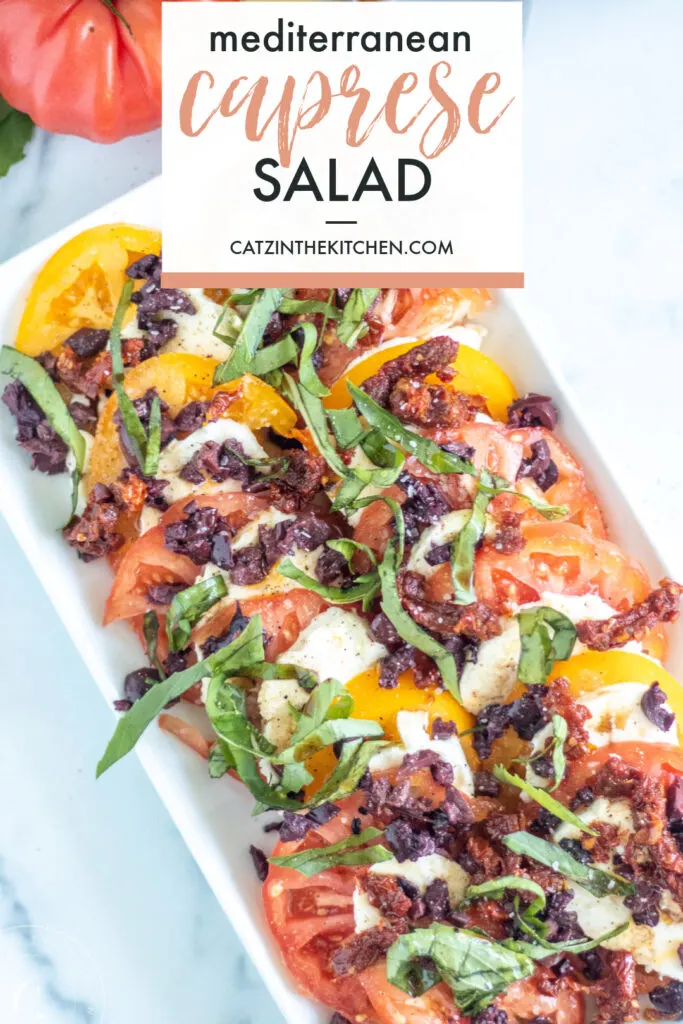 Our favorite summer appetizer is Pastini's caprese salad. Never having been to Italy, we can't verify the authenticity of this particular take on the classic dish, but we can say that this version is simple and spectacular. We're absolutely in love with the fresh colors and flavors. As with so many Italian dishes, this one's really all about the ingredients – even more so here, as you aren't cooking any of them, just assembling! You need good, ripe tomatoes, preferably heirloom, great mozzarella, fresh basil, and good quality oil and balsamic vinegar.
As we've done with other restaurant recipes in the past, we've sought to recreate the dish as faithfully as possible at home – not to take any business from the restaurant, of course, as we love to support our local eateries! But there are times, especially with a new baby in the house, when you just can't get out to all of the places you'd like.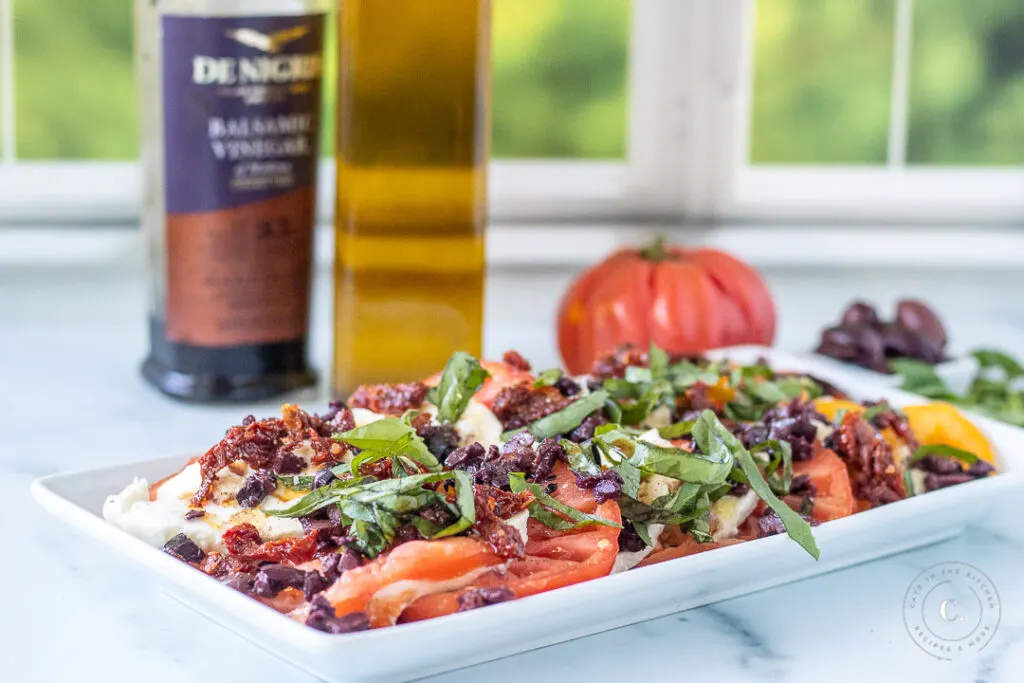 This Mediterranean caprese salad is definitely just an appetizer – it won't fill anybody up! But pair it with a delectable summer pasta dish, and you'll have a wonderful meal at the ready, whether it's just for your family, or for company. The link above (lemon and pea alfredo) will keep things vegetarian, but if you need some meat in your life, you could also pair it with this pasta bolognese.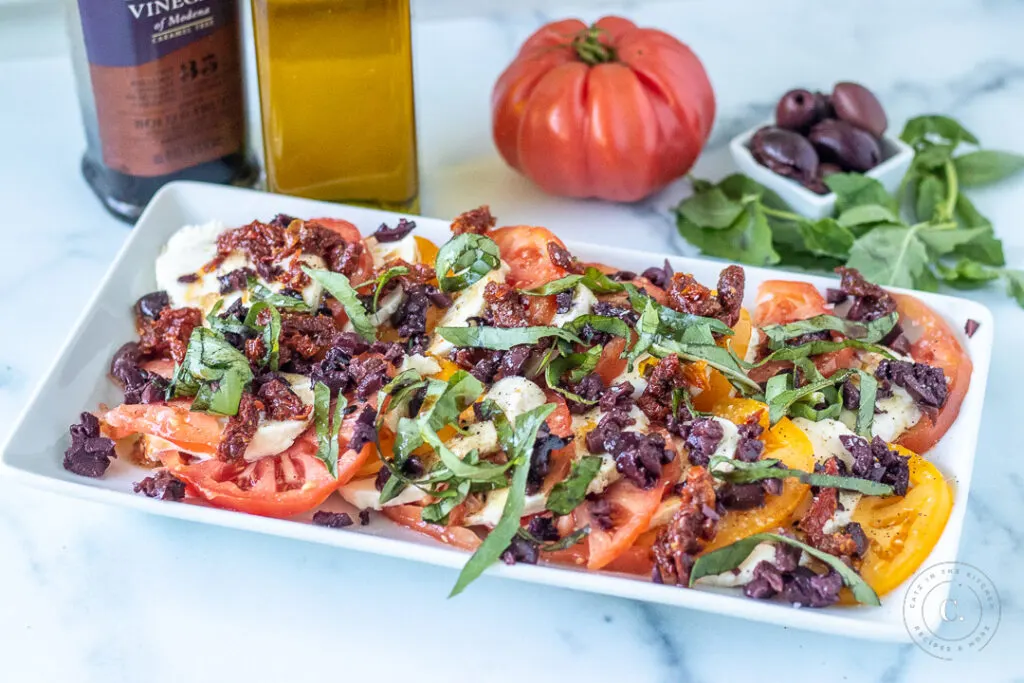 On top of the light, fresh flavors, caprese salad is just beautiful! The colors are vibrant and leap off the plate (and into your mouth, of course!). A traditional caprese combo is mozzarella, basil, and tomatoes, naturally, which also happens to make a thoroughly delightful pizza if you haven't tried it! This version ups the ante just a bit with the addition of Kalamata olives, sun-dried tomatoes, and, of course, olive oil and balsamic vinegar to really push it over the top. If you have some ciabatta you could serve alongside, use it to mop up the leftover juices on the plate – you won't be sorry.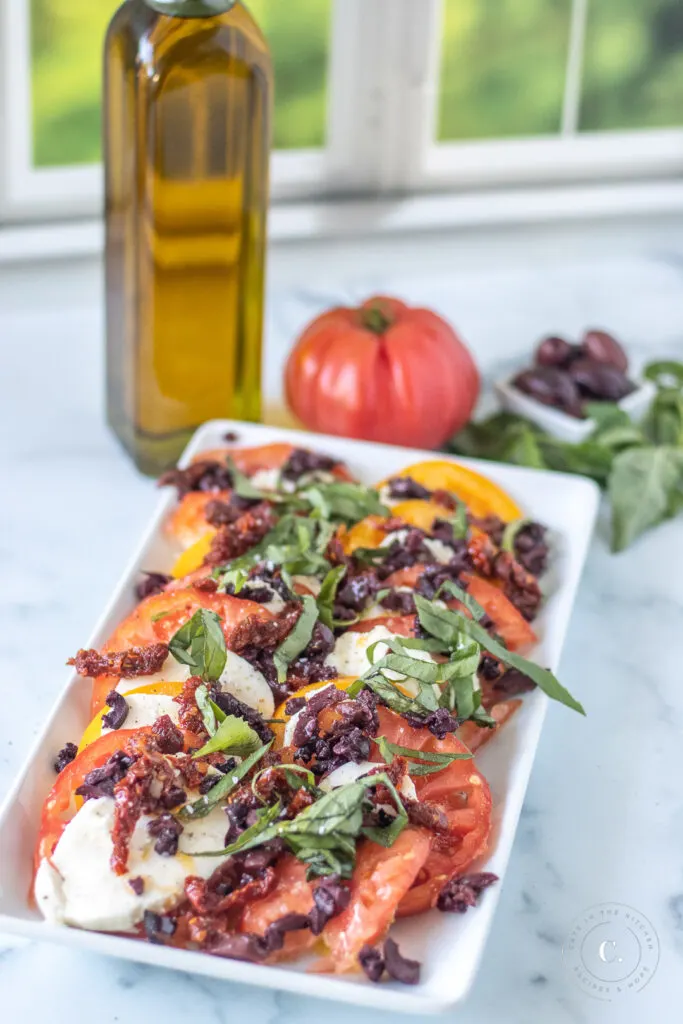 We hope you enjoy this simple Mediterranean caprese salad as much as we do – it's our go-to appetizer during the brief summer months here in Oregon, and while it can certainly be enjoyed anytime you can get your hands on fresh tomatoes, it's a dish best served with a side of sunshine. Buon appetito!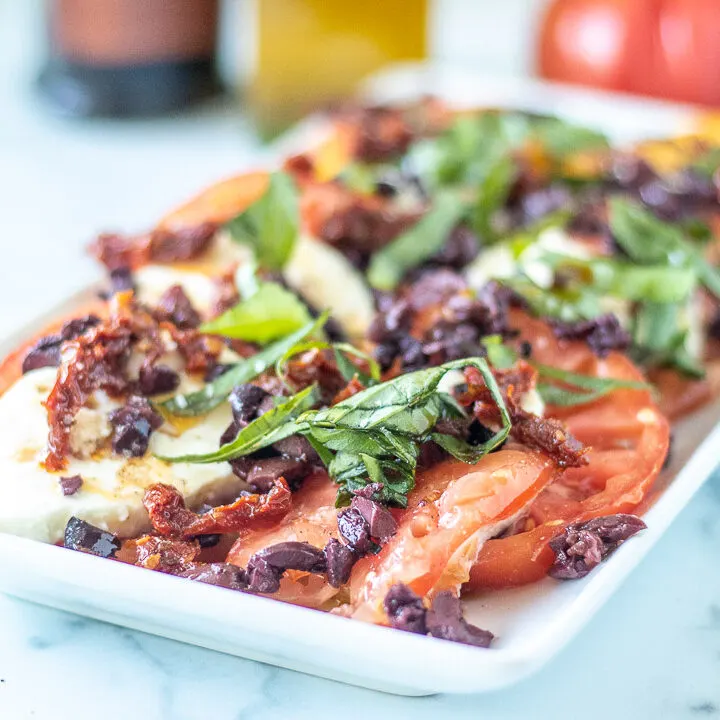 Mediterranean Caprese Salad
For a vibrant, mouthwatering Italian summer appetizer that requires no cooking at all, look no further than this Mediterranean Caprese Salad!
Ingredients
about 3 large heirloom tomatoes, sliced
16 oz good quality mozzarella cheese log (fresh, if possible!), sliced
about 1/2 cup basil leaves, chiffonade
about 1/2 cup Kalamata olives, chopped
about 1/2 cup sun-dried tomatoes, chopped
extra virgin olive oil, to taste
balsamic vinegar, to taste
kosher salt, to taste
freshly ground black pepper, to taste
Instructions
Alternate slices of tomato and mozzarella on a platter.
Sprinkle with chiffonade basil leaves, chopped Kalamata olives, and sun-dried tomatoes.
Drizzle with olive oil and balsamic vinegar.
Season with salt and pepper, to taste. Serve immediately.
Notes
All measurements are approximate. Expirement to find your preferred ratios.
Nutrition Information:
Yield:

4
Serving Size:

1
Amount Per Serving:
Calories:

453
Total Fat:

33g
Saturated Fat:

16g
Trans Fat:

0g
Unsaturated Fat:

14g
Cholesterol:

90mg
Sodium:

909mg
Carbohydrates:

14g
Fiber:

3g
Sugar:

8g
Protein:

28g
Nutrition information isn't always accurate.