This easy Italian gem is ready in about 30 min, makes amazing leftovers, and can be weeknight casual or fancy as you like – pasta bolognese!
Okay, funny story about this pasta. After we tested this recipe the first time, we made it again, and took photographs of it. Something happened in the interim time period, and I forgot the photos were on the memory card. When I finally came back to them a month or two later…I couldn't remember what dish they were of! I mean, they were of pasta, clearly, but we make a lot of pasta. I was like…what is this yummy looking dish that clearly has something to do with red wine?!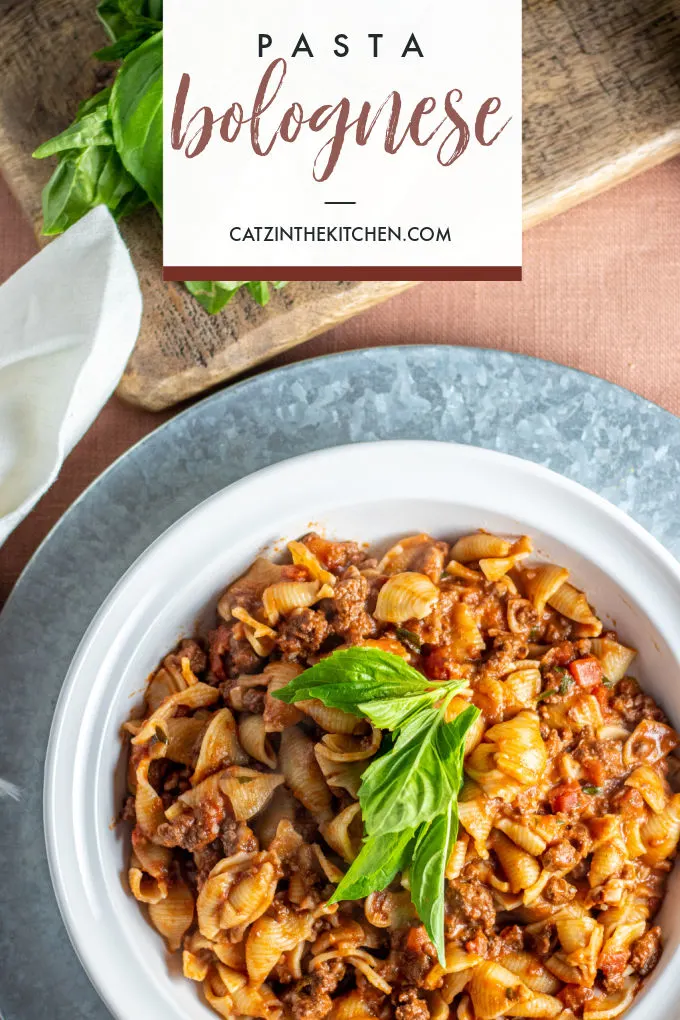 Luckily Chels has a far better memory than I do. She recognized the distinctive shape of the orecchiette pasta shells (orecchiette literally means "ear-shaped pasta," apparently…), naturally. Well done, babe. Saved me from having to photograph this recipe again…although I admit I would not have minded one bit making it again! It's easy to make and wonderful to eat!
Back before COVID, a coworker of mine, who in my opinion, is a rather talented cook and baker, brought some leftovers of Ina Garten's "Weeknight Bolognese" to the office for lunch. As he often does, he generously brought some extra for the hungry colleagues who might be on hand to smell his delectable lunch warming up in the microwave…it was spectacular. (All of this is hard to imagine now – going to the office? Bringing leftover lunches? Sharing those lunches with other people?! Gasp! Another age…)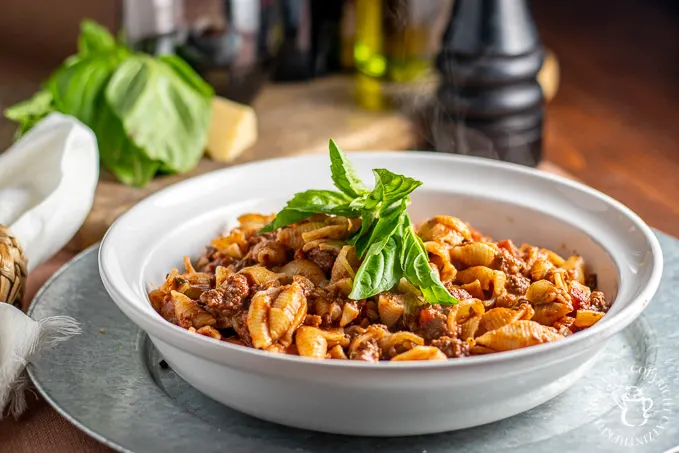 Anyway, I came home raving about this outrageously tasty pasta dish that we absolutely had to make. And make it I did! And…it was really salty. I mean, it was good…but it was salty. Ina is something of a culinary deity, of course, so I'm not insinuating she made a mistake with her salt measurements…maybe it was a typo? I don't know, but, dang, that was a lot of salt.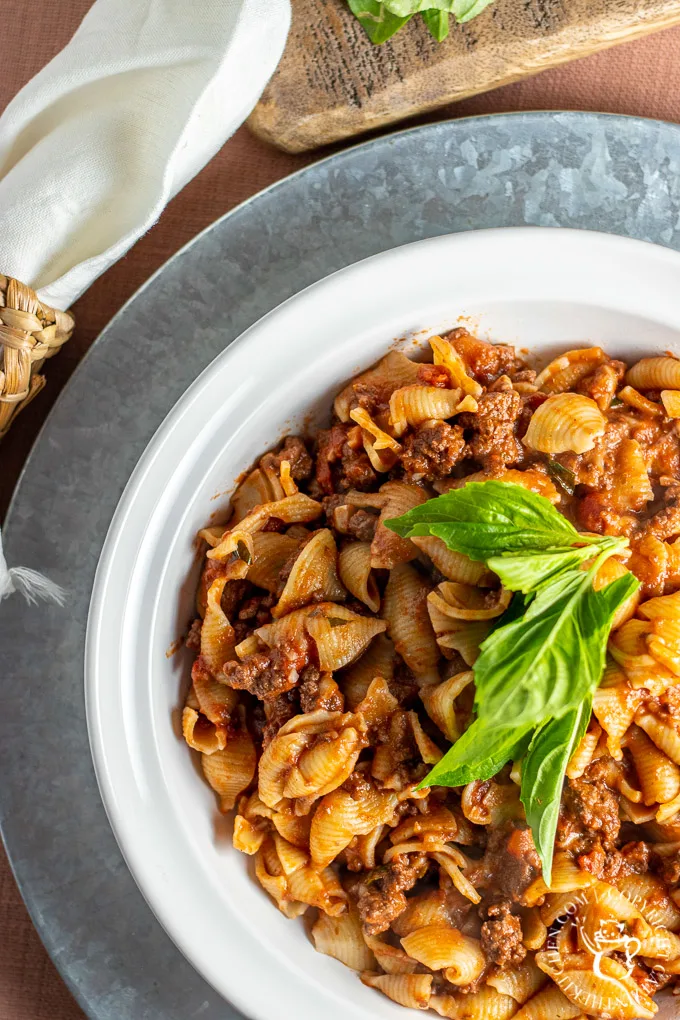 Second time through, I reduced the salt by two-thirds, and, at least to our palates, it was perfection. Rich and deep in flavor, the wine and the spices add a welcome complexity to the taste of this pasta that the simplicity of the recipe itself simply belies. What's more, as my coworker had promised, it's even better the following day, meaning the leftovers are spectacular. Something about the flavors melding together overnight in the fridge creates an even deeper and richer dish that makes me want to double or triple this the next time we make it.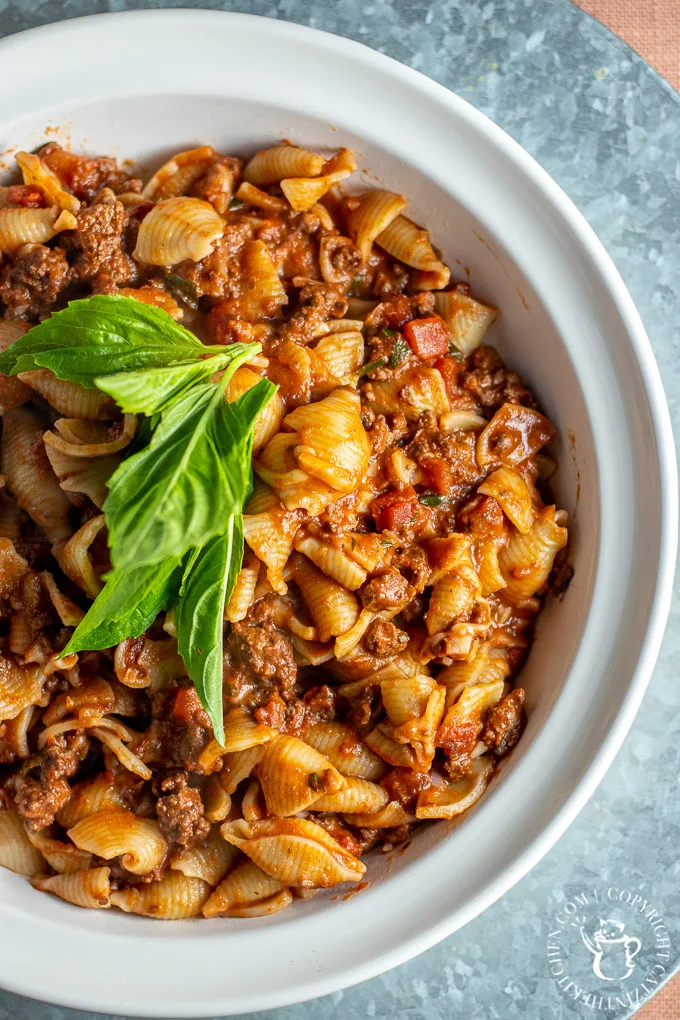 I can't help myself…I have to share a bit of my education around this dish. I didn't really know anything about pasta bolognese other than the fact that it is, of course, Italian…shocker. Depending on which source you believe, the sauce (for that is what bolognese is – the sauce) dates either from the 1800's or the 1400's, which makes for a remarkably tried and true recipe in either case. I'm not insinuating, of course, that this particular recipe is an authentic heir to the ragù alla bolognese of yore (Ina would have to pass her own judgement on that score), but the roots are there somewhere, I am sure.
Lastly, apparently part of the difference between a bolognese sauce (which is thicker), and a spaghetti sauce (which is thinner) is the type of pasta for which they are intended. We all know what type of pasta goes with spaghetti sauce (could it be…), but bolognese is better suited to wider variants (such as the orecchiette pasta shells used here).
Now you know.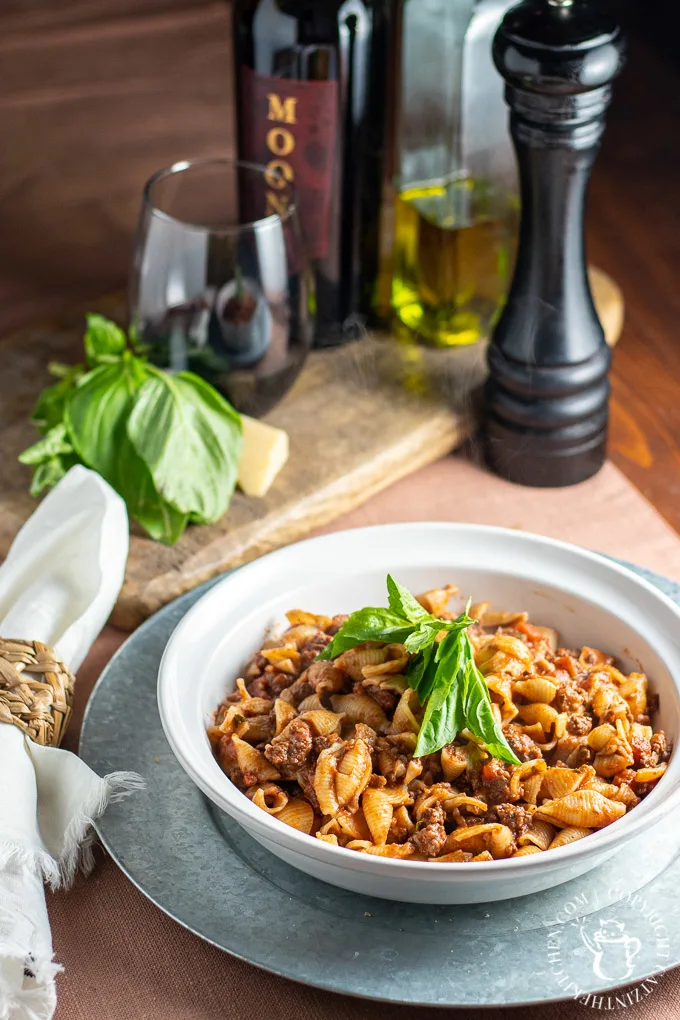 Get cooking! This outrageously tasty pasta bolognese is simple and fast enough (about 30 minutes) for a weeknight meal, but sufficiently fancy for a special occasion (hey, isn't Valentine's Day this weekend?), so whatever you've got going on…just try it.
Pasta Bolognese
This easy Italian gem is ready in about 30 min, makes amazing leftovers, and can be weeknight casual or fancy as you like - pasta bolognese!
Ingredients
2 tbsp olive oil
1 lb lean ground sirloin
1 1/4 cups dry red wine, divided (into 1 cup and 1/4 cup)
1 can (28 ounces) crushed tomatoes (Ina says use San Marzano)
2 tbsp tomato paste
1/4 cup heavy whipping cream
1 lb orecchiette pasta shells (one box)
1 tbsp dried oregano
1/4 teaspoon nutmeg
1/4 cup chopped fresh basil leaves
4 cloves garlic, minced
1/4 tsp crushed red pepper flakes
1 tsp Kosher salt
Freshly ground black pepper
Instructions
Add olive oil in a large skillet over medium-high heat. Add sirloin and cook. Crumble the meat as it cooks, until it has lost its pink color and begins to brown.
Stir in garlic, oregano, and red pepper flakes. Cook for one minute.
Add 1 cup wine to the skillet and scrape up any browned bits.
Add tomatoes, tomato paste, salt, and pepper, and stir to combine.
Bring sauce mixture to a boil, lower heat, and simmer for 10 minutes.
While the sauce is simmering, cook the pasta according to the direction on the box.
When the sauce is finished simmering, add nutmeg, basil, and cream to the sauce and simmer for another 10 minutes.
When the pasta is finished, transfer it with a slotted spoon to the pan with the sauce. Reserve the pasta water in the pot.
Cook the sauce for another minute, add 1/4 cup wine. If necessary to make enough sauce for your pasta, add in some of the pasta water.
Serve immediately.
Notes
Ina suggests serving with freshly grated parmesan, and notes that you can use other proteins in place of the sirloin if you like, as well as substitute the pasta with whatever you have on hand. Additionally, she notes that you can leave the cream and basil out if you want - the horror! Please don't do that! (I kid...kind of)
If it wasn't already clear, original recipe from Ian Garten for her website, Barefoot Contessa
Nutrition Information:
Yield:

6
Serving Size:

1
Amount Per Serving:
Calories:

423
Total Fat:

18g
Saturated Fat:

7g
Trans Fat:

0g
Unsaturated Fat:

9g
Cholesterol:

78mg
Sodium:

464mg
Carbohydrates:

28g
Fiber:

2g
Sugar:

2g
Protein:

27g
Nutrition information isn't always accurate.