What makes this creamy, flavorful Irish Mac & Cheese recipe Irish? Irish butter, two different Irish cheeses, and earthy, homey spices!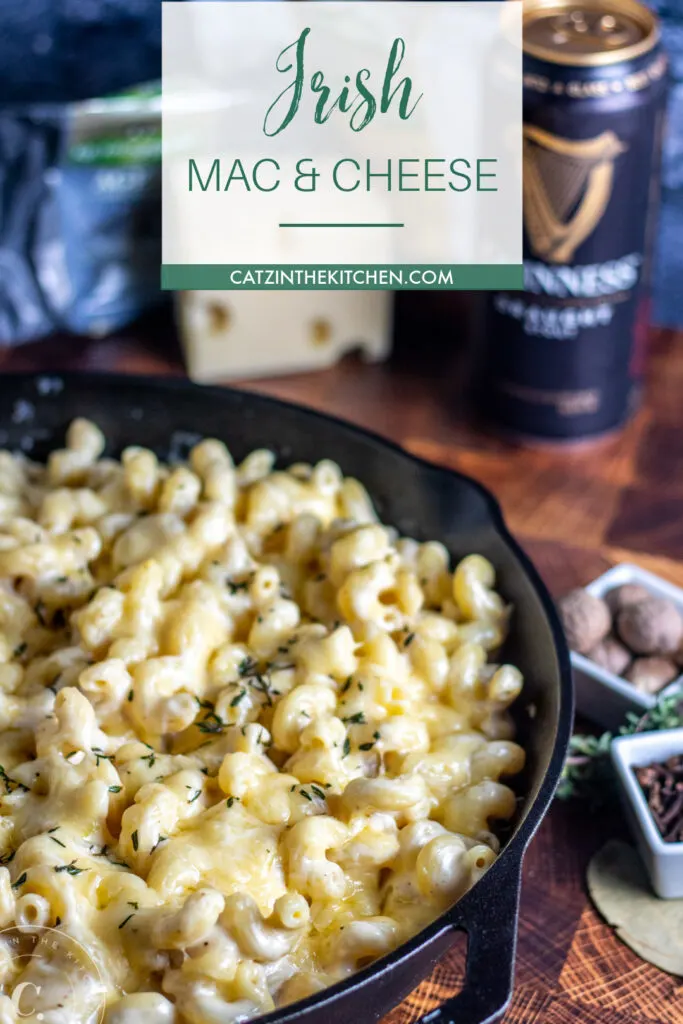 If your first question is, wait, what makes this rather classic-looking macaroni and cheese Irish Mac & Cheese?!…well, I'm glad you asked. No, there's no Guinness in it (for that, make these Ultimate Guinness Sliders or this Chocolate Guinness Cake…and you should absolutely make those recipes this week). This time, the classic Irish stout is just a serving suggestion. It's the ingredients!
This Irish Mac & Cheese is made with Irish butter, Irish cheddar, and, perhaps my personal favorite, nutty and sharp Dubliner cheese (yes, this is the same cheese we use on the Guinness sliders, and it's freaking fantastic). Combined with not-too-subtle earthy spices, this is possibly the best macaroni and cheese I have ever had. And I've had a lot of mac and cheese.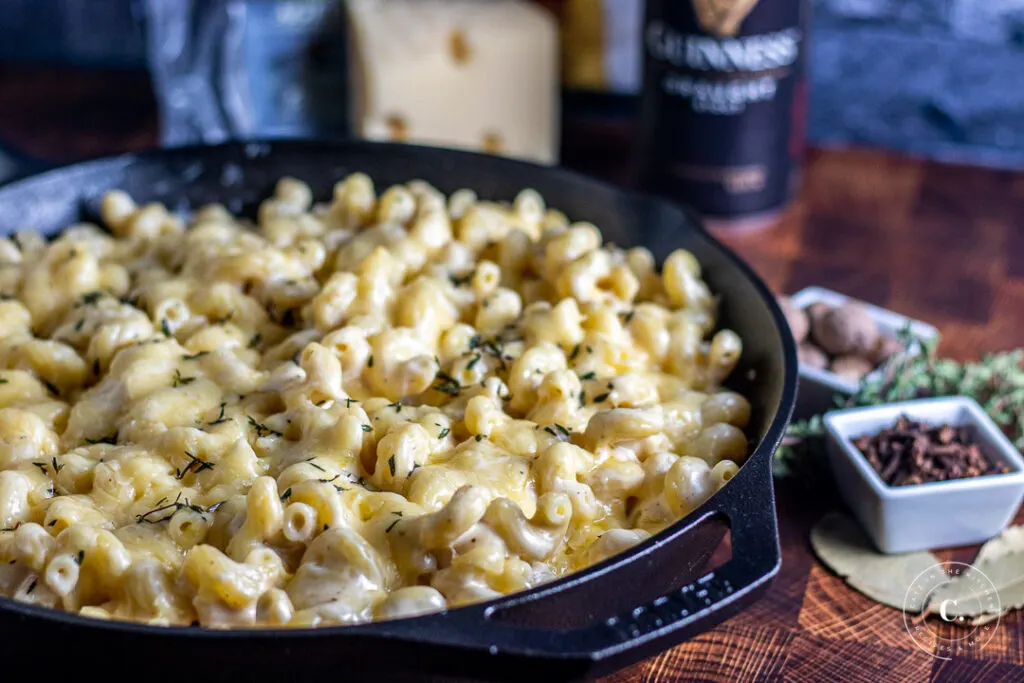 We've made very small modifications to Kerrygold's delightful recipe (This post is not sponsored by or affiliated with Kerrygold – we're just big fans of their products! And if you didn't know…Kerrygold is a brand sold in the US of an Irish dairy co-op called Oruna, based in Dublin. So…now you know. You can find Kerrygold butters and cheeses a lot of places – we typically pick ours up at our local Safeway.), including the removal of the onions…we don't dislike onions in appropriate circumstances, but…keep them out of my mac and cheese, thank you very much!
As a side note, how much does our family love mac and cheese? Once upon a time, Chels decided to try a new mac and cheese recipe every month for a year! Oh, what a wonderful time that was… (you can find some of them in our pasta category)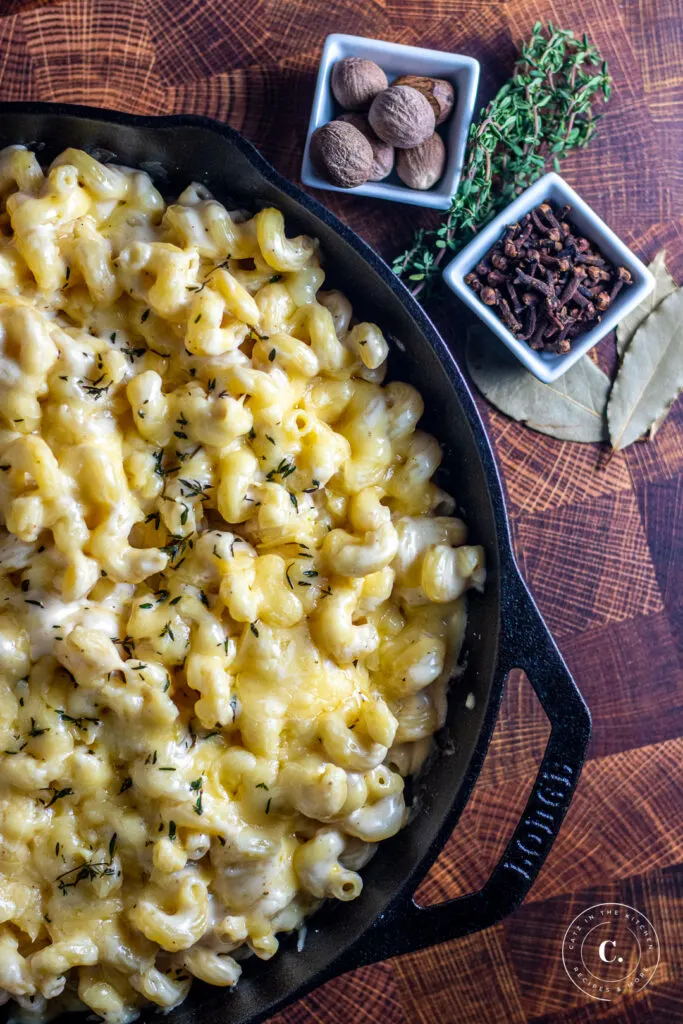 The things we love about this Irish mac and cheese are pretty simple – it's incredibly creamy, full of sharp, nutty cheesy flavor, and underpinned with delightful, earthy spice notes from the cloves, bay leaf, and nutmeg. Use cavatappi noodles in place of traditional elbow to help everything cling to the pasta a little better, and if you can't find Kerrygold's aged or reserve cheddars in your local supermarket, find a solidly aged, sharp white cheddar and go with that. But don't substitute the Dubliner. Trust me on this one.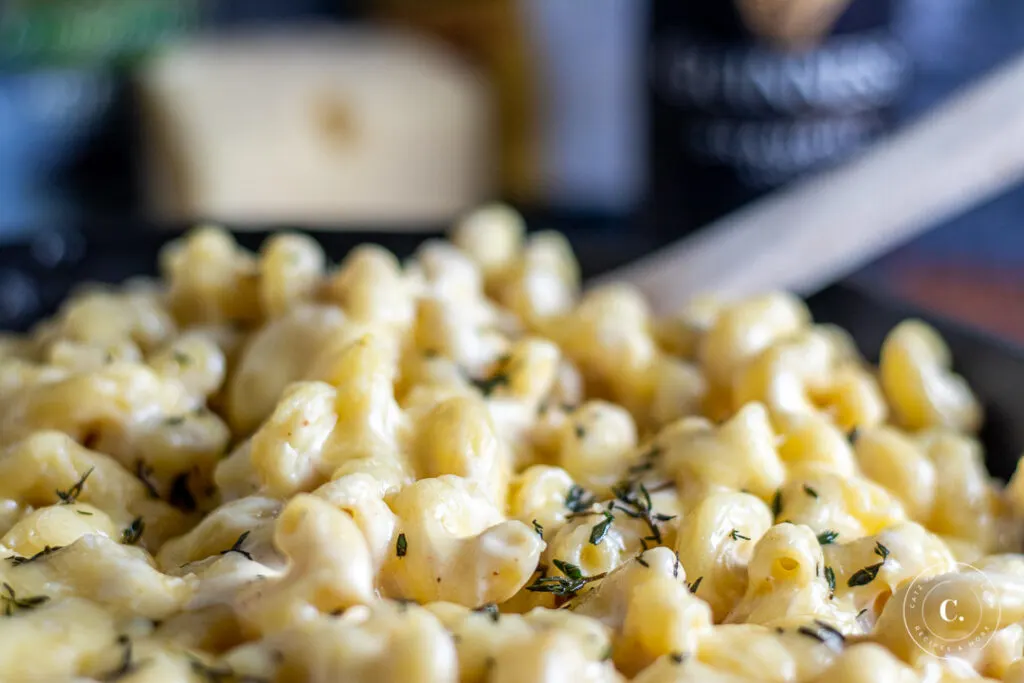 So this St Patrick's Day, if you decide that green food is not for you, whip up a batch of this indulgent, comforting, slightly sophisticated Irish Mac & Cheese. And if you're apt to partake, crack open a pint of your preferred Irish stout alongside – I haven't made it back to the Emerald Isle yet, but until I do, I'm just going to assume that if they make macaroni and cheese down at the local pub, it tastes this good.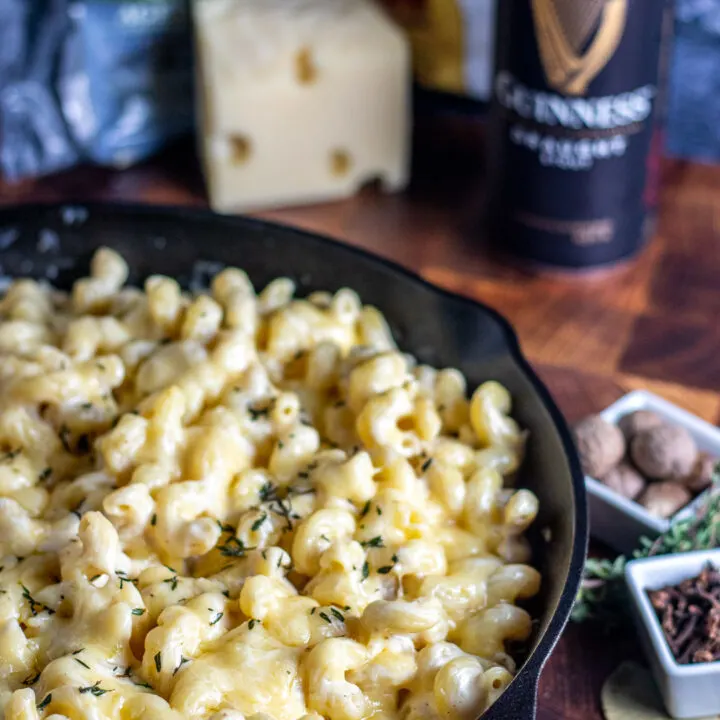 Irish Mac & Cheese
What makes this creamy, flavorful Irish Mac & Cheese recipe Irish? Irish butter, two different Irish cheeses, and earthy, homey spices!
Ingredients
1 lb cavatappi pasta
4 tbsp Irish unsalted butter (we used Kerrygold)
4 tbsp flour
3 cups milk
1 cup heavy cream
1 bay leaf
¼ tsp ground cloves
Salt and freshly ground black pepper, to taste
1 package (7 oz) Kerrygold Aged or Reserve Cheddar, or other aged Irish cheddar, grated
1 cup Swiss cheese, grated
1 package (7 oz) Dubliner cheese, grated
¼ tsp ground nutmeg
Instructions
Prepare pasta according to package directions, drain, and set aside
In medium saucepan, melt butter over low heat. Add flour and increase heat to medium, cooking for 2-3 minutes, whisking constantly. Do not allow to brown.
Whisk in milk and cream until totally incorporated. Bring milk mixture to a simmer, add bay leaf and whisk in cloves.
Reduce burner to low heat and cook for 25 minutes at a simmer, stirring occasionally.
Remove from heat and remove bay leaf, then whisk in aged cheddar and swiss cheeses, until fully incorporated. Add salt, pepper, and nutmeg.
In large bowl, combine pasta and cheese sauce, and then spoon into 12-in cast iron skillet or 2.5 qt casserole dish. Mix in about half the Dubliner cheese. Top with remaining Dubliner cheese and chopped fresh thyme.
Bake at 375° F for 10 minutes, and then serve immediately.