Whether you actually include the whiskey or not, these Irish Whiskey Mug Brownies are an easy, quick, and delightful microwave treat!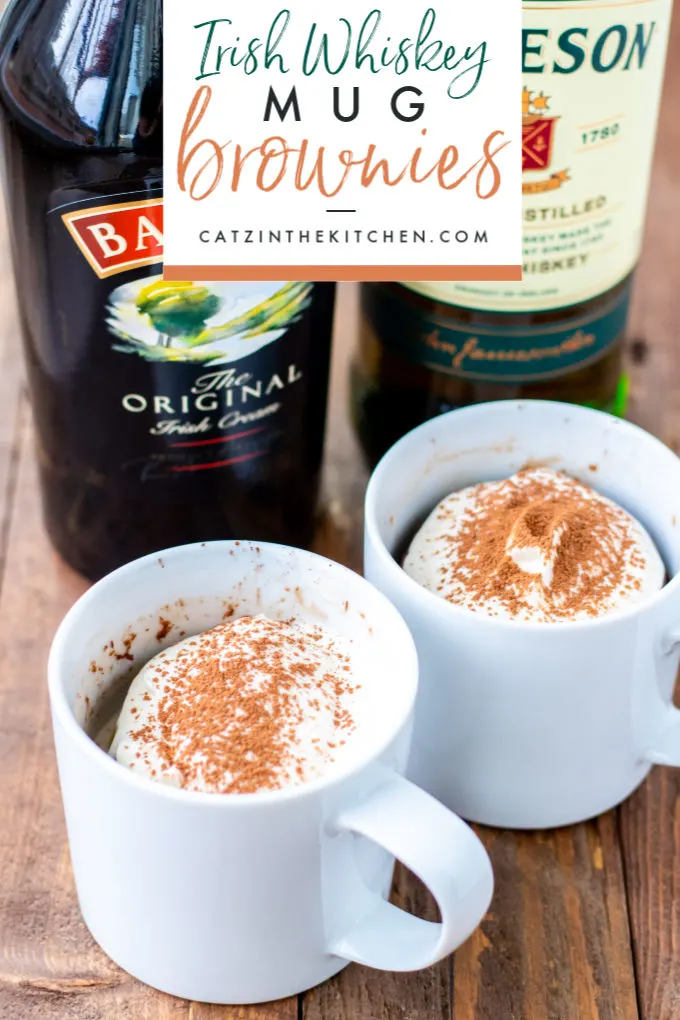 Okay, so, from the time we tested, remade, and finally photographed this recipe until now, things have definitely gotten a little crazier out there. Most St. Patrick's Day activities have been cancelled due to precautions taken to slow the spread of COVID-19 (even in Ireland!), along with pretty much every other kind of public gathering. At the end of the day, though, from a recipe sharing standpoint, I guess this probably just means a lot more people will need to be cooking at home! So, whether you choose to celebrate St. Patrick's Day from the comfort of your own home, postpone to another time, or simply refrain from celebrations this year altogether, we thought we'd go ahead and share this fun and easy Irish Whiskey Mug Brownie recipe with you.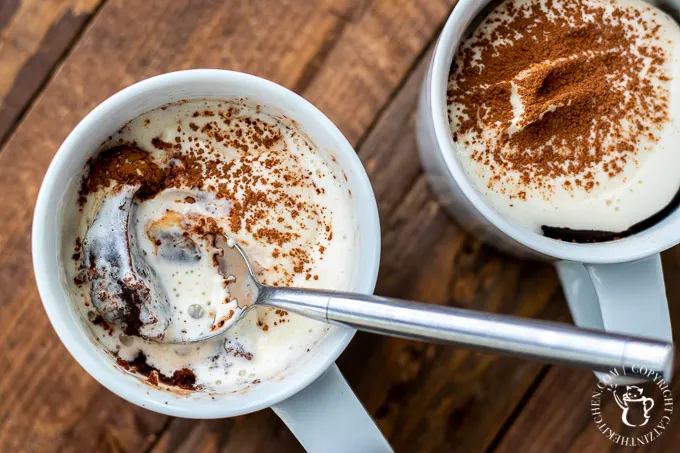 Let's start with the alcohol question. We don't share too many recipes with alcohol in the recipe card here at Catz – our intention is to be a family-focused food blog, and we know attitudes around and experiences with alcohol vary household to household. When a recipe does include wine, beer, or liquor, we try to be careful to include information about whether it cooks out or not, what suitable alternatives might be, and, if applicable, how to how to leave it out altogether.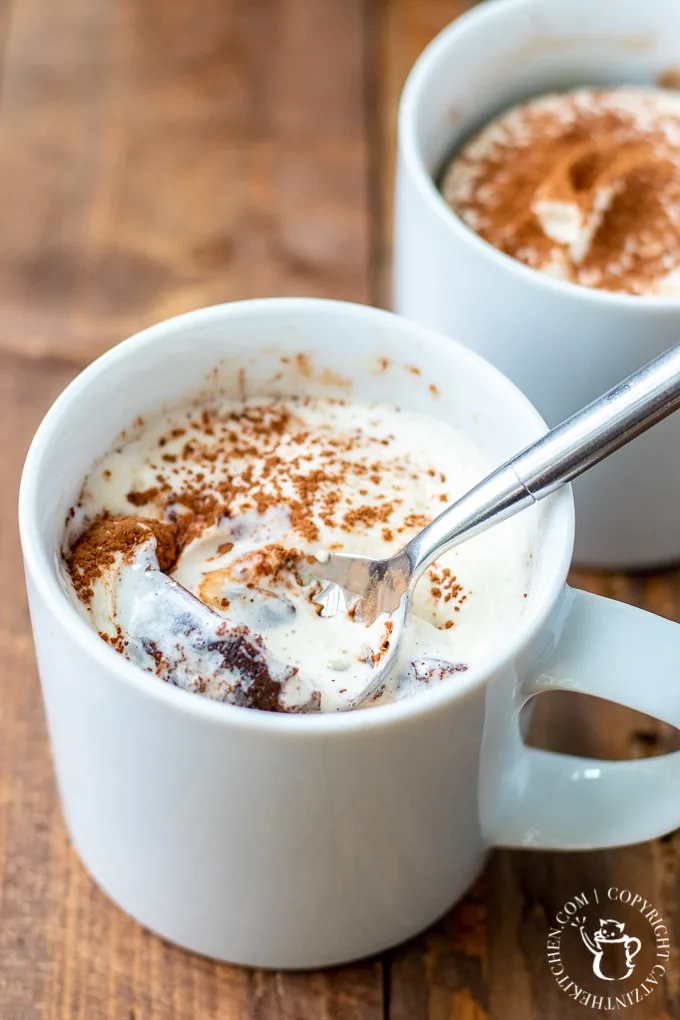 In the case of these Irish Whiskey Mug Brownies, these questions are pretty easy to answer. Don't want the alcohol in the recipe at all? Leave it out! You'll have delightfully rich, chocolatey mug brownies topped with luscious homemade whipped cream. Want that Irish cream flavor, but prefer to minimize the booze for the kiddos? Keep a bit of Irish cream in the whipped cream or top the freshly cooked brownies with a spoonful of the same. You'll get some flavor, but the alcohol content will be comparable to (or less than) what you'd get by adding a comparable amount of vanilla extract (for reference – vanilla extract is about 35% alcohol, while Bailey's Irish Cream is 17% and Jameson's Irish Whiskey is 40%).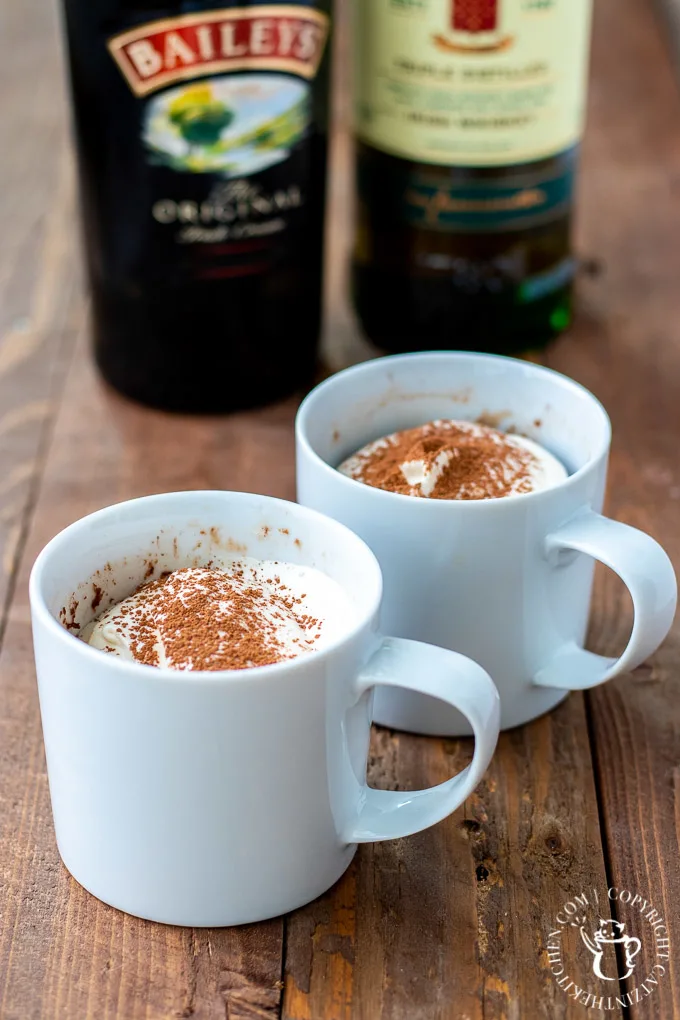 Now, all of that alcohol talk aside, let me say a few words about these brownies themselves. First of all – mug brownies, am I right?! They are so fast, so easy, and so yummy. A few key ingredients, a few minutes in the microwave, and voila, you're indulging in a delectable chocolate treat. These fellas, be forewarned, are RICH. With or without the whiskey (and the whiskey is a delightful flavor pairing here), the chocolate and coffee combo in this recipe is anything but subtle. In all honestly, Chels and I decided that our favorite way to eat these was to split one – and they aren't even very big! The mugs in these photos are only 10 oz! As you eat, the whipped cream melts down into the brownie below, creating something akin to eating warm brownies with vanilla ice cream…and I don't know about you, but that is one of life's great culinary pleasures in this home cook's humble opinion.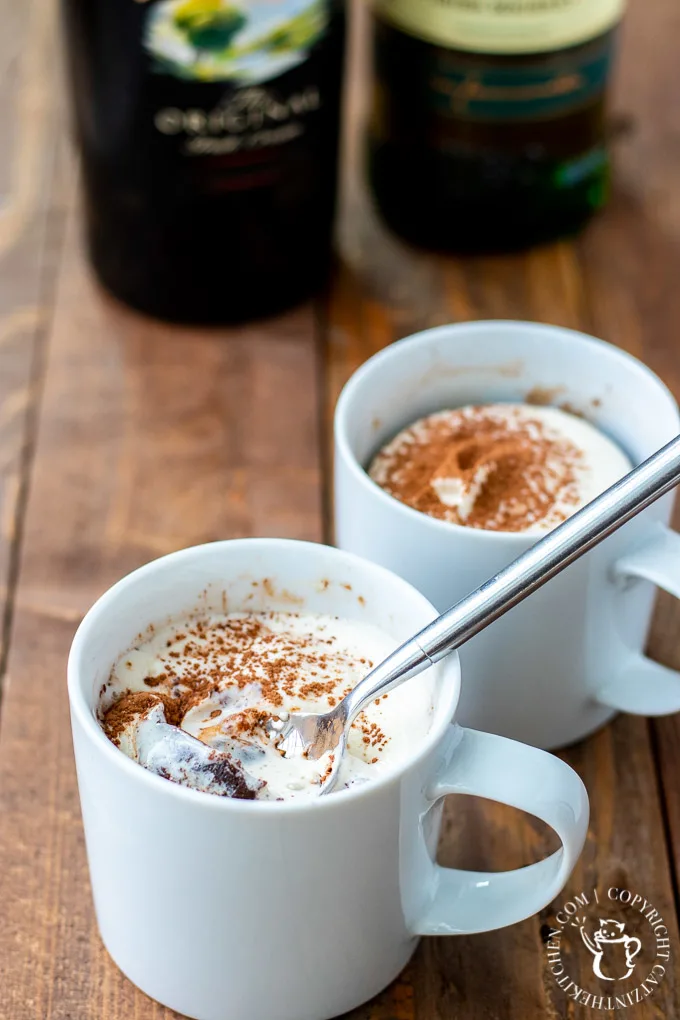 So, this St. Patrick's Day, or coronavirus self-isolation weekend, or whatever you happen to be up to during this rather unusual week, if you're craving a little chocolatey comfort, you might consider zapping up a batch of these Irish Whiskey Mug Brownies (with or without the "Irish"!). They're about as close as you can get to instant gratification in the baking world!
Irish Whiskey Mug Brownies
Additional Time:
10 minutes
Whether you actually include the whiskey or not, these Irish Whiskey Mug Brownies are an easy, quick, and delightful microwave treat!
Ingredients
Brownies
1 cup flour
1 cup brown sugar
1/2 cup unsweetened cocoa powder
1/4 tsp salt
4 egg yolks
3/4 cup vegetable oil
3/4 cup room temperature black coffee
1 tsp coffee extract
1/4 cup Irish Whiskey (optional)
Whipped Cream
1/4 cup Irish cream liqueur (optional)
1 cup heavy whipping cream
2 tbsp + 2 tsp powdered sugar
Instructions
Whisk together flour, brown sugar, cocoa powder, and salt in one bowl, and the egg yolks, vegetable oil, coffee, and coffee extract in another bowl.
Whisk the wet mixture into the dry mixture until smooth.
Divide the batter evenly among four mugs (10 oz size recommended).
Microwave the mugs one at a time, covering with a paper towel, for about 90 seconds (until brownies have firmed up and puffed up a bit). If using whiskey, pour 1 tbsp over each brownie as soon as it comes out of the microwave. Allow each mug to cool for 10 minutes.
While the brownies are cooling, combine the heavy craem and powdered sugar, preferably in a stand mixer bowl, and beat until stiff peaks begin to form. If using the Irish cream, add it at this point and beat slightly longer, just until the liqueur is worked in.
Top brownies with whipped cream. If desired, dust with a bit more cocoa powder, and serve immediately.