Feeling like you've outgrown your average hot cocoa? Make yourself some grown up hot chocolate from scratch with cocoa, vanilla, salt, milk, and cream!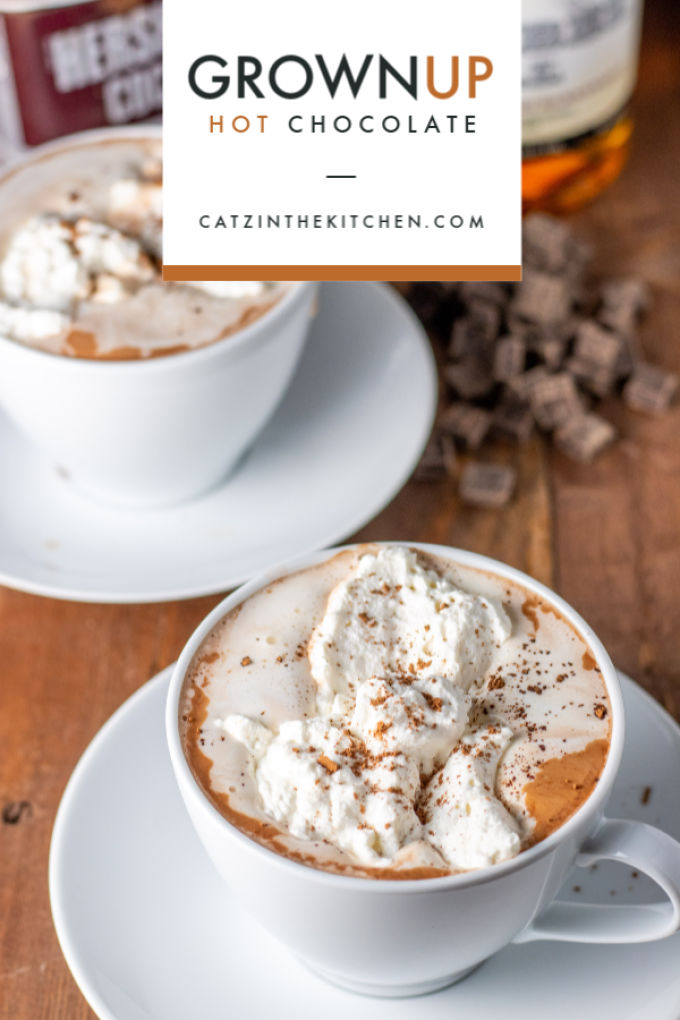 Let's start with the obvious question – what makes this hot chocolate "grown up"? There's the obvious answer, which is that you can add bourbon to it. But it's grown up with or without a legally "adult" ingredient, because this is hot chocolate from scratch. In my opinion, when you start your hot chocolate with unsweetened cocoa, milk, cream, salt, and vanilla, you've graduated past hot chocolate's infant, child, and adolescent phases and moved straight on to adulthood.
So, let's be clear – this is a hot chocolate recipe for everyone. Your kids will like it, too (provided you forgo the bourbon!), though they may find it challenging it to make – that's why it takes an adult! Okay, fine, I suppose a culinary-minded teenager could pull it off, too. It's not a challenging recipe, as far as recipes go – it's just advanced compared to opening a packet of instant hot cocoa!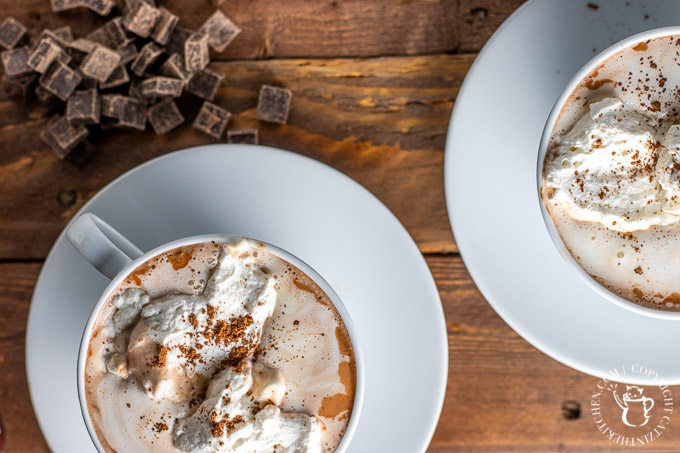 We've made this for quite a few winters now, and there are a number of things we've come to love about it. First, it's very chocolate-forward, which may sound like a stupid thing to say about hot chocolate, but the reality is, most hot chocolate is very sugar-forward! You can thank the unsweetened cocoa powder for that, I'm sure. That being said, it is sweet, and there is sugar – this is not sipping chocolate! (If you haven't had sipping chocolate, stop reading this post, put your computer away or your phone down, get in your car, and go find some.)
Second, we put unsweetened homemade whipped cream on top, and I am crazy about what that does to the drink. Real, freshly whipped, unsweetened heavy whipping cream slowly melts into the hot cocoa, not only lending this treat a delightfully rustic appearance, but a deep, indulgent creaminess as well. Yeah…we love us some Reddi Wip around here in many situations, but there's no substitute for putting heavy cream in the KitchenAid and whipping it to your desired texture.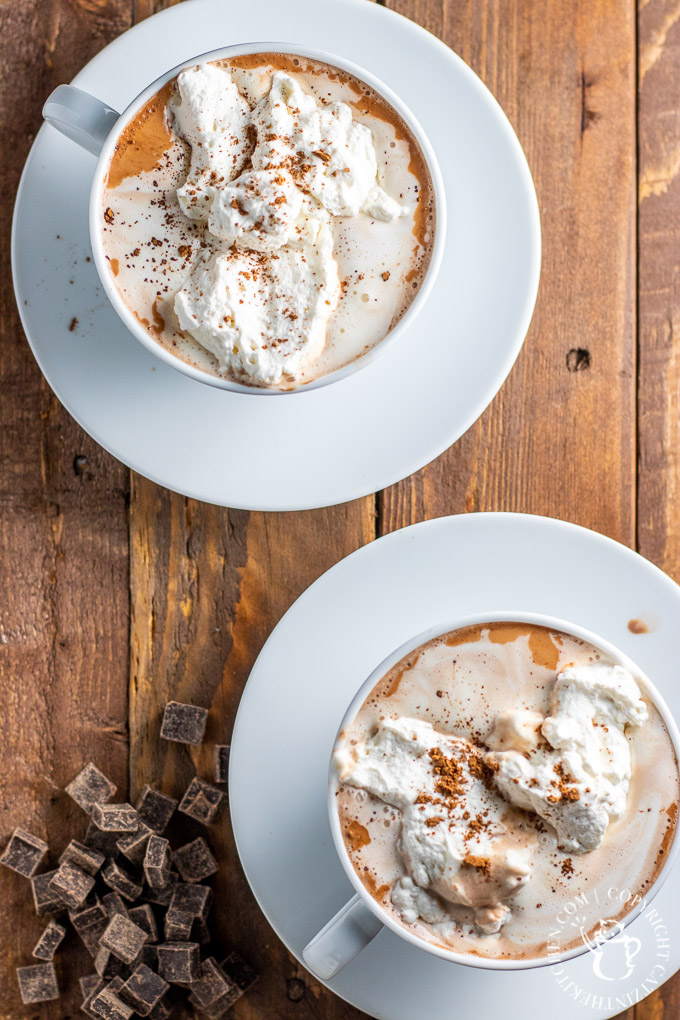 Now, as mentioned (and pictured), the original post where we found this recipe is a little less ambiguous about the "adult" component of this drink (it's called Bourbon Spiked Hot Chocolate, if that's any indication). If you do choose to make it with bourbon, my personal recommendation is to also add a tablespoon of bourbon to the whipped cream. If you're a fan of the flavor of bourbon, that's an addition that just takes it up another notch.
No false representations here – this is not a drink that is intended to get you tipsy! If you add the optional bourbon to both the hot chocolate and the whipped cream, each drink will have about 2 1/2 tablespoons of bourbon in it, so, yeah, find your wild party treat elsewhere. Still, this is a family-oriented blog, so I feel obliged to point out that the alcohol does not cook out, unlike, say, the cognac in this bœuf bourguignon or this tiramisu cake (okay, I guess the cognac in the frosting doesn't cook off)!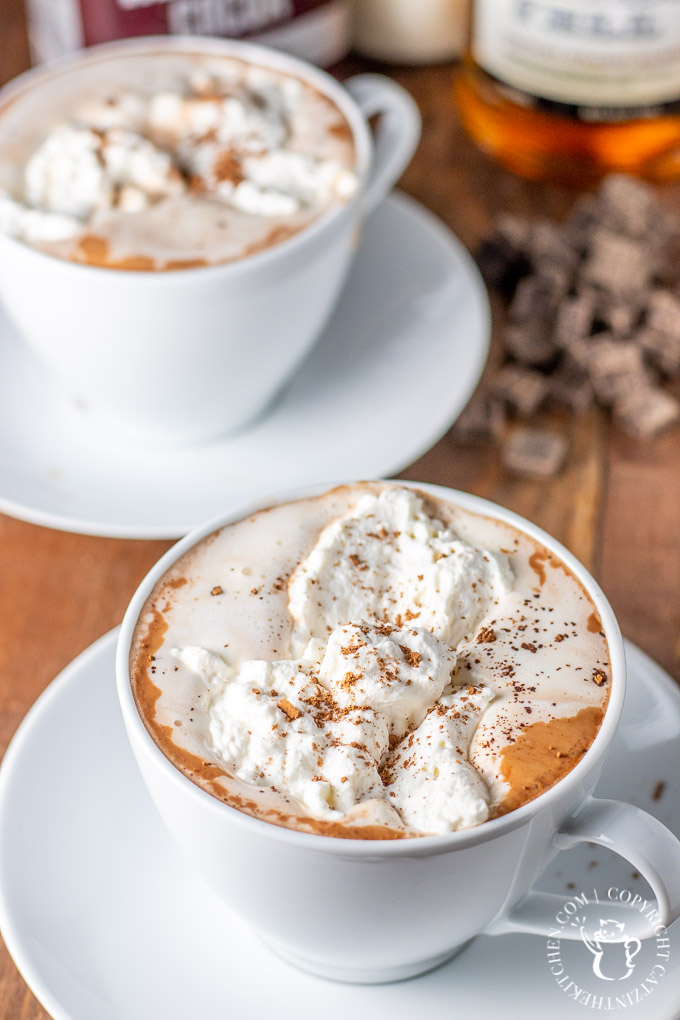 Okay, now that I've finished stumbling over myself apologizing for the fact that it's possible to add alcohol to hot chocolate if you want to… (as stated, this is a very family-focused blog, so we generally steer clear of recipes for an adult-only audience). No matter how you choose to make it, this is a grown up hot chocolate recipe that deserves a spot on your dessert menu, preferably when the weather outside is frightful and you're feeling the need to cozy up, weather that's with the whole family, or just your special someone.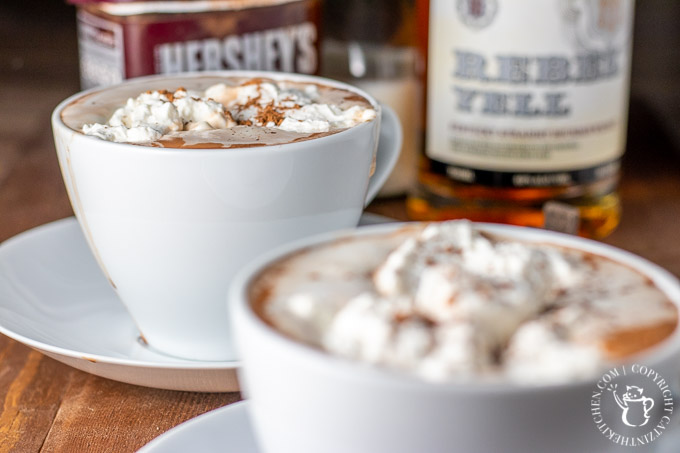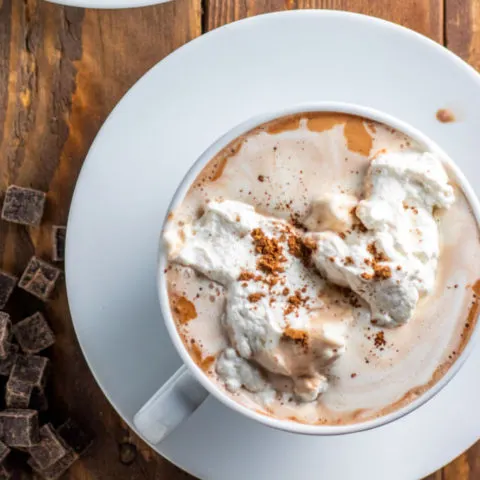 Grown Up Hot Chocolate
Feeling like you've outgrown your average hot cocoa? Make yourself some grown up hot chocolate from scratch with cocoa, vanilla, salt, milk, and cream!
Ingredients
Hot Chocolate
3 tbsp unsweetened cocoa powder
1/4 cup sugar
dash of salt
1 tbsp fat free half and half
1 tsp vanilla
1 3/4 cup reduced fat milk
Whipped Cream
1/2 cup heavy whipping cream
1/8 tsp vanilla
Instructions
Bring a small amount of water to a boil (you'll only need 3 tbsp).
Stir together your cocoa powder, sugar, and salt in a small saucepan, and then add 3 tbsp of boiling water, stirring until the mixture is smooth and well incorporated.
Place the saucepan over a burner set to medium heat and stir in the milk. Slowly heat the milk, stirring occasionally and monitoring carefully. Heat it, but don't cook or burn it.
While the milk is heating up, whip the heavy cream and 1/8 tsp vanilla, preferably in a stand mixer, to your desired texture (typically, until stiff peaks form).
When your preferred drinking temperature for the milk is reached, remove the hot cocoa from the heat and stir in the 1 tsp vanilla and half and half.
Divide into two mugs (no smaller than 12 oz ea), and top generously with the whipped cream.
Sprinkle with cocoa powder or drizzle with chocolate syrup if desired.
Notes
If you're just making this for the adults and you want to punch up the flavor by including a little bourbon, add 1/4 cup bourbon when adding the vanilla and half and half in step 5, and add 1 tbsp to your whipped cream mixture in step 4.
Nutrition Information:
Yield:

2
Serving Size:

1
Amount Per Serving:
Calories:

448
Total Fat:

27g
Saturated Fat:

16g
Trans Fat:

1g
Unsaturated Fat:

8g
Cholesterol:

85mg
Sodium:

202mg
Carbohydrates:

42g
Fiber:

2g
Sugar:

38g
Protein:

10g