Ever wondered if making homemade eggnog is easy or worth trying? Well, it is…and it is. Try this simple recipe before the holidays are over!
We love eggnog in this family. I understand it's one of those things people have strong opinions about (favorable or otherwise), but we like it. A lot. Not that we necessarily drink it in large quantities – I mean, it's thick, strong, rich stuff, to be sure. But in little cups, through the holidays, it's a delectable, creamy treat.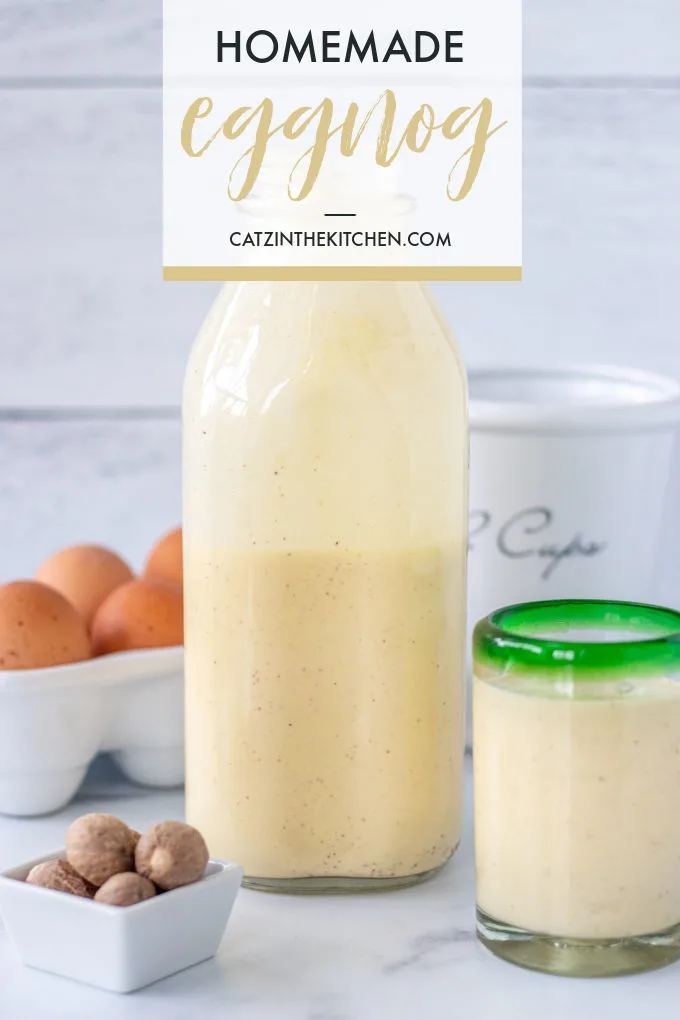 We've tried as many different types of eggnog as we could get our hands on. Vanilla and pumpkin-flavored eggnog? I'm sorry, but blech. Not a fan. Syrupy sweet and artificial tasting, in my (possibly not so humble) opinion. Change my mind with a better recipe or brand – I'm always down for that. Almond-milk based eggnog? While we love almond milk (no lactose issues here – it's just yummy and lower in calories!), not a fan of the eggnog version. Low-fat eggnog? I mean, it's fine. Like, I'll drink it for sure, and enjoy it, but eggnog is really not supposed to be a healthy choice – let's just be real here. We drink eggnog for the same reason we bake and eat Christmas cookies – and it's not because they're good for us.
As far as store-bought eggnog goes, our family has really settled on Southern Comfort as the best of the best. We love that stuff. So creamy and tasty. We haven't tasted every brand, but of the ones we've guzzled, that's our top pick (it's non-alcoholic, for anyone wondering…).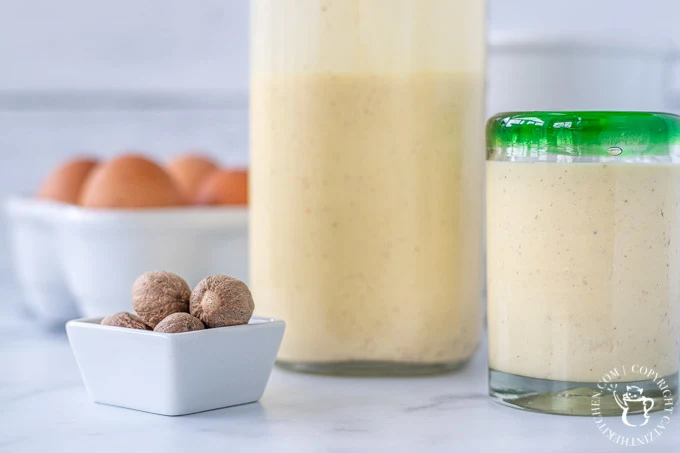 This year, though, I couldn't get the thought out of my head…how hard could it be to make homemade eggnog from scratch? Surely it couldn't be too incredibly challenging. It's like…eggy milk, right? I decided to do a little checking around, and it turns out lots and lots and lots of people have had this same thought, and a lot of people have been making their own eggnog for generations! The recipes seemed pretty standard across the board, so I picked one from a website I was familiar with, and gave it a shot.
It is easy! The list of ingredients is short (seven) and made up of the sorts of things we refer to around here as "pantry ingredients" – meaning things we usually have around the house (even if not technically in the pantry – don't store your heavy whipping cream in the pantry…please). Actually, the heavy whipping cream is the only ingredient on the list I would say some people would not always have in the fridge, so you might have to pick that one up. For us…there is always a container of heavy whipping cream in the fridge. Sometimes (like now), it's a Costco-sized container. We use it for whipped cream, scrambled eggs, the occasional mixed drink, and delicious, creamy stews and soups, among other things.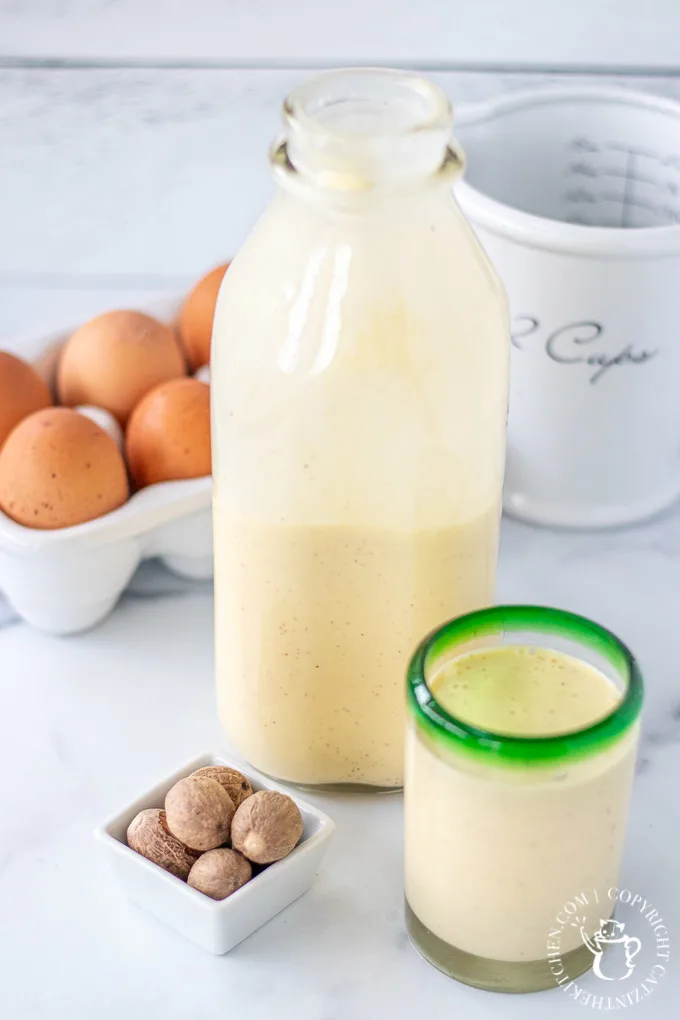 Okay, I have to tell a funny whipping cream story. Little Ruby is three, and while average height and weight for her age, is a tiny thing. She asked what the container of whipping cream was, and we told her "heavy whipping cream." She proceeded to pick it up and hold it as high in the air as she could. After setting it back on the counter, she declared, "Well, it's not heavy to me! I'm strong!" Naturally, now when she says something is too hard or too heavy, we remind her that she's strong enough to lift the heavy whipping cream, so…
Anyway, the moral of the story here is that making homemade eggnog is not hard, the ingredients are not exotic, and the end product will not disappoint! The hardest part, frankly, was the cooling process, which took overnight, meaning we had to wait until the next day to sample the results of our labor! Well…kind of. I had a tiny amount of the eggnog that didn't fit in my glass jug, so I poured it in a little mug and put it in the fridge. By about ten o'clock at night, the eggnog in the little mug was cooled off enough to try. There was only enough for a couple of sips for Chels and I (and one for Grace, who had just gotten home from work), but they were life-changing sips. We were totally hooked. I mean, this stuff is GOOD.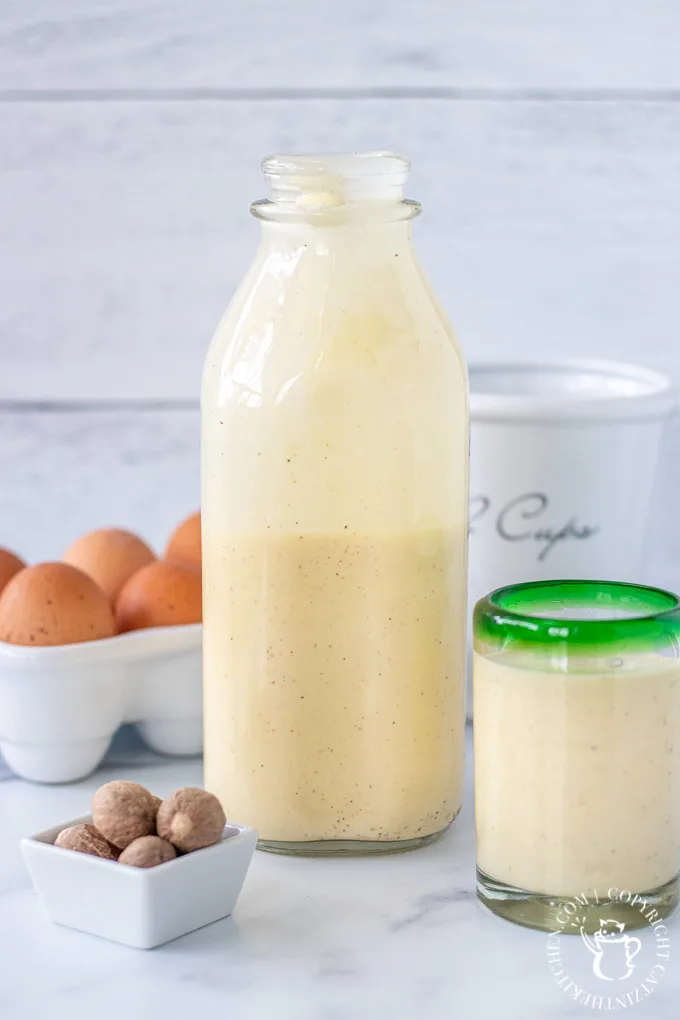 We'll still keep some Southern Comfort eggnog in the fridge, as it simply isn't practical to make this constantly through the holiday season (SO. MANY. EGGS.), but we've already gone through our second batch. This recipe makes roughly a quart of homemade eggnog, and…that doesn't last long around here. I'll admit, I use up a fair amount in my coffee and eggnog lattes…for which I am decidedly not sorry!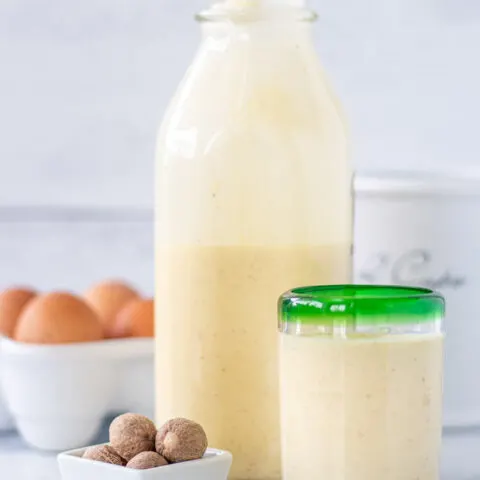 Easy Homemade Eggnog
Yield:
about 8 servings (4 oz)
Total Time:
4 hours
20 minutes
Ever wondered if making homemade eggnog is easy or worth trying? Well, it is...and it is. Try this simple recipe before the holidays are over!
Ingredients
6 egg yolks
1/2 cup sugar
2 cups low-fat milk (2%)
1 cup heavy whipping cream
1/2 tsp nutmeg (ground or freshly grated)
1/4 tsp vanilla
pinch of salt
Instructions
Add egg yolks and sugar to stand mixer and beat until light and creamy
Add cream, milk, salt, and nutmeg to a medium saucepan over medium heat. Stir occasionally until it just reaches a simmer.
Transfer the milk mixture to the egg mixture in the stand mixer one ladleful at a time, whisking in thoroughly after each ladleful.
Once you have nearly all of the milk mixture whisked into the egg mixture, empty stand mixer's bowl back into the saucepan. Over medium heat, whisk the combined mixture constantly until it reaches about 160 degrees (this should only take a couple of minutes).
Remove the saucepan from the heat, stir in the vanilla, and transfer to a container that can be placed in the fridge for cooling (use caution, as the mixture is hot).
Refrigerate until cooled completely, at which point it will be considerably thicker (a few hours or overnight).
Nutrition Information:
Yield:

8
Serving Size:

1
Amount Per Serving:
Calories:

217
Total Fat:

15g
Saturated Fat:

9g
Trans Fat:

0g
Unsaturated Fat:

5g
Cholesterol:

175mg
Sodium:

58mg
Carbohydrates:

17g
Fiber:

0g
Sugar:

17g
Protein:

5g
Nutrition information isn't always accurate.