This incredibly simple four-ingredient recipe results in the best cheesy scrambled eggs we know how to make! Breakfast, brunch, or breakfast for dinner!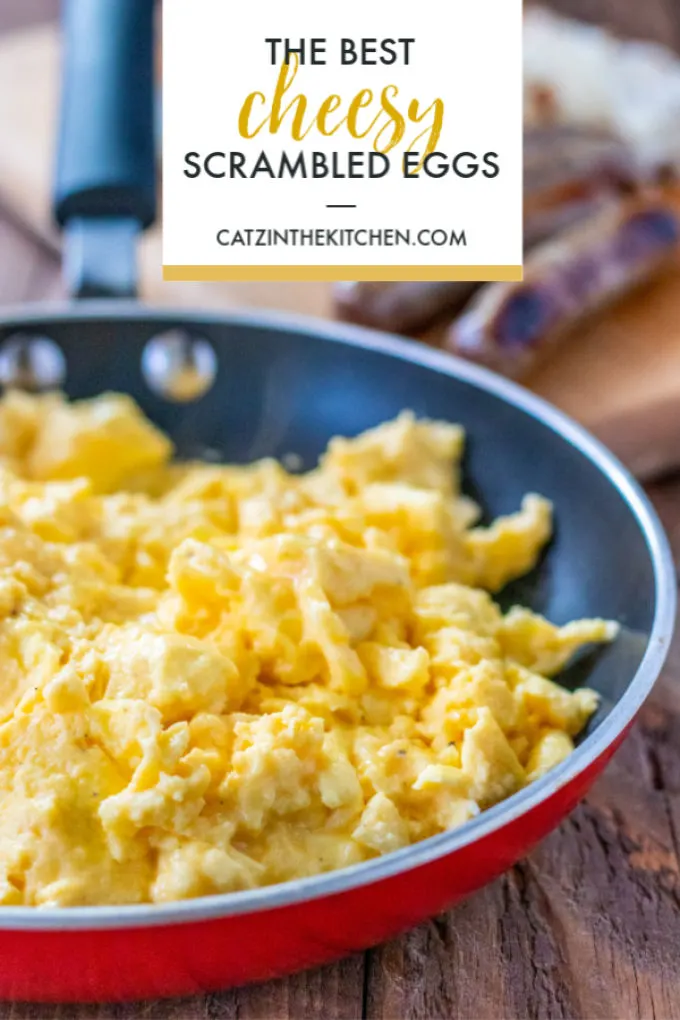 Before I get into the backstory of why we've mustered up the audacity (can you muster audacity?) to declare this recipe the best cheesy scrambled eggs, I've got to get something else out of the way. It's something controversial and polarizing, something both comfortingly familiar and off-putting, something that for many of us is a part of our childhood memories, and yet something many of us go out of our way to avoid…American Cheese.
Upon reaching the early stages of adulthood, perhaps even my early teens, I'd decidedly begun to loathe American cheese. To me, it was the antithesis of everything proper cheese ought to be. We happened to live not too far away from the Tillamook cheese factory on the Oregon Coast, where they produced the most wonderful, strong, sharp flavors of cheddar my tastebuds could desire, and every time I visited the factory or purchased their delectable products at the market, my heart hardened against the deplorable qualities of American cheese just a bit more. As Chels and I got deeper into the "foodie scene" and we discovered the myriad delights of cheese boards, this propensity to consign American cheese to the trash heap of plastic-imitating-food deepened.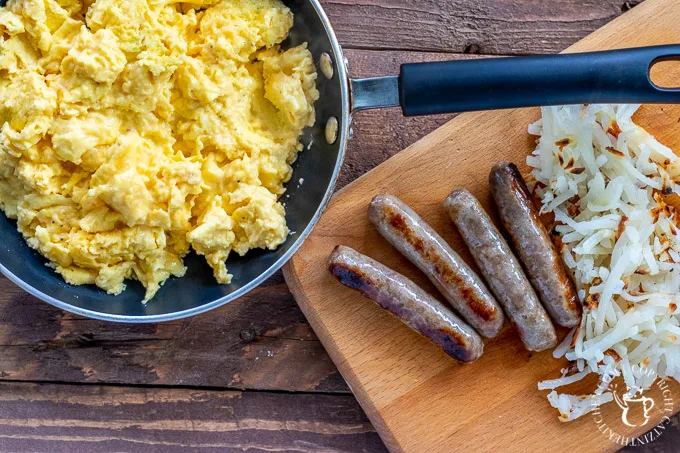 Why is the texture so…rubbery? Why does it come wrapped in individual slices that vaguely resemble floppy disks (that's the save icon for you young folks out there)? Why is the color so…not quite orange but not quite yellow? Why doesn't it drip when it melts? Heck, why is it so cheap? Clearly something suspicious going on here. Clearly this "cheese" is being grown in a laboratory somewhere. Mad scientists, many robot arms, boiling beakers, etc.
In preparation for writing this post, I did a little research (read: I spent five minutes on Wikipedia nearly getting sucked down a wiki rabbit hole about the development and exportation of cheese in North America in the 1700's). Turns out, American cheese is cheese. It's technically called pasteurized process cheese, and, believe it or not, it can even be purchased in blocks like traditional ("real") cheeses. The code of federal regulations in the US describes it thus: "Pasteurized process cheese is the food prepared by comminuting and mixing, with the aid of heat, one or more cheeses of the same or two or more varieties, except cream cheese, neufchatel cheese, cottage cheese, lowfat cottage cheese, cottage cheese dry curd, cook cheese, hard grating cheese, semisoft part-skim cheese, part-skim spiced cheese, and skim milk cheese for manufacturing with an emulsifying agent prescribed by paragraph (c) of this section into a homogeneous plastic mass."
Hard to understand why they didn't go with "Homogeneous Plastic Mass" for the branding. At any rate, leave it to us Americans to adopt the plastic mass cheese as our very own.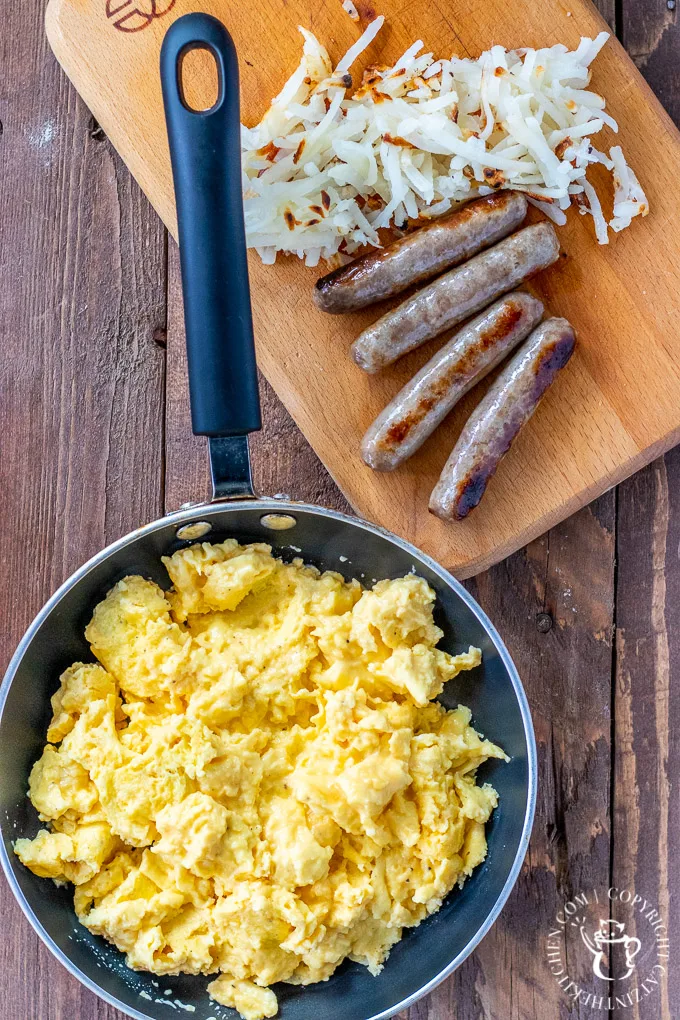 None of this changes my feelings about American cheese, of course. I still don't like the way it tastes or feels or looks. But this (finally) brings me to my point…when I saw this recipe, and saw that included American cheese, I was prepared to dismiss it out of hand. That would have been a mistake.
Okay, now that we've discussed American cheese…let's get back to that audacity mustering. First off, when we declare something "the best" here at Catz, we mean the best we've ever made (see: The Best Macaroni Salad, The Best Snickerdoodle Cookies Ever, The Best Breakfast Quesadillas, The Best Rolled Sugar Cookies, etc). Not the best in the world. Not the best on the internet. Not the best known to mankind. The best known to us. So that's what we're saying here – these are the best cheesy scrambled eggs that I personally know how to create.
Awhile back, we were working with Chef'd as review partners for some of their meal kits. Sadly, Chef'd shut down suddenly in 2018, but we did hang on to a few of the recipes that we really enjoyed. One of those was a cheesy scrambled eggs recipe that included *shock* American cheese. The only reason I prepared it as instructed? Well, it was a meal kit, the ingredients were shipped directly to us, and we had agreed in advance to make and review it. Otherwise, I probably would have tapped out and moved on.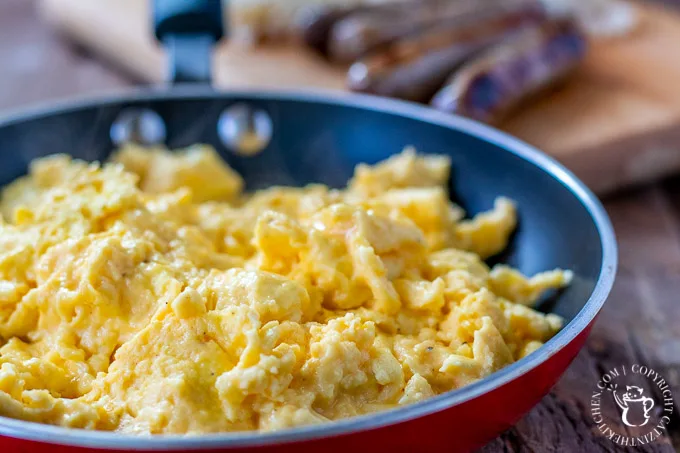 Suffice to say, I and the entire Rief clan here at Catz am immensely glad that we followed through. These cheesy scrambled eggs are crazy tasty. They're fluffy and flavorful, with just the right amount of cheesiness. Apparently I have the American cheese to thank for that, which you can see I'm begrudgingly acknowledging. The heavy cream is a factor in the success of this dish, of course, as is the prep – don't work the eggs too much, and whatever you do, don't, under any circumstances…
I wanted to pull an Oceans 11 and leave it there, but the answer is don't overcook the eggs.
So, what's the end of the story here? This has become one of our classic breakfast standbys. And, as a consequence, we often have American cheese in our refrigerator, something which, if you'd asked me a couple of years ago, would have caused me to recoil in horror. I apologize to any American cheese lovers out there – it does have its purposes. But you still won't find me randomly chewing on a slice…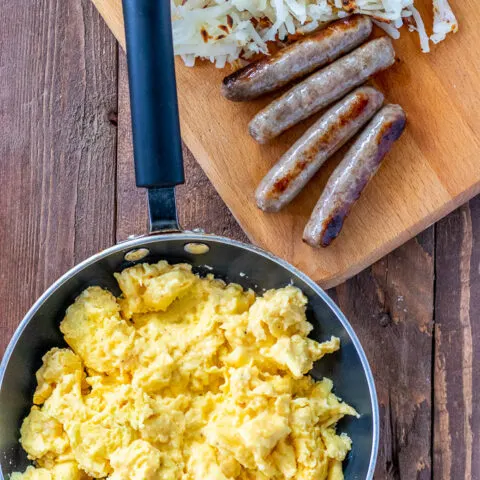 The Best Cheesy Scrambled Eggs
This incredibly simple four-ingredient recipe results in the best cheesy scrambled eggs we know how to make! Breakfast, brunch, or breakfast for dinner!
Ingredients
8 large eggs
1/4 cup heavy whipping cream
1 tbsp butter
4 slices of American cheese
salt and pepper to taste
Instructions
Crack eggs into a large bowl, add cream and a pinch of salt and pepper. Whip together with a whisk until eggs are beaten.
Tear cheese slices into pieces by hand and add to the egg mixture.
Melt butter in a medium non-stick pan over medium-low heat. Spread around to coat pan as it melts.
Add egg mixture to pan and slowly, gently move eggs around with a spatula until eggs are fluffy and cheese is melted. Avoid overmixing or overcooking. Remove from heat and serve immediately.
Notes
Original recipe from a Chef'd meal box shipped to us in Dec 2017.
Nutrition Information:
Yield:

4
Serving Size:

1
Amount Per Serving:
Calories:

282
Total Fat:

22g
Saturated Fat:

11g
Trans Fat:

1g
Unsaturated Fat:

9g
Cholesterol:

412mg
Sodium:

505mg
Carbohydrates:

3g
Fiber:

0g
Sugar:

2g
Protein:

16g