Looking for a yummy, pretty way to get some extra vitamins and maybe a little protein, too? Try this easy cherry peach smoothie recipe!
I'm very much a routine-based girl. I like my day to be predictable. I use my planner so I know exactly what I've got going on – no surprises for this girl…except apparently when it came to this pregnancy, ha! I also like the daytime foods I enjoy to be relatively routine.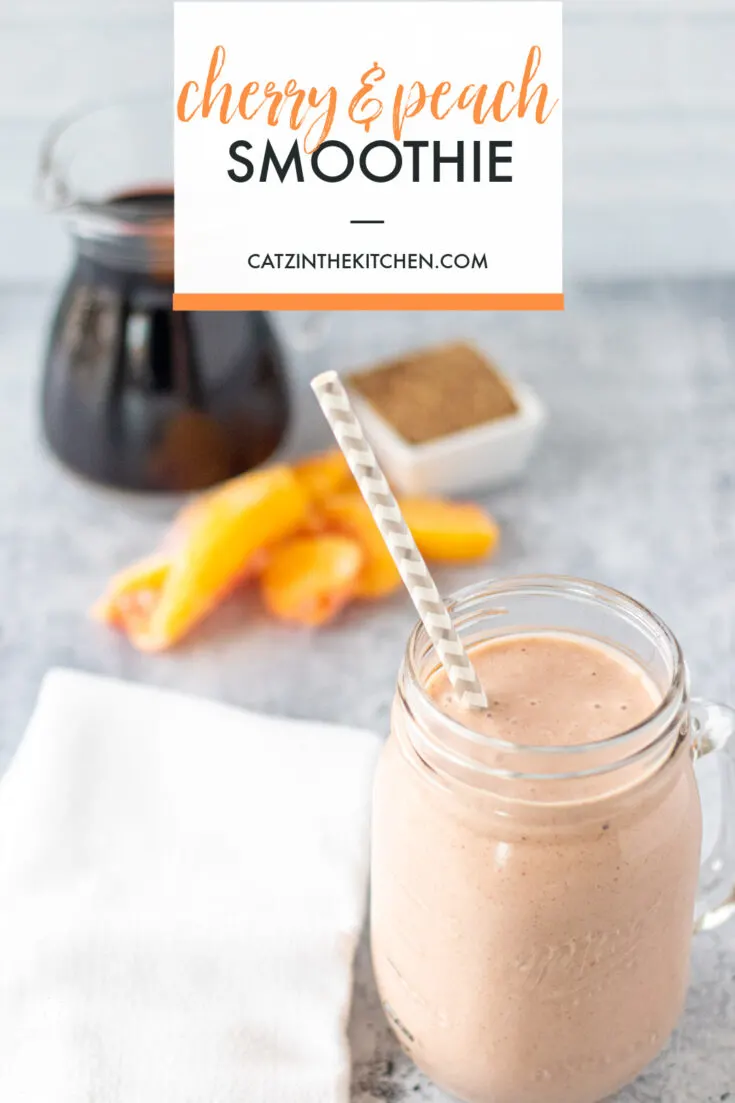 What do I mean by relatively routine? Well, I know what I like to eat and what foods work for my body and what foods don't. And that last part is especially important to know about yourself when you're pregnant. I have certain foods that I eat pretty much every single day.
For example, when I wake up, I drink 1-2 cups of coffee and eat a slice of toast or have a muffin warmed up with a bit of coconut oil. I strive to reach that 6-8 glasses of water a day. I eat an apple every day. I also drink a small cup of ginger lemon tea almost every night before bed.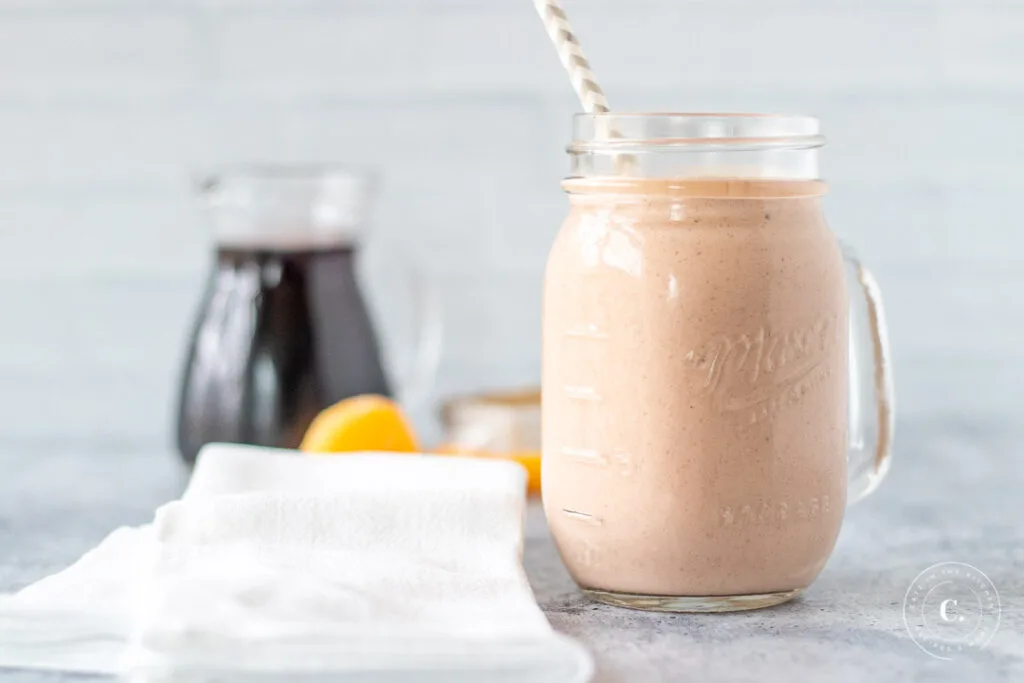 When it comes to my breakfasts, I rotate evenly between three options. I rarely detour unless it's the weekend or I'm on vacation. I will have some yogurt (protein) with granola, raspberries and either a banana or sliced apple on the side. I will make scrambled eggs (protein) with a sliced avocado and two chicken sausage links, or I will make a smoothie. I will make a smoothie any morning that I'm able to get a morning workout in.
A smoothie is a great way to get in extra helpings of fruit and other healthy ingredients or nutrients. I've been known to throw herbs in my smoothies, along with cacao nibs, nuts, chia seeds, flax seed, fresh ginger root…all the good stuff. Plus I (almost) always add protein powder to my smoothies because I know protein is important to get into your body after a workout, especially while pregnant. If you're curious, this is the protein powder I buy. I usually keep the chocolate protein powder on hand too. It's plant-based and good for everyone.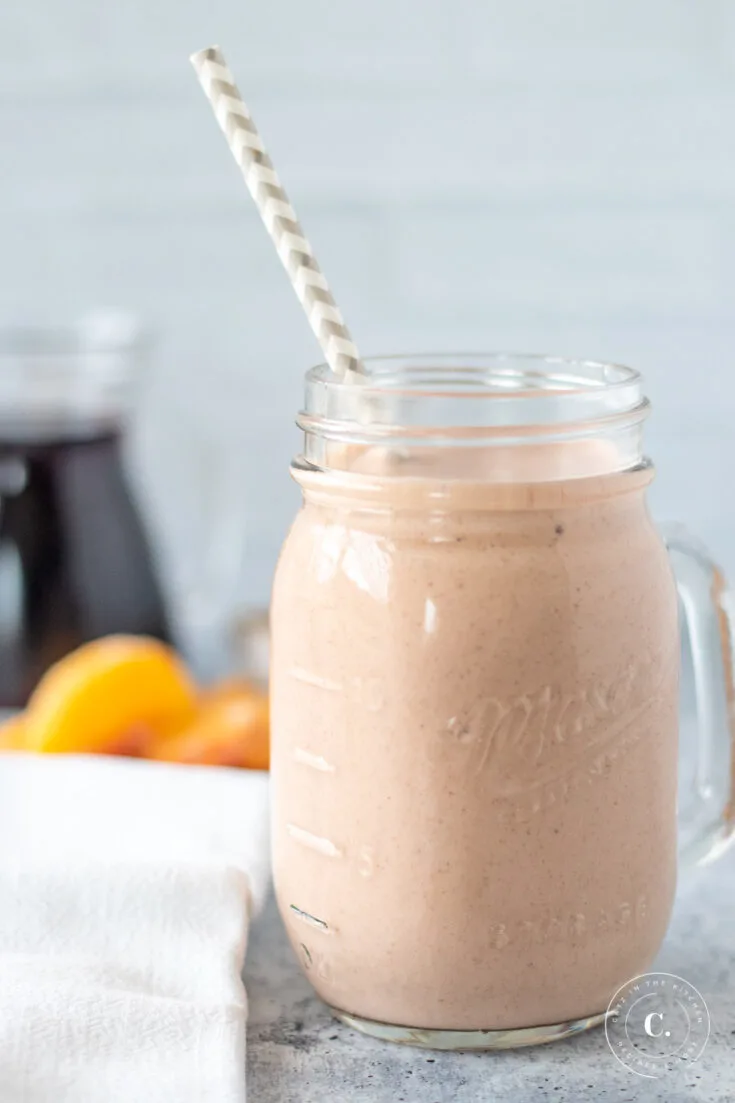 Let's talk about why this smoothie is so good for you, especially if you're pregnant:
Cherries are an excellent source of Vitamin C first and foremost, which is believed to boost your immune system with healthy antioxidant properties.
Cherries are also believed to promote newborn brain health. Cherries have something called Anthocyanins which protect neural cells and promote brain health in babies. Isn't that neat?
And while I could keep going on about cherries because there are a ton of reasons to enjoy them pregnant or not, I'll share this last health benefit:
Cherries actually help keep blood sugars down which means they can help prevent against gestational diabetes.
On to Peaches…peaches are also very high in the Vitamin C food chain! They also contain fiber, potassium (which is just a hard vitamin to come by), and iron! I'm usually a bit iron-deficient during pregnancy, and I really struggle with taking prenatal vitamins, because while they do supply a good amount of iron (added to all of the other nutrients you're trying to take in a vitamin) iron can also be constipating…which if you've ever been pregnant and experienced, you know it is a bad situation. I prefer to get my iron through food verses pills. Just me.
Vitamin C also helps with the proper growth of bones and teeth.
Potassium is also important because it helps send nerve impulses and helps your muscles to contract.
I also include ground flax seed in the smoothie for an additional fiber boost – we need all the help we can get when we're pregnant! I also use a vanilla yogurt with a good amount of protein in addition to the protein powder I already add. But of course, the protein powder is optional and not at all required for this smoothie – so as long as you buy a yogurt with a higher percentage of protein in it, you're good!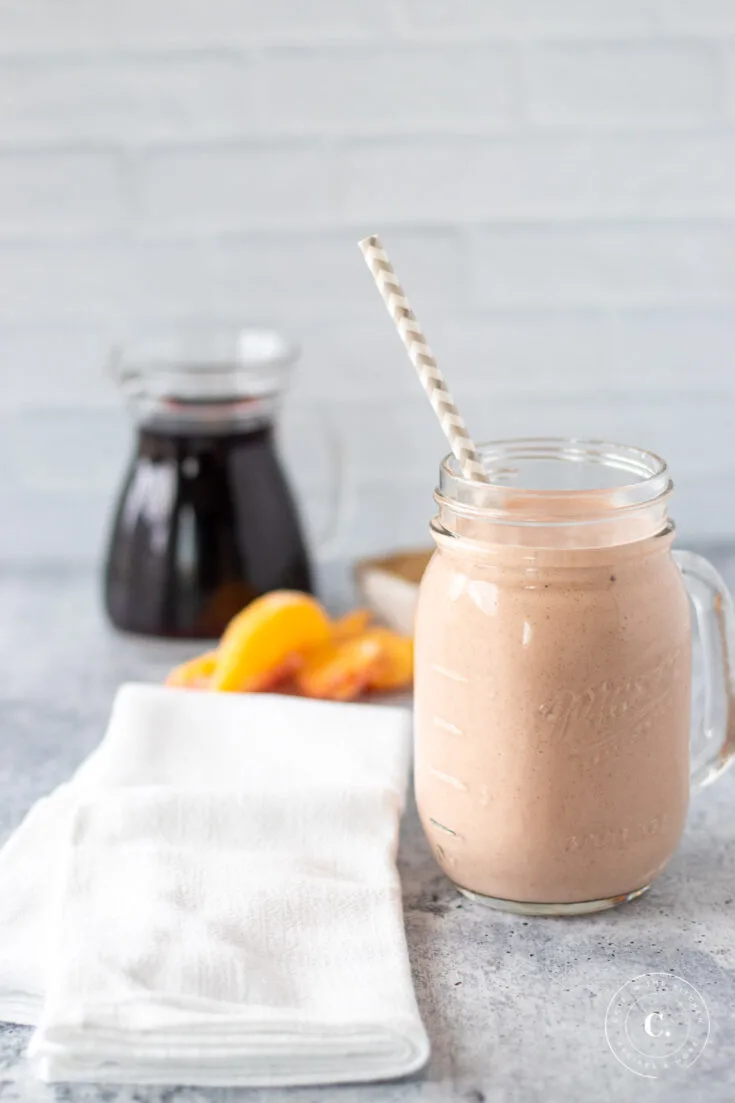 I absolutely love smoothies as a breakfast post-workout. I'm never super hungry in the morning, so this does a good job of filling me up, while not weighing me down food-wise, and BONUS – I think it is just a pretty color.
Feel free to play around with the ingredients. I've used chia seeds when I've run out of flax and I've played with different juices before too. I really like the cherry juice because I feel like it offers the perfect balance between sweet and tart. Pomegranate works really well, too, but I feel like it made the smoothie too sweet, and cranberry juice is just way to tart (for me). But orange juice or pineapple juice would be great in a pinch, too. They offer great vitamin C benefits, but I just prefer the darker-colored juices.
Whether you're pregnant or not, I think you will enjoy this smoothie, if nothing more than to mix it up a bit! Let me know what you think in the comments below.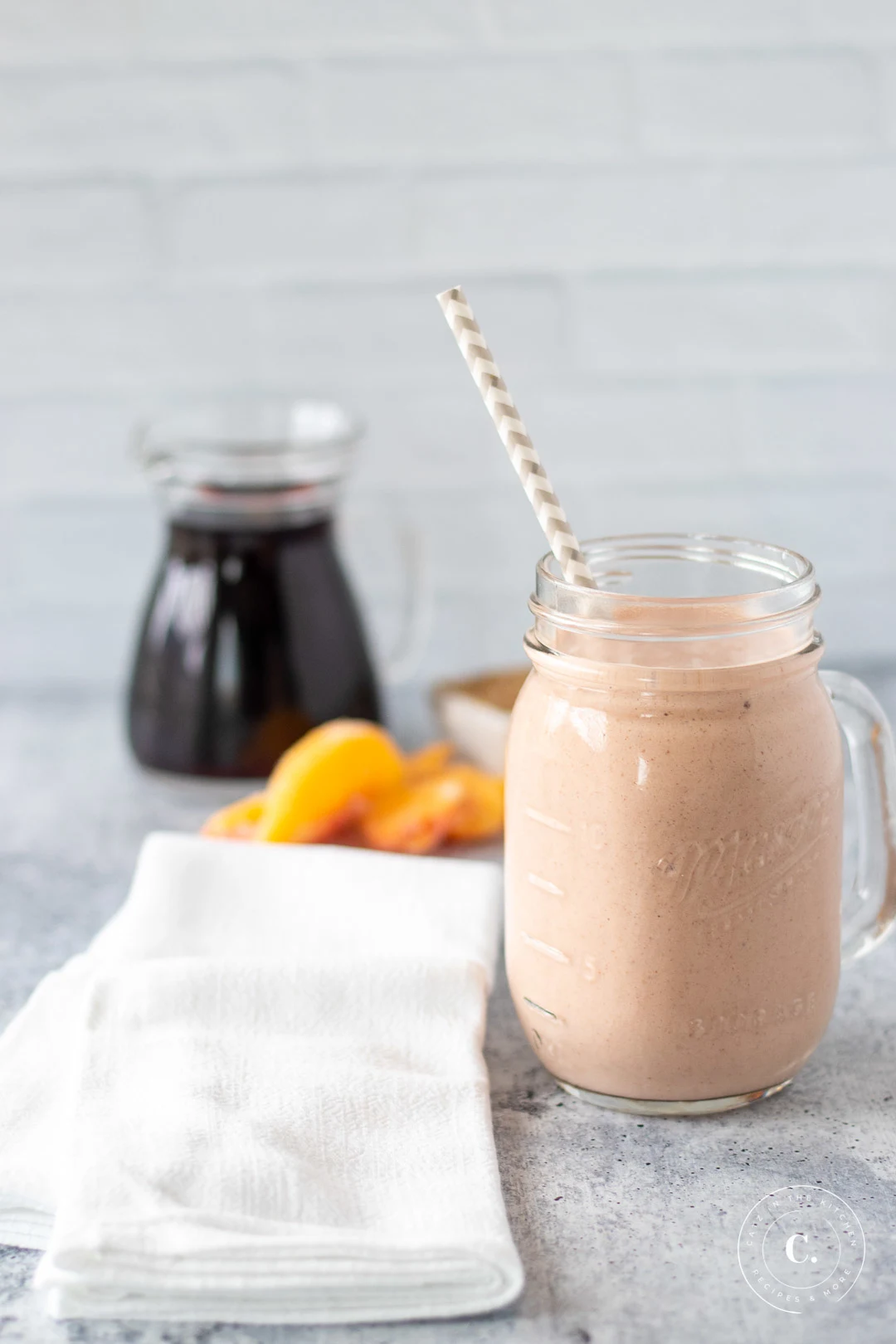 Cherry Peach Smoothie
Looking for a yummy, pretty way to get some extra vitamins and maybe a little protein, too? Try this easy cherry peach smoothie recipe!
Ingredients
1/2 frozen banana, sliced
3/4 cup greek vanilla yogurt
1 cup frozen sliced peaches
1/2 cup pure cherry juice
2 tbsp ground flaxseed
Instructions
Combine all ingredients into blender. Blend until smooth and creamy. Serve right away.
Notes
*Optional* add 1 scoop vanilla protein powder
Nutrition Information:
Yield:

1
Serving Size:

1
Amount Per Serving:
Calories:

379
Total Fat:

6g
Saturated Fat:

1g
Trans Fat:

0g
Unsaturated Fat:

5g
Cholesterol:

5mg
Sodium:

135mg
Carbohydrates:

65g
Fiber:

8g
Sugar:

51g
Protein:

19g
Nutrition information isn't always accurate.