What's creamy, tasty, and healthy, made with nonfat frozen yogurt and delicious Oregon blackberries? This Orange & Ginger Blackberry Smoothie!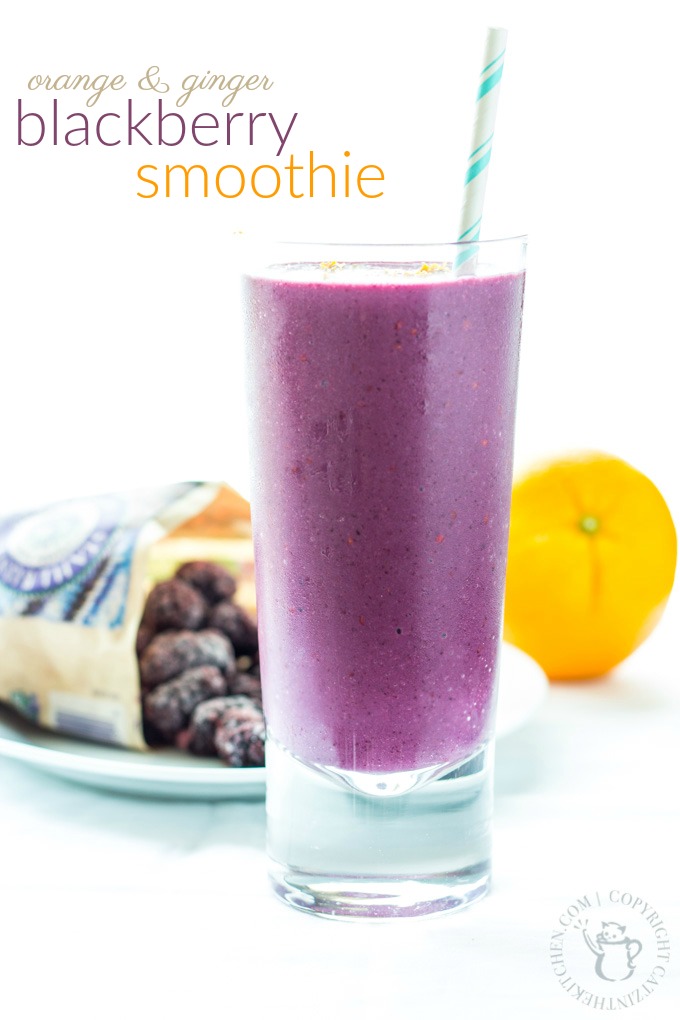 If you're a regular reader of Catz, you know we love to eat, mix in, cook with, bake with, and pick berries! In fact, I think the berry recipe archive is closing in on 40 recipes now, running the gamut from french toasts and crêpes to popovers and healthy cookies! The possibilities really are delectably endless, and as we've mentioned before, we have the added benefit here in the Pacific Northwest of easy access to lots and lots of local berries – local frozen berries during the winter and spring, and, often, fresh picked berries during the summer and fall. While blackberries aren't quite in season yet (you can literally walk down just about any park trail and pick them right off the bushes here in Clackamas County come August), flash frozen Oregon berries are readily available in the freezer section, perfect for smoothie duty!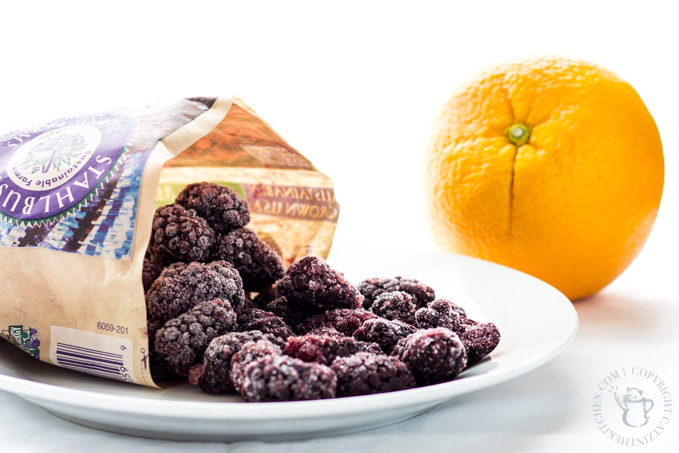 Our friends at the Oregon Raspberry & Blackberry Commission get in touch from time to time with a recipe idea for local bloggers, and being both foodies and berry fans, we're typically only too thrilled to participate. In the past, we've published a few berry recipes with a little inspiration from ORBC, and each one has been fun and yummy!
I mentioned earlier this month that we needed to get some more smoothies on the blog, given how many we drink and how few we have posted! So, when the opportunity came around to work up a new blackberry smoothie, Chels and I were both eager, and we both had an ingredient we wanted to include. Hers? Ginger. We love grating frozen ginger root into smoothies – it's easy, and adds a pronounced depth of flavor that's quite craveable. Mine? Vanilla frozen yogurt. Umpqua, another local brand, makes a delicious nonfat frozen yogurt that is, frankly, about as close to healthy as an ice-cream style dessert is going to get, and I though it might make for a creamy, slightly more indulgent smoothie without packing on calories.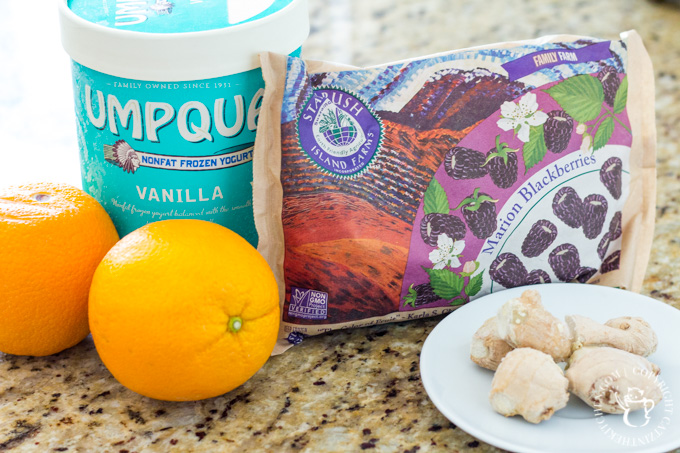 And thus, this super simple blackberry smoothie came together! Local Stahlbush frozen Marion blackberries, frozen ginger root, orange juice, some Umpqua nonfat frozen yogurt, and a bit of almond milk, and we were in business. Even with the frozen yogurt as a base, a 12 oz serving of this smoothie is only about 260 calories, almost no fat, a good bit of protein, and a nice smattering of calcium and other vitamins. This is definitely a creamy, shake-like smoothie experience you can feel good about drinking and serving!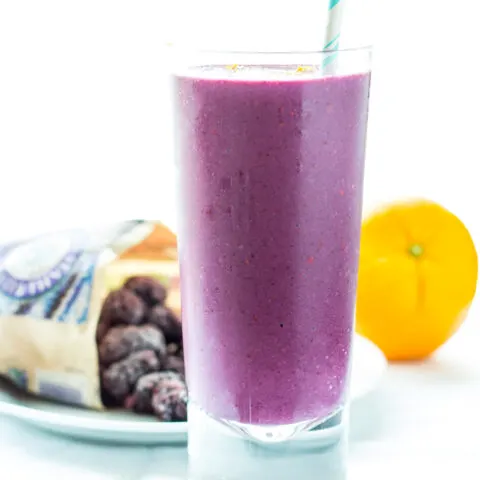 Orange & Ginger Blackberry Smoothie
What's creamy, tasty, and healthy, made with nonfat frozen yogurt and delicious Oregon blackberries? This Orange & Ginger Blackberry Smoothie!
Ingredients
2 cups frozen Oregon blackberries
3 cups nonfat vanilla frozen yogurt
2 cups orange juice
1 tbsp freshly grated ginger
1 cup almond milk
orange zest, for topping
Instructions
Add all ingredients except orange zest to blender and blend until completely smooth. You may want to add more or less almond milk to get the consistency you prefer.
Pour evenly into four glasses.
Zest a bit of orange peel on top and serve immediately.
Nutrition Information:
Yield:

4
Serving Size:

1
Amount Per Serving:
Calories:

276
Total Fat:

7g
Saturated Fat:

4g
Trans Fat:

0g
Unsaturated Fat:

3g
Cholesterol:

2mg
Sodium:

99mg
Carbohydrates:

49g
Fiber:

4g
Sugar:

42g
Protein:

7g
Nutrition information isn't always accurate.
The Oregon Raspberry & Blackberry Commission provided funding to purchase the ingredients used to develop this recipe, though we were not otherwise compensated for writing the post. Of course, all thoughts, photos, opinions and the recipe itself are our own.