We stumbled upon this one by accident! Intending to make something else entirely, we ended up with this yummy chocolate covered blueberry protein smoothie!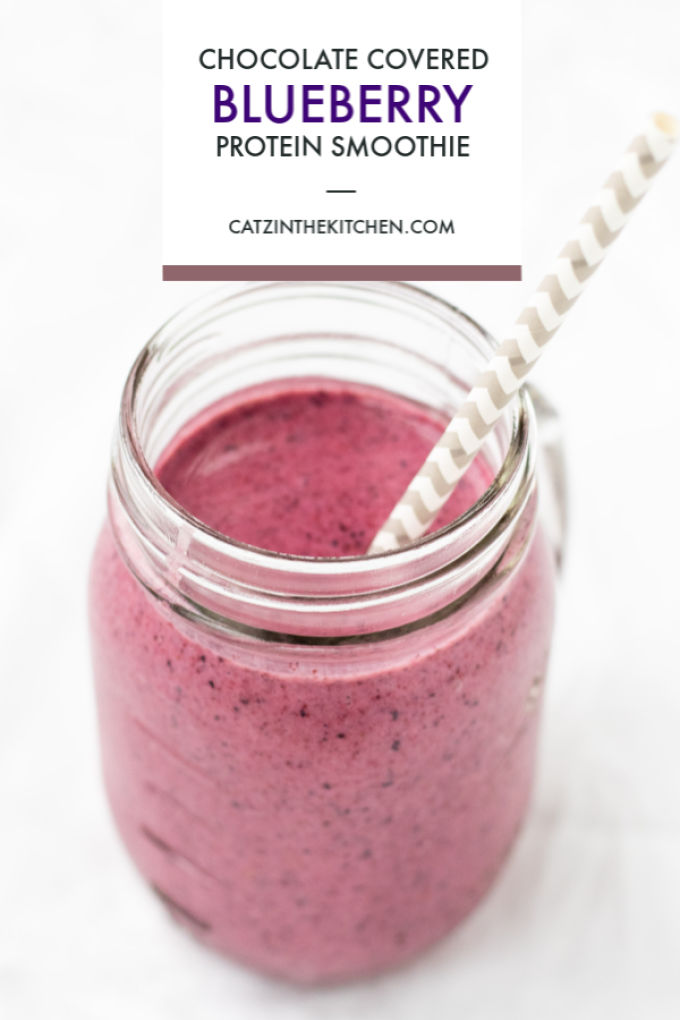 I've said this before, but we love smoothies. As a family, we make them at least once a week (typically the aptly named Sunday Morning Smoothie), and often more than that. I make one when I need a boost after a workout, we make them when we're needing a little Vitamin C boost, and almost always to accompany pancakes, waffles, or just about any other brunch. Basically, any excuse to make a smoothie, we're there.
Problem is…sometimes we forget to replenish our supply of frozen fruit. Bananas going bad? We flash freeze them. Costco run? Grab a couple of pineapples for chopping and freezing. You get the picture. But, yeah, sometimes we miss that one is running low. 'Twas the case a couple of weeks ago when I went downstairs to whip up a tasty, greens-forward citrus-based smoothie for Chels after she was done working out. I quickly discovered a problem. There was no pineapple. No mangoes. Just bananas, and while Chels tolerates bananas, there was no way she was going to enjoy a basically banana-based beverage. What's a guy to do?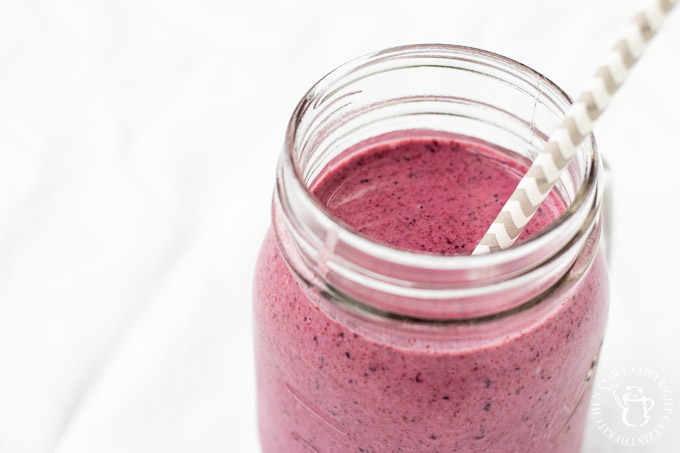 I had frozen blueberries and strawberries. I had chocolate protein powder. It occurred to me that chocolate and berries are nothing if not a classic combination…perhaps I could make that work. I added roughly even amounts of strawberries and blueberries, one serving of the chocolate protein powder, and topped it off with vanilla yogurt and almond milk. I blended it up and took a curious sip. I expected it to taste good, but it hadn't occurred to me that it would taste exactly like chocolate covered blueberries! This was, naturally, not an unpleasant discovery, especially for Grace, who is one of the world's foremost fans of said chocolate covered berries. We immediately christened it the "chocolate covered blueberry protein smoothie," and hurried to jot down the ingredients before I forgot what I had done (which is, sadly, quite typical of me).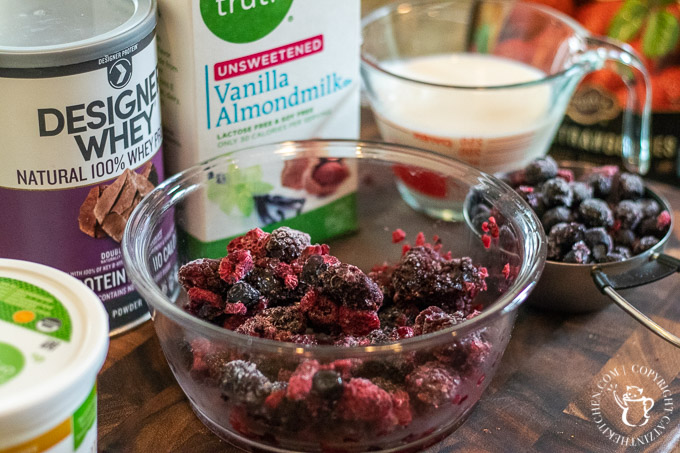 Here's the thing. When we decided to make this again and photograph it, Gracie accidentally threw a little wrench into our plans. When Chels was putting the list of ingredients we needed to buy from the store together, she asked Grace to check on the supply of frozen blueberries. Grace mistook a bag of blackberries for blueberries, and when the morning came…we realized we had no blueberries. Luckily, she was able to dig up a bag of mixed berries buried deep in the outside freezer. We gingerly picked through the assorted blackberries, raspberries, and strawberries, eventually accumulating the needed cup of blueberries! Tragedy averted.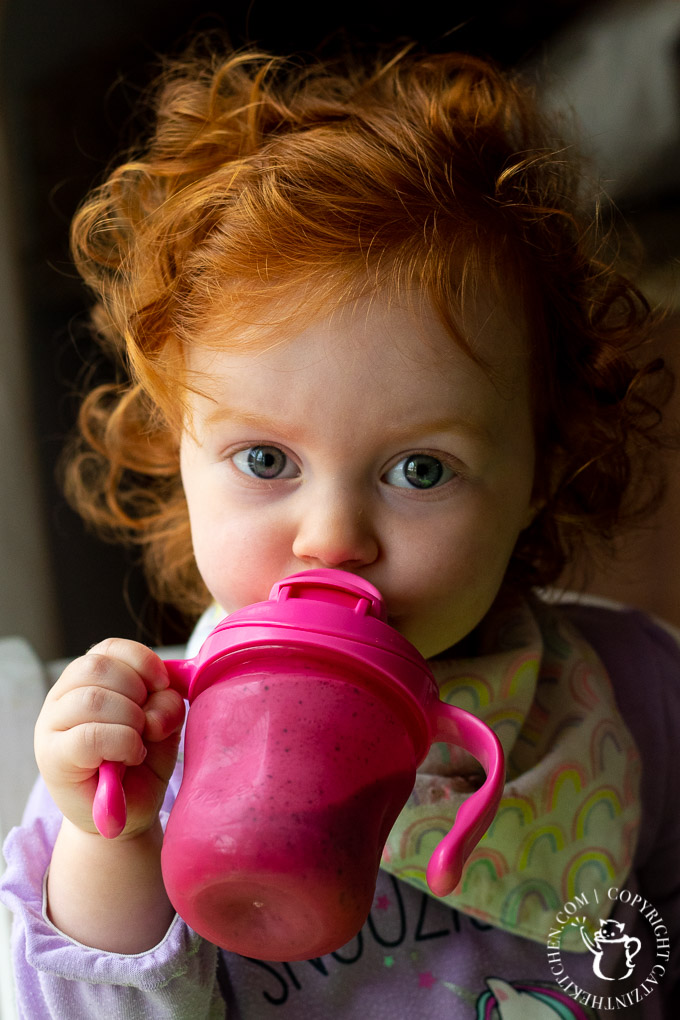 Ruby was one of my taste testers on this recipe. She's rapidly becoming something of a young smoothie connoisseur, so I was pleased to see that it received her baby seal of approval. Honestly, making smoothies that please kids isn't terribly difficult – fruit has so much inherent sweetness, most of them end up tasting like natural milkshakes!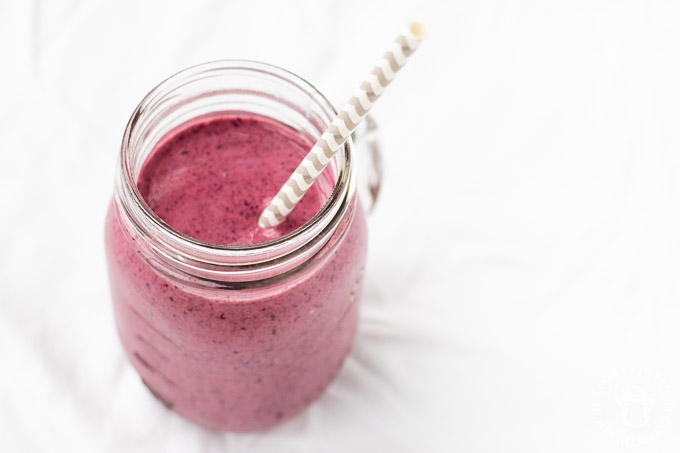 So, whether you're looking for a healthy treat that can sub in for a less healthy dessert or shake, something to give you a little protein boost post-workout, or just a tasty, easy way to down some berries with breakfast, this quick and simple chocolate covered blueberry protein smoothie has got you covered. And, yes…if you forget the blueberries, you can make it with assorted berries, and it will still be good!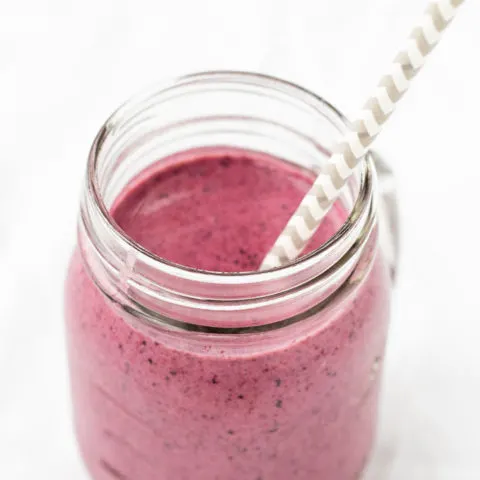 Chocolate Covered Blueberry Protein Smoothie
We stumbled upon this one by accident! Intending to make something else entirely, we ended up with this yummy chocolate covered blueberry protein smoothie!
Ingredients
1 cup frozen blueberries
1 cup frozen strawberries
1 cup non-fat vanilla yogurt
2 tbsp chocolate protein powder
approx 1 cup unsweetened vanilla almond milk
Instructions
Add all ingredients to blender.
Blend until smooth, adding more almond milk as needed if mixture is too thick.
Nutrition Information:
Yield:

2
Serving Size:

1
Amount Per Serving:
Calories:

232
Total Fat:

2g
Saturated Fat:

0g
Trans Fat:

0g
Unsaturated Fat:

2g
Cholesterol:

6mg
Sodium:

82mg
Carbohydrates:

39g
Fiber:

5g
Sugar:

18g
Protein:

17g