Craving a chocolate shake, but want to avoid the calories? We've got you covered with this healthy chocolate peanut butter shake. Try adding protein, too!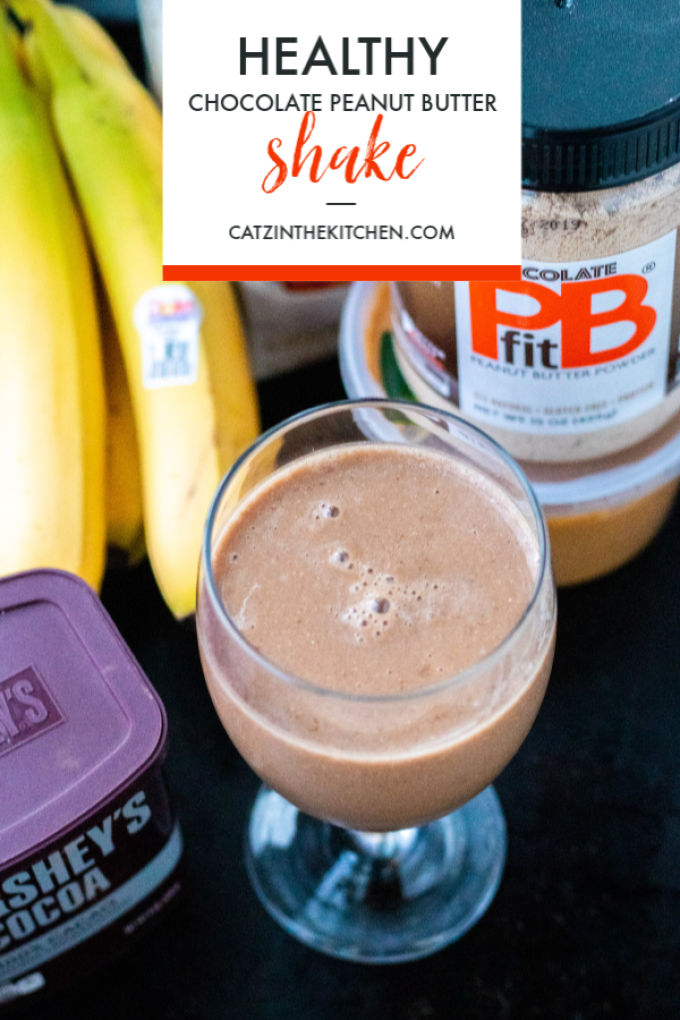 I debated about whether to call this a healthy chocolate peanut butter shake, a healthy chocolate peanut butter protein shake, or even a chocolate peanut butter smoothie. It was a tough decision. The reality is that it is all of those things, depending on how you make it. It's flexible that way…which is one of the reasons I love it.
I started making this shake for two very simple reasons: I love chocolate malts, and chocolate malts are outrageously unhealthy. It's all terribly unfair, but it's also reality. As with so many other totally delectable treats, one must partake only occasionally. When I was 16 or 17, of course, I could drink a chocolate malt whenever I wanted and never gain a pound. But as time passed…it simply wasn't so.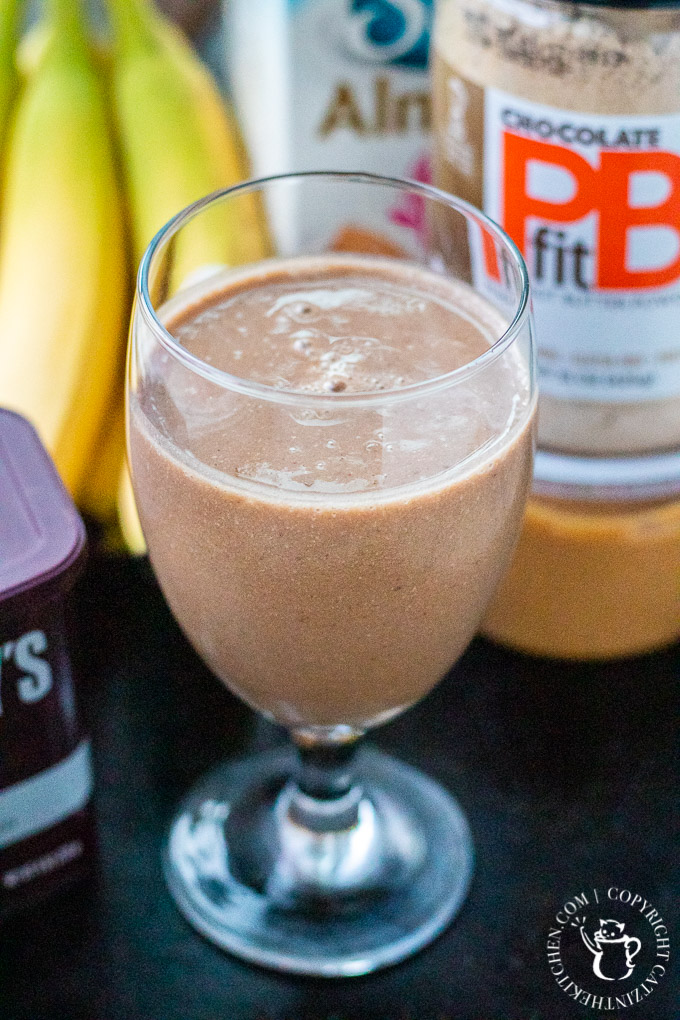 One day – I have no idea how long ago, but it's been years – I decided to come up with something that would keep my chocolate malt craving at bay without adding to my waistline. It's important to note at this point that I really like bananas. Always have. I mean, not like banana pudding or banana pie or any of those weird banana-ish situations that happen. But bananas proper? On peanut butter toast? On Cheerios? Sign me up.
If you don't like bananas, well…you can try this, but there's no getting away from the fact that there's a banana in there. So be warned.
Anyway, I started out with just bananas, milk, and unsweetened cocoa powder. That was tasty enough, but before long I'd started adding peanut butter because…well…peanut butter and chocolate, right? 'Nuff said. Since adding some of my favorite things had worked out well so far, I decided to add what could very well be my very favorite thing of all…COFFEE. And it was wonderful.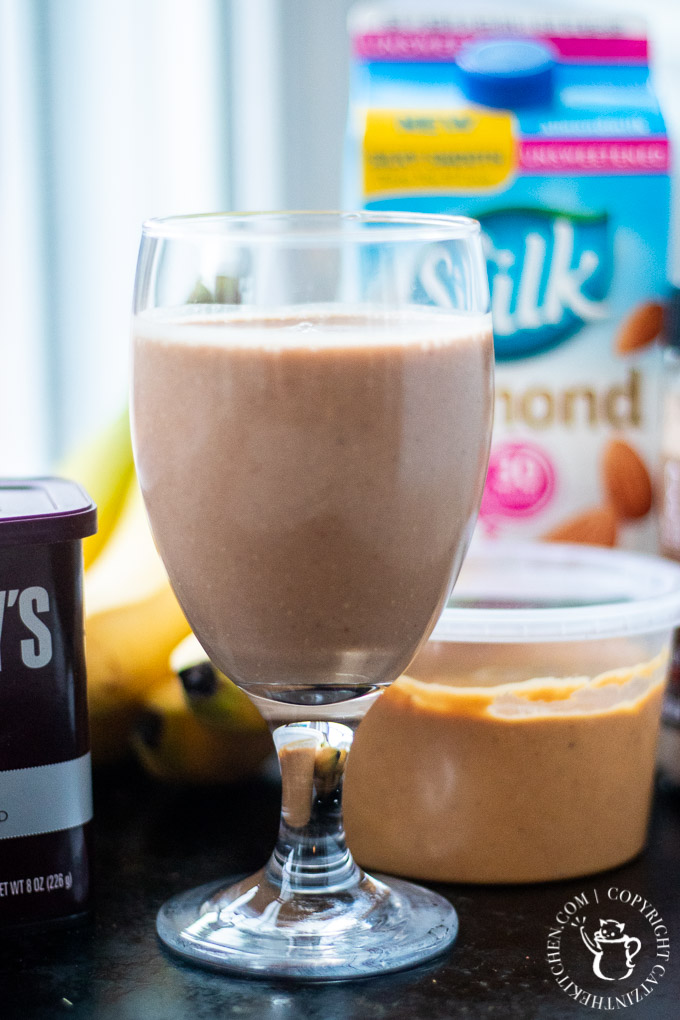 The malt powder came last, I think. About the time I switched to using almond milk to cut down on the calories even more. Now, you may be thinking, dude, really? Bananas, almond milk, chocolate, peanut butter, coffee, and malt powder? And I'm thinking YES, but I'm also thinking you can pick and choose what you want out of that ingredient list – it's your shake, after all! But…let's be honest. Don't mess with the first four ingredients. That's magic right there.
It dawned on me at one point that I could substitute chocolate protein powder for the unsweetened cocoa if I wanted to drink this at workout time. That worked well, although I'll admit I could never quite get used to the slightly strange aftertaste you get from adding protein powder to something.
And then a couple of months ago, we received a surprise sample of PBfit Peanut Butter Powder, in both original and chocolate varieties. I had no idea such a thing existed. Of course, I immediately took the original PBfit and followed the directions to mix with water and produce (voila!) peanut butter, albeit peanut butter claiming 87% less fat and 2/3 fewer calories. I was skeptical, but it was actually really good. I still prefer real, natural peanut butter, but this stuff is dang close and a heckuva lot healthier.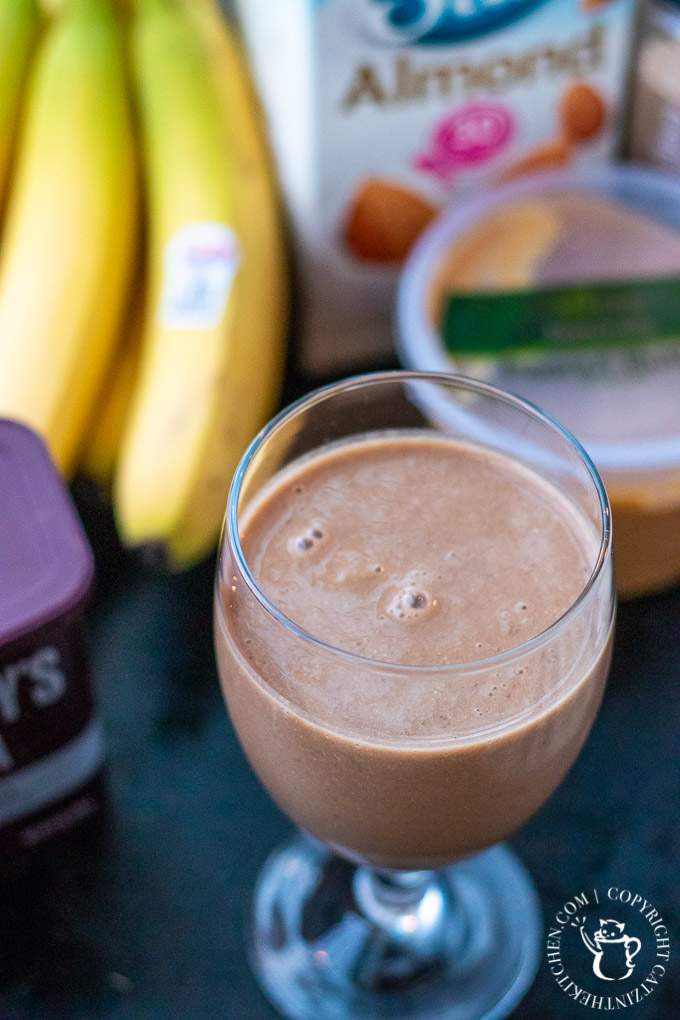 So, what about that jar of PBfit chocolate peanut butter powder? I couldn't help but think of my favorite healthy shake recipe. I simplified my work out version to just the banana, the almond milk, the coffee, and the PBfit chocolate. Done and done, but with lower calories and some extra protein. And, while I hate to admit it…I really can't tell much difference in flavor between the version with PBfit and the version with unsweetened cocoa powder and real peanut butter. Honestly.
So, without further ado, there you have it – the healthy peanut butter chocolate shake Chels has been asking me to blog for the last year (not because she likes it – she doesn't – but because there are probably other crazy people out there like me who will). Whether you make the snacky I'm-craving-a-chocolate-malt-right-now variety or the I-need-a-little-post-workout-pick-me-up variety, I hope you enjoy my little creation.
While PBfit did supply samples as described, this post is not sponsored by PBfit, and the opinions and recipe are completely my own.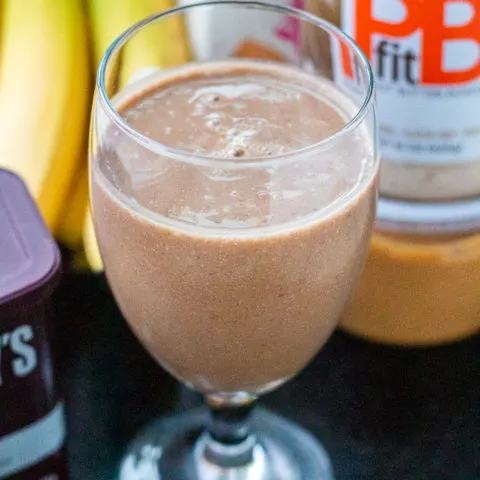 Healthy Chocolate Peanut Butter Shake
Craving a chocolate shake, but want to avoid the calories? We've got you covered with this healthy chocolate peanut butter shake. Try adding protein, too!
Ingredients
1 Large Banana
1 cup almond milk
1/4 cup cold black coffee
Instructions
Add all ingredients to blender.
Blend until smooth. If shake is too thick, add more almond milk or coffee. If too thin, add more banana.
Notes
For a slightly more indulgent treat, instead of peanut butter or protein powder, sub in unsweetened cocoa powder (about a tbsp), malt powder (another tbsp), and a tbsp of peanut butter. (If you choose to include malt powder, keep in mind that the recipe is no longer gluten-free.)
Nutrition Information:
Yield:

1
Serving Size:

1
Amount Per Serving:
Calories:

231
Total Fat:

4g
Saturated Fat:

0g
Trans Fat:

0g
Unsaturated Fat:

4g
Cholesterol:

0mg
Sodium:

254mg
Carbohydrates:

45g
Fiber:

6g
Sugar:

27g
Protein:

6g