These champagne blondies are a sweet little treat, with an added lightness and complexity courtesy of the bubbly in the mix and glaze!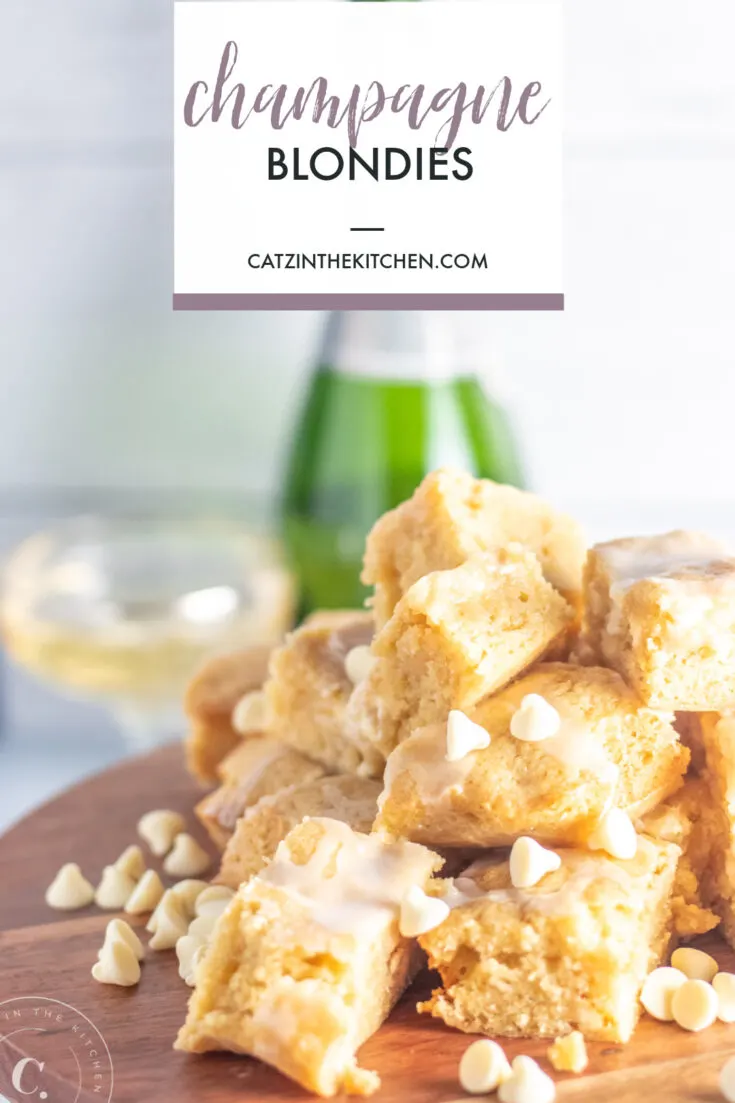 Let's see…how well do we all know Chels? Does Chels love brownies or blondies more? The answer is blondies because I don't love chocolate that much! Don't get me wrong, I do enjoy a brownie – it is my favorite form of chocolate. But if you had a brownie in one hand and a blondie in the other, I would choose a blondie any day of the week! The texture and the color just gets me every time.
The year 2022 is coming in hot and fast and this dessert is perfect for ringing in the New Year. This is not a fancy blondie or a complicated one to make. It's actually a pretty simple and basic recipe, but the flavor of the champagne (okay, ours was from California, so it's technically sparkling wine) is what really what makes this dessert special.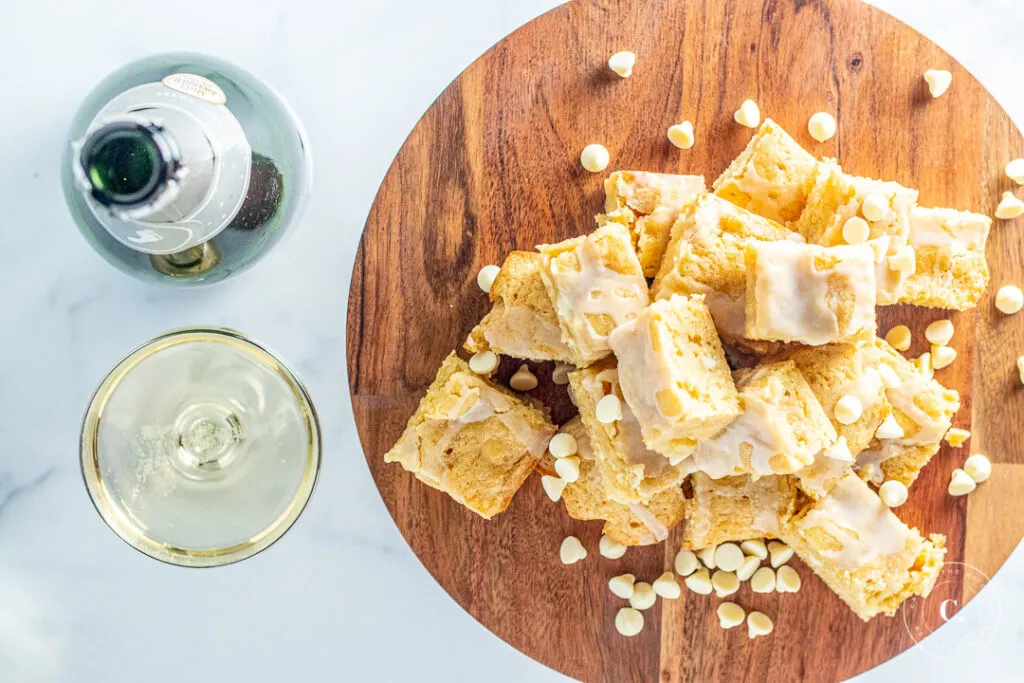 There is something about adding carbonation to a baked treat that makes the consistency so light and airy. Don't believe me? Then you definitely need to try these Country Apple Dumplings – which is such a wonderful dessert, especially if you need to bring dessert to someone or are having company over. The bubbles from pop or champagne in this case act as a leavening agent, which not only makes baked goods rise, but also makes them light and fluffy.
These Champagne Blondies are definitely light and fluffy. And sweet.
There are three ingredients in these blondies which bring sweetness to the crumb.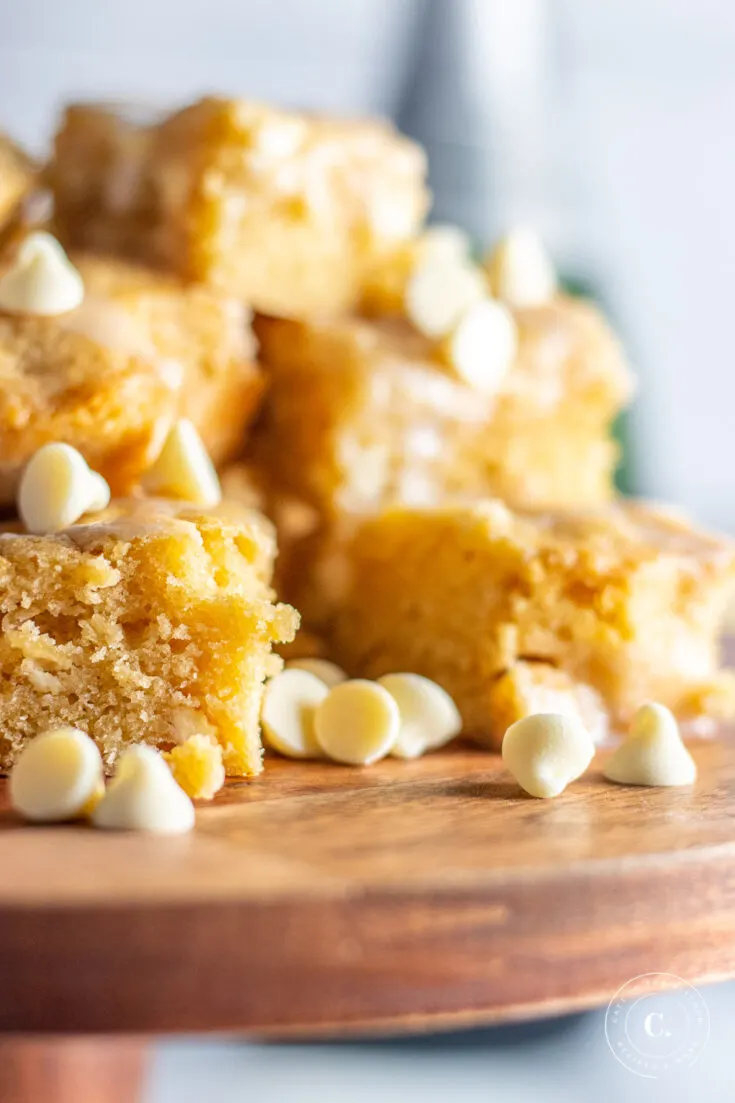 The first is brown sugar, which I always think is the richer and deeper flavor of sugar. I often will swap other sugars in recipes for brown sugar just because I think it downplays that sweet "I'm going to get a cavity from this" feeling.
The second sweetening element is the champagne. If you want to use something that counteracts the sweetness like we did, use a Brut or dry champagne (sparkling wine). If you have a sweet tooth, add Prosecco or a sweeter sparkling wine. I do want to add that there are a ton of nonalcoholic alternatives now that most grocery stores carry or you can buy online. Of course you can always use sparkling cider, too. If you like sparkling cider, make sure you check out this Sparkling Apple Cider Pound Cake recipe for another example of what the carbonation does in baking!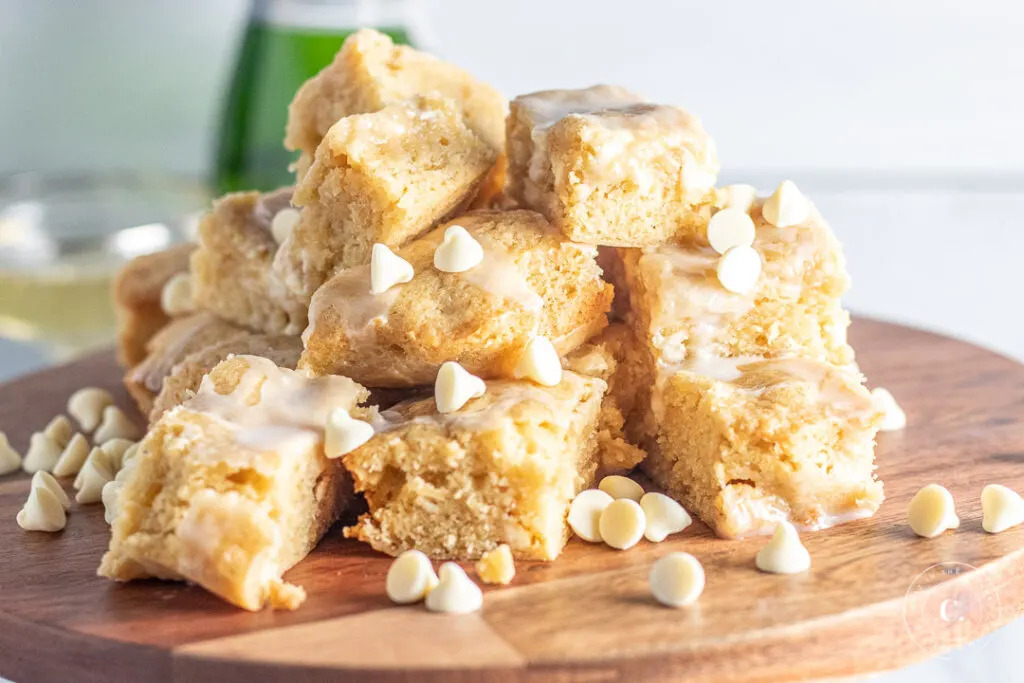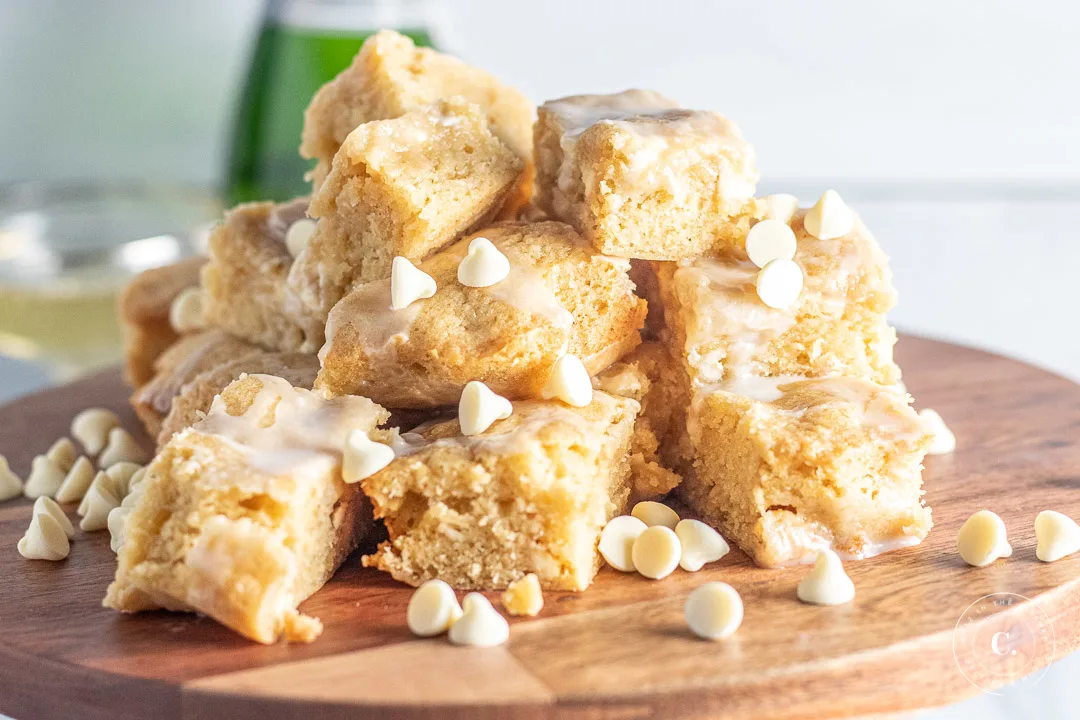 The third ingredient adding sweetness to this recipe is baking chips. And I want to give you freedom in this area to play around with what you might have on hand or see at the store. I used white chocolate chips, but chocolate chips or butterscotch would add a less sweet flavor to the blondies. And if you can find them, I know Trader Joe's has salted caramel baking chips, too. I don't know if that is just a seasonal thing, but, ooh, that sweet and salty flavor would be incredible in this recipe.
The bottom line – you can make this base recipe as sweet or not as sweet as you like – which is pretty cool.
The glaze, like most glazes are, is pretty sweet, though. I mean it is made with powdered sugar, so beware of that, but the champagne does chill it out a smidge, and if you end up downplaying the sweetness with the other ingredients in the recipe, then who cares about the glaze. #YOLO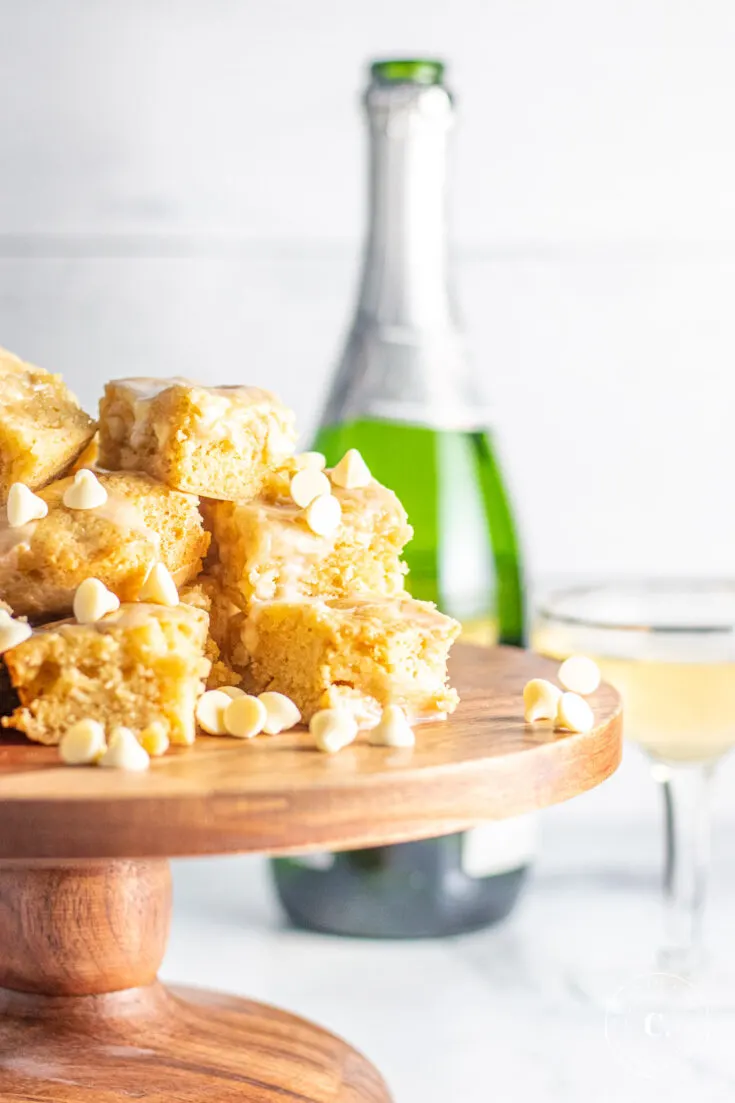 You control how much or how little you drizzle onto the blondies. I mention that for one other reason – the amount of wine in the glaze is only 2 tbsp (for the whole recipe) and you definitely will not even come close to using all of the glaze on these blondies. So it's up to you as the parent if you feel comfortable letting your littles have a tiny square, but the amount of "uncooked out" alcohol here is almost zilch – probably well below a lot of recipes just involving vanilla! We let our kids enjoy a blondie, but do what you're comfortable with and if that means using sparkling cider, then by all means, go for it!
But, make these blondies. I promise you won't be sorry!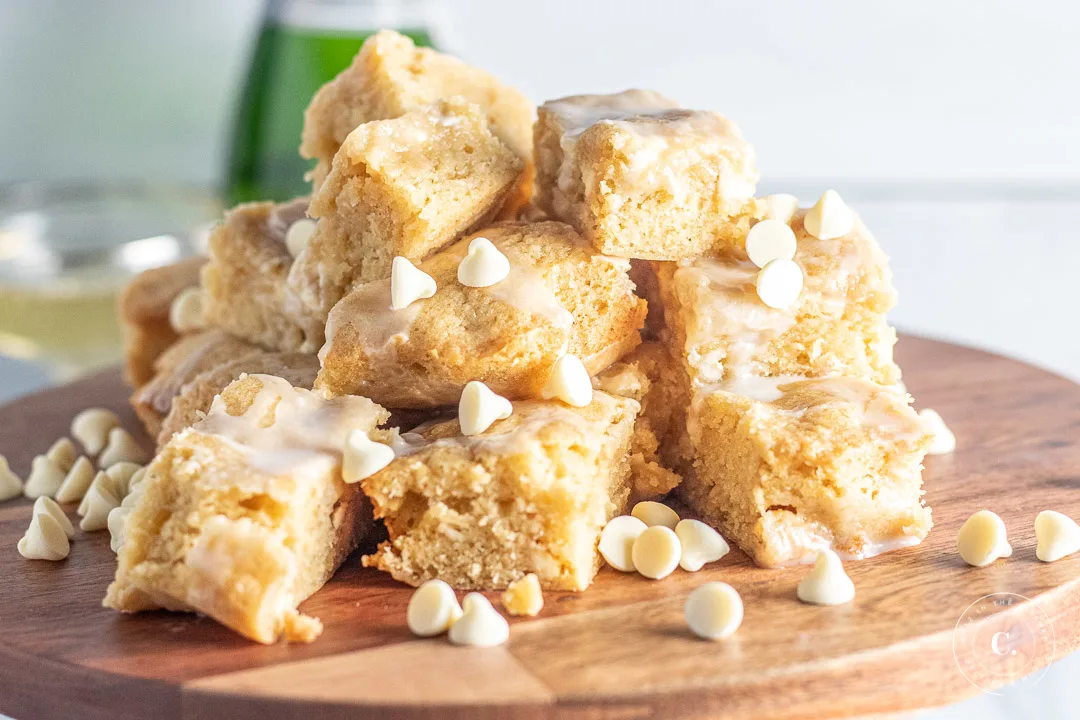 Champagne Blondies
Total Time:
1 hour
55 minutes
These champagne blondies are a sweet little treat, with an added lightness and complexity courtesy of the bubbly in the mix and glaze!
Ingredients
1/2 cup unsalted butter, softened
1 cup brown sugar, packed
1 large egg, at room temperature
1/4 cup champagne
1 1/4 cup all-purpose flour
1 tsp baking powder
1/4 tsp salt
1/2 cup white chocolate baking chips
Glaze
1 cup powdered sugar
2 tbsp champagne / sparkling wine
Instructions
Preheat oven to 350 degrees. Line a 8x8 square baking dish with parchment paper, leaving the ends of the paper sticking out over the sides. Set aside.
In a large bowl, beat butter and brown sugar together until crumbly, about 2 minutes. Beat in egg and champagne - the mixture will look curdled. It's okay - keep going. In another bowl, whisk flour, baking powder, and salt together; gradually add the mixture to the butter mixture, until combined. Fold in baking chips.
Spread into prepared pan, making sure to spread the thick batter evenly. Bake until the edges are brown and center is set, making sure to not overbake. 25-30 minutes. I found 30 minutes to be the sweet spot. Cool baking dish completely on a wire rack before removing the parchment.
Combine the glaze ingredients; drizzle over the blondies. Lift the parchment out of the baking pan and cut into bars. Store leftovers in an airtight container at room temperature.
Notes
Recipe Source: Taste of Home Magazine