Add a little variety to your holiday baking this year by whipping up these festive peppermint hot cocoa brownies!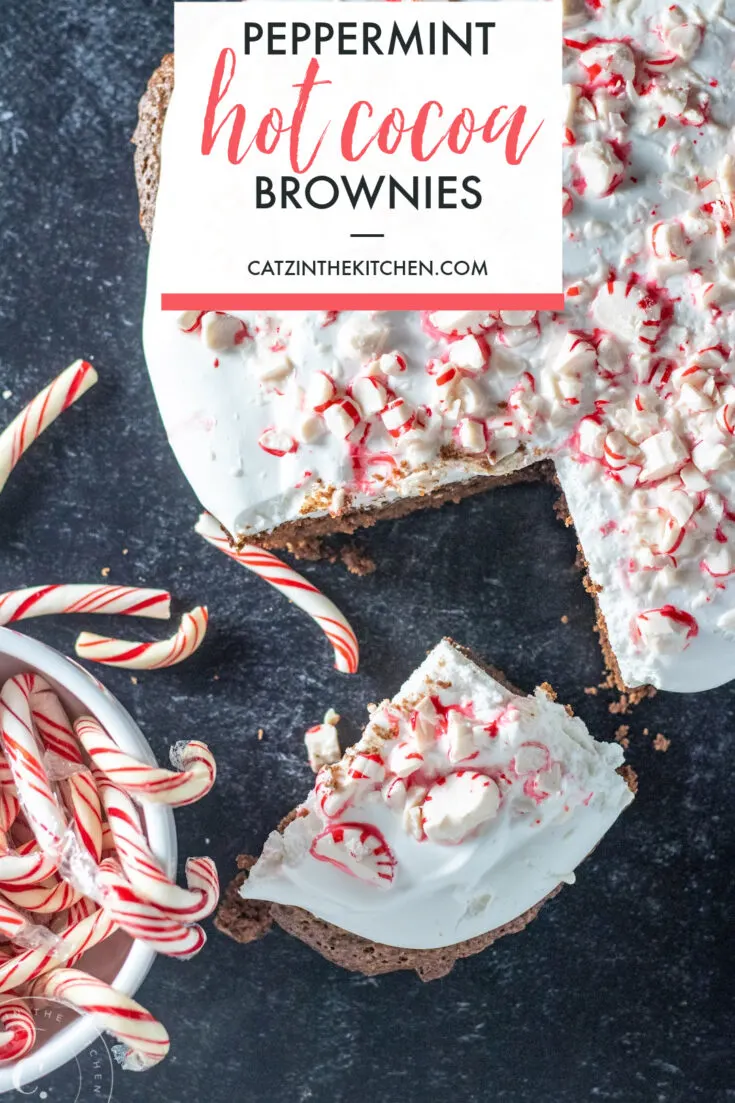 This is the last dessert post before Christmas and it's a good one. I do realize that I did not share even one cookie recipe and I'm okay with that. I have lots of ideas for cookie recipes for next year though.
This recipe is special, though. Kind of a one and done. No need to go to any unnecessary work, doing all kinds of Christmas baking (unless that sounds like fun, which sometimes it definitely does…). If you're showing up to someone's house for the holidays, don't bring another plate of cookies…bring brownies. Peppermint Hot Cocoa Brownies to be precise.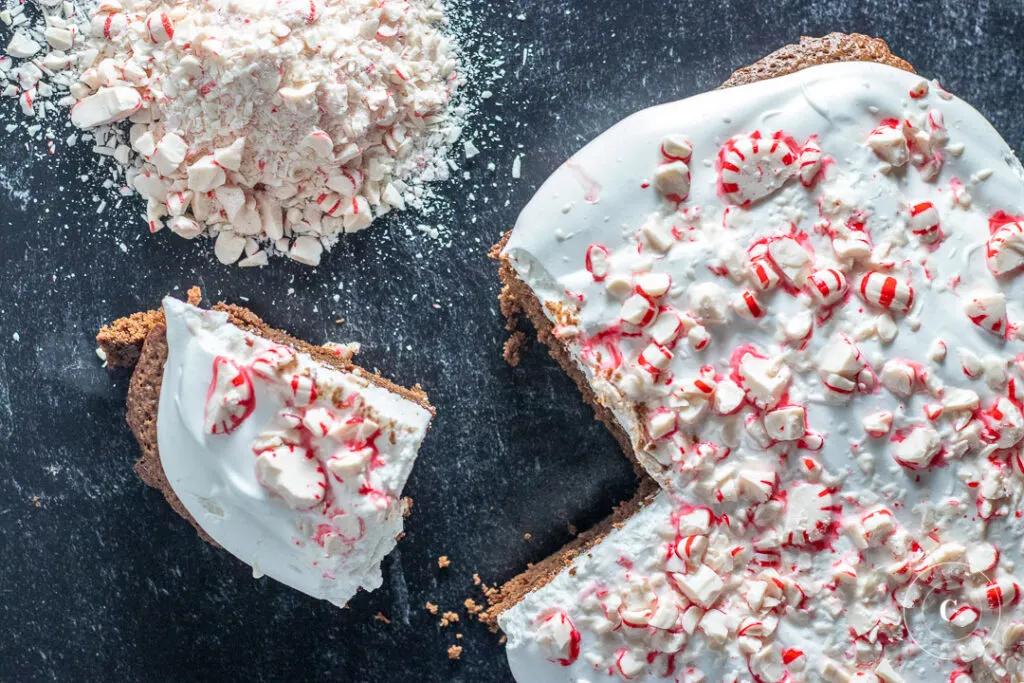 I love a good cookie – they're kind of one of my favorite desserts to eat, but cookies can get really sweet in a hurry. Brownies can, too, of course. But these brownies are not sweet all over. The topping is sweet, of course, but the sweetness is balanced with a good dose of peppermint extract.
I think adults and kids will really enjoy these brownies and for two different reasons. Adults will appreciate the sophisticated profile of the actual brownie itself and kids are going to take one look at the topping and their eyes are going to bug out of their heads with excitement. I don't blame them, I would have too if this had been presented to me as a kid. But as an adult now, it's the brownie part that gets me.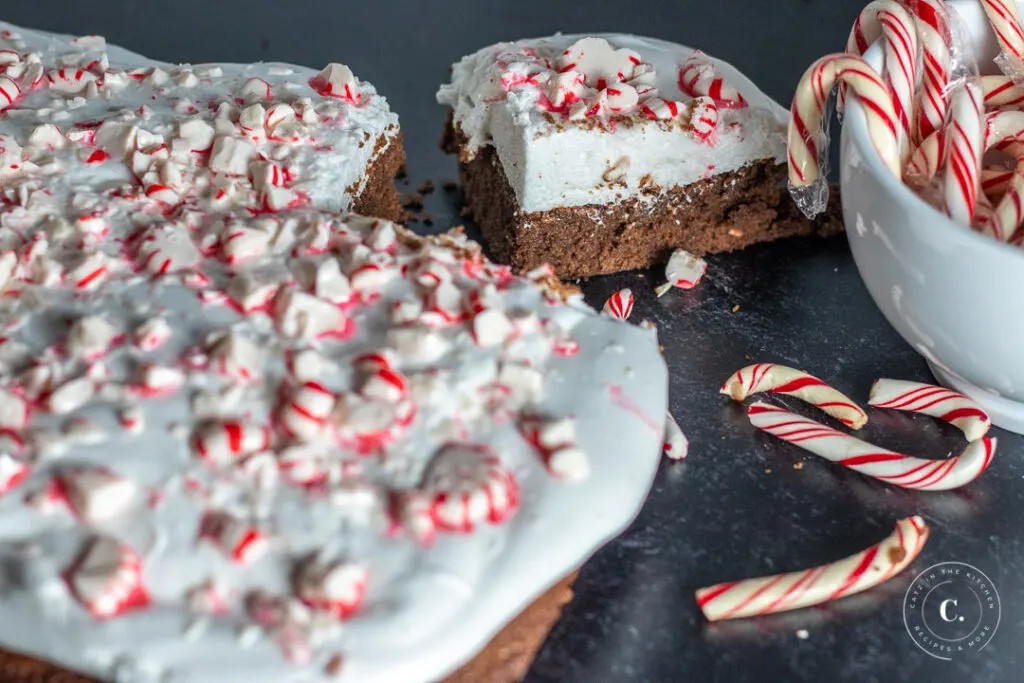 While I love a good frosting, topping, or glaze – I mean toppings really are the cherry on top to most desserts. The brownie tastes like a deep, smooth cup of hot cocoa. It's delightful and lovely and I could easily just eat that part of the brownie. But the topping is special to me. You would think that it is made with marshmallow cream because that's what it looks like. This is the part that the kids will freak out about. However, marshmallow cream is made with egg whites and this topping's secret ingredient is unflavored gelatin powder (which is cheap and easy to use).
Kids won't care and will barely be able to tell the difference between the two. They're just going to want to try to take a swipe of the frosting with a finger – which will be hard for them to do because it will be stiff (or just take a big 'ol bite out of the brownie itself).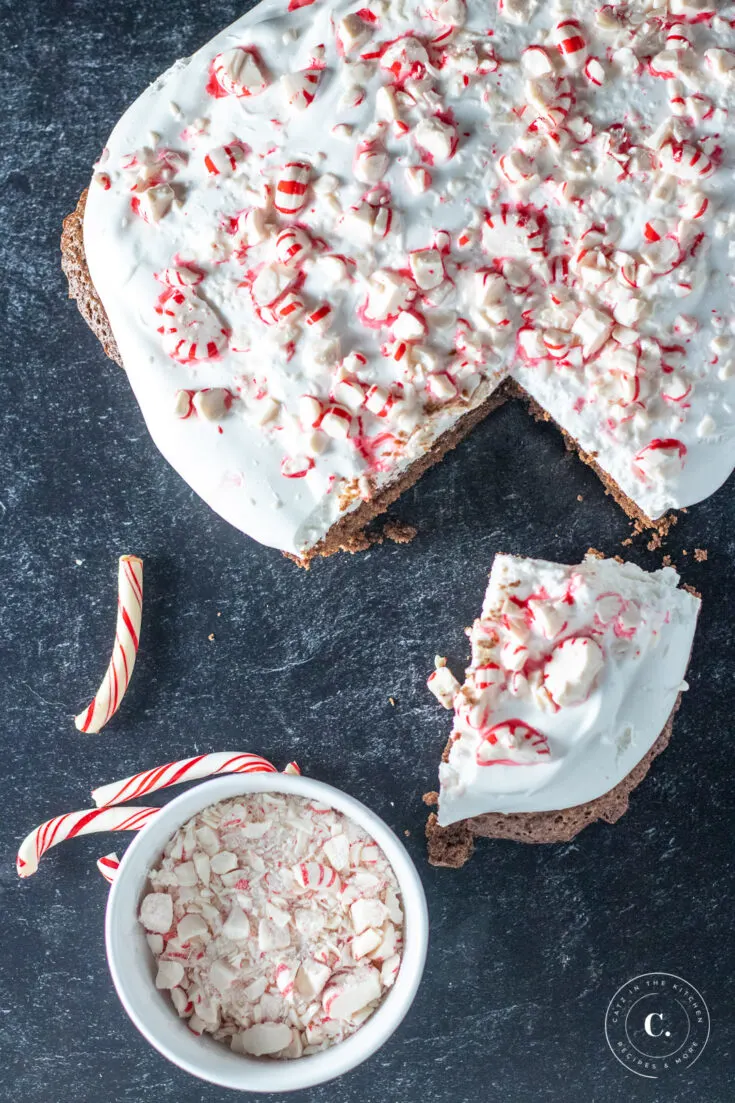 In my opinion, there's no wrong way to go about enjoying it, one is just a little easier, maybe a little less messy than the other. But who am I kidding. If you've got kids, it will be stuck to their face and if you've got a daughter like my Ruby, probably stuck in her hair too. But that is the magic of Christmas and all the beautiful and delicious desserts that come with the season.
If you're looking for a last minute dessert – bake up this one and have the kids help. They will love licking the spatula and have fun crushing the peppermint candies for the topping…of the topping.
Merry Christmas, friends. I hope you have a very happy holiday.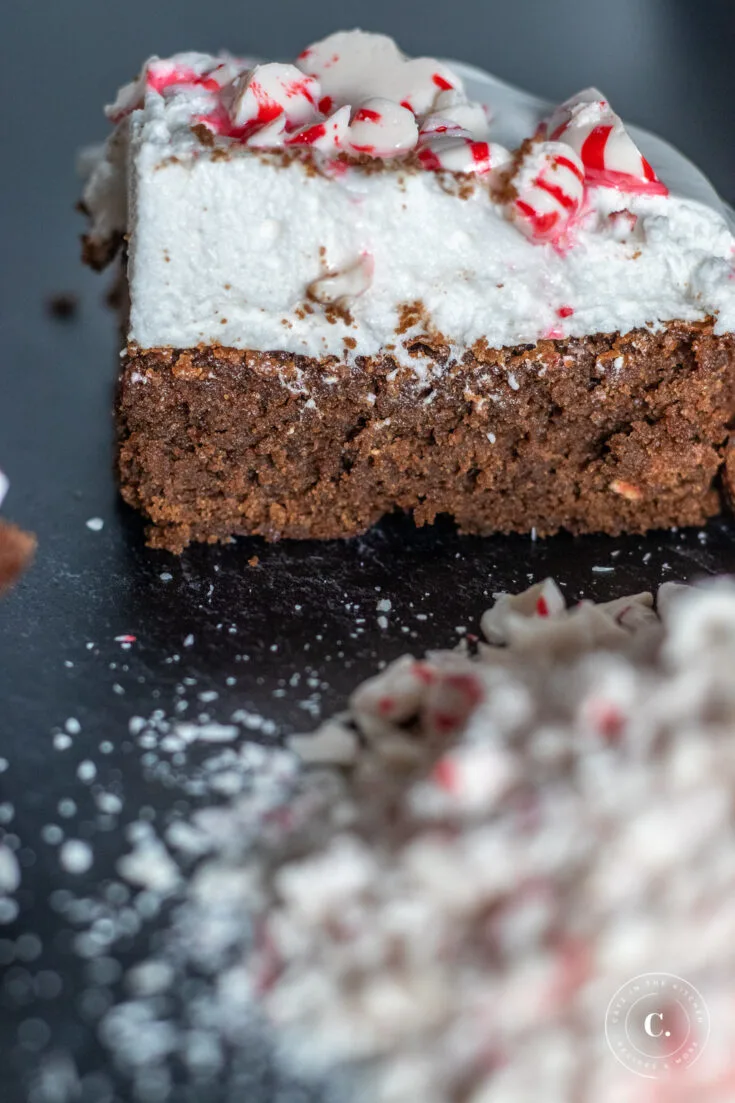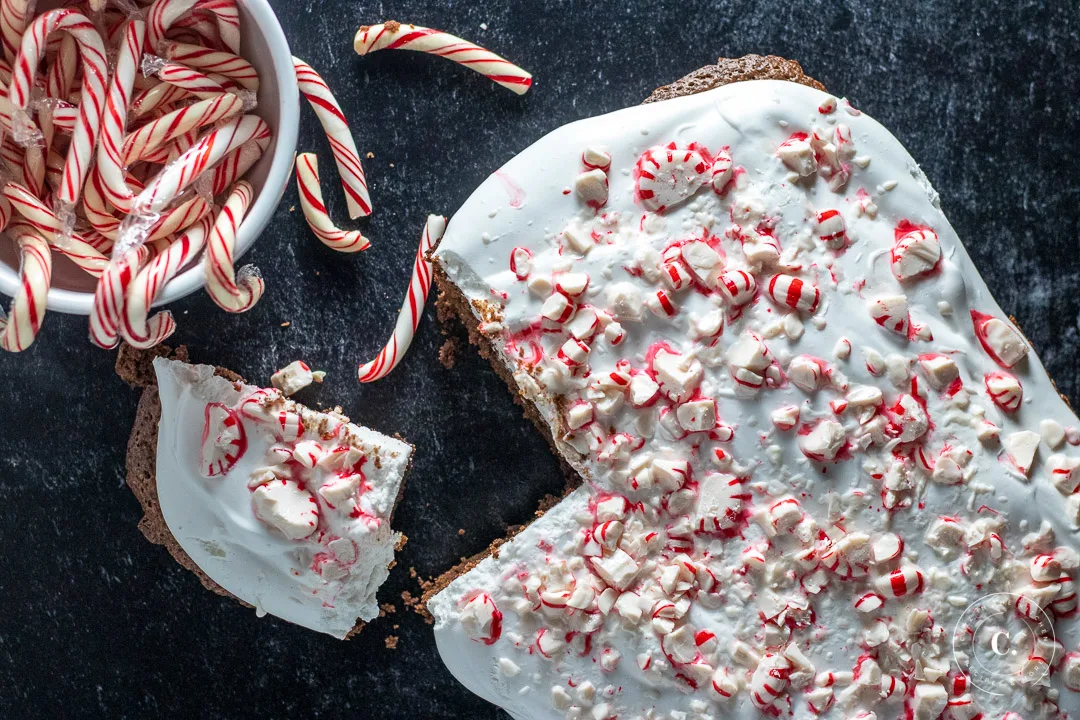 Peppermint Hot Cocoa Brownies
Total Time:
3 hours
15 minutes
Add a little variety to your holiday baking this year by whipping up these festive peppermint hot cocoa brownies!
Ingredients
Brownies:
Cooking Spray
1 1/2 cups all-purpose flour
1/2 cup unsweetened cocoa powder
1/2 tsp baking powder
1/4 tsp baking soda
1/2 tsp salt
2 sticks unsalted butter, cut into pieces
6 ounces milk chocolate, chopped
1 cup granulated sugar
1 cup packed brown sugar
4 large eggs, room temperature
2 tsp pure vanilla extract
1/2 cup whole milk
Topping:
2 1/4-ounce packages unflavored gelatin powder
1/8 tsp salt
1/2 cup water
1 cup granulated sugar
1/2 cup light corn syrup
1 tsp pure vanilla extract
3/4 tsp pure peppermint extract
Cooking Spray
Crushed peppermint Candies, for topping
Instructions
To make the brownies: Preheat oven to 325 degrees. Lin a 9x13 baking dish with foil, leaving a 2 - inch overhang on all sides; coat with cooking spray. Whisk the flour, cocoa powder, baking powder, baking soda, and salt in a medium bowl.
Melt the butter and milk chocolate in a pot over medium-low heat, stirring. Remove from the heat and whisk in both sugars. Whisk in the flour mixture until just combined. Spread the batter into the prepared pan.
Bake until a toothpick inserted into the middle comes out clean with a few crumbs, about 45 minutes. Transfer to a rack and let cool completely in pan/ Lift out of the pan using the foil overhang.
Meanwhile, make the topping: combine the gelatin, salt, and 1/4 cup water in a stand mixer with the whisk attachment. Let sit for 2 minutes. Combine the granulated sugar, corn syrup, and 1/4 cup water in a small saucepan. Bring to a boil over medium-high heat and cook, without stirring, until the sugar has dissolved, 1 -3 minutes. With the mixer on low speed, slowly pour in the sugar syrup, gradually increase the speed to high; beat until thick and fluffy, 12-15 minutes. Beat in both extracts.
Coat a rubber spatula with cooking spray; spread the topping on the brownies. Sprinkle with peppermint candies and let set, about 2 hours. Cut into pieces using a knife coated with cooking spray.
Nutrition Information:
Yield:

24
Serving Size:

1
Amount Per Serving:
Calories:

281
Total Fat:

11g
Saturated Fat:

6g
Trans Fat:

0g
Unsaturated Fat:

4g
Cholesterol:

53mg
Sodium:

116mg
Carbohydrates:

41g
Fiber:

1g
Sugar:

34g
Protein:

5g
Nutrition information isn't always accurate.