This recipe for date & oat bars is a layered delight – crust, filling in the middle, more crust…topped with cinnamon whipped cream!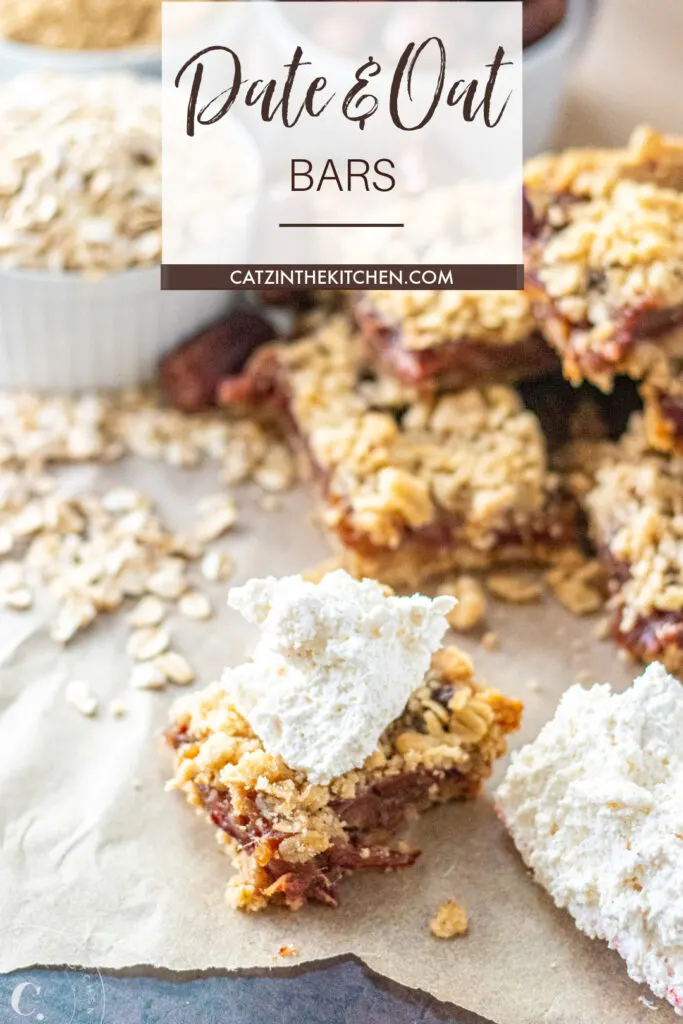 Date & Oat Bars. Have you ever had them or have you ever eaten dates other than something like bacon wrapped dates around the holidays? I realize there are cultures around the world where dates are a staple, but I think it's safe to say they have not really achieved that status here in the States. I, personally, have not eaten a ton of dates…except when I was pregnant and then I ate several a day leading up to delivery. I guess you could say that this recipe that I'm about to share with you is also prenatal friendly!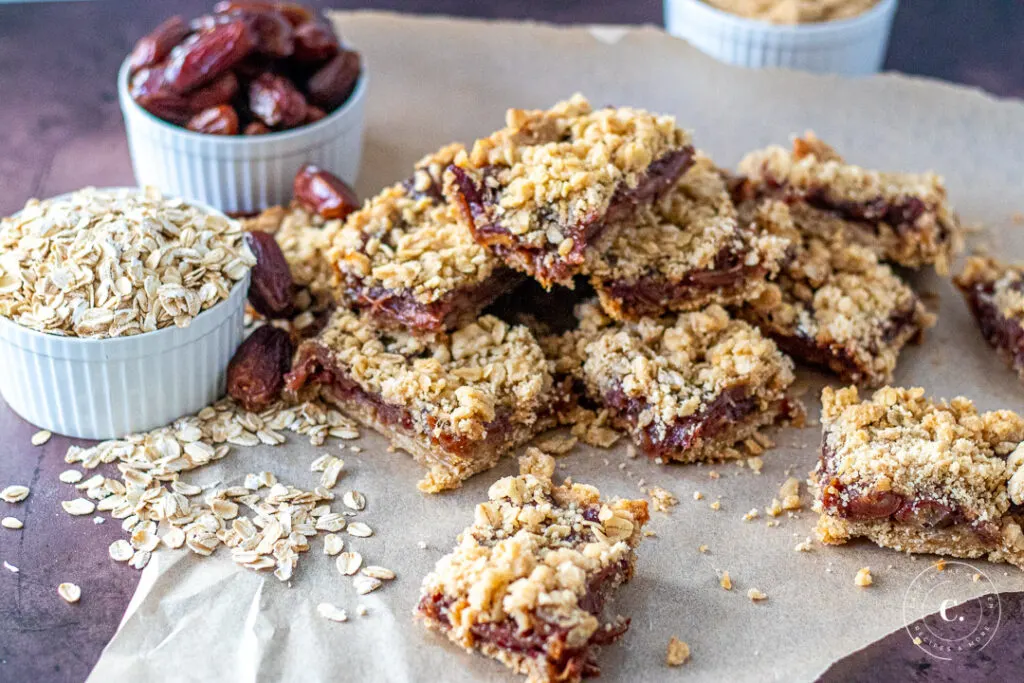 What pregnant woman doesn't love an excuse to have dessert, especially if it could you speed up that delivery process a bit?!
This is one of those recipes that is really perfect all year round. Bake em up and serve them with ice cream or some cinnamon-y whipped cream to really crank it up a notch.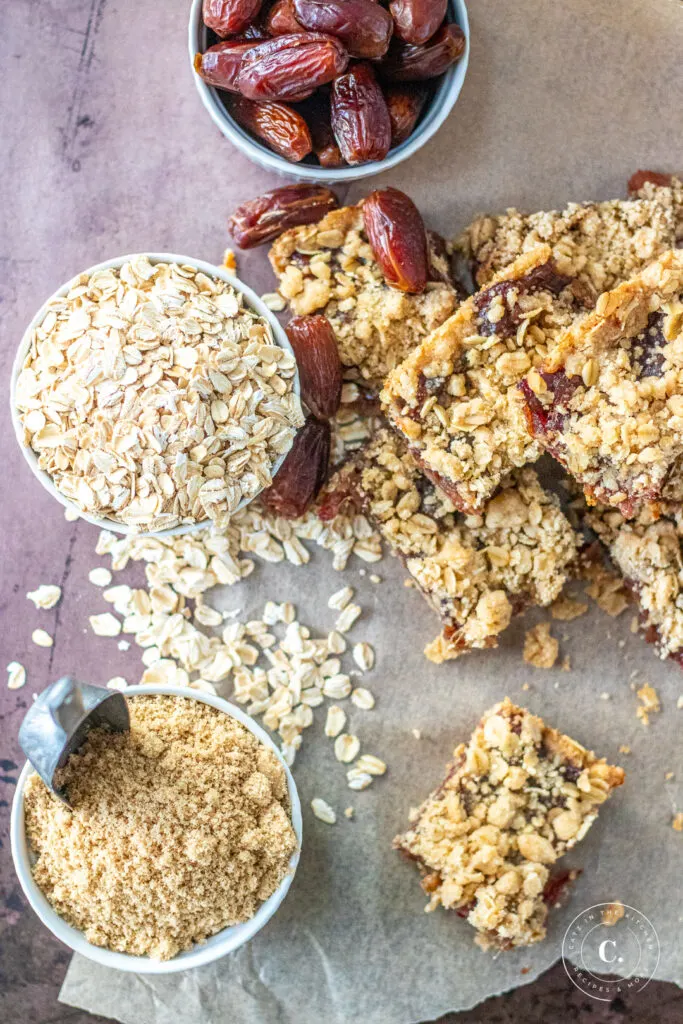 But you're going to need some dates to make this recipe – the rest of the ingredients are pretty straight forward, but the star of the recipe is the dates and you will need quite a few. You could buy them in those smaller bags from Trader Joe's or you could just swing for the big bag from Costco and you'll be all set. Of course, if you're pregnant, you will probably want the bigger bag anyways.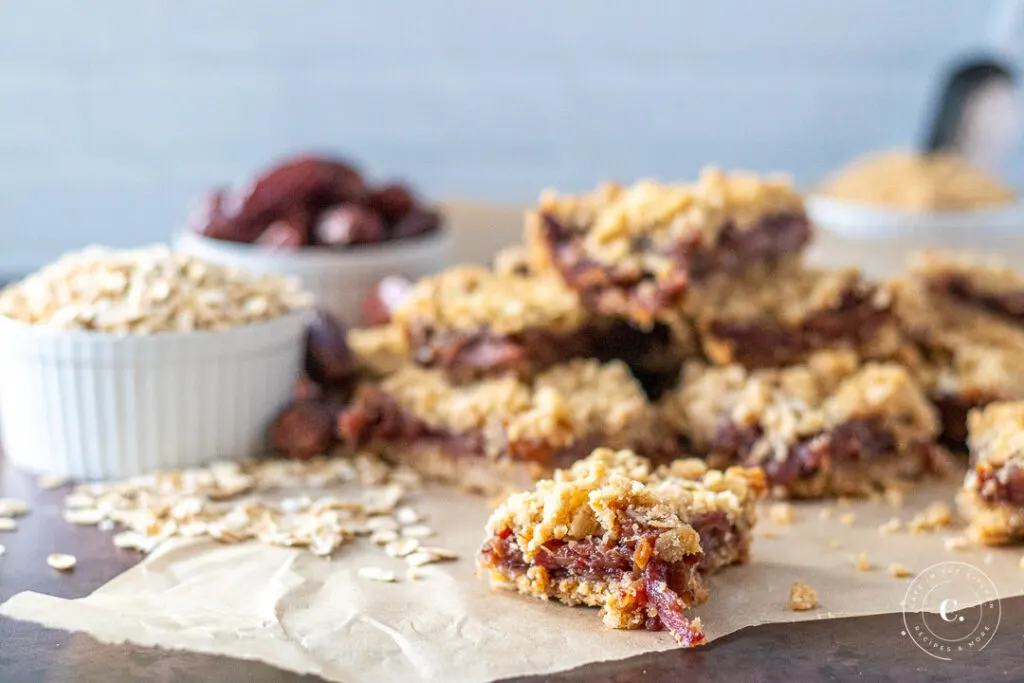 I see these bars as a layered masterpiece. Crust on the bottom. Filling in the middle. Crust on the top. YUM! In fact, I can guarantee this was just plain yum because on Thursdays, we have my husband's siblings over for dinner (they're really just some of our best friends, in addition to being family). Anyways, I like to use them as guniea pigs and serve them new recipes I'm trying out. In this particular case, both of my brothers sat at the counter with forks and whipped cream and devoured the bars out of the baking dish!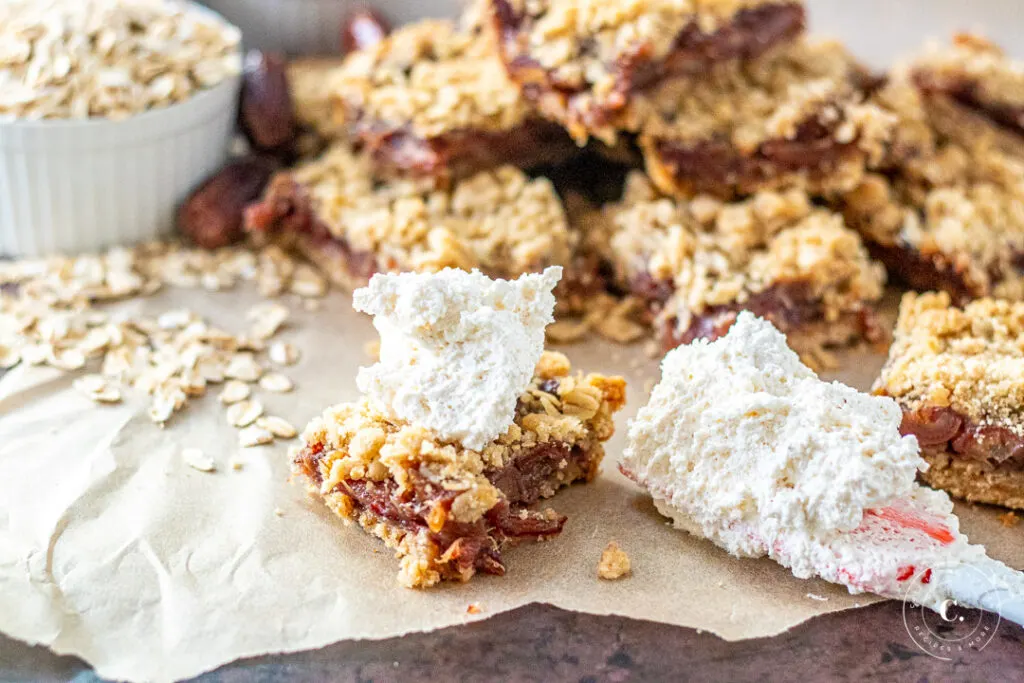 I'm not even joking. I really wish I would have taken a picture because it was kind of adorable to see two grown men eating dessert this way. On second thought, make these and set them in front of a group of guys and see what happens! On a third thought, just make them because they are delightful in every way.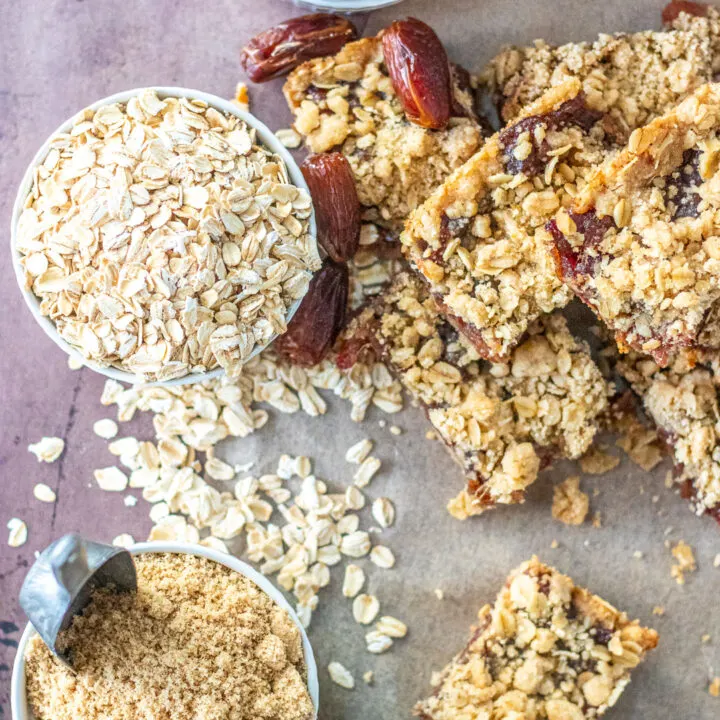 Date Bars
This recipe for date & oat bars is a layered delight - crust, filling in the middle, more crust...topped with cinnamon whipped cream!
Ingredients
1 lb. pitted dates, quartered
1 1/2 cups water
1/2 cup sugar
1 1/2 cups all purpose flour
1 1/2 cups old fashioned oats
1 cup brown sugar
1 1/2 sp vanilla extract
1/2 tsp baking soda
1/2 tsp salt
1/4 tsp almond extract
3/4 cup shortening
Cinnamon Whipped Cream
1 1/2 cups heavy whipping cream
1/4 cup powdered sugar
1/2 tsp vanilla extract
1/4 tsp ground cinnamon
Instructions
Preheat oven to 350 degrees. Grease a 9x13 baking dish, set aside. In a small saucepan, combine dates, water, and sugar. Bring to a boil. Reduce the heat; simmer uncovered, until thickened and dates are tender, stirring constantly for 7-9 minutes. Remove from heat.
In a large bowl, combine flour, oats, brown sugar, vanilla, baking soda, salt, and almond extract. Cut in shortening with a pastry blender until mixture is crumbly. Press half of the flour mixture into the bottom of the greased baking dish. Spread date mixture over the flour mixture. Sprinkle remaining crumb mixture over filling; pressing down gently. Bake until lightly browned, 25-30 minutes. Cool on a wire rack.
For the whipped cream, in a large bowl (or Kitchenaid mixer with whisk attachment), beat cream, powdered sugar, vanilla, and cinnamon until soft peaks form. Serve on top of bars.
Nutrition Information:
Yield:

24
Serving Size:

1
Amount Per Serving:
Calories:

260
Total Fat:

12g
Saturated Fat:

6g
Trans Fat:

0g
Unsaturated Fat:

5g
Cholesterol:

20mg
Sodium:

82mg
Carbohydrates:

37g
Fiber:

2g
Sugar:

25g
Protein:

2g
Nutrition information isn't always accurate.