After experimenting with different beers and recipes, we've found a recipe for beer batter fish & chips that we're just crazy about!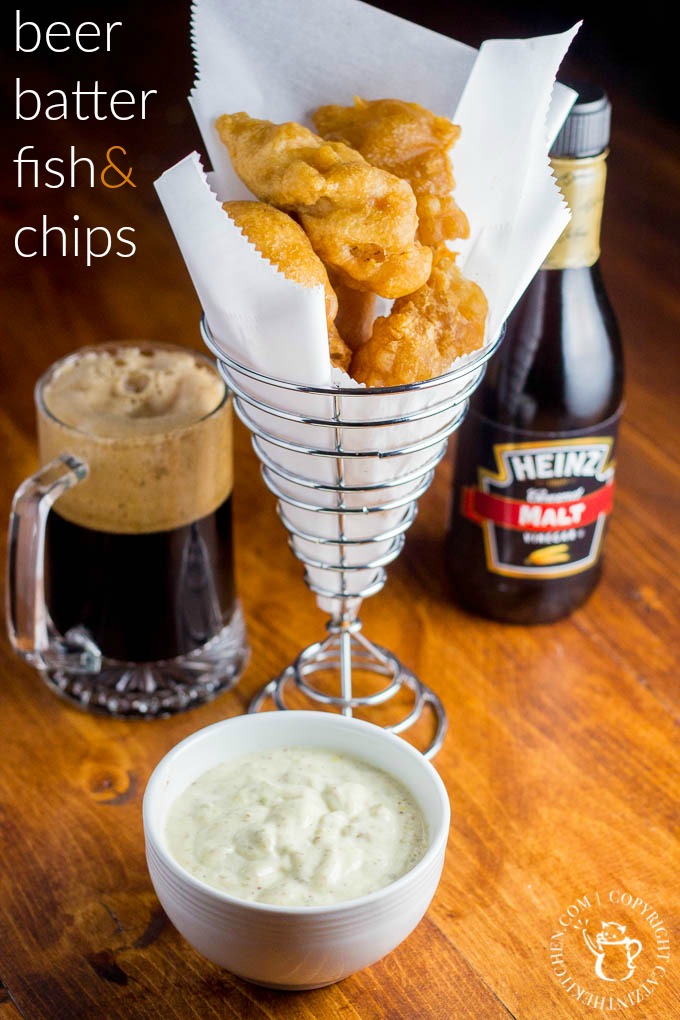 Okay, so let's get this out of the way right at the beginning. As you'll notice in the photo (and the recipe that follows)…no chips. No chips, no fries, no potatoes of any kind. But, you say, the title clearly says "Fish AND Chips"! True enough. The "chips" are coming (no, really they are – this isn't like that one time I promised you a three-part blog…). We've been testing a copycat recipe for McMenamins' amazing cajun tots, and that's what we're planning to offer as an alternate "chip" here – the recipe's been made twice, tasted, tested, and photographed – just give us a week or two to get it typed up, and you'll be all set! If you really can't wait to make yourself some super-yummy beer batter fish, nothing wrong with grabbing a bag of frozen Ore-Idas and taking the easy way! So, chips to come.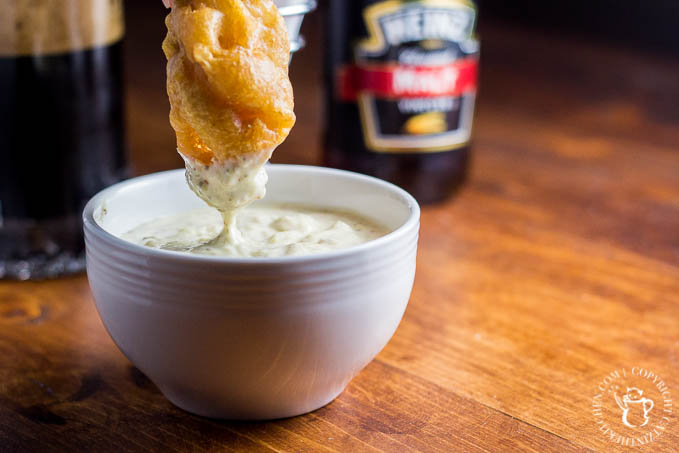 Come to think of it, chips aren't the only thing on the way. We also found a great recipe for homemade tartar sauce while recipe-testing our beer batter fish! So, I'm guessing we'll be sharing that with you at some point after the cajun tots have landed, but I'm also guessing most of you have a favorite brand of tartar sauce already sitting in the door of your fridge, just waiting to be the dippee to your dipper.
Did that make sense? Probably not, but I'm leaving it…
Chels and I love good fish and chips – we always have. Our absolute all-time favorite is the halibut fish and chips at a little restaurant on the Oregon Coast called The Wayfarer. We ate there several times on our honeymoon, and have been back many times since. When the waiter brings you a plate or a basket, and the fish is that beautiful golden brown color, there's an excitement – a hopefulness, if you will. When you pick up your first piece, and it doesn't drip grease all over your plate, the anticipation builds. When you finally bite in and the batter lightly crunches, leaving just a bit of buttery, savory flavor on your lips, revealing flaky, fresh, steaming fish inside…you've hit the jackpot.
We tried periodically over the years to recreate this wonderful once-in-awhile meal at home, with very limited success. Halibut's crazy spendy, so we always use cod or rockfish, and for several years, I assumed that was the problem. It was fine, certainly edible, but it wasn't the so good I was going for. As it turned out, while good fish is important, it's not all there is to it. Fresh cod is just fine. Actually, even previously frozen cod is typically totally acceptable in this application. It's the batter that makes or breaks this little culinary exercise.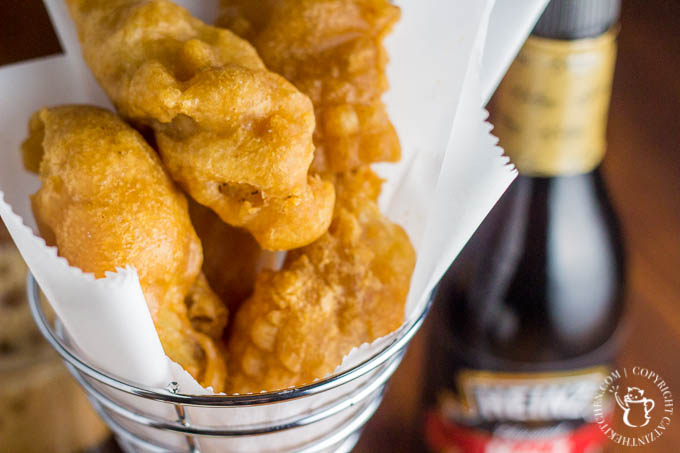 Once I found a batter recipe I had confidence in (the one we're sharing with you here, of course), it was just a matter of getting the right beer. With some beer-based recipes (like beer can chicken!), the beer is a fun addition, but selecting the right brew is not that important.
Beer batter fish is different.
The beer is key. As the only liquid and most of the flavor of the batter, it's got to be right. Wanting the flavor to be pronounced, I started with a strong stout. Good idea in concept, terrible in reality. The batter was a dark, unappetizing color. Frying the fish all the way through was almost impossible because the batter was so thick. The fish came out done with burned batter or undercooked with browned batter!
We had the most success with two kinds of beer, both excellent in different ways – choose yours based on what you like in your beer batter fish! A rich, dark brown bottled ale imparted the fish with beautiful golden brown batter (that's the fish in these pictures), a pronounced but subtle flavor in the batter, and perfectly cooked fish. Canned Coors Light, on the other hand, with its pale color and carbonation, yielded a light, buttery beer batter fish with a delightful crispness and a very subdued beer flavor. We enjoyed both variants immensely, and would happily make either (or both!) again.
So, give it a shot! Make your own pub-style beer batter fish and chips at home next time!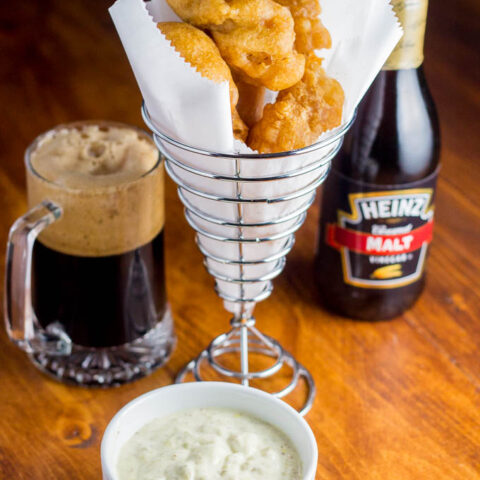 Beer Batter Fish
Yield:
about 16-20 pieces of fish
Inactive Time:
15 minutes
After experimenting with different beers and recipes, we've found a recipe for beer batter fish & chips that we're just crazy about!
Ingredients
1 to 1.5 lbs cod (or other firm white fish)
12-16 oz cold dark brown ale (or 12 oz canned light pale lager, such as Coors Light, for a lighter, more buttery-tasting fish)
2 cups all purpose flour
1 tbsp baking powder
1 tsp kosher salt
1/4 tsp cayenne pepper
A dash of Old Bay Seasoning
Vegetable oil, for frying (or use safflower, etc)
Cornstarch (for dredging the fish)
Instructions
Rinse fish thoroughly in cold water. Pat dry.
Cut fish into long chunks of roughly 1 oz each.
Mix all dry ingredients except cornstarch. Whisk in beer until smooth. Refrigerate for 15 min to an hour.
Heat oil to 350 degrees.
Heat oven to 200 degrees. Place a cooling rack on a baking sheet and place in oven.
Spread out some cornstarch on a plate or in a shallow, wide bowl.
Dredge pieces of fish in cornstarch, then dip in batter, coating completely. Using tongs, carefully place fish in oil.
When batter has just set, if using a deep fryer, carefully use tongs to check to make sure fish is floating free of the basket. If using a dutch oven, flip fish over when batter has set.
Fry about two minutes, or until batter is golden brown. It may be necessary to test one or two pieces to get a feel for the amount of time needed to cook the fish correctly.
Using tongs, carefully remove fish from oil to cooling rack and keep warm in oven until serving.
Serve with sliced lemon, malt vinegar, tartar sauce, or any other desired sides.
Nutrition Information:
Amount Per Serving:
Calories:

247
Total Fat:

1g
Carbohydrates:

50g
Protein:

8g
Nutrition information isn't always accurate.