Looking to incorporate more fish into your budget? Try out my mom's tuna casserole – it's comforting, delicious, flexible, and easy!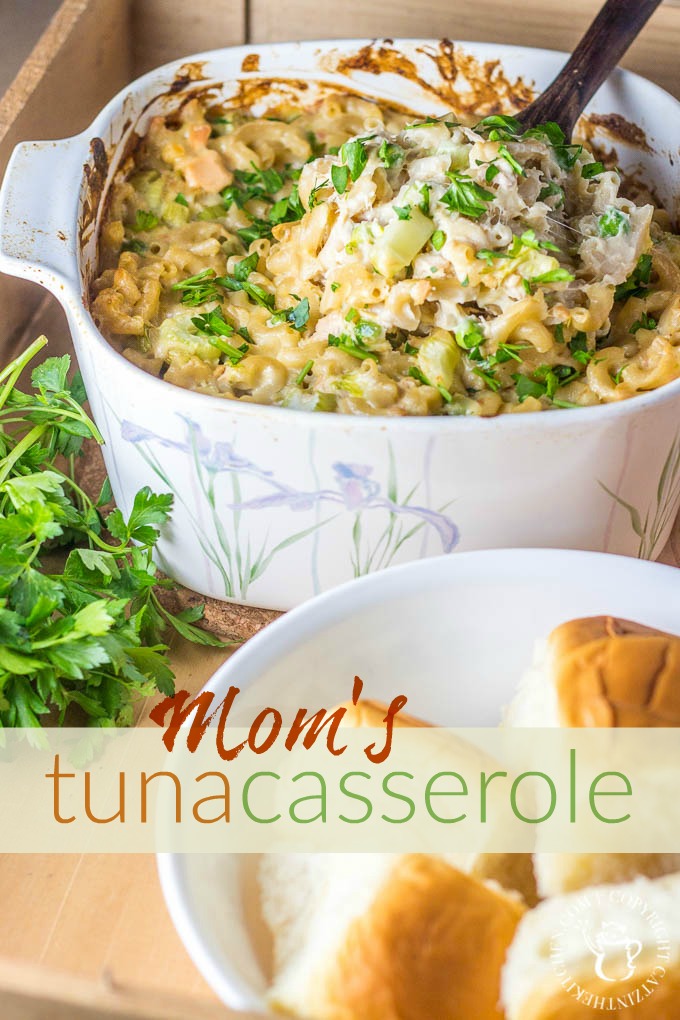 Everyone's got that list of meals that their mom would always make…and were always good. My mom's tuna casserole is on that list for me. It's my brother's favorite dinner that my mom makes, and I've got to say, my little family likes it a lot, too.
Mom would probably make tuna casserole for dinner at least once a month. I think she liked it because the ingredients were inexpensive and the recipe was fairly simple. I mean it's a casserole, so not too difficult, and reliable, right?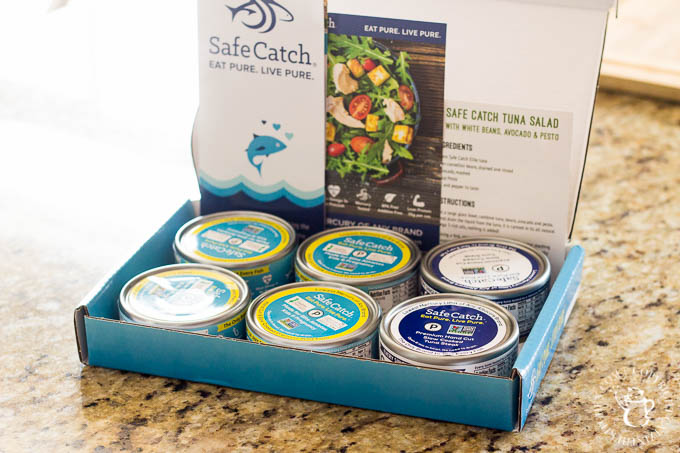 I've mentioned before that my grandpa was a fisherman. When he wasn't fishing for salmon or Alaskan halibut, he was fishing for tuna and getting it canned at a nearby beach town called Garibaldi. I literally grew up on the fish he caught, and I think it makes the memories of him that much sweeter whenever we cook up something, well, fishy!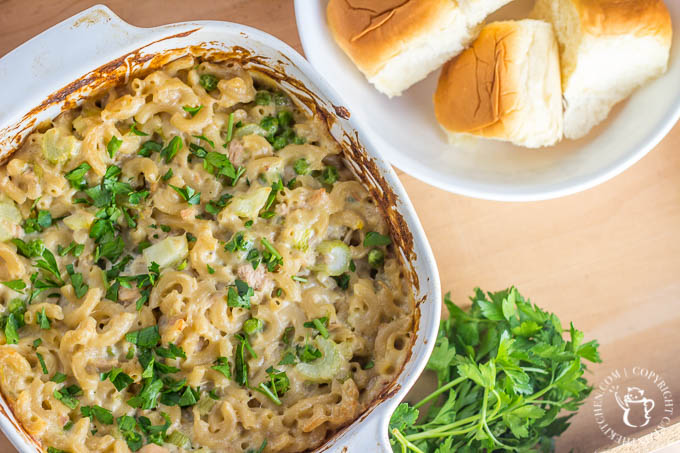 This December marks eight years since he passed away. Recently, Safe Catch got ahold of me and asked if I would be interested in trying out a sample of their tuna in an effort to encourage more people to eat the recommended serving of fish, tuna being one of the most inexpensive ways to get more fish into your diet.
What I like about Safe Catch is that they are the only brand that I know of that individually tests every fish, the tuna is wild and sustainably caught, and it's hand cut and packed to retain all of those Omega 3 oils our bodies need. Not to mention, there isn't any extra liquid or oils added to the fish. To me, it's the next best thing to that "fresh out of the sea" tuna our family used to get from my grandpa.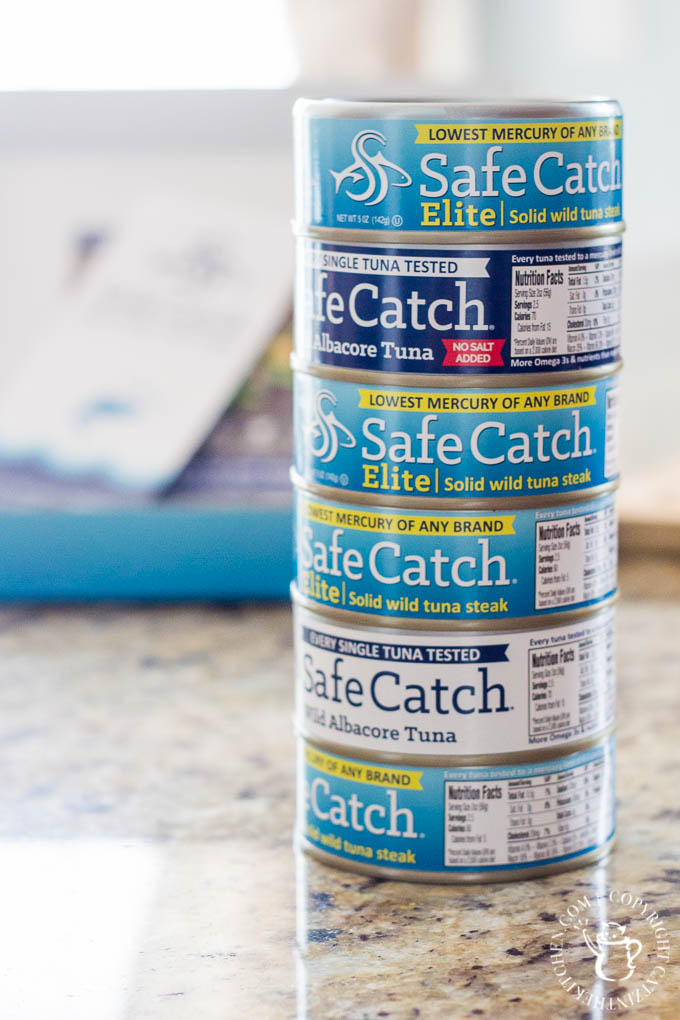 Mom's tuna casserole is easy enough for weeknight meals and I've often made it earlier in the day and cooked it closer to dinnertime. It's a really nice casserole to bring to someone, too. You can change up the mix-ins! I always add frozen green peas and celery, but my mom likes to add diced green bell peppers and chopped onion as well. Of course, if you don't have any of that on hand, you could always toss in one of those frozen vegetable blends that's got the carrots, peas, corn, and lima beans. I've done that, too, and it's surprisingly good!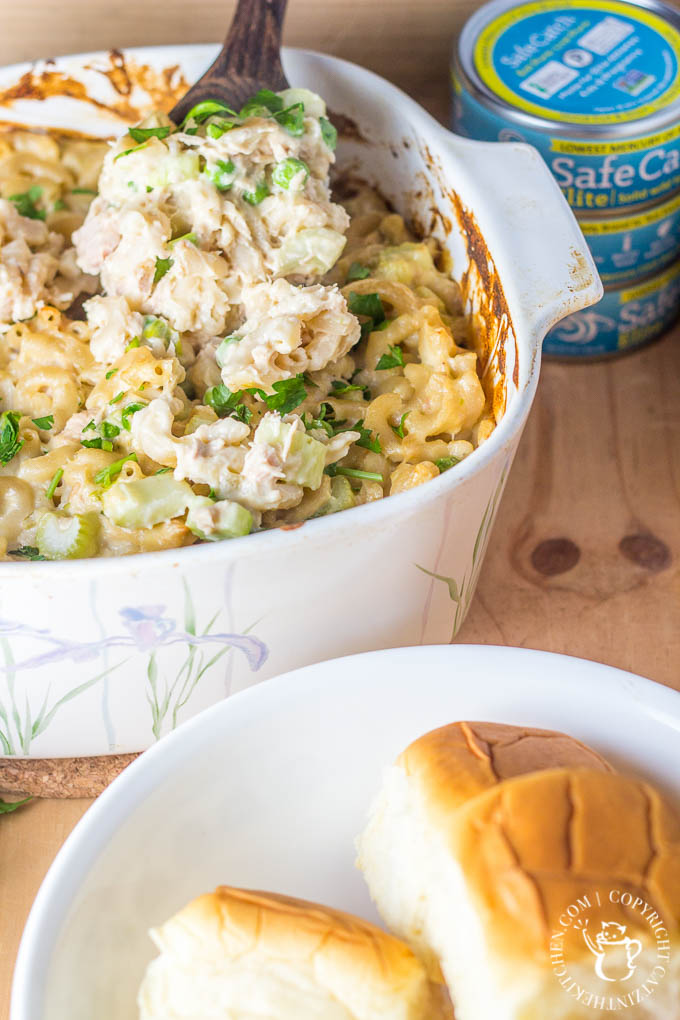 I would also add that this tuna casserole reheats well! I'm not really a leftover fish person – I usually find that the leftover fish smell isn't very pleasant, but that's not the case with leftover tuna casserole. My kids (and husband) love to eat it the next day for lunch!
If you're looking to incorporate more fish into your budget, try out my mom's tuna fish casserole! It's just one of those classic dishes that never goes out of style and is always comforting and delicious!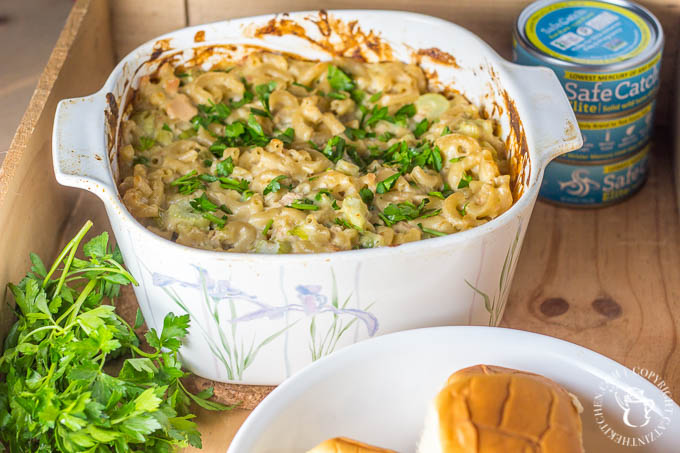 Mom's Tuna Casserole
Looking to incorporate more fish into your budget? Try out my mom's tuna casserole - it's comforting, delicious, flexible, and easy!
Ingredients
2 (5 oz) cans of Safe Catch wild albacore tuna, drained and chunked apart with a fork
3 1/2 cups elbow noodles, cooked
1/2 cup mayo
1 cup celery, sliced
1 cup frozen peas
1/3 cup chopped onion
1/4 cup green pepper, diced
1 tsp salt
Pepper, to taste
1 (10.5 oz) can cream of celery
1/2 cup milk
1 cup shredded cheddar cheese
Instructions
Pre-heat oven to 425 degrees. Grease a casserole dish, set aside.
Cook noodles in salted water, according to the package directions until done. Drain and set aside. Combine, tuna, noodles, mayo, veggies, salt and pepper in the greased casserole dish.
In a saucepan, blend soup, milk, and cheese on medium heat, till heated through and the cheese has melted. Add to the pasta mixture in the casserole dish and toss to evenly combine. Bake for 20-35 minutes until heated through.
Notes
Recipe from my mom, Connie Anderson :)
Nutrition Information:
Yield:

8
Serving Size:

1
Amount Per Serving:
Calories:

329
Total Fat:

19g
Saturated Fat:

5g
Trans Fat:

0g
Unsaturated Fat:

12g
Cholesterol:

33mg
Sodium:

712mg
Carbohydrates:

25g
Fiber:

3g
Sugar:

3g
Protein:

15g
Nutrition information isn't always accurate.
Safe Catch Tuna provided samples for the creation of this post and I was not compensated. Of course, all photography, opinions, and recipe are all our own.