Sometimes you need a superfood fix, and this one pan salmon dinner with asparagus and sweet potatoes provides a full meal that is easy, healthy, and quick!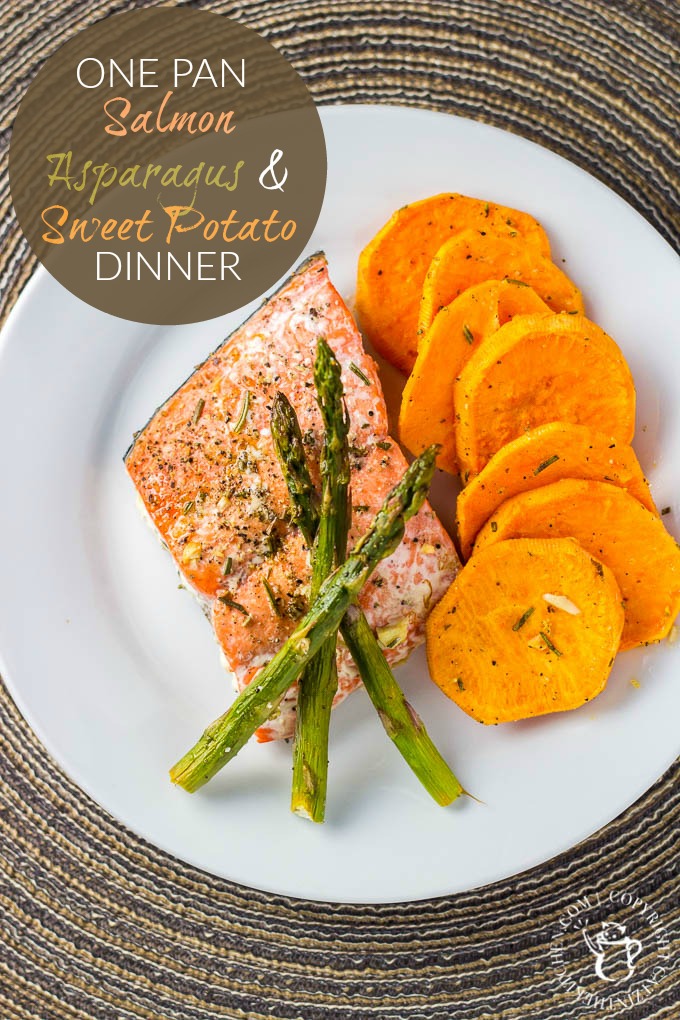 I can't decide if I'm channeling my inner teenager from Friday nights past or if I'm getting older (I've got a feeling it's a bit of both), but currently, I'm huddled up on the couch with my leopard print blanket (which reminds me of my old leopard print comforter from the good ol' high school days) and I'm watching a movie with a pizza waiting in the wings.
This is all very reminiscent of my junior and senior days. Once in awhile on Fridays, my parents would go out for a date, and if I didn't have a date or wasn't working, I had a date with my bedroom. Either I'd have a movie I rented or watch one I already owned and my parents would ensure I had a dinner of some kind. I usually requested a cheese and olive pizza from Pizza Hut and off they would go and I would have the whole house to myself.
I loved it!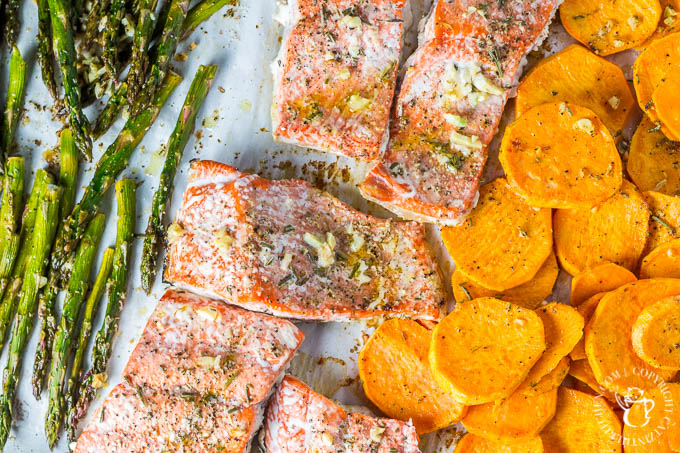 14 years later here I am on my couch on a Friday night again…except, I've got two little kiddos snuggling next to me, huddled up in their blankets and we're watching this movie and eating this pizza. Our movie of choice tonight? Well, we're having a Toy Story marathon and Josh reserved a pizza for me earlier in the day so I didn't have to cook tonight.
You see, Josh has graduated from normal every day dad to "cool dad" status. He agreed to take Grace and her best friend (along with a ton of other people) to a big concert tonight. He did mention that it was weird to be going as the "responsible adult"…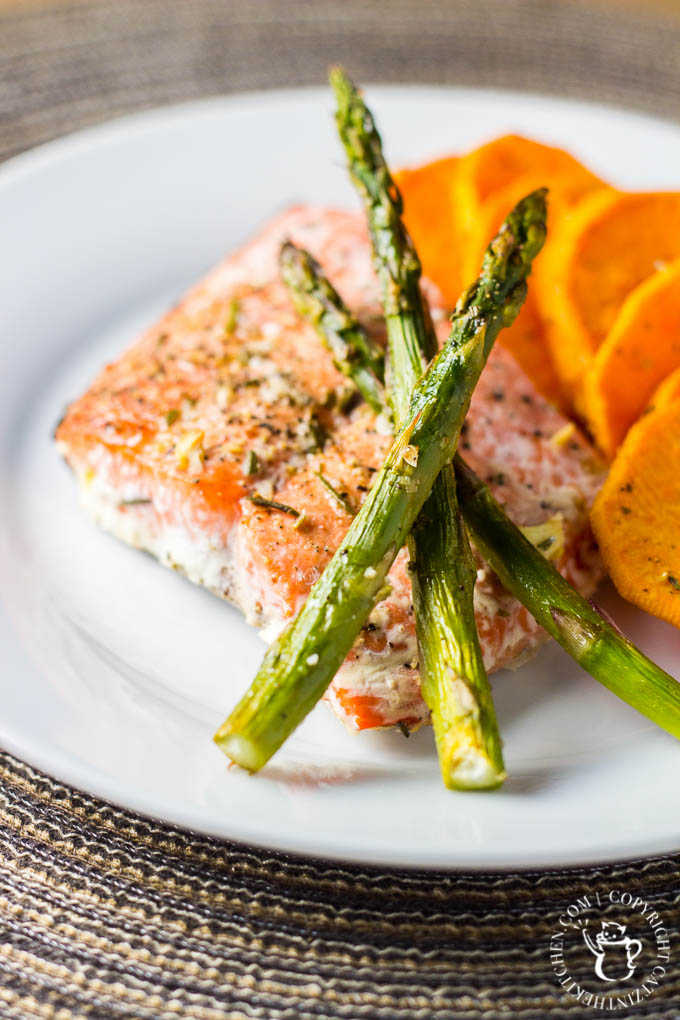 For the record, I could have gone to the concert, too, but I wanted to stay home in my pajamas and eat pizza and watch a movie with my kids. With the fireplace going and my cats nearby. To me, that sounded like the ideal Friday night.
Why? Because I'm tired!
Adulting is hard work!
And since that is undeniably true…hellooo One Pan meals! I've talked before about how much I love these meals in this Chicken and Apples post. I just love the ease of throwing a few ingredients together to make a complete meal. No fuss, no muss.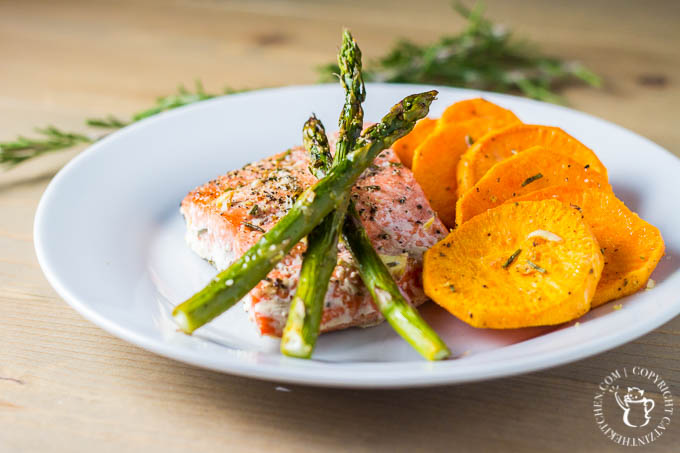 This particular one pan meal uses all three of my favorite healthy "superfood" ingredients. I adore salmon. Sweet potatoes are a staple in our home. And I can't live without asparagus. I buy it any chance I get. So it felt only natural to make a healthy superfood one pan meal.
Suffice to say, our family gobbled up this entire pan of food and there weren't any leftovers, which always disappoints me a bit because leftovers = my lunch tomorrow.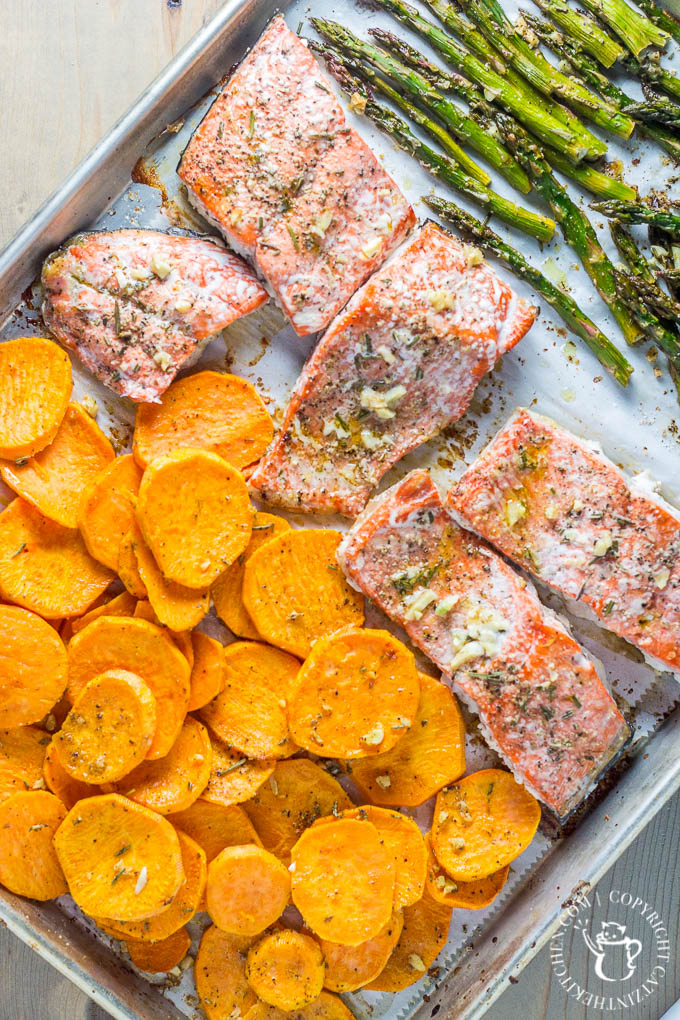 Give your body the superfoods it needs to stay strong this winter and feed your family well with this easy and delicious one pan meal!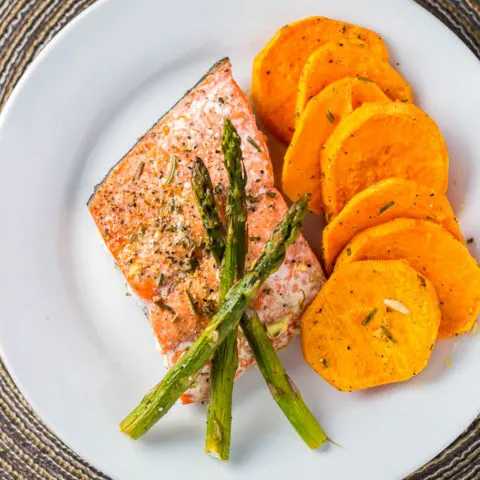 One Pan Salmon, Asparagus, & Sweet Potato Dinner
Total Time:
1 hour
15 minutes
Sometimes you need a superfood fix, and this one pan salmon dinner with asparagus and sweet potatoes provides a full meal that is easy, healthy, and quick!
Ingredients
1 1/2 lbs. salmon
1 lb. fresh asparagus, ends trimmed
2-3 sweet potatoes, peeled and thinly sliced
3 cloves garlic, minced
3 tbsp fresh rosemary, minced
sea salt and pepper, to taste
3 tbsp extra-virgin olive oil
1/2 lemon, juiced
1/2 tsp smoked paprika
Instructions
Preheat oven to 350 degrees. Line a large rimmed baking sheet with parchment paper. Place sliced sweet potatoes on side of the pan, drizzle with 1 1/2 tbsp of olive oil, 1 tbsp rosemary, 1 tbsp garlic, and salt and pepper. Toss to combine and roast for 40 minutes.
When potatoes have roasted for 35 minutes, toss the potatoes for even cooking. Place salmon and asparagus on the baking sheet. drizzle remaining olive oil, garlic, rosemary, salt and pepper and lemon juice over the salmon and asparagus. Sprinkle smoked paprika over the top of the salmon and place the baking sheet back in the oven for 18-20 minutes. Cook until salmon is flaky.
If the potatoes still need a bit more time, tent the asparagus and remove the salmon and cover with foil on a plate so the fish doesn't dry out.
Nutrition Information:
Yield:

4
Serving Size:

1
Amount Per Serving:
Calories:

558
Total Fat:

32g
Saturated Fat:

6g
Trans Fat:

0g
Unsaturated Fat:

24g
Cholesterol:

107mg
Sodium:

225mg
Carbohydrates:

26g
Fiber:

5g
Sugar:

8g
Protein:

42g