This simple, tasty recipe for one pan chicken with grapes elevates its basic ingredients and pantry spices to a delightfully rustic elegance!
I've always been a fan of one pan meals – hello, easy! But now that I've got five kids, the youngest not quite three months old, I'm even more of a fan because I have to use my time wisely! Every second counts, and when you've got a screaming child who wants to be held, you just need to get dinner in the oven.
My friends Mike and Laura from Mt. Hope Farms gave us some beautiful grapes to make some recipes with, and Josh made this yummy French Grape Clafoutis dessert. Mike and Laura run their local family farm just a couple miles south of our home here in Molalla, and when Laura and I met on Instagram, we instantly got along because, well, obviously food and farming go together! (Editor's Note: Apparently social media is actually good for something once in awhile…!) I had the opportunity to tour their farm last fall and was so impressed with not only their gorgeous property, but their enthusiasm for their work and the way it's truly integrated with their lifestyle. Willamette Valley farming goes back generations in their family, and it's inspiring to see them live out their passion, cultivating the fields filled with berries and grapes, creating scrumptious fruit spreads, and managing the business along the way. A lot of hard work, no question, but with beautiful results!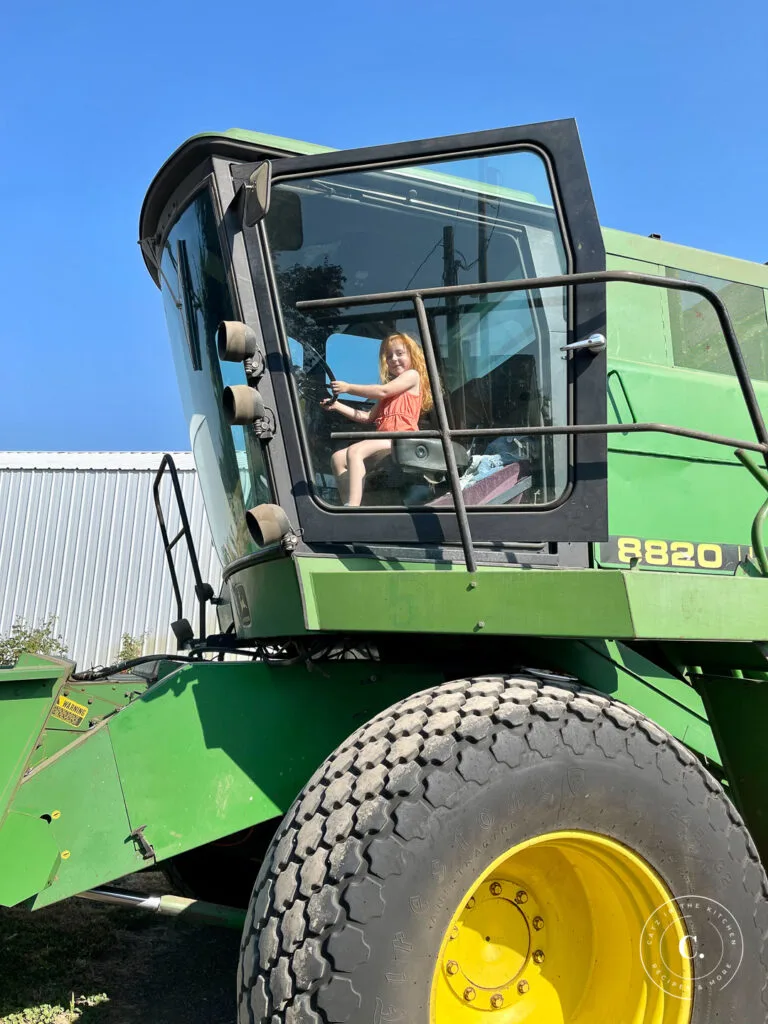 I first discovered their fruit spreads on the shelves of one of our favorite local shops, which we've mentioned before (The Rustic Shed, if you're local – we've mentioned Darci's shop before in our post on painting our kitchen cabinets with milk paint). So I've been buying their fruit spreads for a few years now (you might remember that I use their fruit spread in my Thumbprint cookie post), but I hadn't tried their grapes until last year when they gave me a little crate with a beautiful selection of three different varieties: Jupiter, Thomchord, and Reliance. I used the Reliance grapes in this post if you're interested in the exact grape variety, but most any grape variety will work.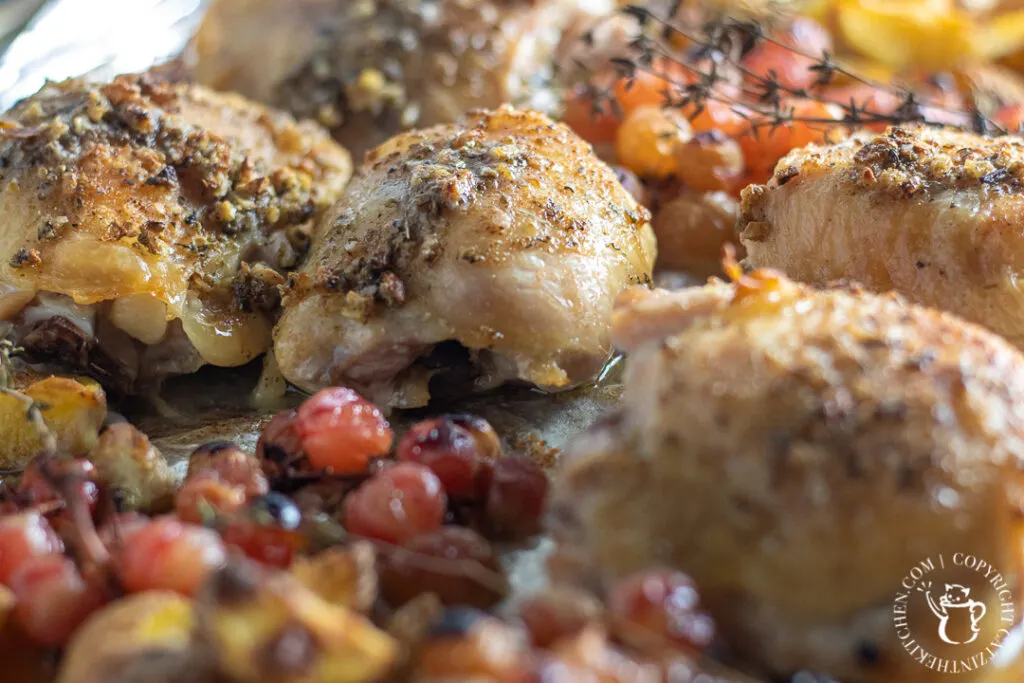 For this recipe, I went with a classic combo of chicken and fruit (Don't think that's a classic combo? Try these tropical chicken kabobs, or this grilled honey lemon chicken, or this grilled rosemary orange chicken, or this pan-seared chicken with apples and pears…I could go on!). Chicken can be such a blank canvas and I wanted the grapes to be the star, however, I knew the dish was going to need a bit more flavor than just a chicken breast, which is why I went with a bone-in chicken thigh – flavor that will hold up to the sweetness of the roasted grapes!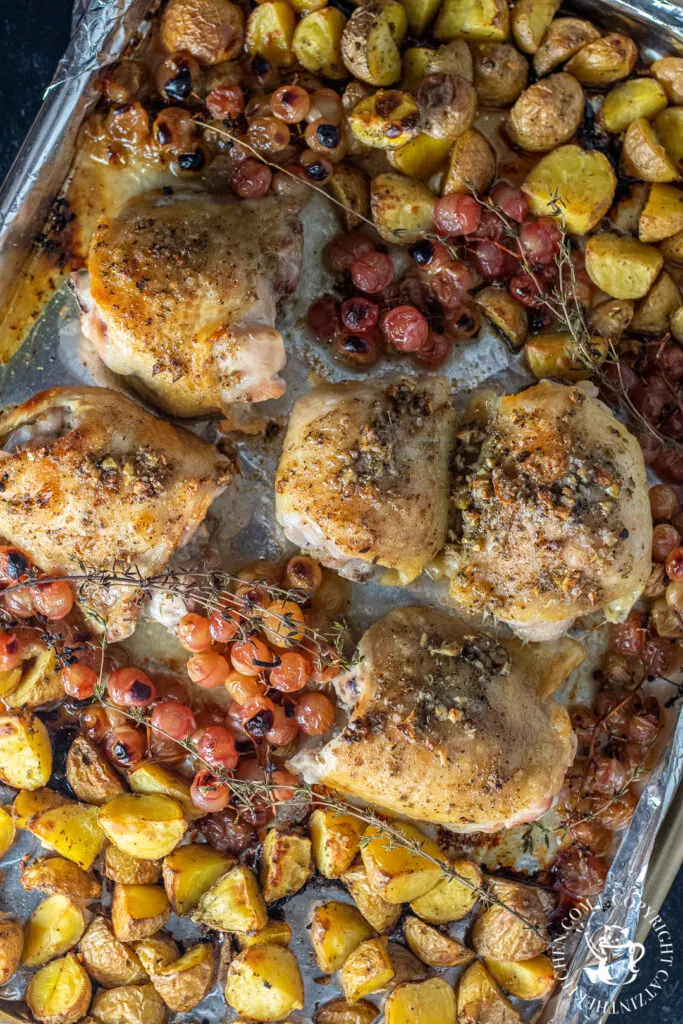 To round out the meal, obviously potatoes are a no-brainer. I like the petite Yukon potatoes because of their buttery smooth texture and flavor. I also added some toasted chopped walnuts because I like the idea of another texture with the meal and the nuttiness works beautifully against the sweetness of the grapes.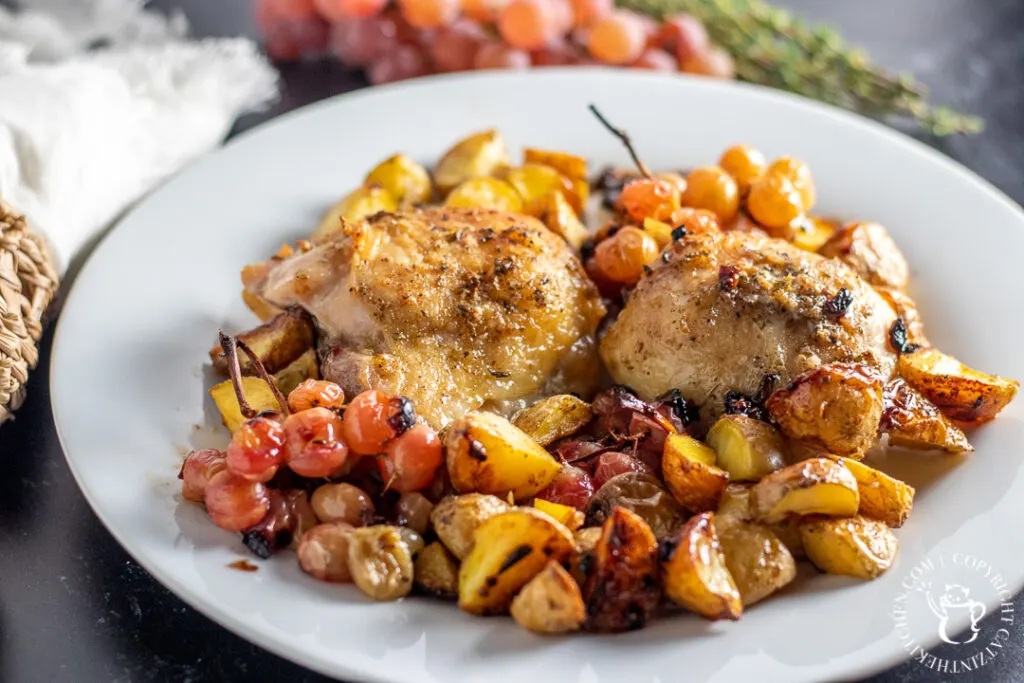 I want to point out that in the pictures of this post, I cooked the grapes on the vine – I only did that because I knew it would make for a pretty picture! In reality, it's not a great idea. As the grapes cook and burst, kind of like if you were to roast cherry tomatoes, the stems on the grapes get really brittle and that will leave little bits of wood stuck in the grapes and thus in your food. I had to carefully pick out each piece when we made this. So, very pretty presentation, but really defeats the purpose of the ease of a one pan meal because then you spend 15 minutes digging the grape twigs out of your food! If you don't have a photo session to get to, take the grapes off the vine first.
Again, I did it for the pretty picture and that is all!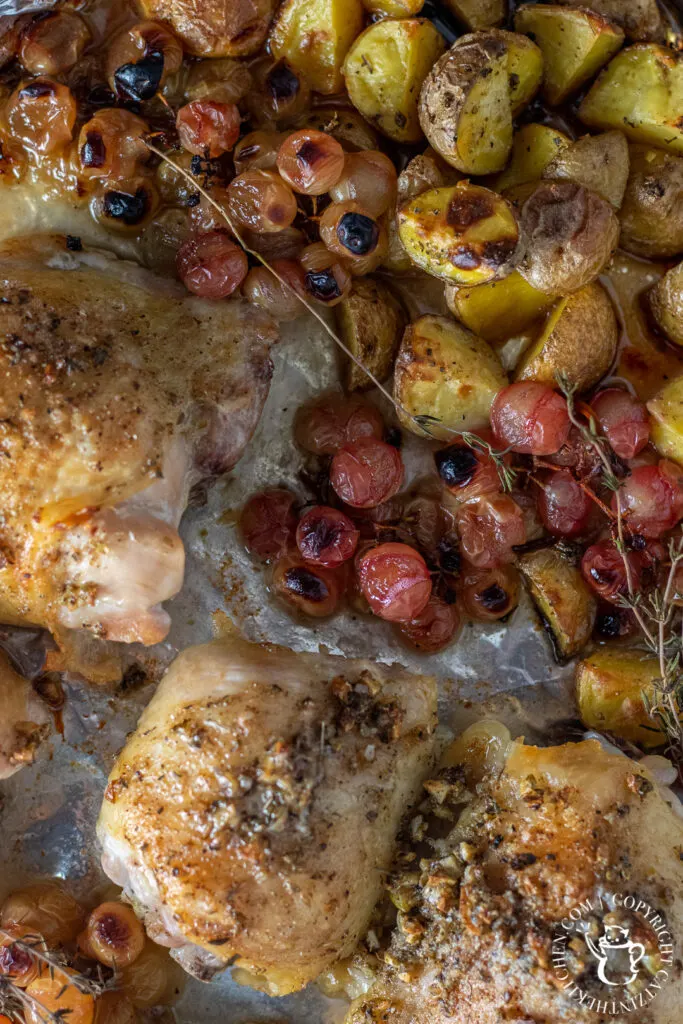 So what do you serve on the side of this meal to round out it? Oftentimes with a one pan meal I'll add a simple green salad. I usually end up tossing things into it that are just lying around in my fridge and pantry and calling it a day. Another option is making drop biscuits, or maybe even some cornbread (I've got a cast iron cornbread coming soon, so watch out for that one).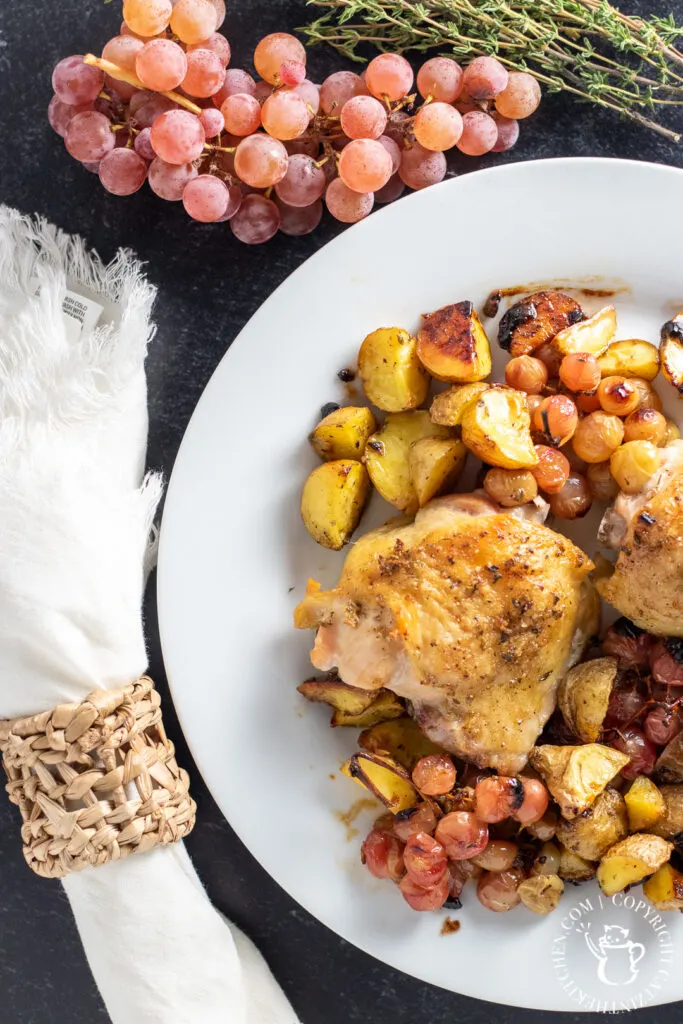 If you have the opportunity to buy some grapes from your local farmer, I highly encourage you to make this dish. But if you also have a red grape variety in your fridge that needs to be used up – one great way to ensure they don't go to waste is by making this dish one night for your family!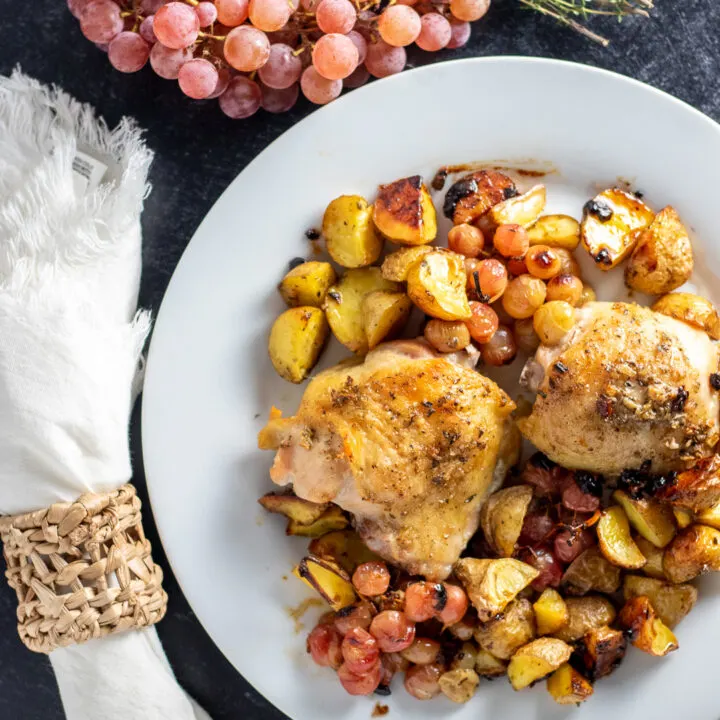 One Pan Chicken with Grapes
Total Time:
1 hour
10 minutes
This simple, tasty recipe for one pan chicken with grapes elevates its basic ingredients and pantry spices to a delightfully rustic elegance!
Ingredients
4 bone-in chicken thighs
2 cups grapes, taken off the vine
2 lb petite Yukon potatoes, quartered
1 onion, diced
2 tbsp extra virgin olive oil
3 cloves garlic, minced
1 tsp ground coriander
1 tsp ground oregano
1 tsp dried marjoram
2 tsp fresh thyme, finely chopped
1/2 cup chopped walnuts, toasted
Instructions
Preheat oven to 425 degrees. Line a baking sheet with foil and spray with nonstick cooking oil. In a small bowl, combine coriander, oregano, marjoram garlic, and thyme together.
Place potatoes and onions on cooking sheet, sprinkle with half of the seasoning mixture and toss. Roast for 25 min.
Remove pan from oven, move onions and potatoes to one side of the pan and place chicken on the empty side. Brush the chicken with olive oil and rub the remaining seasoning mixture into the chicken. Nestle the grapes next to the chicken and roast for an additional 25-30 minutes. While the chicken is roasting, toast the walnuts in a small pan on low heat until fragrant and lightly toasted. Remove the pan from the heat and chop the walnuts.
After the chicken has reached 165 degrees, turn the broiler on and broil for 1-2 minutes. Remove from oven and sprinkle with toasted walnuts. Serve right away.
Nutrition Information:
Yield:

4
Serving Size:

1
Amount Per Serving:
Calories:

716
Total Fat:

35g
Saturated Fat:

7g
Trans Fat:

0g
Unsaturated Fat:

27g
Cholesterol:

166mg
Sodium:

252mg
Carbohydrates:

68g
Fiber:

8g
Sugar:

16g
Protein:

40g
Nutrition information isn't always accurate.