Easy, buttery, crumbly, and addicting, these thumbprint cookies are ready to be baked, topped with a filling of your choosing, and devoured!
I'm so excited to bring you these cookies! I've been working on perfecting these cuties for awhile now, and after making them and then retesting them, I'm pretty certain that at this point, we have a solid cookie that's going to get devoured as soon as they're served.
How do I know this? Because this is what happened in my house. I was yelling at everyone to stay out of them so that they could get photographed before we shared them around!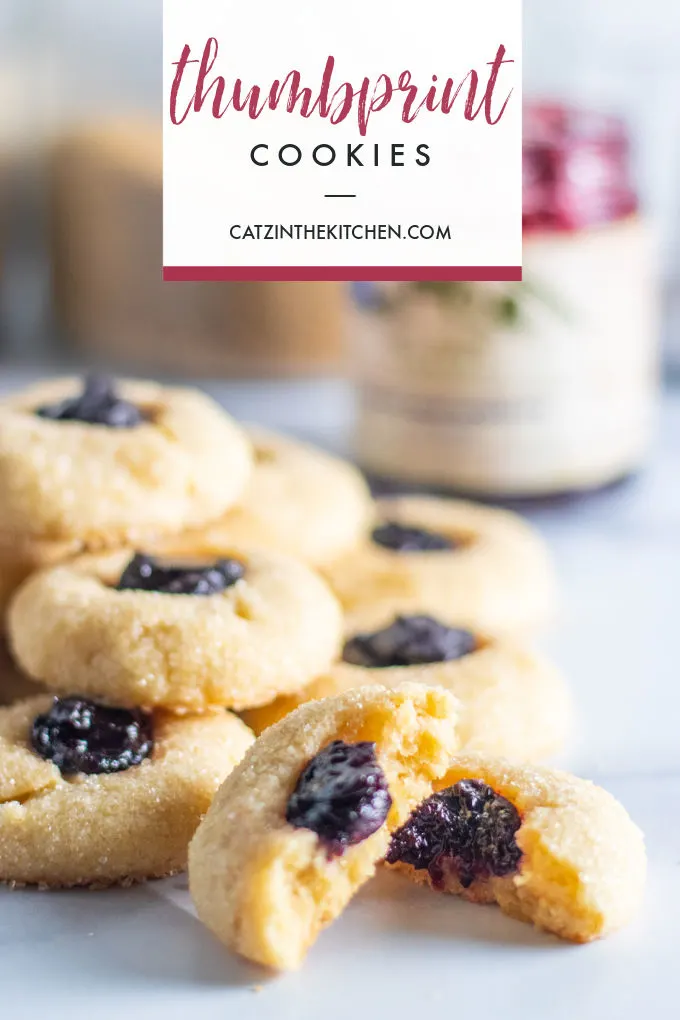 The end verdict…amazing! (Their words, not mine!) Though, I have to kind of of agree – these are amazing little cookies.
I love the eggnog thumbprint cookies that we also have on the blog – but they are different. They have a nutty exterior and a fluffy filling that tastes like eggnog without it actually having any eggnog in the recipe. It's a different cookie all the way around. Definitely only to be made during the Christmas/holiday season.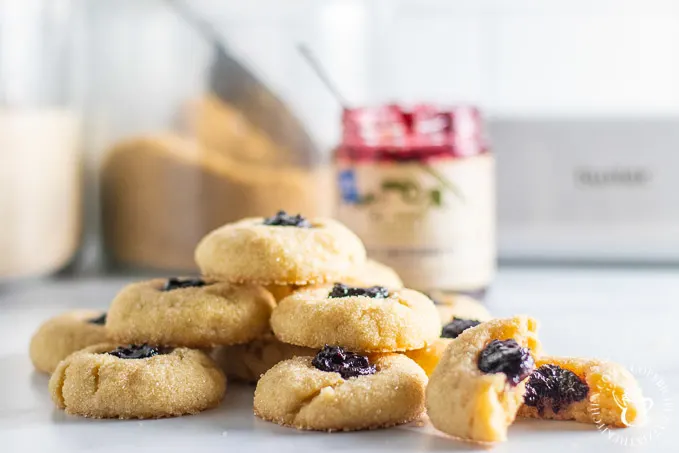 These thumbprint cookies are the more classic version. A bit more ordinary in comparison, but the way they taste is equal to the yumminess of the eggnog thumbprint. Josh says these thumbprints have a shortbread thing going on, and from him, that is the highest of cookie compliments.
Besides the appearance and taste…what else is different about the two cookies? The eggnog version takes a bit more effort + requires chilling of the dough, whereas this classic version can be baking in the oven in 15 minutes or less and requires zero chilling. I mean, you could chill the dough if you wanted too, but I wouldn't recommend it. It changes the consistency of the texture quite a bit. The dough is crumbly, hard to work with and somehow makes less cookies.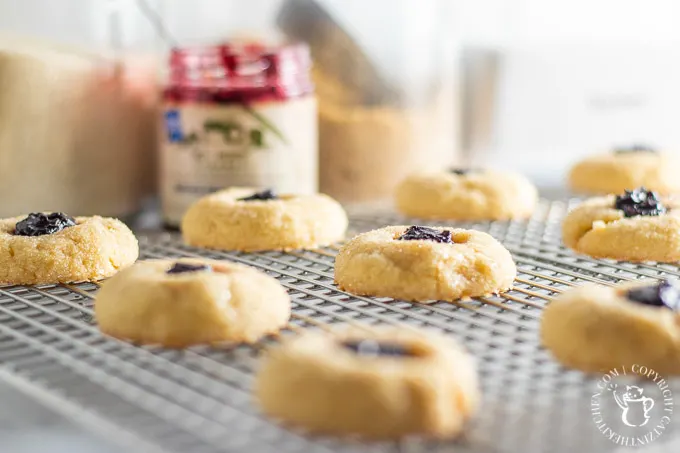 Skip the chilling. You don't need that time constraint in your life this holiday season.
One of the things I love about this cookie is that it shares characteristics with one of my all time favorite cookies – the Sugar Cookie. It's the classic butter/sugar combo – except I also took some of the flavor that I love from the Sugar Cookie (almond extract) and added it to the thumbprint, with a result that compliments any jam, jelly, or fruit spread you decide to put inside the cookie.
Speaking of the filling – you can obviously use any flavor you want, but when I was coming up with the idea for this recipe, I really wanted to use a local product to be the little jelly filling. I ended up using Mt. Hope Farms, Spiced Marionberry fruit spread for the filling in these cookies. Their farm is located in the same town I live in, I interact with them quite a bit on Instagram, and I just loved the idea of using something fresh and local for this cookie. I'm so glad I did because it held up really well to the temperature of the oven, the spiced marionberry flavor felt special and a bit like holidays to me – I really loved using a product from a local farm.
(P.S. this is not a sponsored post. I didn't tell Mt. Hope Farms that I was using their fruit spread and they did not pay me to write this post.)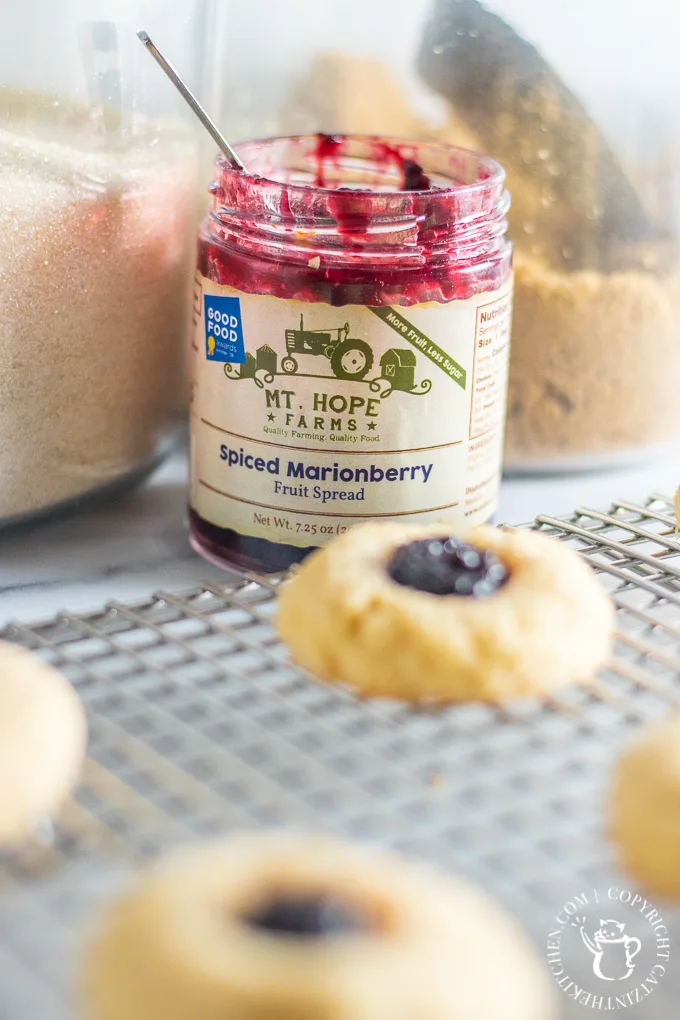 I mentioned I made several batches, though, and if you can't get Mt. Hope Farms fruit spread in your town (you can always purchase it online – which I highly recommend), I also tested with grape jelly and Trader's Joe's Apple Cider Jam because that's what I had leftover in the fridge. All of those flavors worked with the flavor of the cookie itself. Delectable.
Another of the reasons I love this recipe is…you do not need special ingredients to make it! Unless you don't keep almond extract in your pantry…then buy that! It also is a fast cookie to prepare, which I love. Sometimes I love baking, but not the hours that go into it. The best thing about this cookie is that it still is as soft and delicious as it was when it came out of the oven, which is a big deal to me. I hate it when I make cookies and the next day they're hard as a rock!
This cookie is perfect for the holidays, for those Christmas tins you're going to give out, but also classic enough for any time of the year – one more thing to love!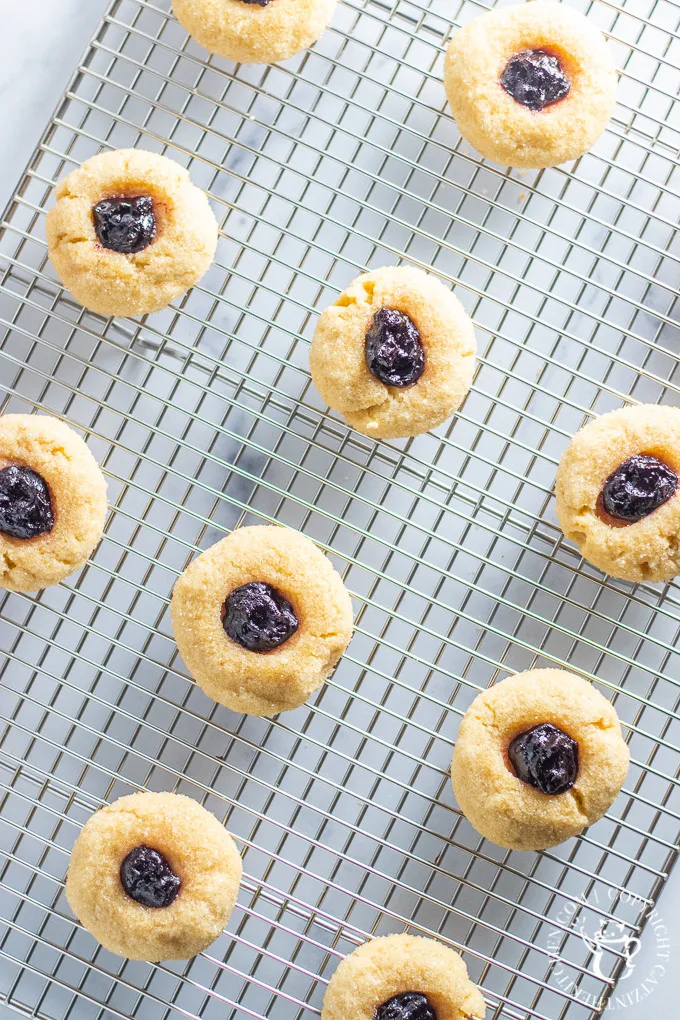 Bake up a batch of these and let me know what you think – I think you're going to adore them!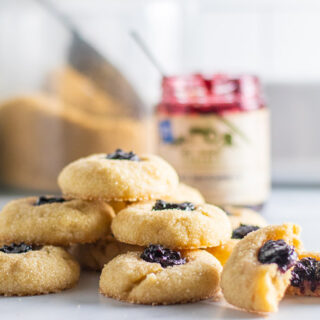 Thumbprint Cookies
Easy, buttery, crumbly, and addicting, these thumbprint cookies are ready to be baked, topped with a filling of your choosing, and devoured!
Ingredients
1 cup unsalted butter, room temperature
1/2 cup granulated sugar
1/3 cup brown sugar
1 tsp vanilla extract
1/2 tsp almond extract
2 egg yolks
2 1/3 cups all-purpose flour
1/2 tsp salt
1/3 cup granulated sugar for rolling
1/2 cup jam, jelly, or fruit spread
Instructions
Preheat oven to 350 degrees. Line two baking sheets with either parchment paper or a silpat. Set aside.
Using a stand mixer or electric mixer, beat butter and sugars together on high speed until creamed together. Add extracts and egg yolks and beat until combined. In a medium bowl combine flour and salt together and pour half into the bowl of your mixer and beat until just combined. Add the rest of the flour mixture and beat on medium-high speed until combined. It may look crumbly at first like it won't all get mixed together, but it does and makes a great, soft dough.
Pour 1/3 cup sugar into a bowl for rolling the cookies balls in. Using a 1-inch cookie scoop, scoop dough up and roll into a ball on your hand, then dip and roll around in the sugar until coated. Place on prepared baking sheet and press down with your thumb to make a small well into the center of the cookie. Fill with 1/2 tsp of jam. Repeat with the rest of the dough.
Bake for 10-12 minutes. Allow to cook for 5 minutes before moving to a wire rack. Store leftover cookies in an airtight container. Enjoy!
Nutrition Information:
Yield:

24
Serving Size:

1
Amount Per Serving:
Calories:

177
Total Fat:

8g
Saturated Fat:

5g
Trans Fat:

0g
Unsaturated Fat:

3g
Cholesterol:

36mg
Sodium:

54mg
Carbohydrates:

25g
Fiber:

0g
Sugar:

13g
Protein:

2g
Nutrition information isn't always accurate.