The easy marinade for this grilled rosemary orange chicken recipe is made with ingredients you've probably already got in your pantry!

The other day I was walking past our local Fred Meyer store (a Kroger brand, for those of you not from the Northwest) and they were grilling ribs out front!
I'm just going to leave you with that thought for a moment…
Have you ever walked past your local grocery store when the sun is out and they've got someone outside manning a grilling station and all you can smell is that delicious BBQ smell? I'm telling you…that smell is right up there with olive oil and garlic simmering in a pan…
I'm not even joking right now.
It's times like this that make me oh, so happy to be a meat-eater! Haha! (Apologies to any vegetarian readers – we have a big collection of recipes just for you!)
But this is not a ribs recipe (though we have that, too). This is a grilled chicken recipe (yes, I know, we've done a lot of that over the years, too…). All I was doing was painting a picture of what some of my favorite summer smells are. It makes me feel like Olaf (from the movie Frozen), going through all the summer scenes singing about all the things I like about summer!
Grilling and smelling the food cook is definitely one of my favorite summer experiences. And I don't think it's just because I'm pregnant either. Or because I'm a foodie. It. Just. Smells. Good.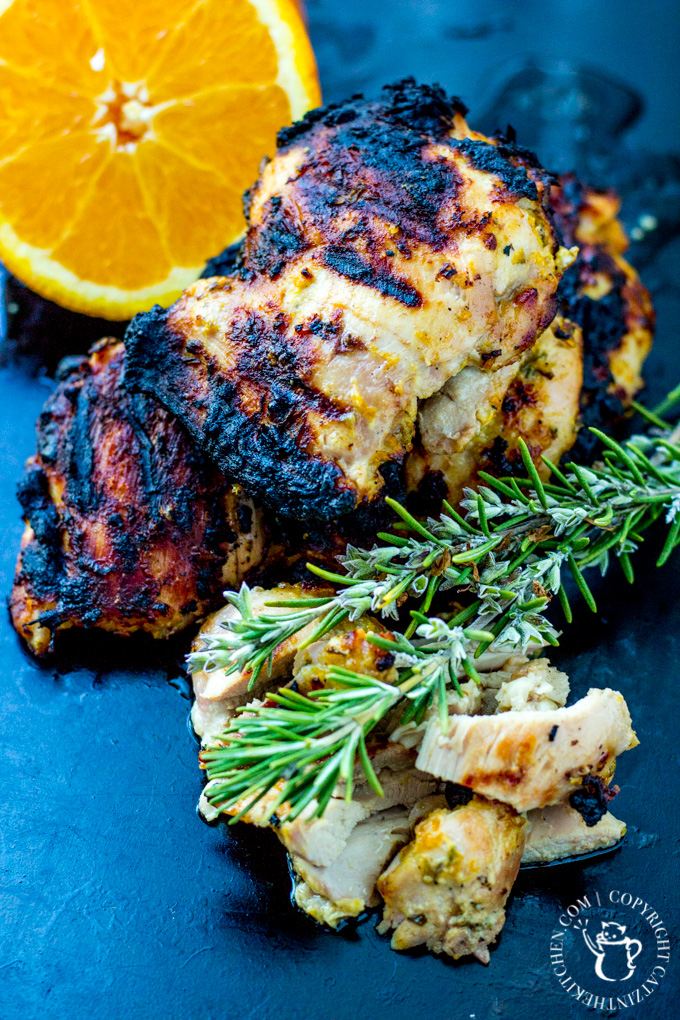 But because of the whole pregnant thing, I'm really into making really good food that doesn't take a lot of time. Actually, I'm sure that's every mom's thing, but right now, I want to get from point A to point B without missing out on all of that glorious sun being in the kitchen all day. That's why I'm really digging making my own marinades right now.
We did one last year with the Mediterranean Grilled Honey Mustard Chicken. Then I wanted to make that Baja Chicken Burrito Bowl, so another yummy marinade was in order for that recipe. And now, oops, we're doing it again (totally lost on the under-25 crowd, I'm guessing) with this Grilled Rosemary Orange Chicken – a classic combination, in my humble opinion!
And this marinade – you probably already have everything on hand anyway! I mean, you might want to make sure you have the boneless, skinless chicken thighs – but you could also do this with bone-in pork if you wanted. (I say bone-in because it tends to be more flavorful and easier to grill than regular pork chops.)
It's just olive oil, dijon mustard (which you'll find is the "secret" ingredient in so many marinades), fresh rosemary, orange juice, garlic, and of course, a little salt and pepper!
See? I bet you had all of that already!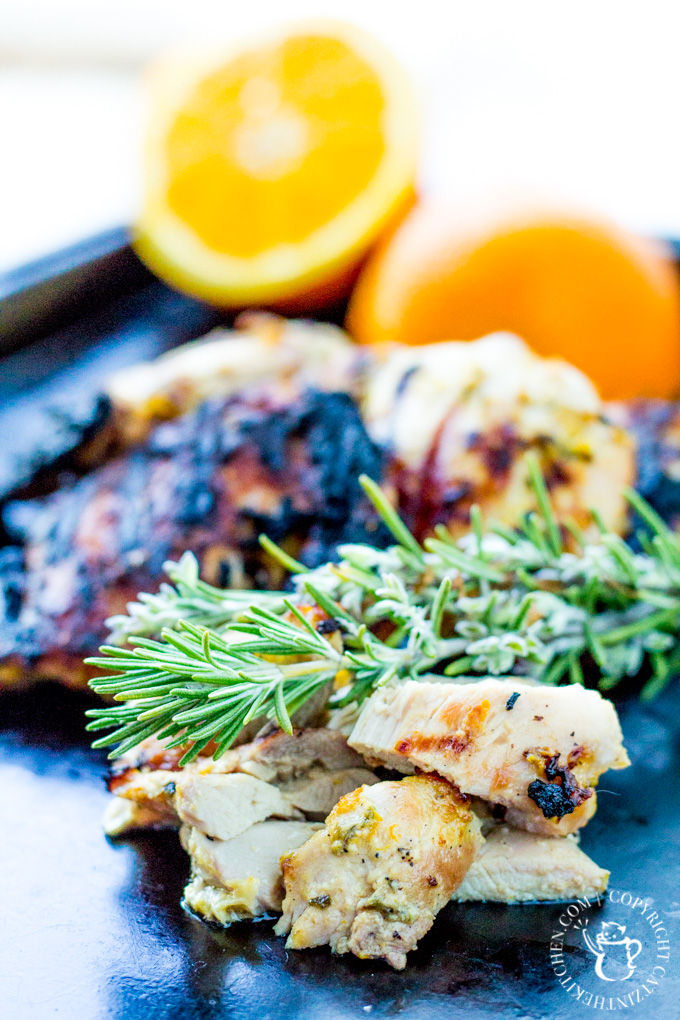 Then ya know what you do, whisk it all together and marinate that chicken alll day, baby! It makes the chicken so good and so flavorful. But, I really highly recommend the chicken thighs verses chicken breast.
Firstly, chicken breast is NOT my favorite thing to grill up for the main entree unless it is already chopped for kebabs or you're going to grill it and then slice or dice it for another meal, like Oriental chicken salad or Margarita chicken, because it tends to be dry, no matter how well you grill it, and because of the thickness of the chicken breast I don't think it absorbs the same amount of flavor from a marinade…and it just tends to be a lot of chicken on your plate! Whereas a chicken thigh is easier to grill up and it soaks in that flavor from marinades so much better. Plus, they are smaller, so it's a better portion size.
But this is all one pregnant person's opinion and you are welcome to disagree with it. The main point is this is an easy dish to make and an easy marinade that isn't expensive at all. In fact, if you wanted, you could sub the fresh orange for whatever is in your fridge…but I do highly recommend fresh – you cannot beat the smell or that flavor.
I made dinner really easy on myself by serving rice and a simple salad alongside the chicken. Dinner doesn't have to be complicated or expensive to be a little bit elegant and a lot yummy!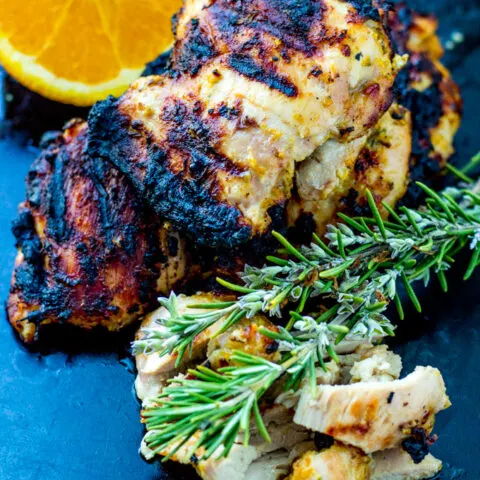 Grilled Rosemary Orange Chicken
Yield:
Serves 5 - about one thigh per person
The easy marinade for this grilled rosemary orange chicken recipe is made with ingredients you've probably already got in your pantry!
Ingredients
1 1/2 lbs boneless, skinless chicken thighs (about 5-6 thighs)
3 TBSP extra virgin olive oil
1 1/2 TBSP dijon mustard
1 whole naval orange, juiced
2 TBSP fresh rosemary, minced
4 cloves garlic, minced
1/2 tsp Kosher salt
Freshly ground pepper
Instructions
Place chicken in a large ziplock bag.
Whisk together marinade ingredients in a small bowl (marinade makes approximately 3/4 cup of liquid) and pour over chicken, sealing the bag - make sure to equally distribute the marinade over all the chicken. Place the ziplock back in a bowl and marinade for at least 2 hours, or all day! All day is best.
Heat a grill to medium-high heat and grill for abut 5-6 minutes per side. Chicken is cooked with an instant read thermometer registers 165 degrees.
Remove from heat and let stand for about 5 minutes before serving.
Nutrition Information:
Yield:

5
Serving Size:

1
Amount Per Serving:
Calories:

317
Total Fat:

19g
Saturated Fat:

4g
Trans Fat:

0g
Unsaturated Fat:

14g
Cholesterol:

166mg
Sodium:

596mg
Carbohydrates:

5g
Fiber:

1g
Sugar:

2g
Protein:

34g