Tuck this tasty idea away to use up all of those leftovers! This Thanksgiving Leftovers Shepherd's Pie takes about 10 min to throw together!
I don't have an enormous fridge by any stretch of the imagination. In fact our fridge is probably close to 16 years old at this point and if I'm being honest, I'm ready for an upgrade (Edit…this post was written after Thanksgiving last year, when we had leftovers to make it with, and since then…we've gotten a bigger fridge! Yay!).
Especially the week of Thanksgiving! How is a person supposed to store pies, homemade cranberry sauce, ingredients for other various dishes + plus all the normal items you keep in your fridge AND a turkey!?
There's never enough room leading up to Thanksgiving, but there doesn't seem to be any more room after Thanksgiving because now it is leftover city!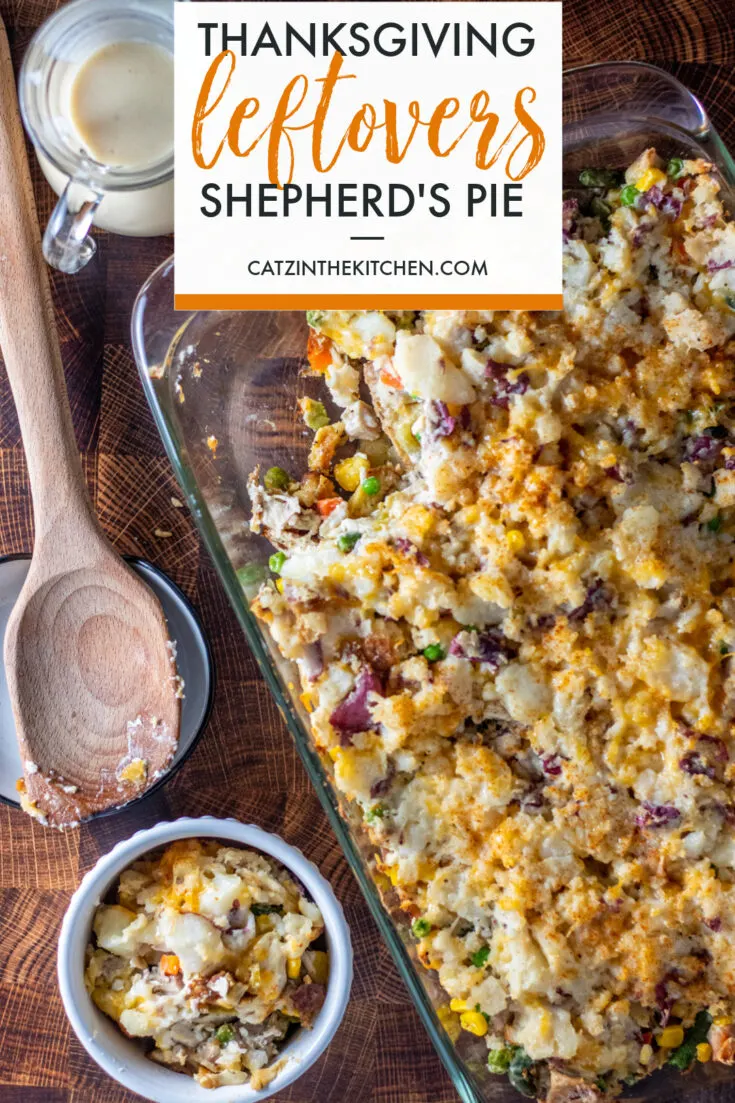 While I love Thanksgiving leftovers more than I love the actual meal itself, I'm still itching to use up those leftovers as fast as I can and as effectively as I can.
Enter this One Pan (that's right, one pan) Thanksgiving Leftover Shepherd's Pie! The best of Thanksgiving dishes all rolled together into one "casserole" that tastes amazing. Not to mention if your family can't devour the whole thing, it reheats beautifully, too. We discovered that one busy night a few days after Thanksgiving!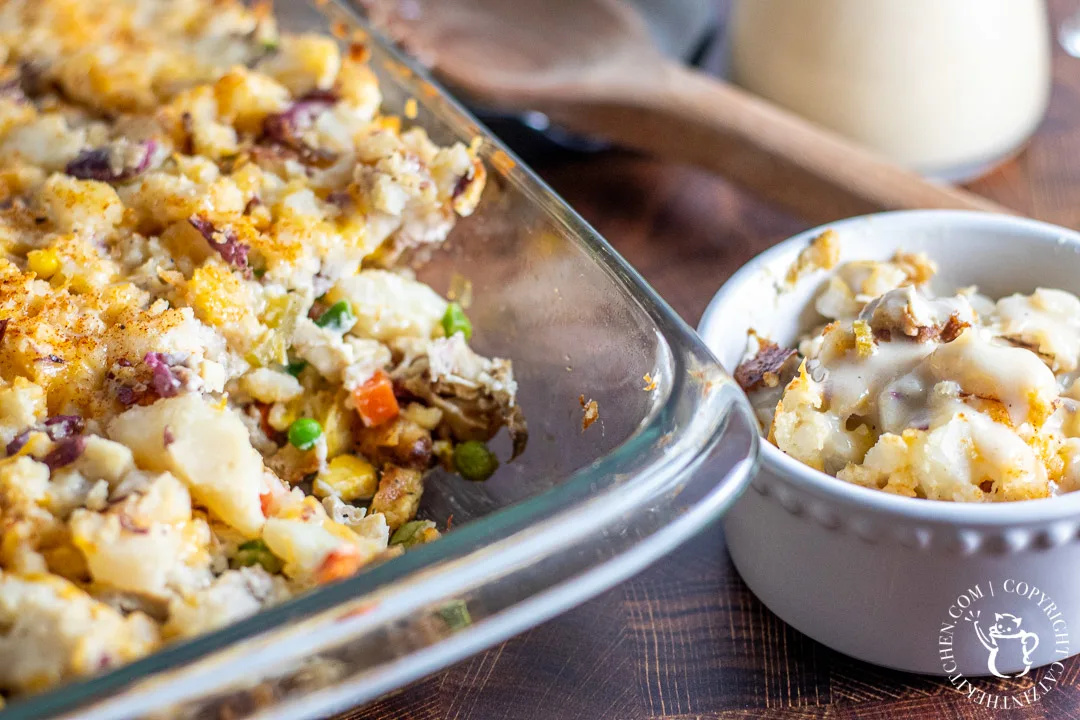 Here's why I like this recipe:
It uses up Thanksgiving side dishes you already have and rolls them into a brand new meal which still tastes comfortingly like Thanksgiving, but it's not boring.
It's easy on the wallet. No buying new additional ingredients to make a brand new meal, just recycle what you have!
It takes literally 10 minutes to throw together and then you can heat it up a day or two later because NO ONE and I mean no one wants to do anymore cooking after the marathon cooking we've all just done for Thanksgiving.
It saves you space in the fridge. I made this the day after Thanksgiving, after going grocery shopping. But it would have been so much easier if I had just prepped it after everyone had gone home for the evening, because everything just gets layered together in a 8×8 or 9×13 baking dish depending on how many leftovers you still have.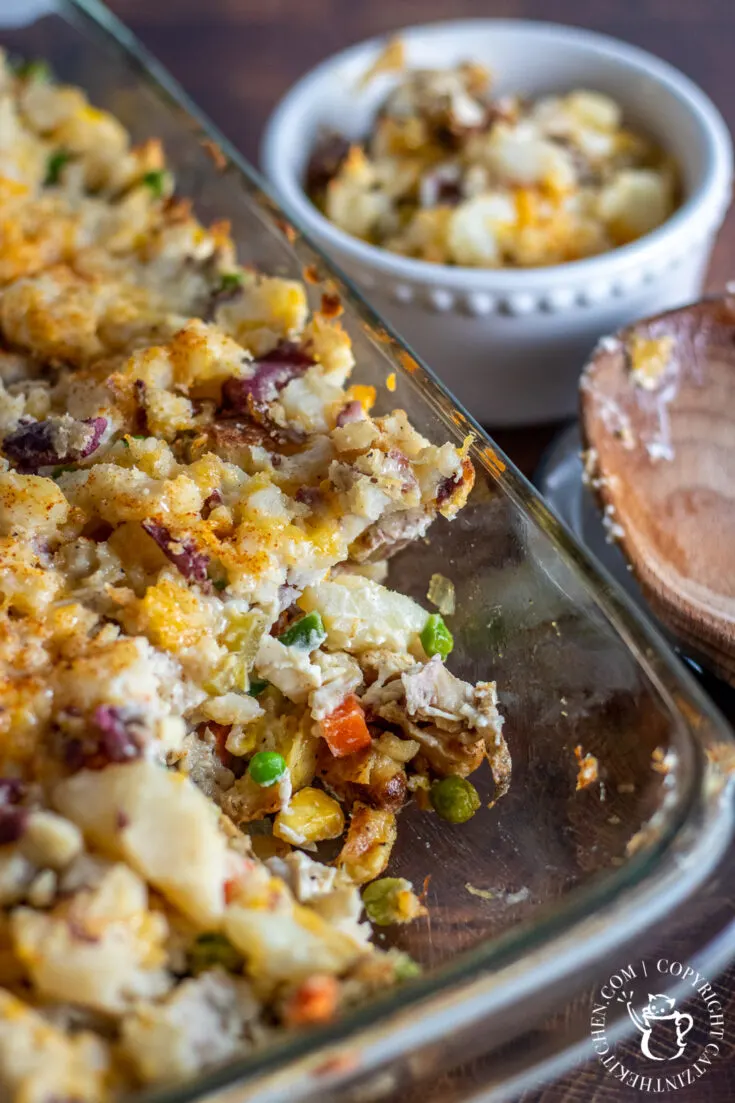 The other thing I want to mention before I let you go look over the recipe card is that this is also pretty adaptable. We used homemade stuffing on the bottom of the dish, but any kind of stuffing will work. I mixed the chopped turkey with frozen bagged veggies – but if you've got roasted broccoli, carrots, green beans, even Brussels sprouts that would work too. I used just a bit of mayo to bind it all together, but some softened cream cheese or even leftover gravy would work well too. Then I just mixed the leftover mashed potatoes together with some shredded cheese. I had a Mexican cheese blend already shredded, so that's what I used, but you could use whatever shredded cheese blend you like (or just shred up your own).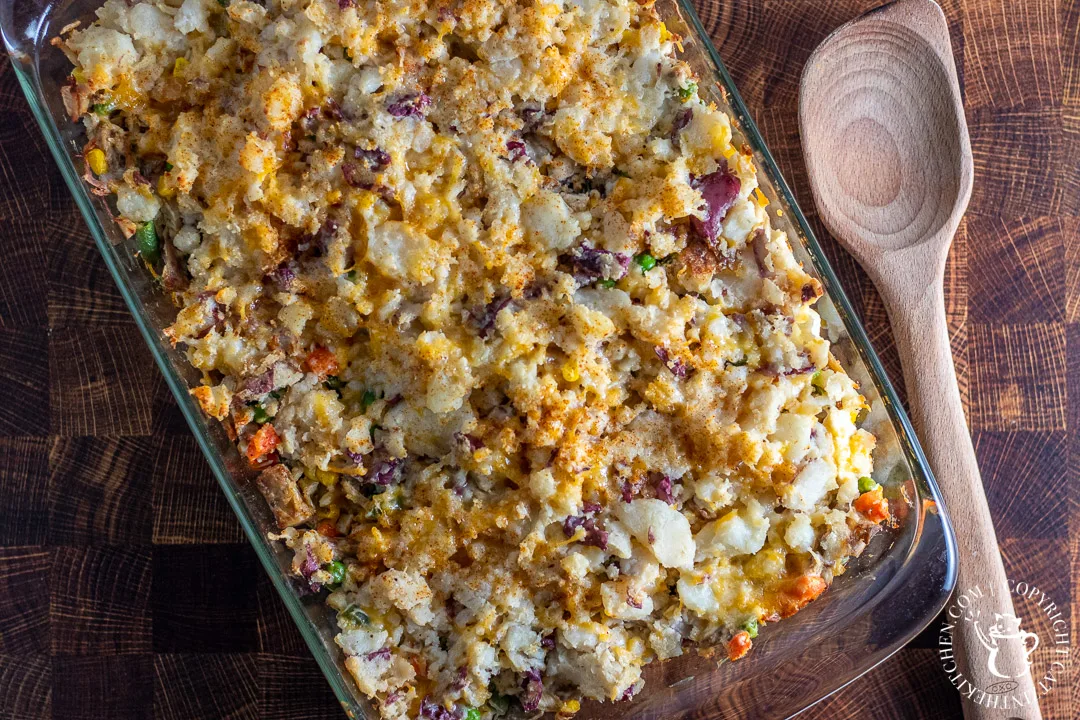 To finish off this meal, I served leftover cranberry sauce on the side with a salad and a drizzle of leftover warmed up gravy on top and it was divine. Pure comfort food that didn't cost me extra money or take a lot of time to put together. Which is exactly what I want to eat while I'm Black Friday shopping from the comfort of my own home!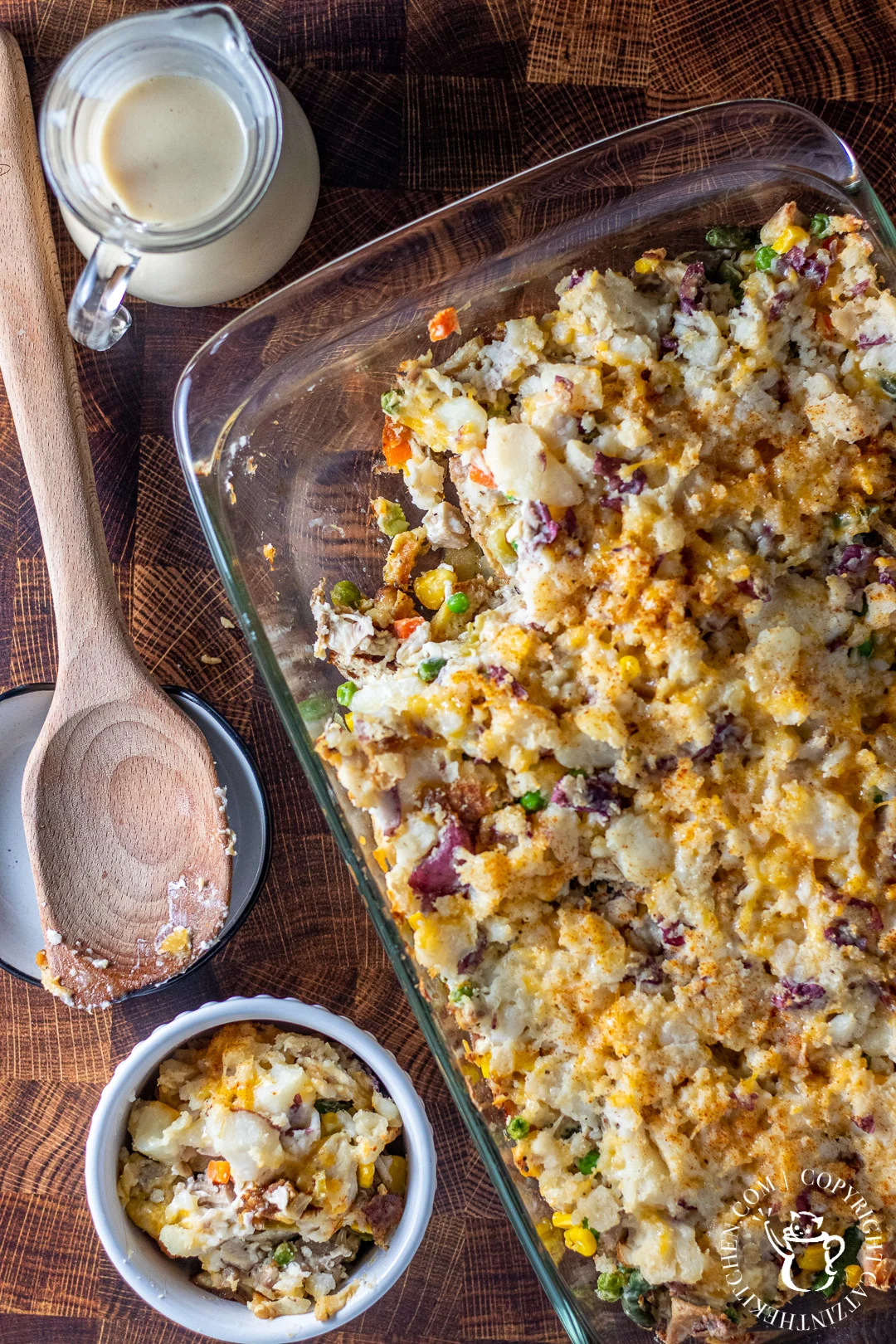 One Pan Thanksgiving Leftovers Shepherd's Pie
Tuck this tasty idea away to use up all of those leftovers! This Thanksgiving Leftovers Shepherd's Pie takes about 10 min to throw together!
Ingredients
2 cups leftover stuffing
4 cups leftover turkey, chopped or shredded
2 cups frozen mixed vegetables (or whatever vegetables you have on hand)
3/4 cup mayo or softened cream cheese or even gravy
3 cups leftover mashed potatoes
1 cup shredded cheese (any kind you like)
1/4 tsp paprika
Instructions
Preheat oven to 375 degrees and spray a 9x13 baking with nonstick cooking spray.
Spread leftover stuffing on the bottom. In a large bowl, combine turkey, veggies and mayo together and evenly spread over the stuffing.
Mix potatoes and cheese together and spread over turkey mixture. Sprinkle with paprika.
Bake for 30-40 minutes, or until heated through.
Nutrition Information:
Yield:

10
Serving Size:

1
Amount Per Serving:
Calories:

446
Total Fat:

29g
Saturated Fat:

7g
Trans Fat:

1g
Unsaturated Fat:

20g
Cholesterol:

81mg
Sodium:

680mg
Carbohydrates:

24g
Fiber:

3g
Sugar:

3g
Protein:

22g
Nutrition information isn't always accurate.