Looking for a twist on a holiday standby? This bourbon coconut custard pecan pie adds some new textures and flavors to this perennial favorite recipe!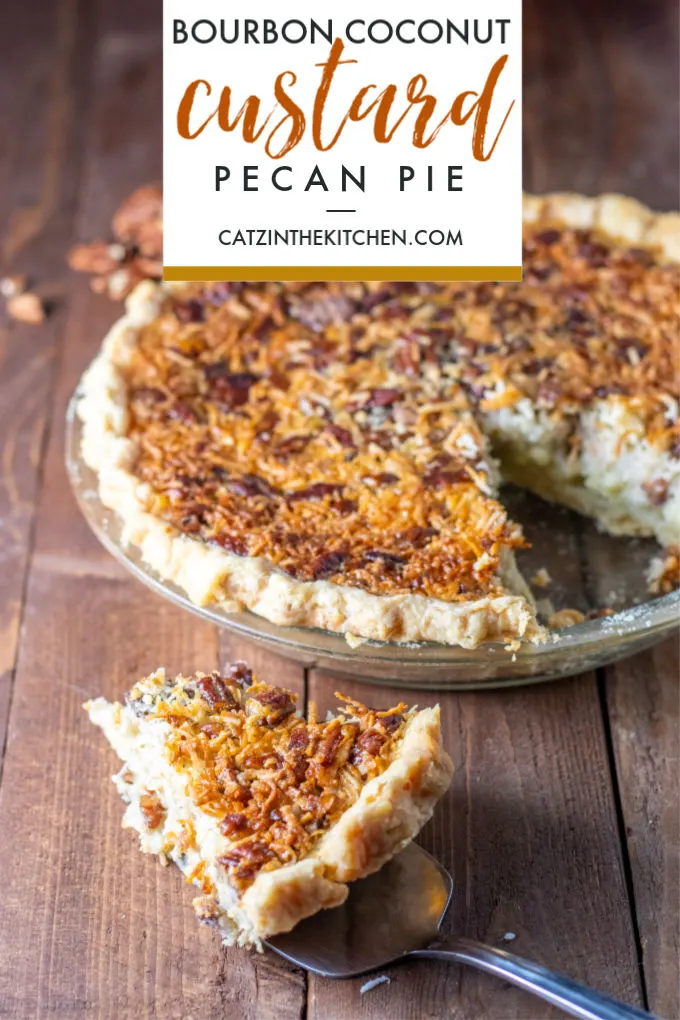 My dad, Josh's dad, and Grace are all in love with pecan pie. It happens to be their favorite Thanksgiving pie, which is kind of sad because you only typically enjoy a pecan pie once a year…at Thanksgiving. Maybe Christmas if they're lucky…but in our family and maybe even yours, pies are generally only enjoyed at Thanksgiving. We do some other sort of dessert at Christmas.
That being said, I also love coconut anything! I think it's kind of hard to reimagine The Classic Pecan Pie – it's got a basic recipe that gets played with here and there, but generally the ingredients for each pecan pie are largely the same across the board. I really wanted to add a pecan pie to our recipe index, but was bored with the same old (even if all my family members weren't), which is why I think this Bourbon Coconut Custard Pecan Pie is a fun variation on a Thanksgiving favorite.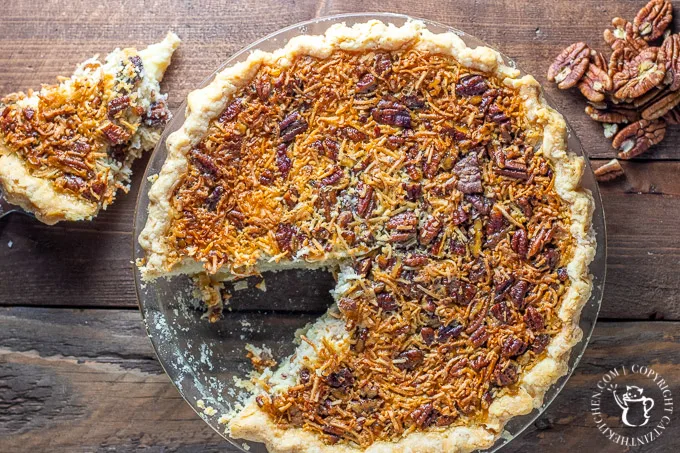 Unless you don't like coconut or even…heaven forbid!…are allergic to it!
The result of this pie is rather brilliant, if I may say so myself! Even those who don't generally love coconut may will love this pie because the coconut becomes more texture than flavor and the pie isn't overly sweet because we're using unsweetened coconut flakes verses the sweetened coconut flakes you can usually find in the baking section of your grocery store. (For unsweetened coconut flakes, head to the bulk section – usually in the nutrition area – and you should be able to find it there.)
If…if you want a deeper flavor profile in this recipe, you can add a bit of bourbon to the pie (which is a very common thing to add to a pecan pie), but you can certainly skip that step if you don't keep bourbon in the house. It's optional and the pie will taste amazing whether you add it or not.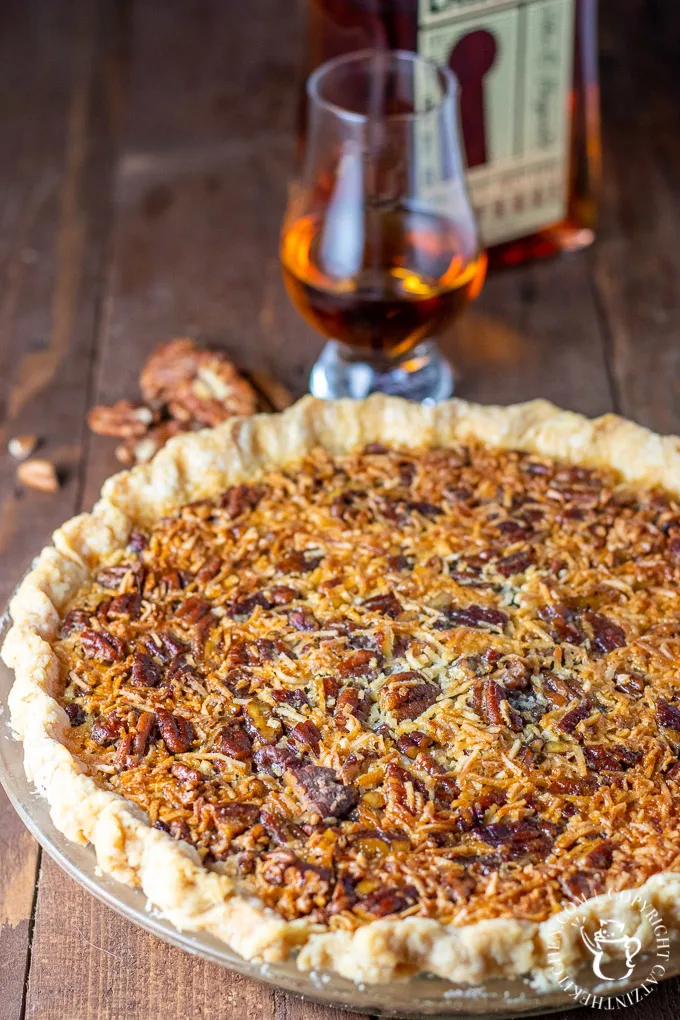 To make this pie even simpler for the holidays you can buy a frozen pre-made pie shell. I really prefer to make my own pie crust because it's just an area I like to work on when it comes to my baking skills. I am definitely not a pie-making wizard, but I have gotten comfortable enough that I don't stress the outcome anymore. I'm a one and done kind of girl when it comes to pie crust – meaning I only like to roll it out once, barely handling it and fitting it into my pie plate carefully…and if tears happen, I simply patch them up with leftover dough.
It seems to work every time, and after the pie bakes up, no one even notices the areas where I may have messed up!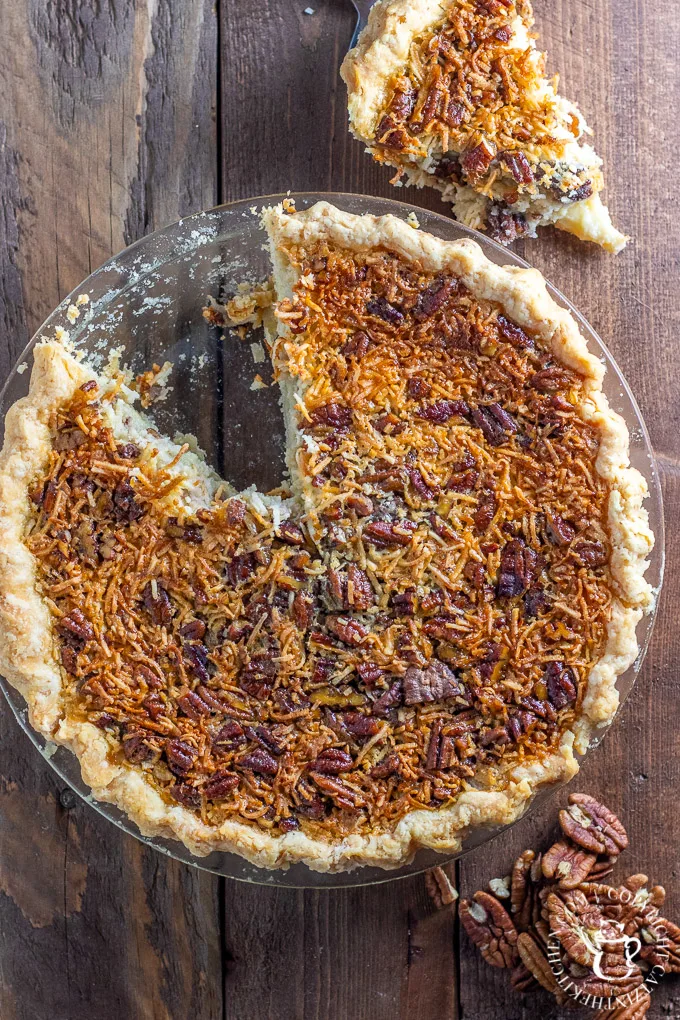 When it comes to Thanksgiving, I know a lot of people don't like to mess with tradition or even try new recipes. But if you are in the market to try out a new pie recipe for this holiday, give this one a whirl. It's not hard, very simple in fact, and it will be gobbled up by everyone. I promise!
Bourbon Coconut Custard Pecan Pie
Cook Time:
1 hour
55 minutes
Total Time:
2 hours
25 minutes
Looking for a twist on a holiday standby? This bourbon coconut custard pecan pie adds some new textures and flavors to this perennial favorite recipe!
Ingredients
2 cups sugar
2 tbsp all purpose flour
6 eggs
1 cup buttermilk
1/2 cup butter (unsalted), melted
*Optional 2 tbsp bourbon
1 cup chopped pecans, toasted
1 cup unsweetened coconut flakes
1 frozen 9-inch pie shell, thawed and unmaked or 1 homemade pie dough, fitted and fluted in a deep 9-inch pie plate
Instructions
Preheat oven to 350 degrees F. Spread nuts on a baking sheet in an even layer and bake until toasted about 6 - 10 minutes. Remove and set aside. Whisk together sugar and flour in a small bowl.
Whisk eggs in a large bowl. Add the flour mixture to the eggs and whisk until smooth. Stir in buttermilk, butter and if using, bourbon, follwed by pecans and coconut. Pour into a pastry shell.
Bake for 55 minutes to 1 hour, covering with foil halfway to prevent overbrowning, or until the center is slightly jiggly. Remove pie from oven and place on a wired rack and allow to cook for 1 hour, then chill, covered for 3-12 hours.
Nutrition Information:
Yield:

12
Serving Size:

1
Amount Per Serving:
Calories:

705
Total Fat:

38g
Saturated Fat:

16g
Trans Fat:

0g
Unsaturated Fat:

19g
Cholesterol:

114mg
Sodium:

426mg
Carbohydrates:

86g
Fiber:

4g
Sugar:

52g
Protein:

8g