Festive, easy, and delicious, this pumpkin chocolate tart recipe packs a surprisingly spice-forward flavor!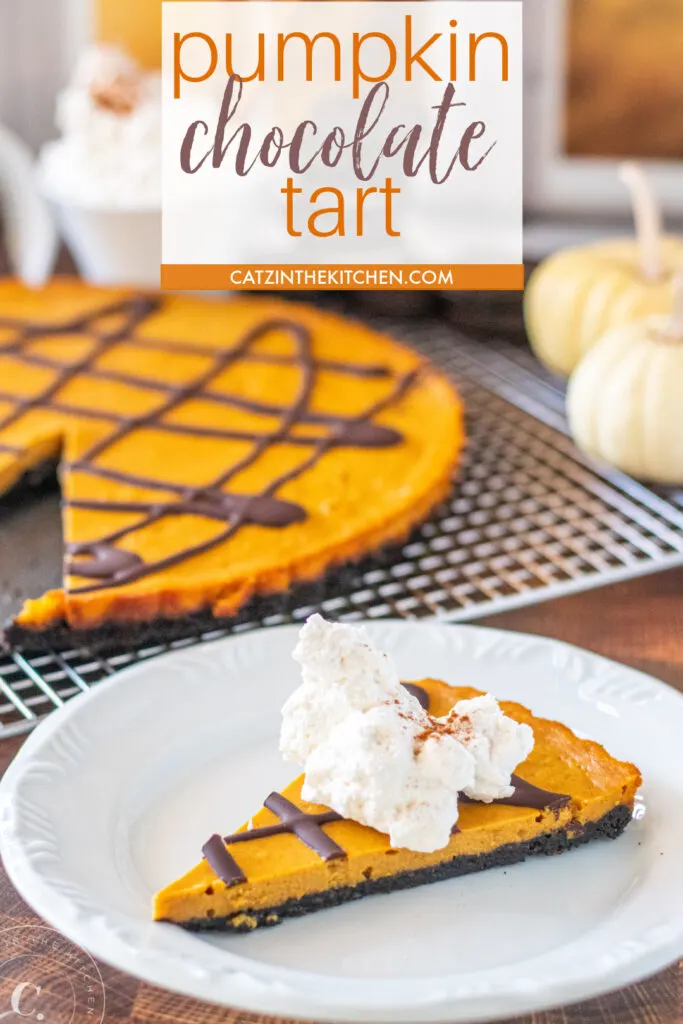 While I am NOT the world's biggest chocolate fan, there is something about the combination of chocolate and pumpkin together that is just very yummy and for some reason…surprising. If you are also a fan of the combo, make sure you try these Swirled Pumpkin Cheesecake Brownies and these Pumpkin Chocolate Chip Muffins!
Let me level with you real quick before we get to far into this recipe…you need a tart pan for this recipe.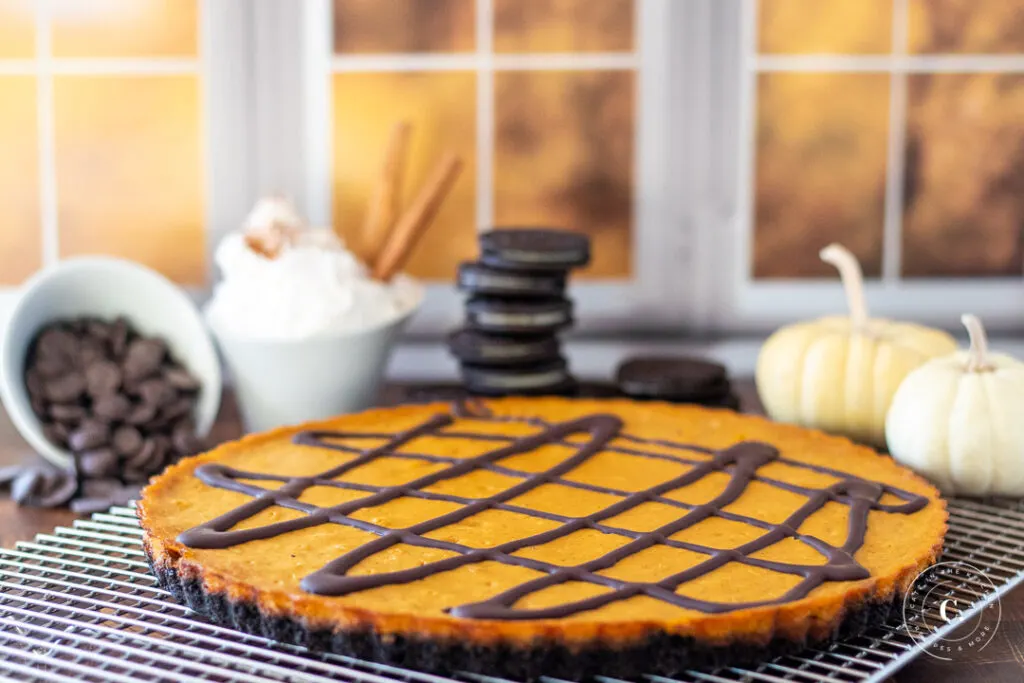 If you don't have a tart pan, girl (or boy!), let me help you out! You don't need a fancy one at all. I have this Wilton tart pan and it's fantastic! It's never given me a lick of trouble, which is kind of preferred when you're baking, ya know. So grab this one from Amazon. It's cheap and reliable. What more could you ask for?
On with the show. I don't make tarts often enough, and I have no idea why that is! They're easier to make than pie. Thinner than pie or cake. Beautiful. Easy to slice. Win and more winning. So basically you might be seeing more tarts now on the blog! 😆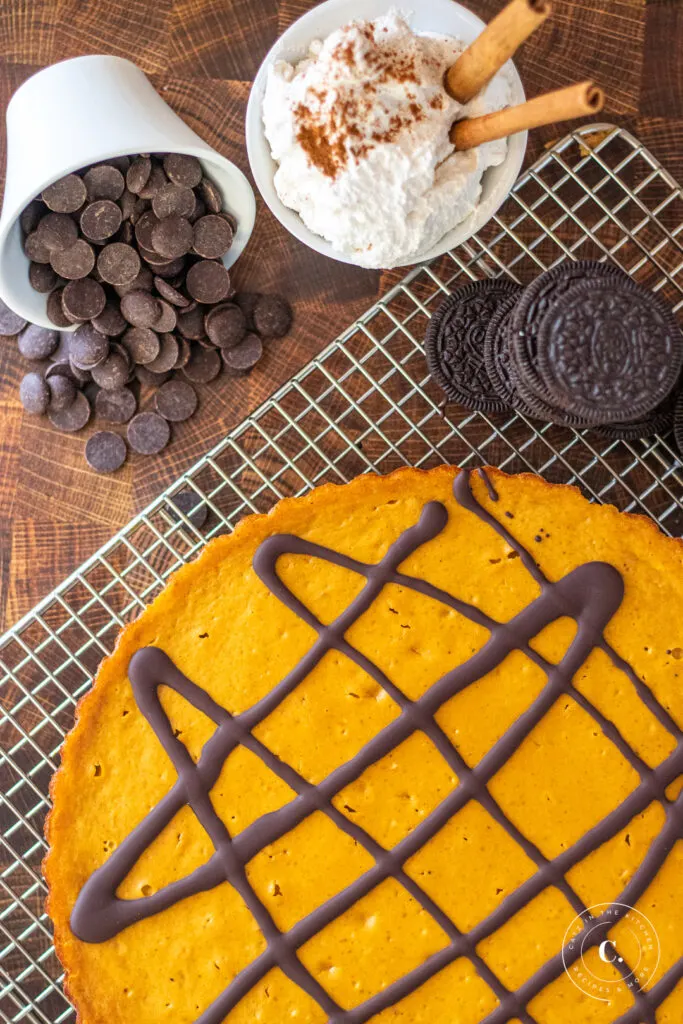 Be warned…you will want to eat this tart as soon as it comes out of the oven. You must not do this. It has to sit and chill covered in the fridge. I highly recommend overnight, but if you can hang in there for four hours of chilling, that would suffice. I am always of the opinion that longer is better when it comes to this kind of chilling.
This particular tart is compromised of an easy crust…a food processor really helps speed things along here…but if you don't have one, have no fear. Throw your chocolate cookies in a ziplock bag and go to town with a rolling pin. (I highly recommend this method if you're having a particularly rough day…or if your children need something to destroy!)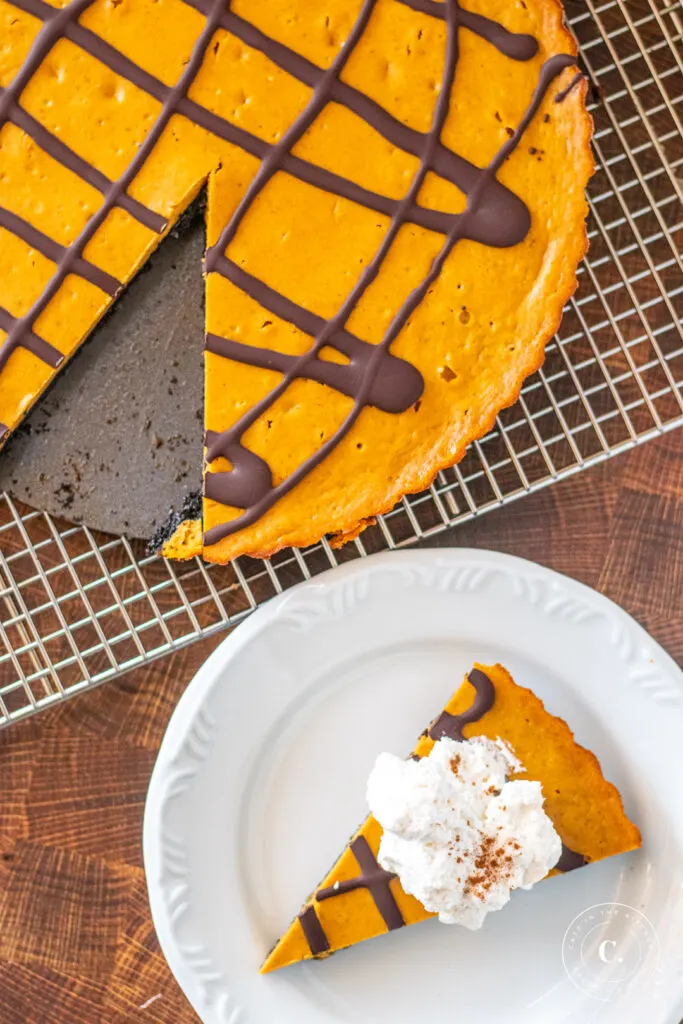 The filling is so spice-forward. I mean, you may not understand the level of flavor I'm talking about until you bake it and then try it, but this is not just a pumpkin and chocolate dessert. Layered flavor brought to you by a bit of sweetness (thank you vanilla extract and brown sugar!) and spices that you probably already own. I'll list them out so you can go double check: ground ginger, ground cinnamon, and ground nutmeg compromise the flavor profile.
Of course this bake gets better because you drizzle the tart with dark chocolate after it's chilled for a bit. This sounds good, right? And if you've never made a chocolate drizzle – so easy! Put the chocolate in a microwave safe bowl and zap it in 20-30 second increments, stirring after each nuke until you've reached the desired consistency of melted and drizzle-able.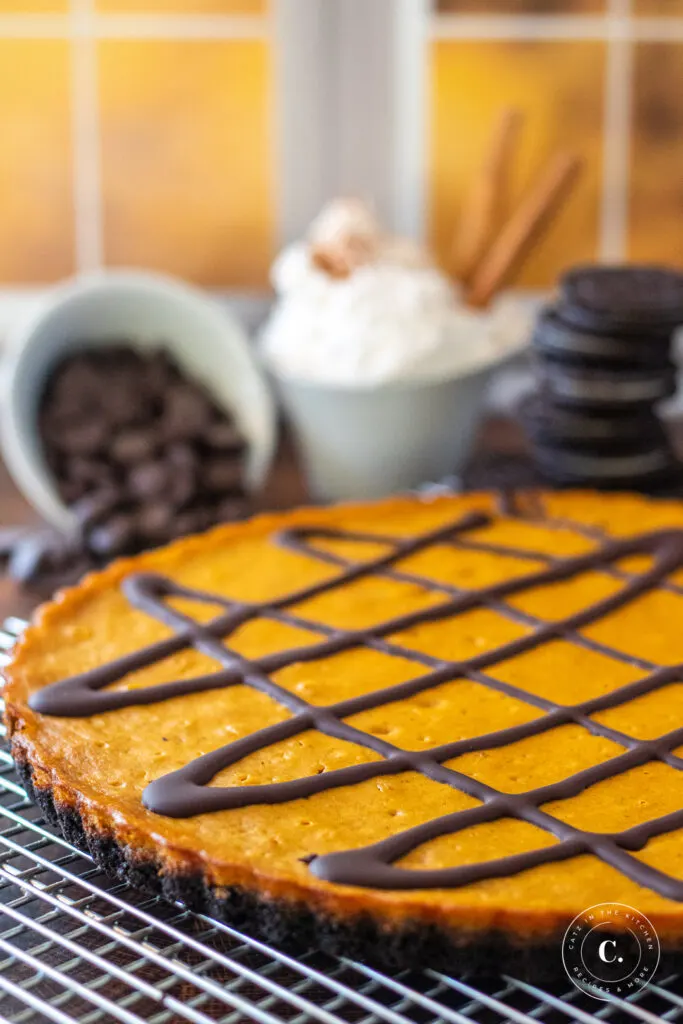 The whipping on the tart (hehe) is of course the cinnamon whipped cream – which is basic and wonderful. If you've ever made homemade whipped cream before, then you know how easy it is. You're literally just adding ground cinnamon to it. Done! Easy! Piece of Tart! (Heehee, okay, I'll stop with the food blogger jokes. I'm not really any good at them anyways.)
I think this tart would be such a fun, relatively unexpected dessert for a fall/Halloween gathering…and what a delightful dessert it is!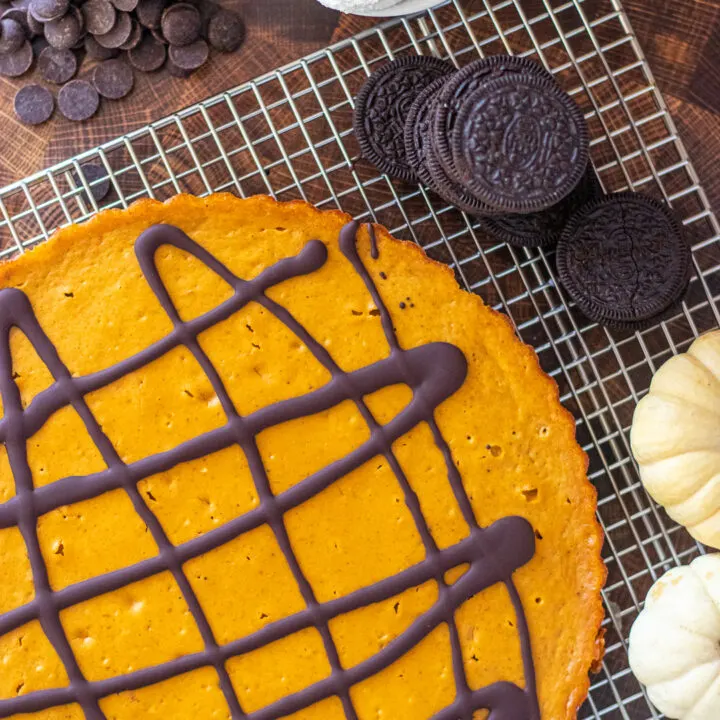 Pumpkin Chocolate Tart
Cook Time:
1 hour
20 minutes
Festive, easy, and delicious, this pumpkin chocolate tart recipe packs a surprisingly spice-forward flavor!
Ingredients
For the Crust
6 oz. Chocolate cookies, like oreos
1 tbsp sugar
5 tbsp unsalted butter, melted
For the Filling
1 cup heavy whipping cream
2 large eggs, room temp
1 1/2 tsp vanilla extract
1 1/4 cup canned pumpkin
1/3 cup packed brown sugar
3 tbsp sugar
1/2 tsp kosher salt
1/2 tsp ground ginger
1/2 tsp ground cinnamon
1/2 tsp ground nutmeg
Chocolate Drizzle
2 oz. dark baking chocolate, melted
Cinnamon Whipped Cream
1 1/2 cups heavy whipping cream
1/4 cup powdered sugar
1/2 tsp vanilla extract
1/4 tsp ground cinnamon
Instructions
For the Crust: place cookies and sugar in food processor, process until finely ground. Add the melted butter; process until combined. Press the crumbs into the bottom of an ungreased 9-inch tart pan. Freeze for 30 minutes.
Preheat oven to 350 degrees F. Bake crust until dry, 8-10 minutes, rotating once halfway through baking. Cool on a wire rack.
Meanwhile, for the filling, in a large bowl, whisk cream, eggs, and vanilla until combined. In a medium saucepan, combine the pumpkin, with sugars, salt, and spices. Cook and stir on medium heat until bubbly, about 5 minutes.
Whisk a small amount of the hot mixture into the egg mixture; return all to the pan, whisking constantly. Remove from heat; pir into prepared tart pan. Place tart pan on a rimmed baking sheet. Bake until the center is just set and top appears dulls, 30-35 minutes. Cool completely on a wire rack. rzefrigerate , covered for at least 4 hours or overnight.
Drizzle melted chocolate over tart; let stand until set. For the whipped cream, in a large bowl, beat cream, powdered sugar, vanilla, and cinnamon until soft peaks for. Serve with tart.
Notes
Recipe source: allrecipes.com via Jessie Sheehan
Nutrition Information:
Yield:

12
Serving Size:

1
Amount Per Serving:
Calories:

383
Total Fat:

31g
Saturated Fat:

19g
Trans Fat:

1g
Unsaturated Fat:

10g
Cholesterol:

114mg
Sodium:

137mg
Carbohydrates:

24g
Fiber:

2g
Sugar:

20g
Protein:

4g
Nutrition information isn't always accurate.