You know that pumpkin-flavored everything is coming (resistance is futile), so just jump right in with these easy, delicious pumpkin chocolate chip muffins!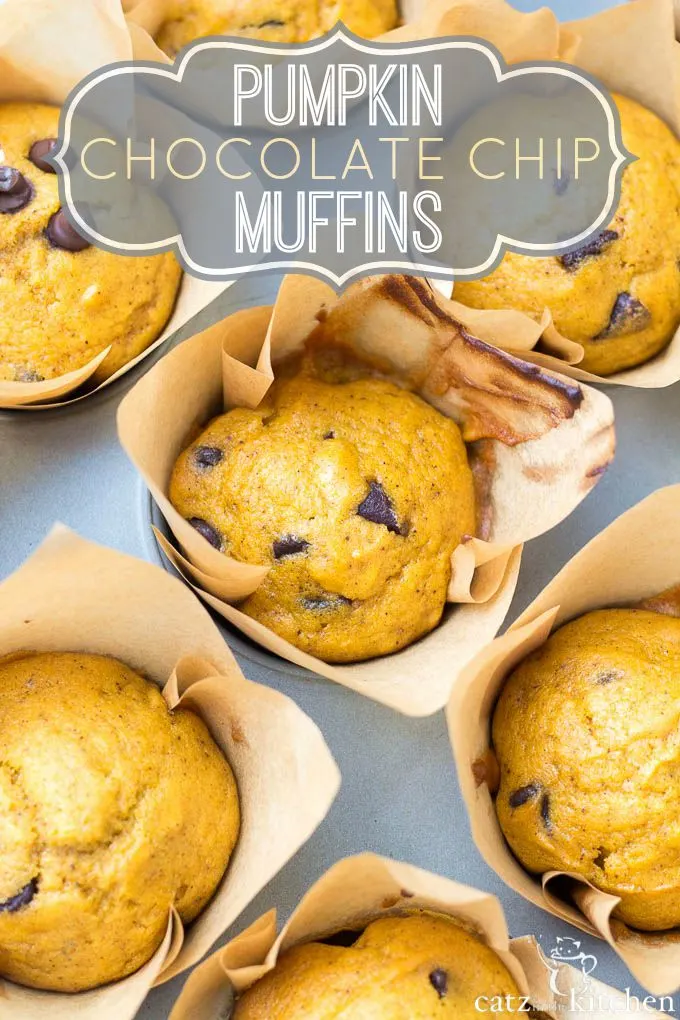 So…here we are, the second week of September, and I'm sharing my first pumpkin recipe with you! Are you excited? Are you pumped? I am! Do you know how impatiently I've been waiting to start whipping up pumpkin goodies?
I would have started my pumpkin baking in August. You know, to get an early start on fall baking. But, I held off for my husband. He loves summer with all of his heart and though he knows how much I love fall, I've been trying to be careful about how much I push fall on him.
Which is why I also haven't decorated the house for fall yet. I am trying so so so hard to wait until the first day of fall. Which happens to be September 23rd. (Editor's note: It's usually Sep 1. I come home from work unsuspectingly only to discover pumpkins…everywhere.)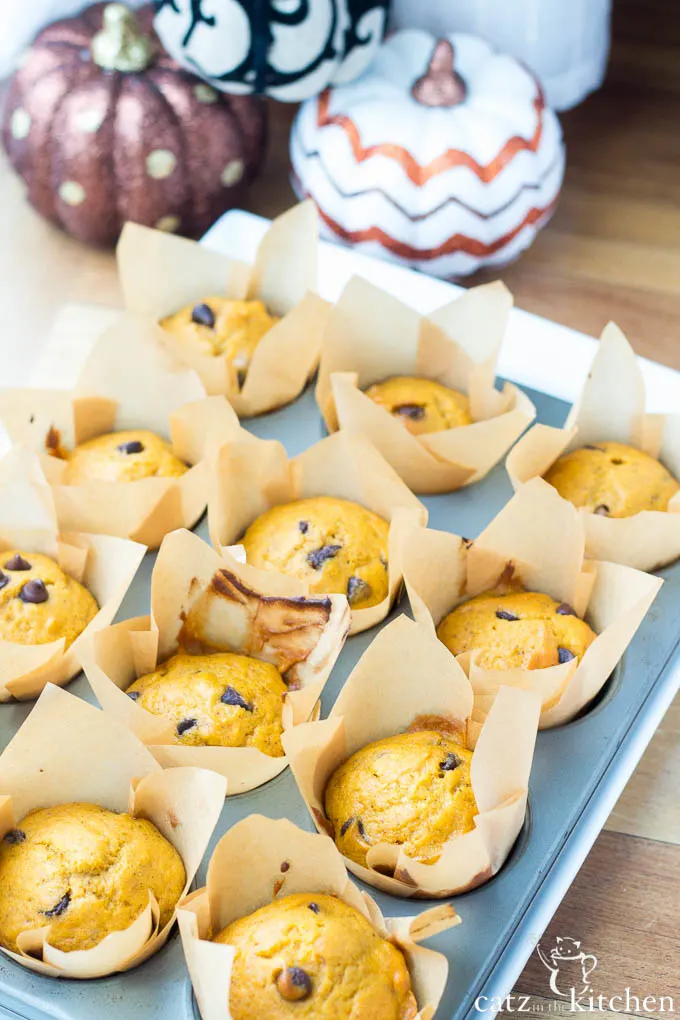 Just because I'm patiently waiting for the first day of fall doesn't mean I haven't been doing any fall shopping. Christian and Eden already have their Halloween costumes (which for them to have those before October is a first for us) and Grace is gathering pieces for her costume. I've also picked up a few decorative pumpkins for the house…which of course I have not displayed yet. Because I'm waiting. Patiently.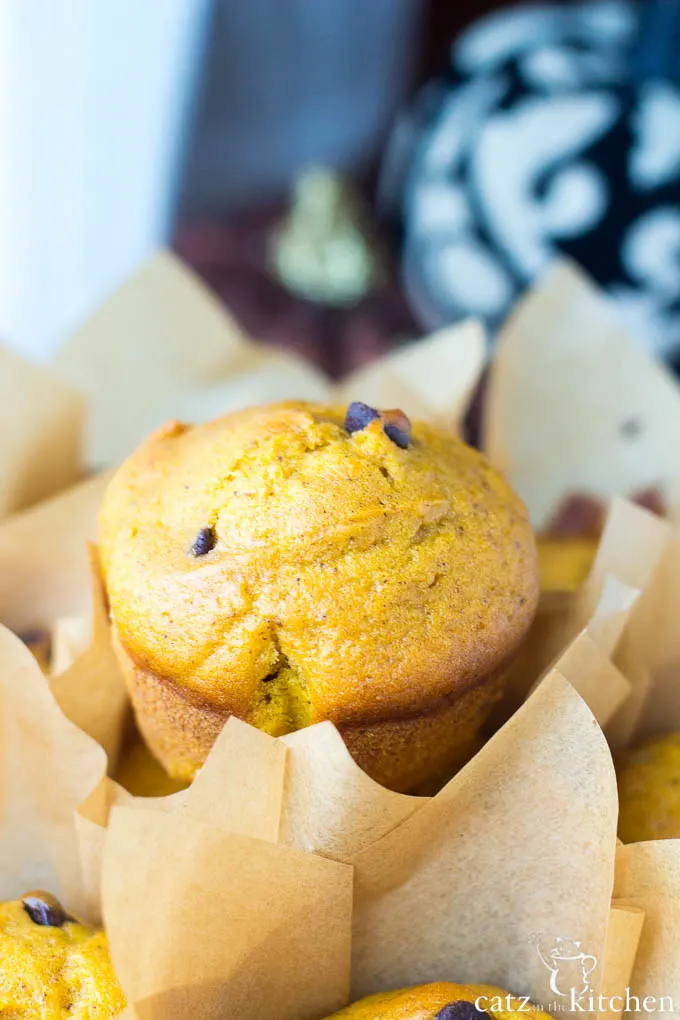 They are just waiting in the spare bedroom for me to decorate with them. You guys…you have no idea how hard this is for me. To wait! It's like waiting for Thanksgiving to be over so I can get rid of all the fall stuff and put up my Christmas decor.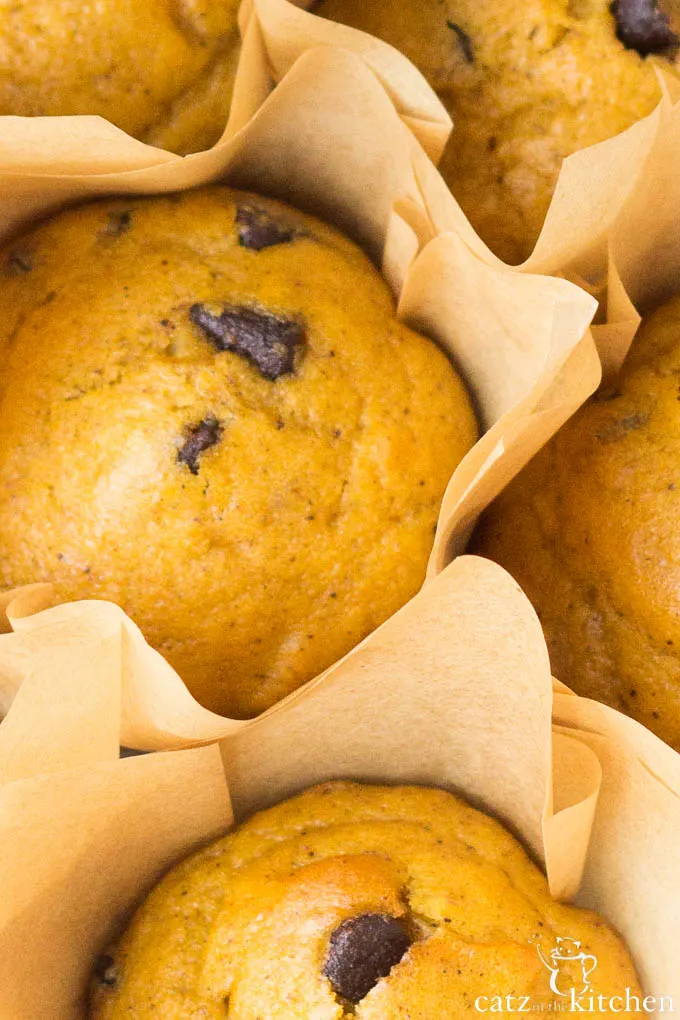 Speaking of Christmas…you're probably going to hate me, but there are only like 14 Sunday's left before Christmas. Just thought you should know that.
Okay, but since it's not Christmas yet, let's talk about these muffins. They are so simple to make. I've been making them for years, as in, since 2010, which makes it amazing to me that I haven't yet blogged them! Trust me, I looked back through all of the archives and there isn't one pumpkin chocolate chip muffin in there. That's just plain out ccrrraaazzzy!
We love these muffins for breakfast. We love these muffins for snacks! We love these muffins for dessert. And of course we love these muffins for anytime of the day! They are a perfectly orange, chocolatey pick me up that smells so good baking!
If you aren't quite ready for fall, these muffins will help ease you into the season!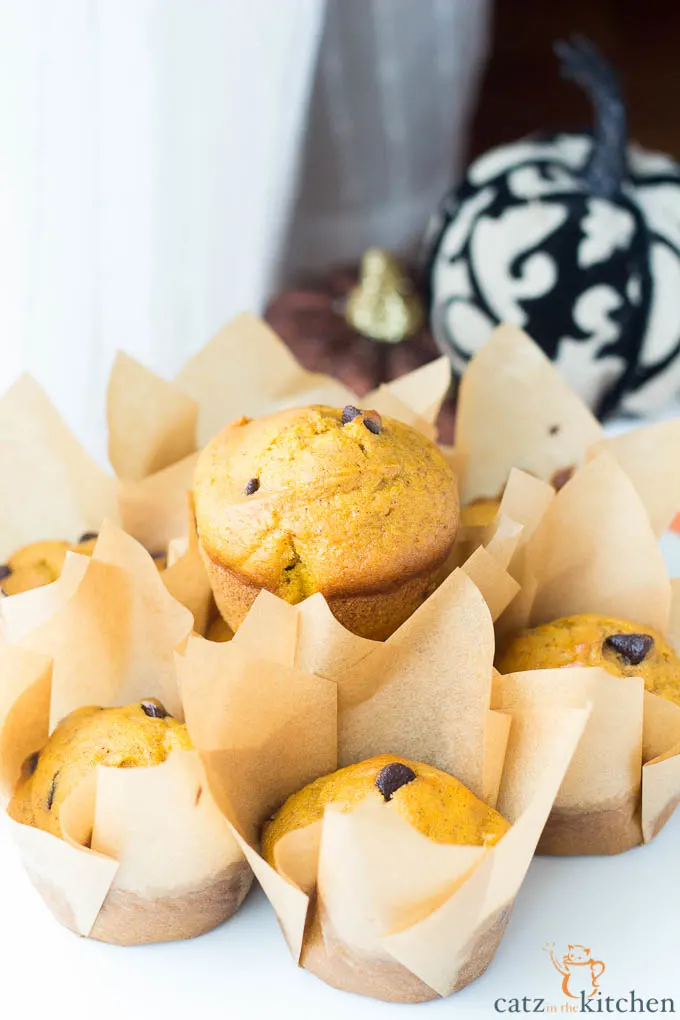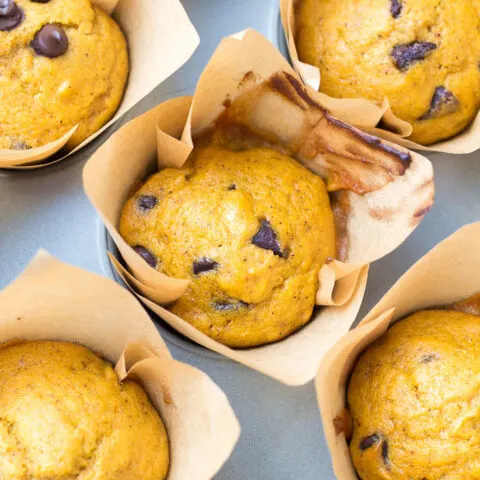 Pumpkin Chocolate Chip Muffins
You know that pumpkin-flavored everything is coming (resistance is futile), so why not just jump right in with these easy, delicious pumpkin chocolate chip muffins?
Ingredients
3/4 cup white sugar
1/4 cup vegetable oil
2 eggs
3/4 cup pumpkin puree
1/4 cup water
1 1/2 cups all-purpose flour
3/4 tsp baking powder
1/2 tsp baking soda
1/2 tsp ground cinnamon
1/4 tsp ground cloves
1/4 tsp ground nutmeg
1/4 tsp salt
1/2 cup semi-sweet chocolate chips
Instructions
Pre-heat oven to 400 degrees. Grease and flour muffin pan or use paper liners.
Beat together sugar, oil, and eggs. Add pumpkin and water. In a separate bowl, mix together the flour, baking soda, baking powder, spice, and salt. Add half of the bowl to the wet mixture, mix and then add the remaining dry mixture. Stir in chocolate chips.
Fill muffins cups 2/3 full, about 3 tbsp with batter. Bake in preheated oven for 20-25 minutes. Allow to cool for 5 minutes before removing to a wire rack.
Nutrition Information:
Yield:

12
Serving Size:

1
Amount Per Serving:
Calories:

198
Total Fat:

8g
Saturated Fat:

2g
Trans Fat:

0g
Unsaturated Fat:

5g
Cholesterol:

31mg
Sodium:

146mg
Carbohydrates:

31g
Fiber:

1g
Sugar:

17g
Protein:

3g
Nutrition information isn't always accurate.