This candy cane chocolate tart recipe is easy, velvety smooth, and quite festive. Make it, and I dare you not to finish it in one sitting!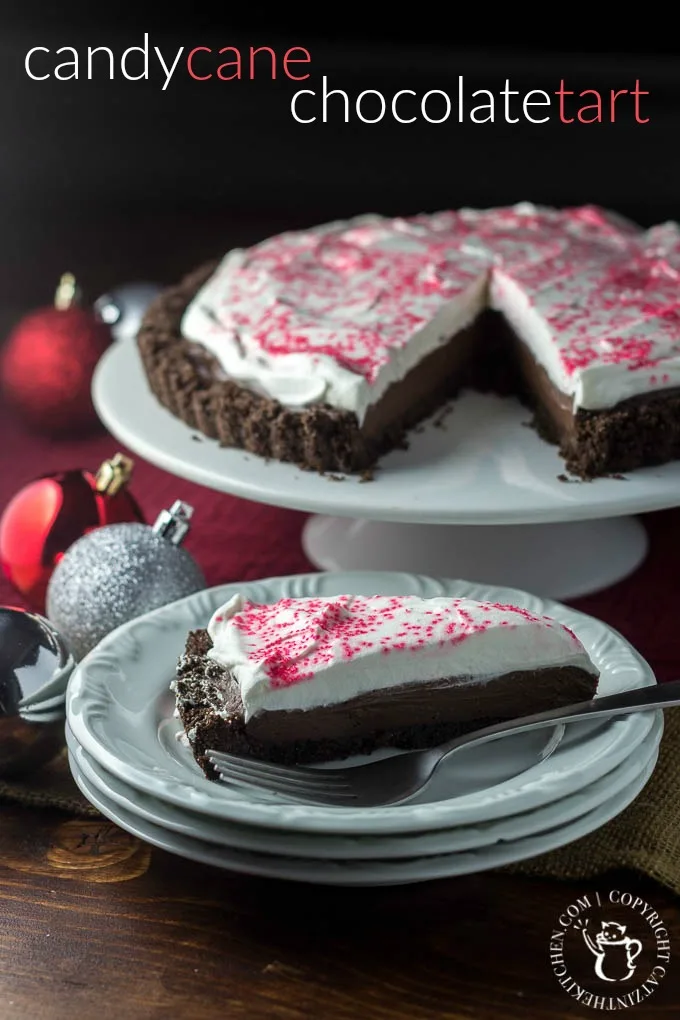 If you haven't heard yet, Portland (as in Portland, Oregon – not Maine) is under attack! The villain? Massive amounts of rain and wind that is wreaking havoc on our fair town. Now, I know we live in the Pacific Northwest, and that alone promises that it will be consistently wet about nine months out of the year, but this weather we've been having since Sunday is on the extreme side. It's not a hurricane or a tornado or anything, but for our very mild part of the world…
It's pretty wild.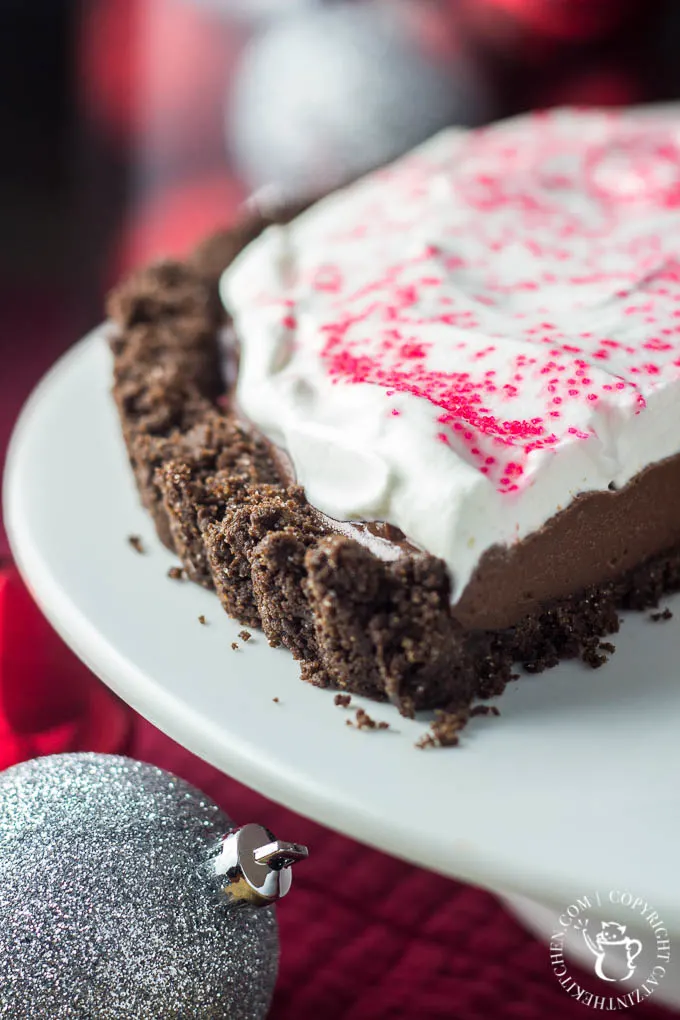 I did wake up at 6am Monday morning to discover that some of the seals around a few of our downstairs windows couldn't handle the extreme flooding rain that we're experiencing and were therefore dripping water from the top of my windows onto my kitchen floor and window ledge in the living room.
In typical Chelsia fashion, I, of course, started freaking out and madly texting Josh about it while he's at work (on a conference call). "Is the ceiling going to collapse? Am I going to spend my day swapping out kitchen towels to collect the dirty rain water and in turn do laundry all day? How do we fix this? What if we can't fix it? Who do we call to fix it?" And so on…and so on.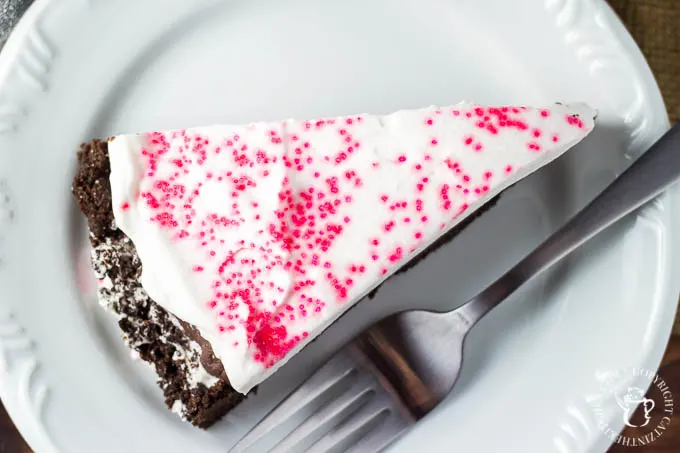 The poor guy had to talk me down off a ledge, which only sort of worked, and in the end, I just felt stressed and overwhelmed…so I cleaned. Since I couldn't control the water leaking into the house, I could control the cleanliness of my home. I spent the morning sweeping, mopping, rotating three large loads of laundry, and vacuuming the entire house, all while trying to homeschool two kids and keep the youngest entertained while not losing my cool (which did happen, if we're being real here).
But guys, I gotta be honest. The little bit of leaking I have in my home is nothing compared to some of our neighboring cities being completely flooded out and sheriffs having to swim around on pontoon boats to rescue people stranded in their homes. Josh said even the floor above his was leaking water and one of his co-workers had water coming through the ceiling of her home and she was afraid the ceiling was going to cave while she was at work!
So really, in the grand scheme of things, my little window leak is no biggie compared to a lot of other issues people are dealing with.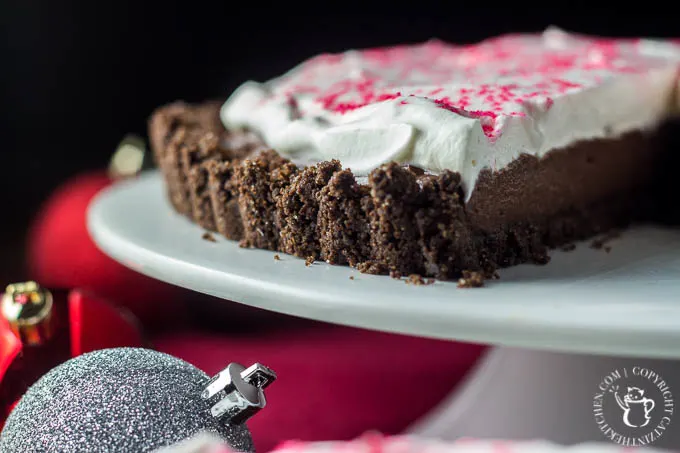 I did take advantage of this storm to do some Christmas baking (naturally), which included this Candy Cane Chocolate Tart…which is so so aaamazing! The chocolate tart's crust is easy and crunchy, while not being too sweet. The minty-chocolate filling is rich, but smooth, and oh, so perfect.
While I did goof a little and accidentally drop a dollop of the topping onto the crust while I was spreading it around (and get severely annoyed with myself for doing so), what can you do? This is real life, and clearly, the stress of the leaky windows got the better of me and I goofed. Just chalk it up to a #humanmoment and let's pretend the goof isn't there, because this tart is tasty and the rain cannot last forever.
Right?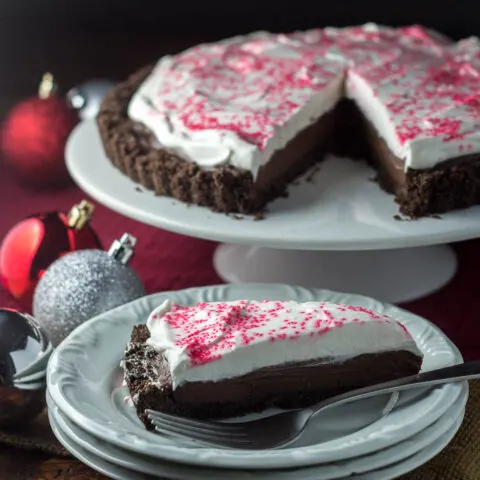 Candy Cane Chocolate Tart
Cook Time:
1 hour
45 minutes
Total Time:
2 hours
20 minutes
This candy cane chocolate tart recipe is easy, velvety smooth, and quite festive. Make it, and I dare you not to finish it in one sitting!
Ingredients
Crust
1 9 oz package of chocolate animal cookies
1/4 cup granulated sugar
1 stick unsalted butter, melted
cooking spray
Filling
2 cups whole milk
4 large egg yolks
1/2 cup granulated sugar
3 tbsp cornstarch
1/4 tsp salt
6 ounces Baker's semi-sweet chocolate, finely chopped
2 ounces mint-flavored chocolate, like Andes or Junior Mints
2 tbsp unsalted butter, cut into small cubes
Topping
2 cups cold heavy cream
2 tbsp powdered sugar
1/2 tsp Red Sanding sugar, for sprinkling
Instructions
To make the crust, preheat oven to 375 degrees. Pulse the cookies in a food processor until finely ground. Pour the crumbs into a bowl along with the sugar and melted butter and stir until combined.
Lightly coat a 9-inch tart pan with removable bottom with cooking spray. Press the crumb mixture into the bottom and up the sides of the pan. Bake until set, about 15 minutes, then transfer to a rack to cool completely.
To make the filling, heat the milk in a wide, medium sized saucepan over medium-high heat until the milk starts to simmer, then remove from heat. Whisk the egg yolks, sugar, cornstarch, and salt in a medium bowl until combined. Gradually whisk about 1/3 of the milk into the egg mixture, then pour the egg mixture into the saucepan with the remaining milk. Cook over medium heat, whisking constantly, until the mixture starts to bubble and thicken, about 3 minutes.
Continue boiling, while whisking until the mixture is to the consistency of pudding, about 2 additional minutes.
Remove from heat and whisk in the chopped chocolate and mints and butter. Pour into the prepared crust and spread evenly. Refrigerate until set, about 1 1/2 hours.
Right before serving, beat the heavy cream, powdered sugar, and extract in a medium bowl on high speed until stiff peaks form. Spread the whipped cream, on the tart (carefully, don't be like me) and sprinkle with the red sanding sugar.
Refrigerate leftovers.
Nutrition Information:
Yield:

12
Serving Size:

1
Amount Per Serving:
Calories:

569
Total Fat:

39g
Saturated Fat:

24g
Trans Fat:

1g
Unsaturated Fat:

13g
Cholesterol:

157mg
Sodium:

140mg
Carbohydrates:

51g
Fiber:

2g
Sugar:

42g
Protein:

7g
Nutrition information isn't always accurate.