This delightful Magnolia Table Peach and Almond Tart recipe (from vol. 1) is easy to whip up and a perfect not-too-sweet summer dessert!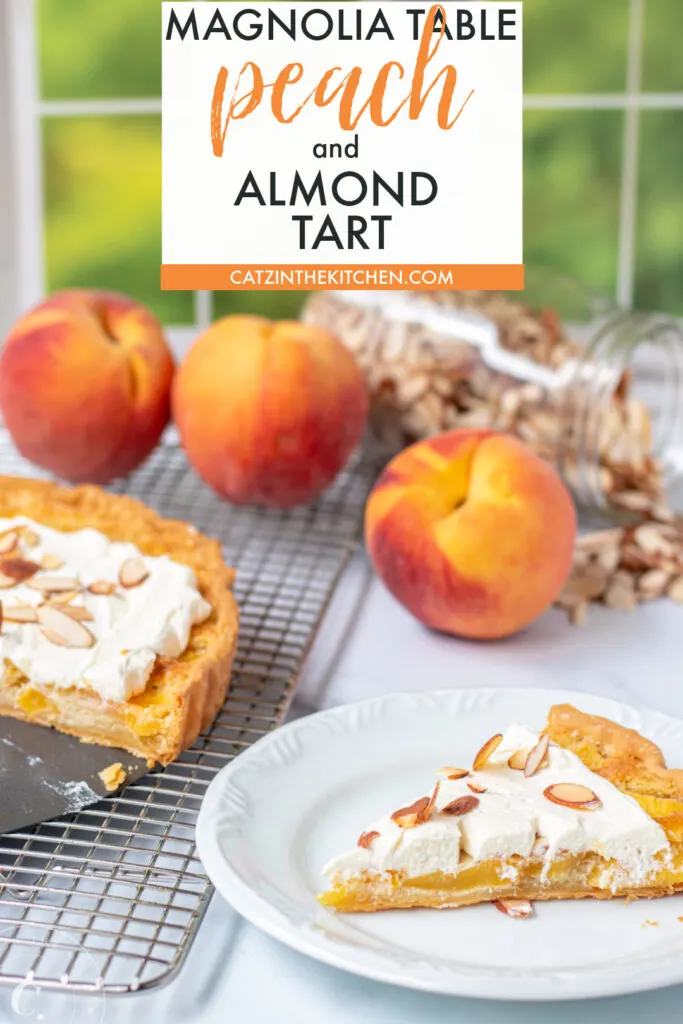 It's peach season! In fact, it's apparently national peach month! So here's a peach recipe idea you should definitely try out…there is something so fun about a tart. I think it's because a tart doesn't have the same kind of pressure that a pie can have. Beautifully crimped edges. Even lattice work. Flakey and buttery crust…
See, with a tart, you don't need to mess with all of that. For this recipe, we use a pre-made pie crust, and with a tart pan, you only need to set the dough inside the pan and…voila – crust is done.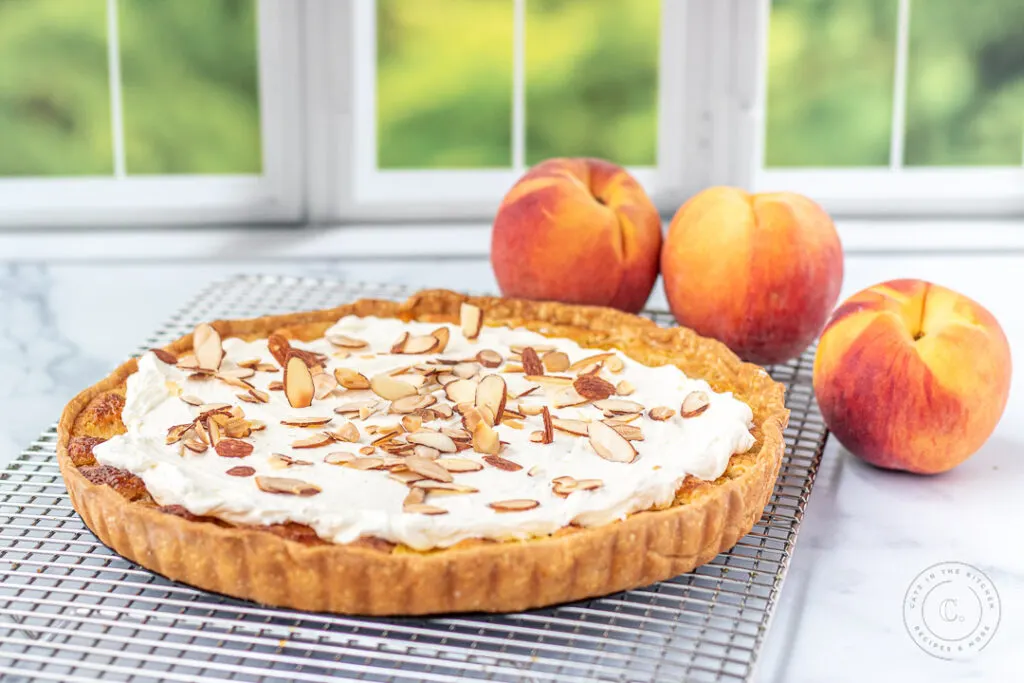 As mentioned numerous times online and in a blog post here and there (like the After School Banana Bread and the Magnolia Table Silo Cookies), I'm slowly working my way through Joanna Gaines' Magnolia Table cookbooks and loving them. From the first cookbook, I've only ever shared the After School Banana Bread and I thought it was high time to feature another recipe from this wonderful cookbook. Full disclosure, I've probably cooked more recipes from the first cookbook and I actually think I prefer the first cookbook to the second, probably because the recipes feel a bit more homey, at least to me.
But today, this Peach and Almond Tart! Firstly, can we just talk about what a beautiful recipe this is? It's stunning! I wasn't sure what it would look like because this recipe in the cookbook doesn't have a picture (Joanna, I love you, and this is probably my favorite cookbook, but this is my biggest cookbook pet peeve!). But this was also one of the reasons why I wanted to share this recipe with you. First because it is peach season, and two because I think it is really helpful to home cooks to know what the finished result should look like – I know it helps me!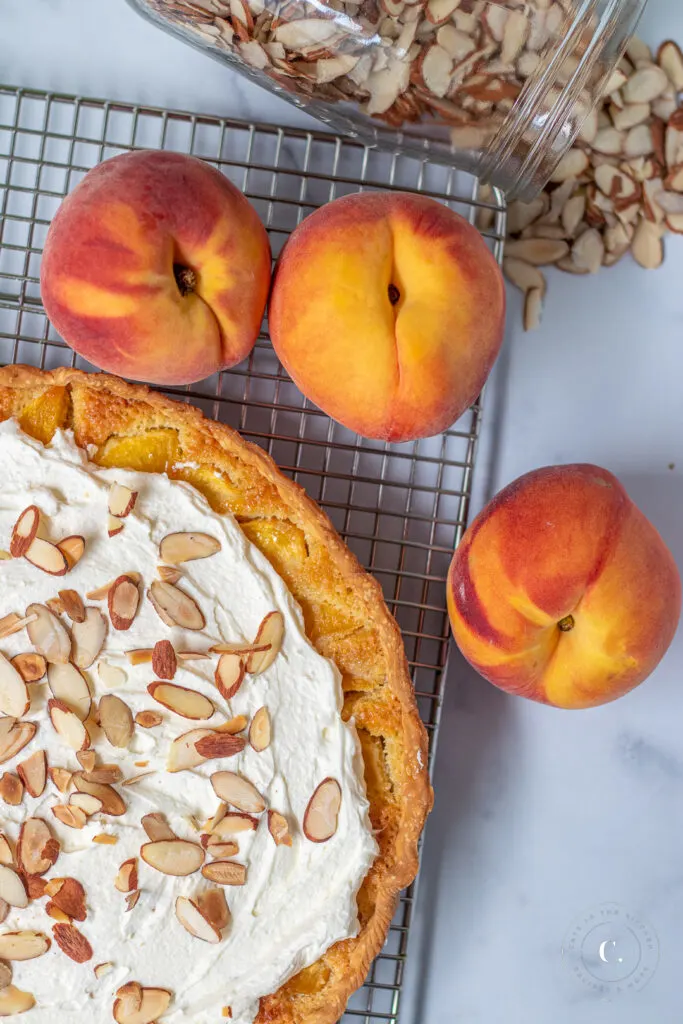 Josh and I worked on this tart together, dividing up the tasks. I took care of the crust, almond filling, and topping, while Josh poached the peaches. My tip for poaching the peaches is to use peaches that are ripe, but not overripe. If they are under ripe the skin won't peel off. If they are over ripe, you're going to have peach mush. You need that sweet spot for the peaches in this recipe, but oh my goodness, do they taste amazing. Feel free to save the poaching liquid – it becomes a peach simple syrup, and tastes amazing. Josh took the leftover liquid out to the Traeger to smoke it, and made smoked peach whiskey sours! Just mentioning that in case you or your spouse is or wants to be a mixologist.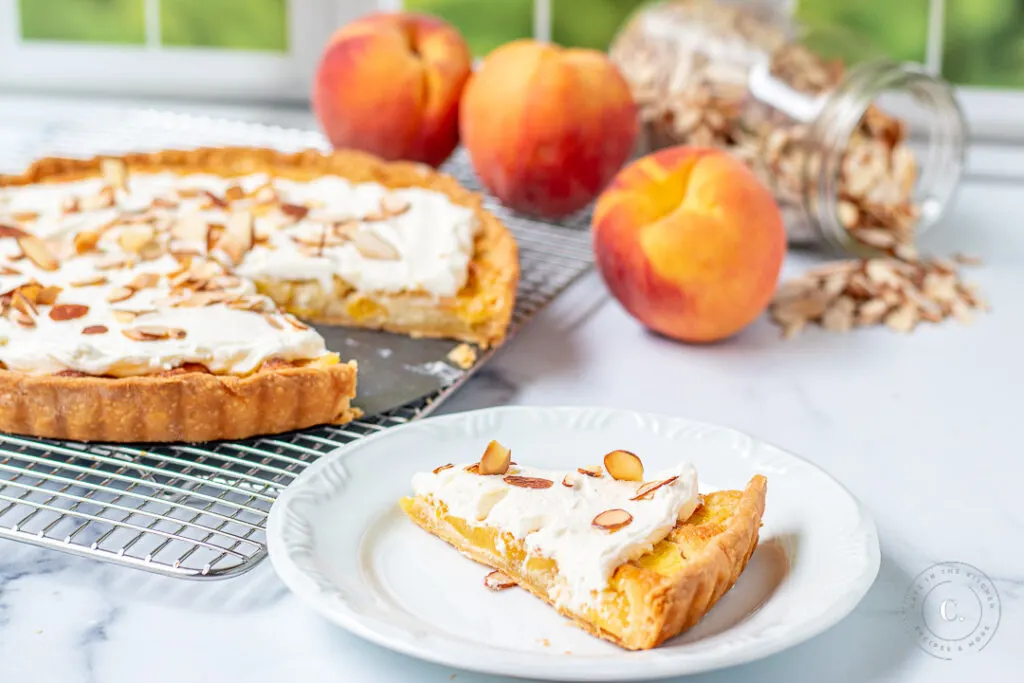 Between the flaky crust, the creamy almond filling and the sweet soaked peaches and whipped topping – you can't go wrong. You might think that this would be an overly sweet dessert, but it actually hits the right balance of a neutral sweet, which I think is largely due to the mascarpone cheese. If you've never used it, mascarpone's consistency is softer that cream cheese, but stiffer than ricotta (If you find you love mascarpone and want to experiment with it more, try making this decadent tiramisu cake, this simple brunch orange and mascarpone toast, or these outrageous smoked blackberry mascarpone popsicles!). The flavor is mildly sweet and a bit nutty – which the almond extract and almond flour just highlight even more. Almond happens to be one of my favorite flavors (and nuts), so this dessert is everything!
Seriously, you will love it! Enjoy!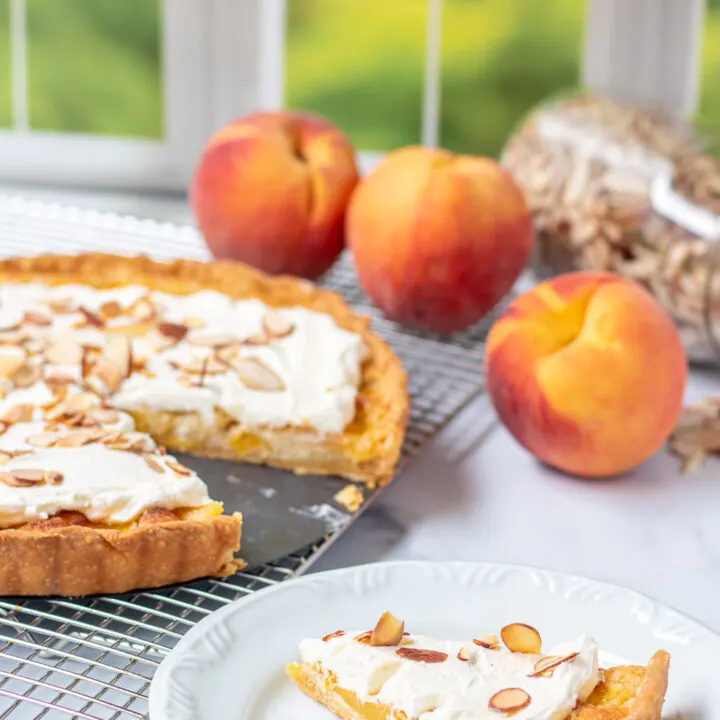 Magnolia Table Peach and Almond Tart
Total Time:
2 hours
30 minutes
This delightful Magnolia Table Peach and Almond Tart recipe (from vol. 1) is easy to whip up and a perfect not-too-sweet summer dessert!
Ingredients
Crust
Store-bough pie dough
Softened butter, for the tart pan
Poached Peaches
2 cups sugar
Grated zest and juice from 1 lemon
1 pound peaches, halved and pitted
Almond Filling
6 tbsp salted butter, at room temperature
1/2 cup sugar
2 large eggs
3/4 cup almond flour
1/2 tsp almond extract
Topping
1/4 cup peach preserves
1/2 cup mascarpone cheese, at room temperature
1/2 cup heavy cream, at room temperature
2 tbsp powdered sugar
1/4 tsp almond extract
2 tbsp sliced almonds, lightly toasted
Instructions
To prepare the crust: Roll the dough to a 14-inch round. Butter the bottom and sides of a 10-inch tart pan with a removeable bottom. Gently lay the crust over the tart pan, taking care not to stretch it. Lift the edges of the dough with one hand, and with your other hand, press the dough into the bottom of the pan and gently up the sides. Roll a rolling pin over the top of the tart pan to cut off the excess dough around the outside edge. Place in the refrigerator while you prepare the filling.
To poach the peaches: In a medium saucepan, combine 2 cups water, the sugar, lemon zest, and lemon juice. Bring to a simmer over a medium heat. Add the peach halves skin side up and simmer until the skin begins to pucker and the fruit is just tender when pierced with a knife, about 5 minutes. Transfer the peaches with a slotted spoon to a plate to cool slightly. Slip off and discard the skins. Reserve 2 tablespoons of the poaching liquid and discard the rest or strain and refrigerate for another use.
Preheat oven to 375 degrees.
To make the almond filling; In a medium bowl, with an electric mixer, beat the butter and sugar on high speed until creamy. Add the eggs one at a time, beating well after each addition. Beat in the almond flour and extract. Spread into the bottom of the chilled tart shell.
Cut the peaches into thin slices and arrange the slices in cocentric circles over the filling. Drizzle the reserved poaching liquid over the fruit.
Bake until the filling is set and golden brown and the crust is golden, 40-45 minutes. Cool to room temperature on a wire rack.
To make the topping: In a small saucepan, melt the preserves over low heat, about 5 minutes. (Alternatively, combine the preserves with 1 tbsp water in a glass measuring cup and heat in the microwave for 30 seconds.) Strain through a fine-mesh sieve and discard the solids. Brush the warm strained preserves on top of the tart.
In a medium bowl, with an electric mixer, beat the mascarpone, cream, powdered sugar, and almond extract on high speed to soft peaks. Spoon the whipped mascarpone over the top. Sprinkle the cream with toasted almonds. Serve at room temperature or lightly chilled.
Cover leftover tart and store at room temperature for up to 1 day.
Notes
Tip: Make sure the mascarpone and cream is at room temperature before beating together. If on or both are too cold, they might curdle. Same if they are both too warm.
Nutrition Information:
Yield:

8
Serving Size:

1
Amount Per Serving:
Calories:

849
Total Fat:

45g
Saturated Fat:

22g
Trans Fat:

1g
Unsaturated Fat:

19g
Cholesterol:

134mg
Sodium:

380mg
Carbohydrates:

108g
Fiber:

4g
Sugar:

84g
Protein:

8g
Nutrition information isn't always accurate.