From Volume 2 of Joanna Gaines' cookbook, these Magnolia Table Silo Cookies are not only outrageously good, they are full of memories for our family!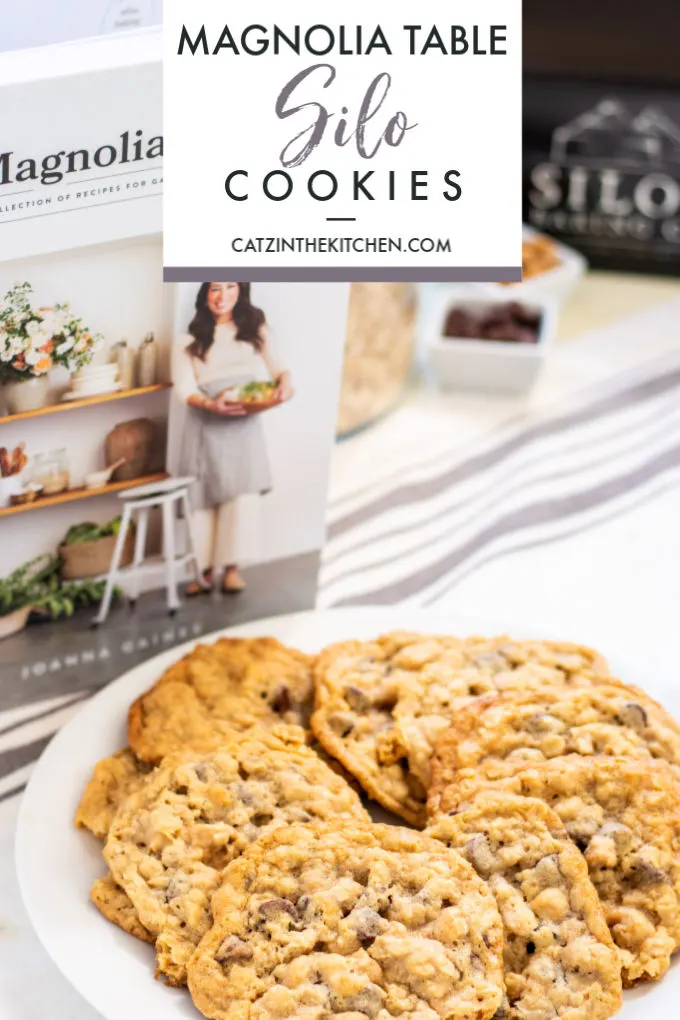 While this lockdown period has been inconvenient and stressful at times, it has also given me quite a few things to be grateful for. I won't give you the list of everything, but I will say this: I've had a huge opportunity to focus on cooking out of some of the cookbooks I've bought and haven't made time to cook from!
The exception to that is the new Magnolia Table Volume 2 cookbook I had preordered months in advance and was eagerly anticipating cooking from as soon as I got it, and cook from it we did! In the amount of time that I've had this cookbook, we've made 17 out of the 145 recipes that it offers. I think we probably made mostly breakfast and dinner recipes – and later in the post, I'll share the honorable mention recipes that almost made the cut to being featured here on the blog, but in the end…it was the infamous Silo Cookie that eventually won out (though we could still blog about some others later on!).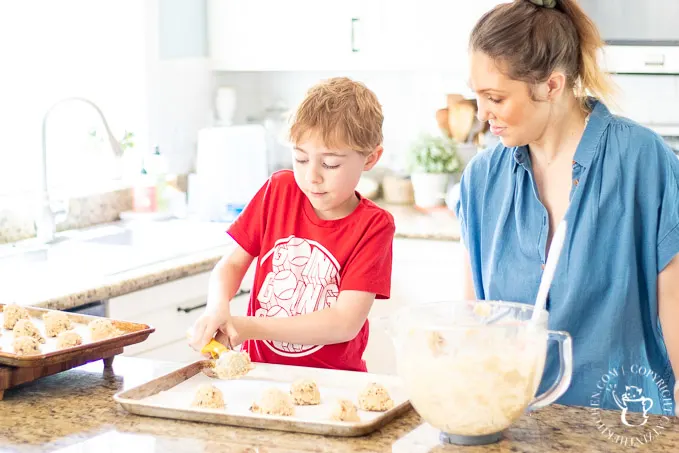 For us, this cookie reminds of Josh and I of our very first visit to the Silos for our baby moon when I was pregnant with Ruby, over three years ago. The Silo Cookie also represents a bittersweet memory for our kids, because it was just last March when we were in the South for Josh's grandfather's funeral. As a way to tuck in a happy memory after the grief of the funeral, we surprised the kids with a trip to the Silos during Magnolia's "Spring at the Silos" event. Of course, we stopped by the Silos Baking Company for cupcakes and this cookie, but the kids even got see Joanna and Chip in person during the "We are the Gardners" book release, which made them feel pretty special.
So, for us, the Silo Cookie represents memories.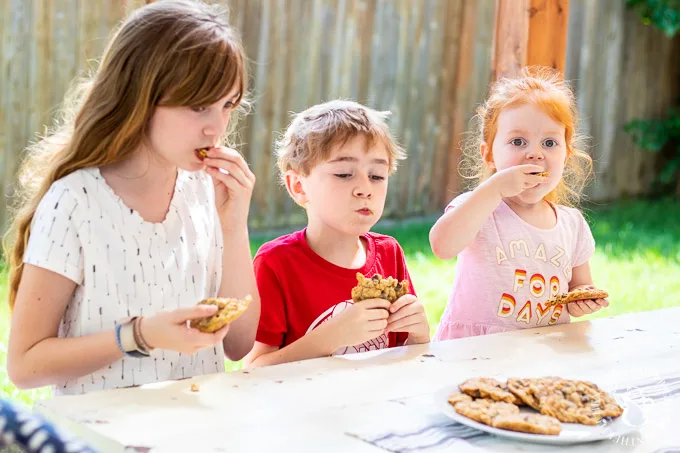 I love the sentiment behind this recipe. Joanna says in her cookbook that she created this cookie using Chip's and the kids favorite cookie ingredients – which I just think is the sweetest thing ever.
As far as the Silo Cookie goes, it's a very simple and straight forward recipe. With that being said, there are three things that you should be aware when baking this cookie.
Use an ice cream scoop when shaping the dough into balls. The scoop is what will give you that big beautiful giant cookie shape, which in my opinion is half of the experience.
Make sure you use peanut butter chips and not butterscotch chips. I've made it both ways, simply because one of the stores I went to didn't carry peanut butter chips. Trust me, the peanut butter chips are better than the butterscotch in this recipe.
Make sure you have plenty of space in your fridge for the baking sheets that have the scooped dough balls on them. The dough requires 30 minutes of chilling and you want them nice and cold before they bake.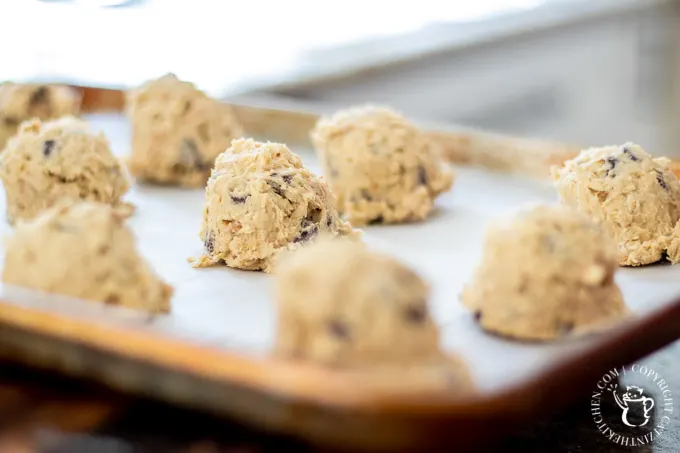 "Honorable Mention" recipes:
Farmhouse Omelet
Waffles with Strawberry Butter – this actually says a lot because I typically do not like waffles at all. But these were how I wish waffles always taste. Make sure you double this recipe if you're a family of 6 more more.
Brick Paninis – we made the Margherita version and it was so dang delicious.
Philly Cheesesteak
Pulled Pork Street Tacos – serve it with sliced radishes and watch the cooking time. The cookbook says it cooks on low 6-8 hours. Mine took 10 hours.
Flourless Chocolate Cake – If you love chocolate, make this cake. Also, I should mention that I shared a few slices of this cake with my mom and it was this recipe alone that made my mom go out and buy the cookbook when she had no intention to in the first place.
Recipes I still want to try:
Kale and Bacon Hashbrown Casserole
Pretzels with Cheese Dip
Spinach Tortellini Soup
Creamy Chicken Poblano Soup
French Silk Pie
Dutch Oven Lasagna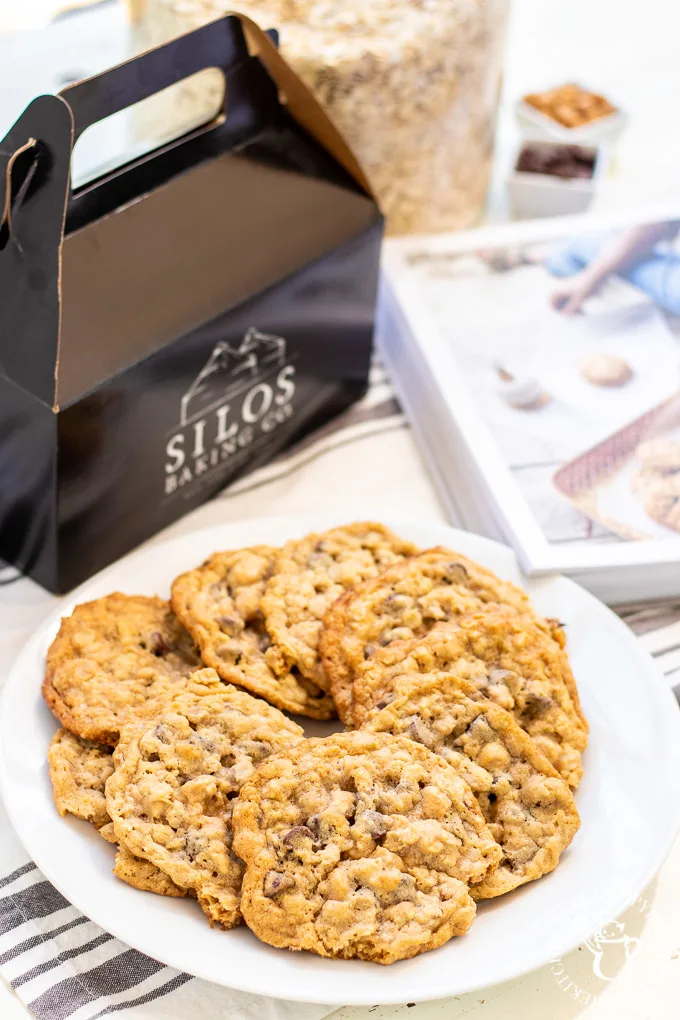 Now, the question I'm getting asked a lot whenever I share about both of the Magnolia Cookbooks is if I had to choose one cookbook to buy, which one would I recommend.
The short answer – I would suggest the first cookbook.
More in-depth answer – Both cookbooks are beautiful with a great variety of recipes. But, I say the first cookbook, Magnolia Table, because the recipes are more homestyle and simple, in my opinion. I get the distinct impression that when it came to creating the first cookbook, those were all recipes she made for her family on a regular basis. With Magnolia Table Volume 2, I feel like the same thing is true, she makes a lot of these recipes for her family, but they are more elevated and have more finesse, if you will.
To summarize, I think I will still reach for the first cookbook more. But that is going to be different from person to person. Just depends on what you like to eat and how you like to cook.
If you've bought the Magnolia Table Volume 2, I would love for you to share in the comments what your favorite recipe has been or what recipe you've been looking forward to making.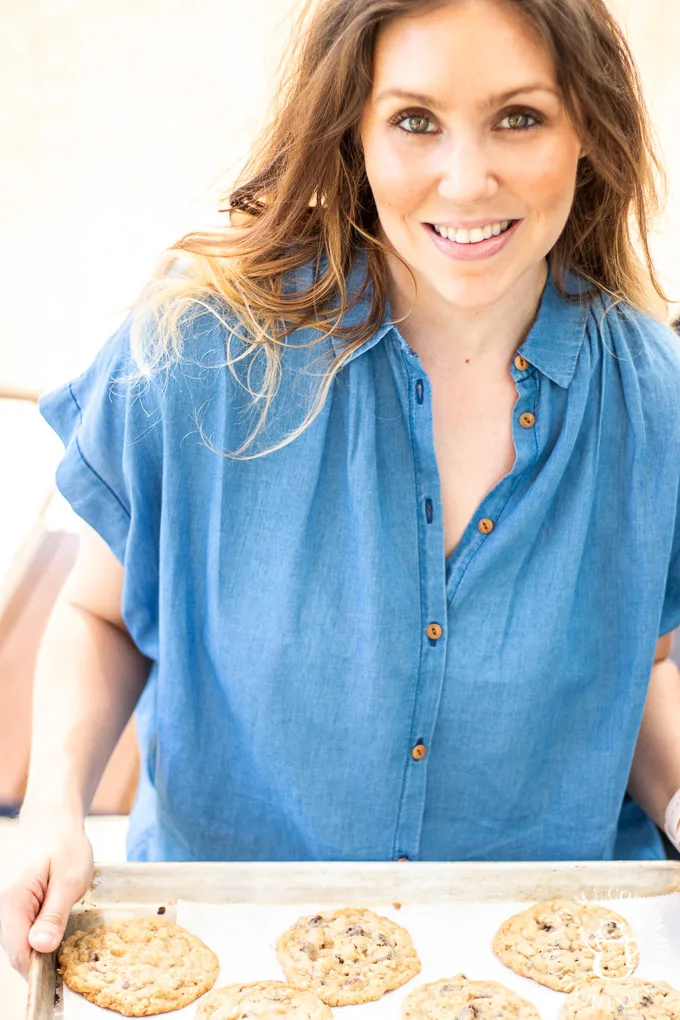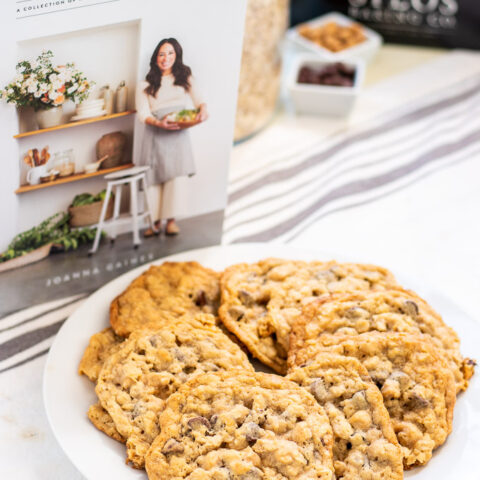 Silo Cookies
Additional Time:
30 minutes
Total Time:
1 hour
10 minutes
From Volume 2 of Joanna Gaines' cookbook, these Magnolia Table Silo Cookies are not only outrageously good, they are full of memories for our family!
Ingredients
1 cup (2 sticks) unsalted butter, room temperature
1 cup packed light brown sugar
3/4 cup granulated sugar
2 large eggs, room temperature
2 tsp pure vanilla extract
2 cups all-purpose flour
1 tsp kosher salt
1 tsp baking soda
1 1/2 cups rolled oats
1 1/2 cups semisweet chocolate chips
1 1/2 cups peanut butter chips
1/2 cup chopped walnut (I left these out because I don't like nuts in my cookies.)
Instructions
In a stand mixer fitted with the paddle attachment, cream the butter, brown sugar, and granulated sugar on medium speed until light and fluffy, about 4 minutes. Reduce the speed to medium-low and add eggs one at a time, beating until blended after each addition. Add the vanilla and beat until well incorporated.
In a medium bowl (I prefer one with a spout - makes pouring easier), whisk together together the flour, salt, and baking soda. Slowly add the flour mixture to the mixer with the creamed butter and beat until incorporated. Reduce the speed to low, add the oats, chocolate chips, peanut butter chips, and walnuts, if using. Beat until evenly combined, about 15-20 seconds.
Line two baking sheets with parchment paper. Using a 2-ounce cookie scoop or ice cream scoop, scoop the dough onto one of the prepared pans, placing the scoops side by side. Refrigerate for at least 30 minutes.
Preheat oven to 350 degrees F. Baking in batches, and leaving the dough balls in the refrigerator until needed, set the dough balls 3 inches apart on the second prepared baking sheet and bake until browned, 13-15 minutes. (I found the sweet spot to be 14 minutes in my oven.) Let cool on the baking sheet for about 10 minutes, until set and cooled. Repeat with the remaining cookies.
The cookies will keep at room temperature for 5 days in an airtight container.
Notes
Recipe via: Magnolia Table Volume 2
Nutrition Information:
Yield:

20
Serving Size:

1
Amount Per Serving:
Calories:

295
Total Fat:

11g
Saturated Fat:

5g
Trans Fat:

0g
Unsaturated Fat:

6g
Cholesterol:

20mg
Sodium:

227mg
Carbohydrates:

45g
Fiber:

3g
Sugar:

29g
Protein:

6g