We had a hard time picking a first recipe to try out of the new Magnolia Table cookbook, but this recipe for banana bread ended up being a great choice! It's simple and easy, but a little creativity takes this classic to new heights!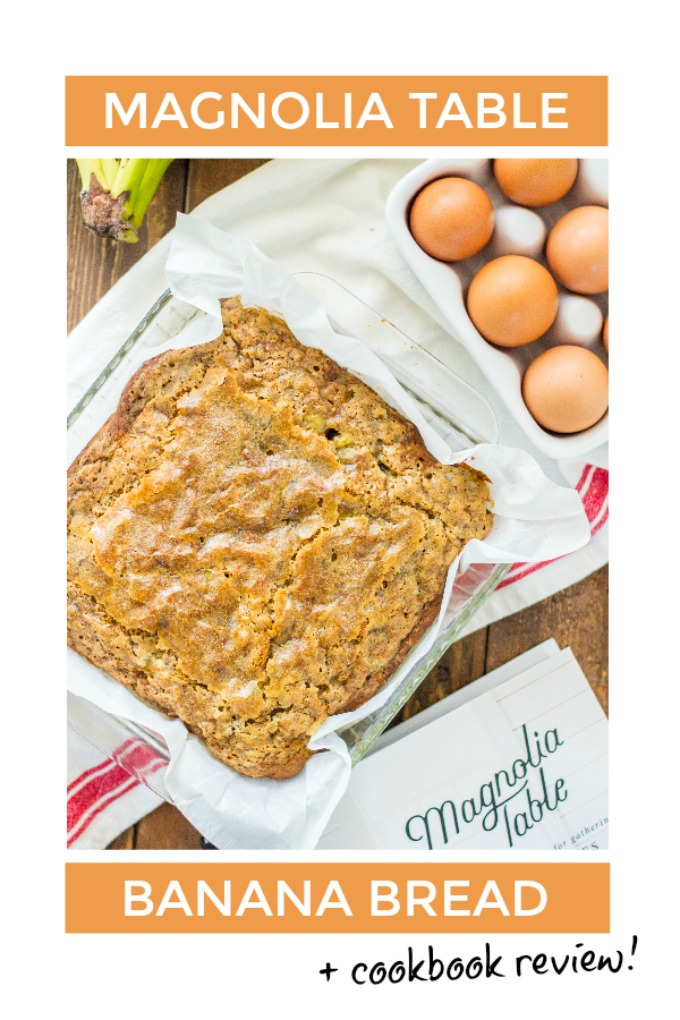 If you've seen our DIY Library built-in post, then you know that one of the things that I was most excited about was finally having a really nice designated space for all of my cookbooks. I have a lot of cookbooks, including several of some of my favorite cookbook authors.
(Hmm…there's a blog post idea!)
It's also not a surprise that Josh and I (well, and our kids, too) are big fans of Chip and Joanna Gaines. Last April we went to Texas to visit the Silos, I'm a subscriber to the Magnolia Journal, we own both of their books, a larger number of Magnolia t-shirts than I'd like to admit, and every season of Fixer Upper. So, yeah, groupies a bit, I guess…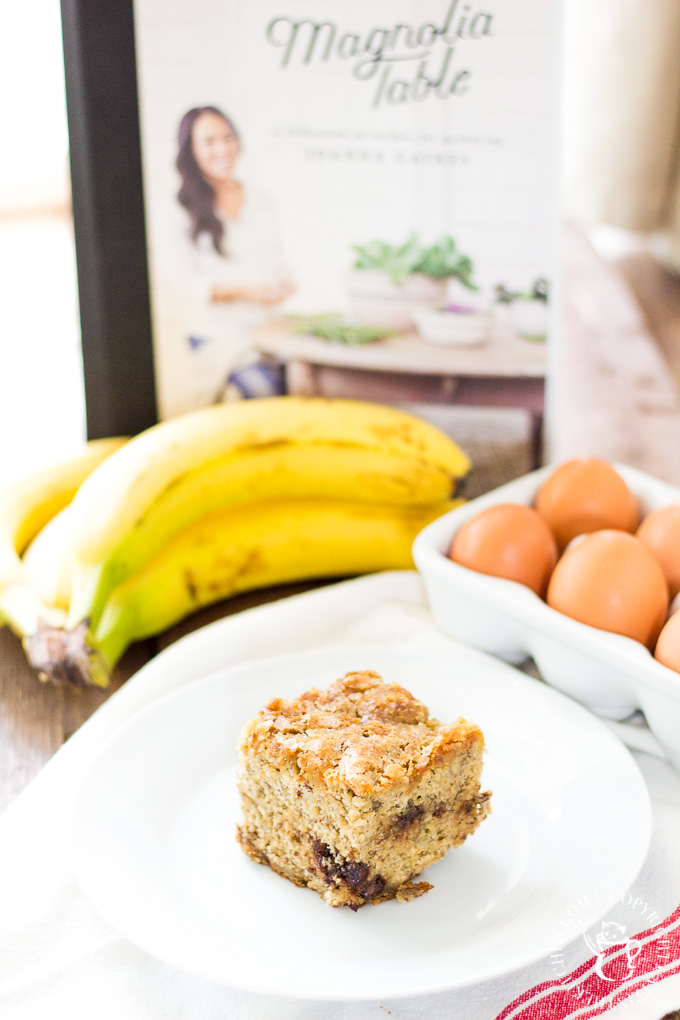 When I discovered that Joanna was working on a cookbook, I was ecstatic and got in line with everyone else to preorder it. When it finally showed up in April, it was an even prettier cookbook than I thought it would be, which really should not have come as a surprise to me. The paper has a similar feel to the paper used in the Magnolia Journal (high quality) and the cover/binding of the book just feels classy.
This is probably the prettiest and nicest cookbook I own, but there is something about it that also feels comfortable and well loved about it. To me, it doesn't feel like the kind of book that would be insulted by handwritten notes written in the margin of the pages, but rather enhanced by them, inviting the home cook to embrace the recipes and share his or her thoughts.
That's my kind of cookbook! It's also something my grandma did and something I saw my mom do as I grew up, and now I leave notes all over different recipes in my cookbooks.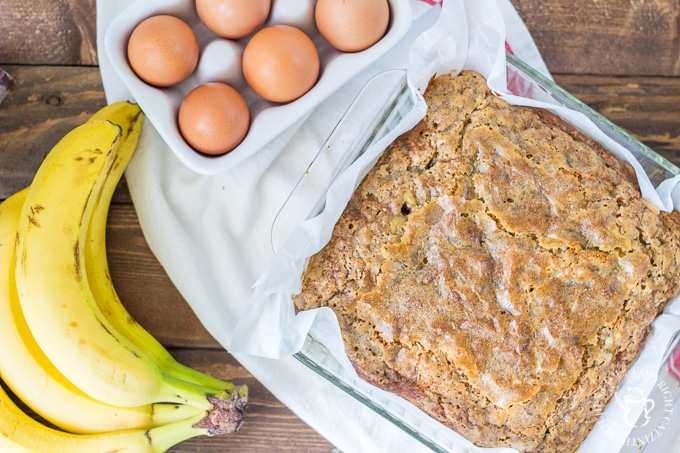 If you read our Weekly Menu post, then you know we've had a long three or four weeks with a number of unexpected health issues. I'd been debating for weeks now over what recipe to choose to cook from first in this cookbook, but they all looked so amazing, I was having a difficult time choosing "the one." As I was sitting on the couch with Grace one afternoon last week, she commented on how she couldn't eat apples yet due to her braces, as they still felt a bit sore. I casually suggested a banana, a fruit she doesn't particularly care for and she said, "I would rather eat an under ripe banana than any of the bananas sitting over there on the counter. They're too ripe for me!" (She really isn't picky at all, I swear!)
Half talking to myself, I suggested that banana bread would be the best option to use them up because we already had so many bananas in the freezer for our smoothies. And then I remembered seeing a recipe for banana bread in the Magnolia Table cookbook and I knew that's what I was going to make for our little cookbook review!
You guys, I'm so glad I did, because it is hands down the best banana bread I've eaten in my entire life and that's a huge compliment because up until now my stepmother's had always been my favorite.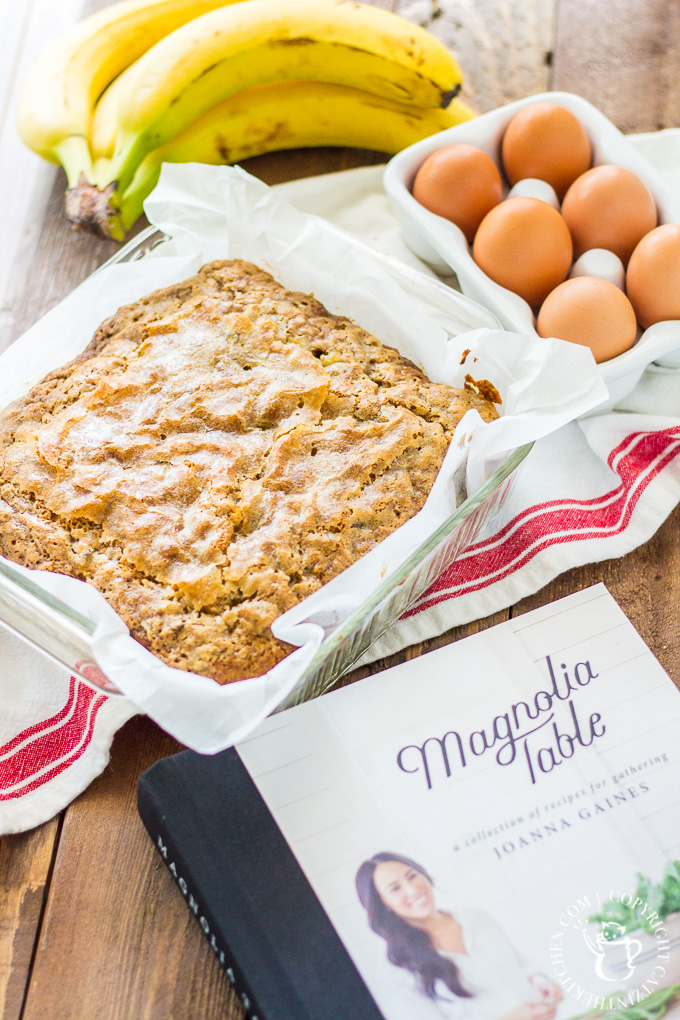 This banana bread could not be simpler, but I love the twist Joanna took by baking the bread in an 8×8 baking dish instead of a loaf pan – which actually makes the bread feel more like a cake.
The original recipe called for chopped pecans mixed through the batter. But as luck would have it, I was actually out of pecans! A note on the recipe page stated that one of Jo's friends uses chocolate chips – which I definitely did have on hand! And surprisingly enough, they did not make the bread too sweet, which is often a problem I run into when adding chocolate chips to different recipes.
OH. MY.GOSH. This banana bread is crazy good. We ended up eating it for breakfast one Saturday morning and it was inhaled by all. We all just cut a square, microwaved it for a few seconds, and added a bit of butter…serious perfection. I think my favorite part of the whole cake is the crunchy top crust of the bread due to a little sugar sprinkled on top.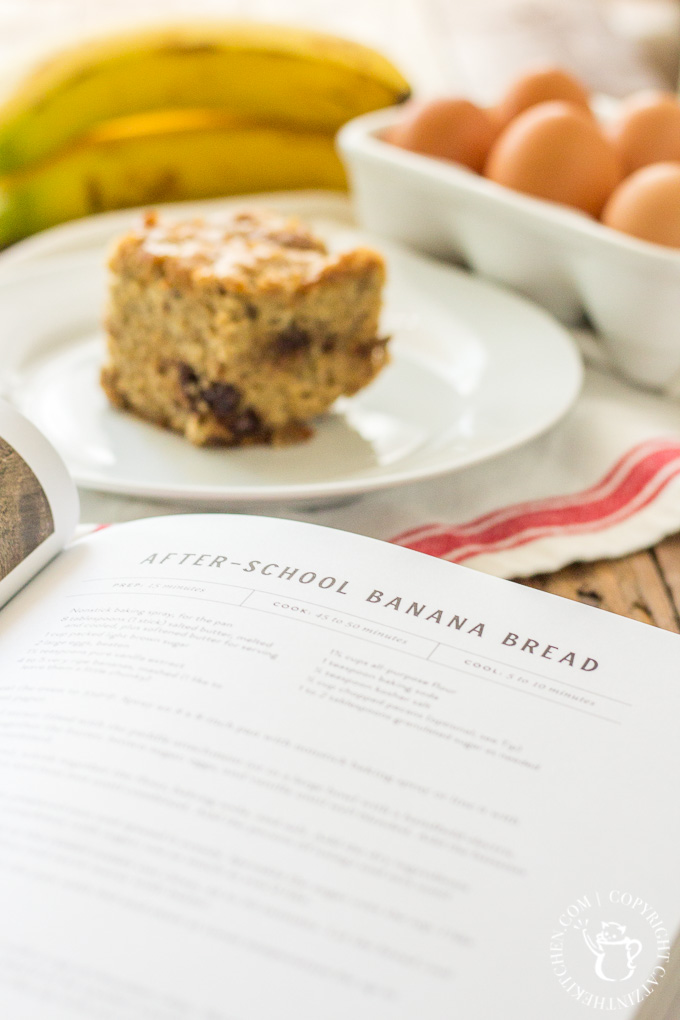 A couple more notes about the cookbook – there is a picture for almost every recipe – which I love. All of the recipes I would say range from easy – medium with normal everyday ingredients that you can find seasonally throughout the year.
Some of the recipes I'm interested in trying out are:
Gaines Brothers' Burgers
Mom's Bulgogi
JoJo's Biscuits
Strawberry Shortcake
You can go ahead and order the cookbook here or enter to win one in our giveaway!
Magnolia Table: A Collection of Recipes for Gathering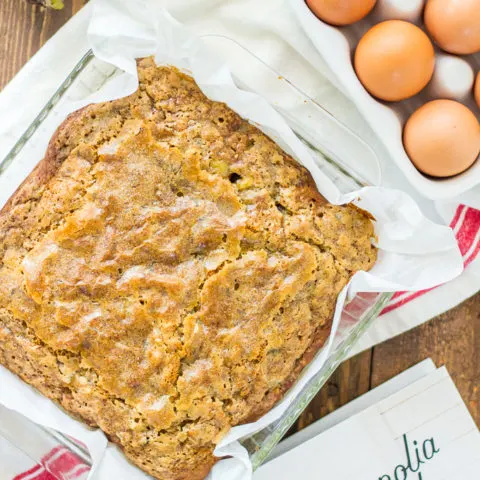 Magnolia Table After School Banana Bread
We had a hard time picking a first recipe to try out of the new Magnolia Table cookbook, but this recipe for banana bread ended up being a great choice! It's simple and easy, but a little creativity takes this classic to new heights!
Ingredients
8 TBSP (or 1 stick) salted butter, melted and cooled (I used unsalted)
1 cup packed brown sugar
2 large eggs, beaten
1 1/2 tsp pure vanilla extract
4-5 very ripe bananas, mashed
1 3/4 cups all-purpose flour
1 tsp baking soda
1/2 tsp kosher salt
1/2 cup chopped pecans or chocolate chips
1-2 TBSP granulated sugar
Instructions
Preheat oven to 350 degrees. Spray an 8x8 baking pan with nonstick baking spray or line with parchment paper.
In a stand mixer, beat together the butter, brown sugar, eggs, and vanilla with the paddle attachment until well blended. (You can also do this with an electric mixer.) Add the bananas until combined.
In a medium bowl, whisk together the flour, baking soda, and salt. Add the dry ingredients to the wet ingredients and beat just until combined. Add the chocolate chips or pecans and mix until combined.
Pour the batter into the prepared pan and spread it evenly. Sprinkle the sugar over the top.
Bake for 45-50 minutes or until a tester or toothpick comes out clean when inserted into the middle. Let the bread cool slightly in the pan on a rack. Slice and serve warm with butter.
When banana bread is completely cool, cover the pan with foil or if your dish comes with a lid and store at room temperature for up to two days...but it probably won't last that long.
Notes
This is definitely perfect for an after school treat, evening dessert, or morning breakfast.
Nutrition Information:
Yield:

8
Serving Size:

1
Amount Per Serving:
Calories:

355
Total Fat:

10g
Saturated Fat:

3g
Trans Fat:

0g
Unsaturated Fat:

6g
Cholesterol:

50mg
Sodium:

340mg
Carbohydrates:

65g
Fiber:

4g
Sugar:

38g
Protein:

6g