Yes, you can actually use your grill or smoker to make these smoked blackberry mascarpone popsicles (but you don't have to). But, you do have to make 'em!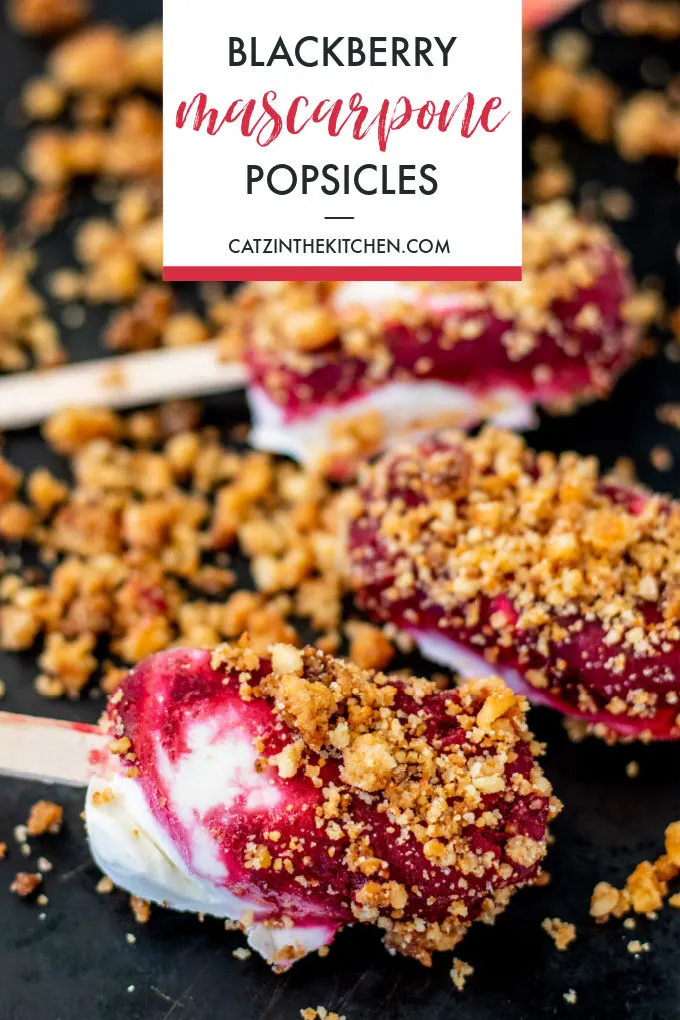 Okay, we've got to get a couple of things out of the way right here at the top. First – I am not a popsicle guy. I don't care for them at all. In fact, before making this recipe, I probably hadn't had a popsicle since I was like…10. There's just something about the watery, slushy frozen fruit puree running down a popsicle stick while I desperately try to keep it under control…I don't know. Not my scene.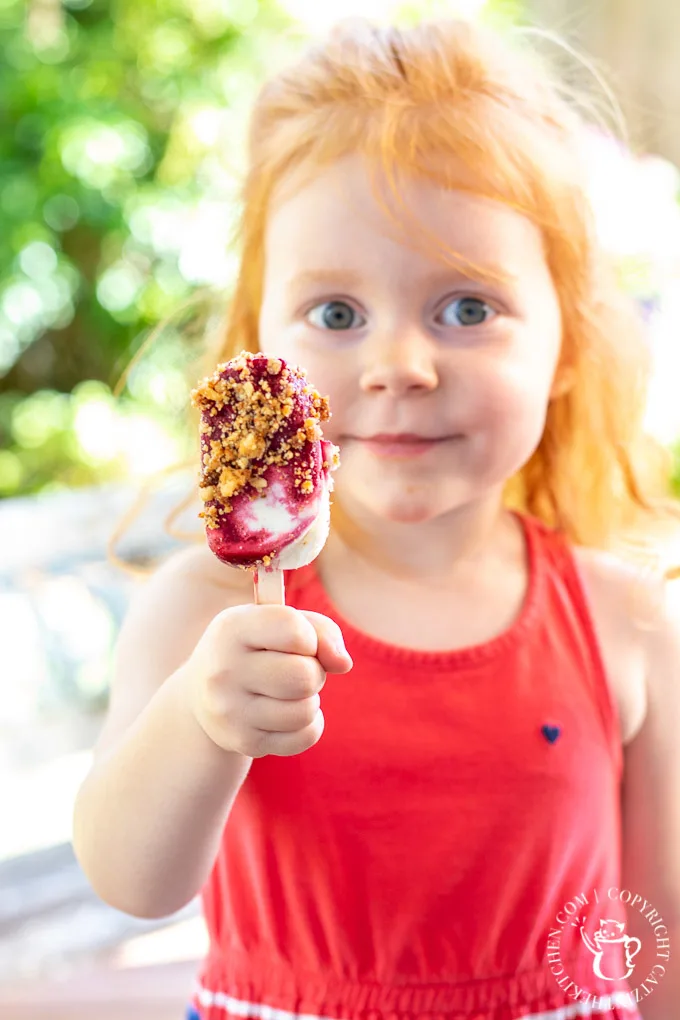 Oh, right, the second thing. Yes, this is a grilling recipe. We grilled popsicles. If that doesn't entice you to read the rest of this post, I don't know what will (you don't have to use the grill…but you CAN).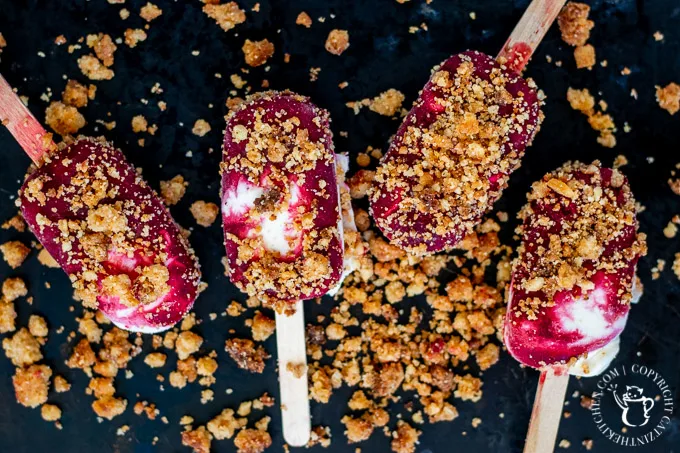 I was totally intrigued when I saw this recipe in the Traeger app. I had the same thought I'm guessing everyone else had – how can you grill a popsicle?! Apparently a lot of people were intrigued, but hadn't gotten around to trying it. Something like 126 people had saved the recipe, but no one had made or rated it. I decided to be the first one…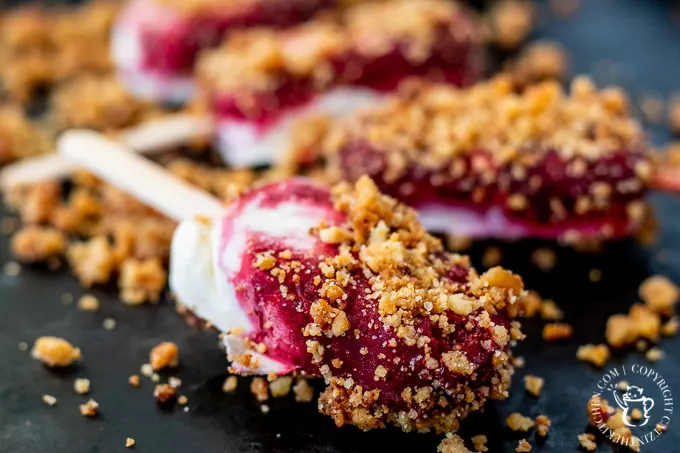 Beyond the simple absurdity of grilling popsicles, though, it was the two headline ingredients that sold me. Blackberries. YES. Mascarpone. YES YES YES YES YES. I love mascarpone. It is magical. It's like cheese that is…frosting. (This is where I plug my favorite use for mascarpone – Tiramisu Cake! Oh, and Lemon & Pea Alfredo. And Orange & Mascarpone Toast.) And blackberries, I mean, there a pluses and minuses to living in the Northwest (Plus: Gorgeous green summers! Minus: SO MUCH RAIN), but blackberries are solidly in the plus column. They grow everywhere (like…everywhere), they freeze beautifully, so we can enjoy them all year, and they are versatile! Examples? A sauce for pork chops that includes chiles in the mix! Cobbler (of course)! Lemonade ice cream! Salad toppings! Smoothies! Crêpes! Empanadas! Okay, okay, I'll stop. But mascarpone and blackberries together? And grilled somehow? I'm here for it. Sign me up.
Let's talk about this "grilled" popsicle concept. Obviously…you can't grill a popsicle. It will melt. And cleaning your grill will not be fun. So what part of these popsicles are grilled, then? Well, it's a Traeger recipe, so first you're smoking the blackberries. The smoked blackberries get turned into an outrageously yummy and rich puree, which is intermingled with the delightfully not-sweet mascarpone mixture in your popsicle molds. The other "grilling" part? The cookie crumble! It gets smoked / grilled on the Traeger as well. Clever! Does that really make it a grilled popsicle? Seems like a slight stretch, but also one that is pure genius.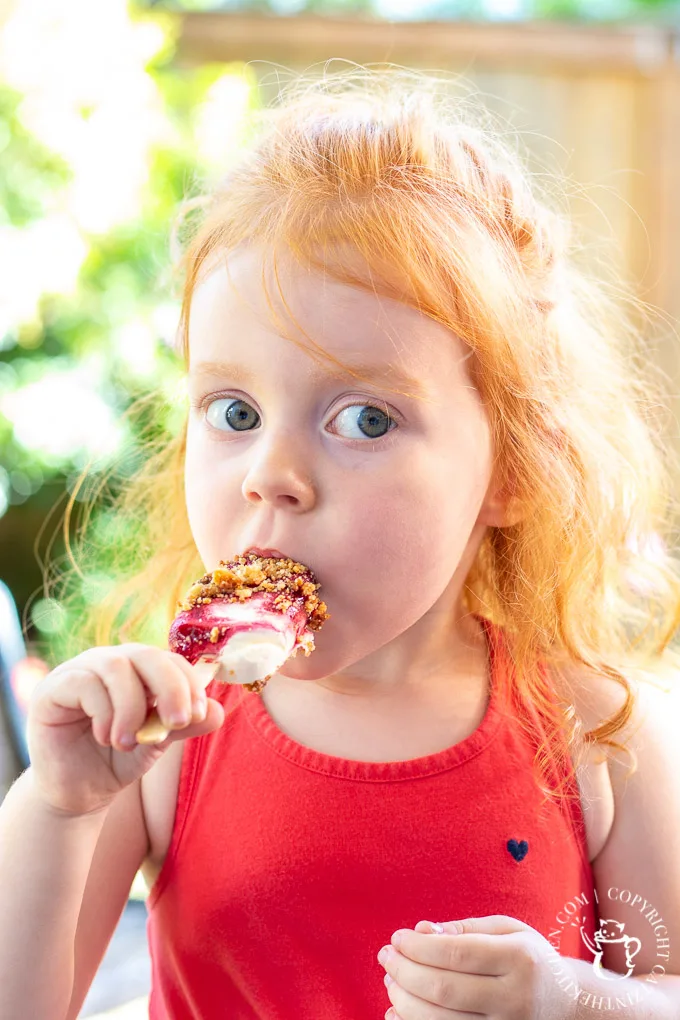 So, can you make these popsicles without a Traeger, or without a grill altogether? Absolutely. You could bake your blackberries briefly so they get all warm and soft and puree beautifully, and you can totally toast your cookie crumble in the oven. Will the flavor be a little different, a little less smoky? Sure. Will you lose the ability to say you grilled popsicles? Sadly, yes. Will they be ridiculously yummy? Um, yeah.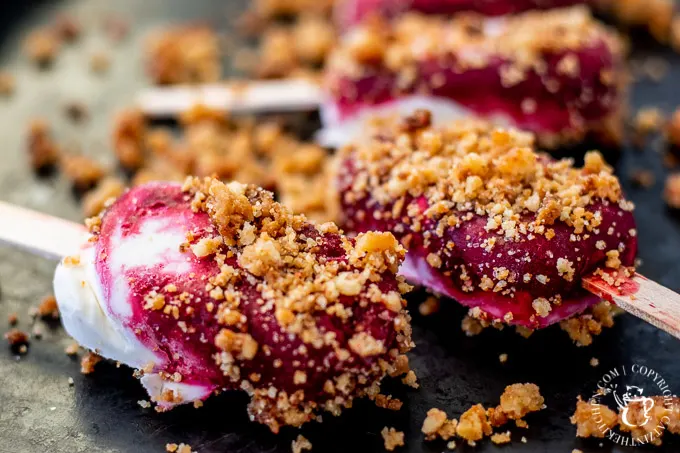 Back to me, popsicle-hater. I LOVED THESE. The best way I can think to describe it is…it's like eating a blackberry cheesecake on a stick. Yes, they are still super messy (and beware, blackberry stains are a pain to get out…), but they are creamy, not super sweet, bursting with that rich blackberry flavor, and that cookie crumble is ridiculous. So, whether you use an oven, a grill, or a smoker, you need these smoked blackberry mascarpone popsicles in your life this summer. They're a treat for kids and adults alike…no matter how you feel about popsicles.
Blackberry Mascarpone Popsicles
Yield:
about 12 popsicles
Yes, you can actually use your grill or smoker to make these smoked blackberry mascarpone popsicles (but you don't have to). But, you do have to make 'em!
Ingredients
Blackberry Puree
1 quart blackberries (4 or 5 cups)
juice of two lemons
1 cup sugar
pinch of salt
Mascarpone Mixture
16 oz mascarpone cheese
1/2 tsp cardamom
1/4 cup heavy cream
pinch of salt
Cookie Crumble
1 cup Nilla wafers
1/4 cup sugar
2 tbsp non-fat dry milk powder
1/2 cup melted butter
Instructions
If using a smoker or pellet grill to prep the blackberries, preheat to 180 degrees, spread blackberries out on a sheet pan, and smoke for 20 minutes. Remove blackberries from heat and allow to cool.
While blackberries are cooling, whisk together, cream, mascarpone, cardamom, and salt in a medium bowl.
Add cooled blackberries to a blender along with lemon juice, sugar, and salt. Puree until smooth.
Add the ingredients to popsicle molds one tablespoon at a time, alternating back and forth between the blackberry puree and the mascarpone mixture with each tablespoon, and then freeze popsicle molds overnight.
Preheat oven or pellet grill to 350 degrees.
Place Nilla wafers, sugar, milk powder, and butter in a food processor and pulse until the mixture forms a coarse crumble. Line a baking sheet with parchment paper, and spread cookie crumble evenly over it.
Place baking sheet directly on grill grates or into oven and bake for about 10 minutes. Remove from heat and allow to cool, and then break up into a crumble by hand.
When ready to eat, remove popsicles from mold and dip into cookie crumble. Enjoy!
Nutrition Information:
Yield:

12
Serving Size:

1
Amount Per Serving:
Calories:

399
Total Fat:

28g
Saturated Fat:

17g
Trans Fat:

1g
Unsaturated Fat:

9g
Cholesterol:

78mg
Sodium:

292mg
Carbohydrates:

36g
Fiber:

3g
Sugar:

29g
Protein:

3g
Nutrition information isn't always accurate.