Summer is here, & cobbler goes hand in hand with summer memories! Try this berries & thyme cobbler recipe for a slightly earthier take on the classic!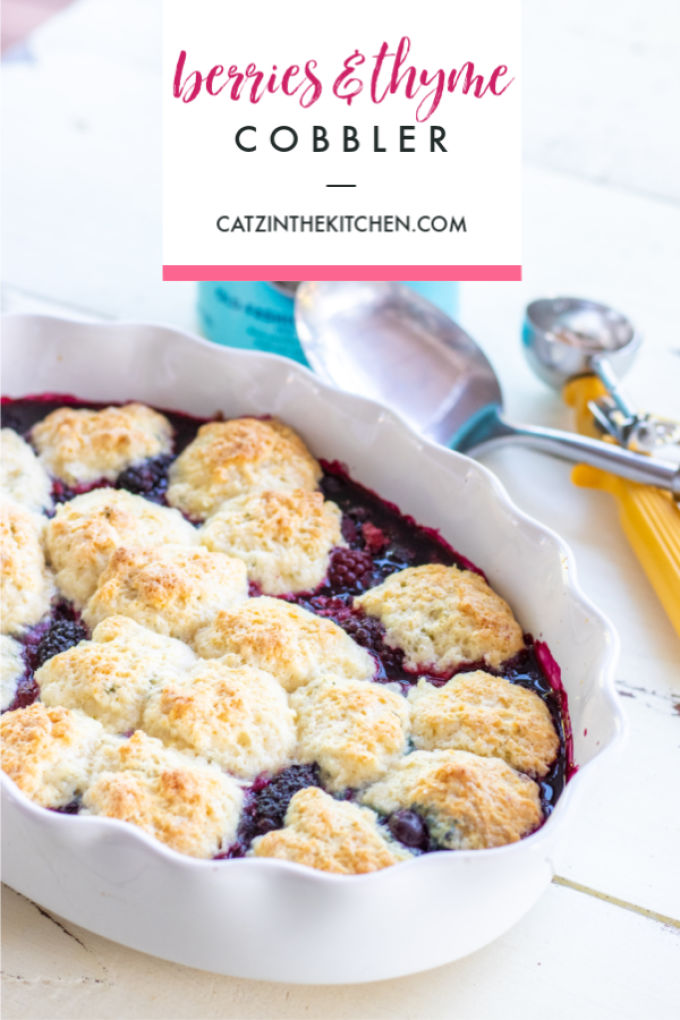 You know how food can be tied to memories? Cobbler is one of those foods for me.
In the late July and August summer, my mom and I would take a short walk down the street from where we lived to where the wild blackberries grew on our country road. Armed with a couple of buckets or bowls and wearing clothes we didn't mind getting blackberry juice on, we set to work picking as many berries as we could so my mom could make cobbler. We'd then freeze the rest for later months when she would inevitably make us a surprise cobbler!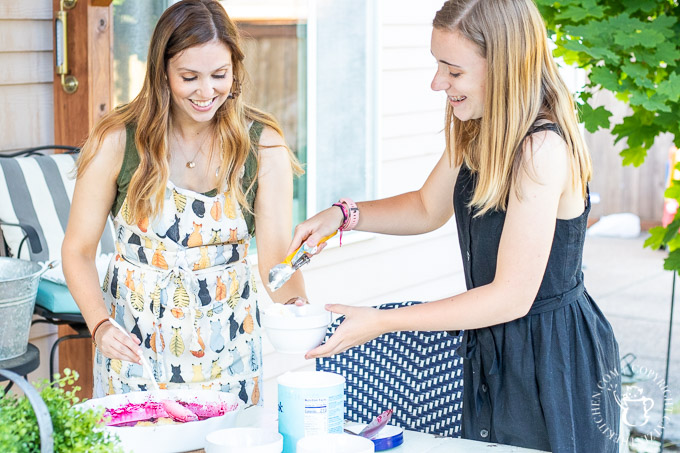 Later, when Josh and I got married and I spent more time getting to know his grandparents from Southeast Africa, I learned that Grampy, Josh's grandfather, loved blackberries. When they visited in the summer, we always made sure that there were fresh blackberries in the fridge and at least once during their visit, we (I or one of my sisters-in-love) would make him a blackberry cobbler. His favorite dessert!
This past March, Grampy passed away, and now that summer is basically upon us and cobbler is one of the official desserts of the season, I can't think of cobbler without thinking of Grampy.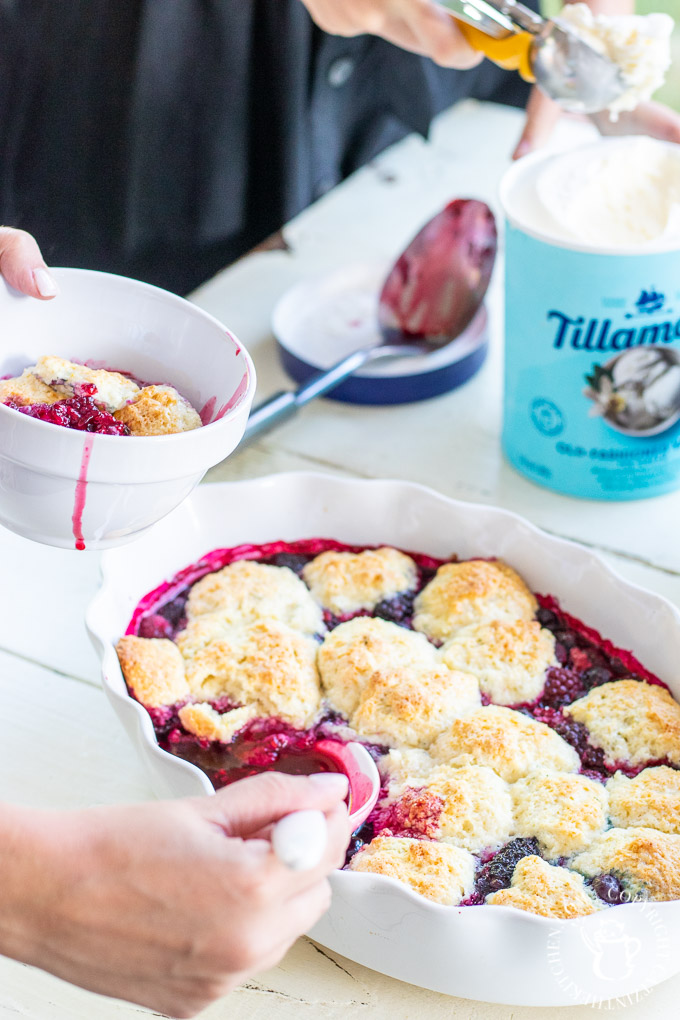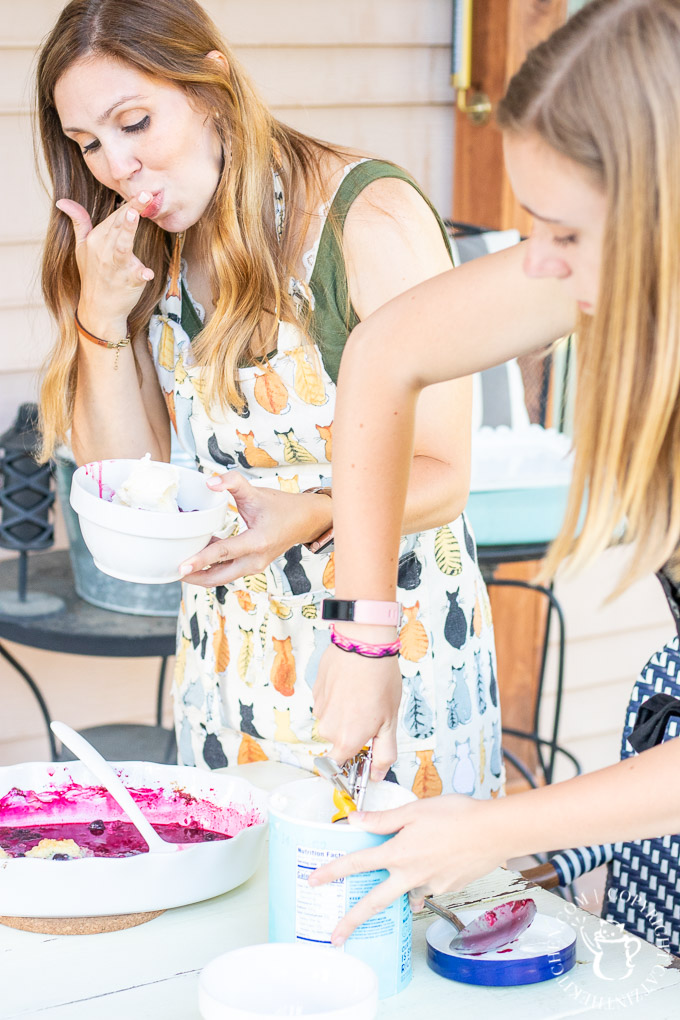 So, for me, cobbler goes hand in hand with memories.
I'm hoping that desserts like cobbler are tied to memories for my kids, too – that they will remember it being one of the first desserts I would make each summer season, served with a scoop of vanilla ice cream.
This berries and thyme cobbler is such a fun twist on the classic. Usually, I think of cobbler as kind of a sweet dessert with a lot of good texture from the biscuits and the seeds in the berries. However, this cobbler, while still sweet, has an earthy flavor due to the fresh thyme, and I just think that the addition of thyme elevates the dessert to something a little fancier.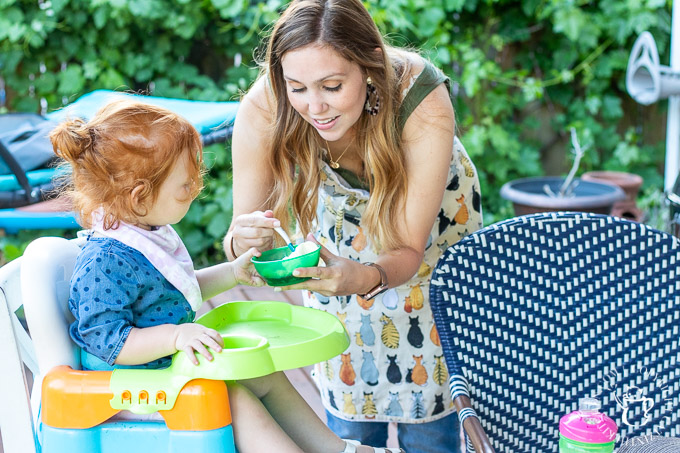 If you go berry picking like we do, any triple berry mix will work. I used a combination of blackberries, blueberries, and raspberries. But you could certainly use all of one berry or a combo of two berries – I would use whatever you either have growing in your backyard, bought at the farmer's market, or what you have on hand in your freezer.
I'm including this is as part of the Pantry to the Rescue series because of the fact that it is an incredibly flexible and forgiving dessert made with ingredients many of us already have around!
Also, if you are serving this for a group and want to elevate the look of the dish, you could bake these in individual ramekins (affiliate). How cute would that be?
No matter what, make sure you don't fuss over the dish – the beauty of cobbler is its rusticness and those saucy splattered sides. I think it just adds to the charm of the whole dessert.
Also, don't forget the ice cream – old-fashioned vanilla, specifically. It just feels so country and summery, if you want my opinion. Happy Summer, everyone!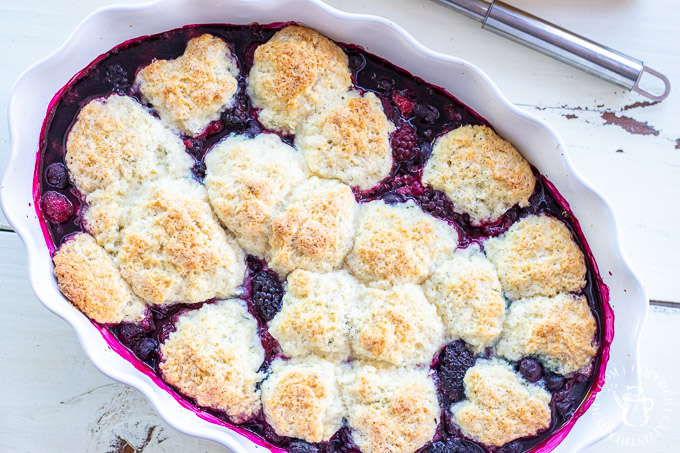 Berries & Thyme Cobbler
Summer is here, & cobbler goes hand in hand with summer memories! Try this berries & thyme cobbler recipe for a slightly earthier take on the classic!
Ingredients
Filling
2 lbs. fresh or frozen mixed berries
1/2 cup sugar
1 tbsp cornstarch
2 tsp fresh thyme leaves
Biscuit Topping
1 cup all-purpose flour
1/4 cup sugar + 1 tbsp for topping
1 1/2 tsp baking powder
1/2 tsp salt
3/4 cup heavy cream + 3 tbsp more for the biscuits
2 tsp fresh thyme leaves
1 1/2 tsp lemon zest
Instructions
1. Preheat oven to 400 degrees. In a large bowl, toss all the berries with 1/2 cup sugar, 1 tbsp cornstarch, 2 tsp fresh thyme leaves, and 2 tsp fresh lemon juice. Toss until the fruit is evenly coated. Pour the berry mixture into a baking dish.
2. To make the biscuits, whisk the flour, 1/4 cup sugar, baking powder, and salt into a medium bowl. Combine 3/4 cup cream + 3 tbsp, thyme, and lemon zest and mix into the dry ingredients until the dough just comes together.
3. Using a spoon, drop the biscuit dough on top of the berries, spacing evenly over the berries. Brush a little extra cream over the biscuits and sprinkle with 1 tbsp sugar.
4. Bake for 35-40 minutes, tenting the biscuits with foil if they start to brown too fast. Insert a toothpick into the biscuits and if the berry mixture is bubbling and the toothpics comes out clean, remove from oven and allow to sit for 5-10 min. Serve with vanilla ice cream.
Notes
Recipe Source: Rachael Ray Magazine
Nutrition Information:
Yield:

6
Serving Size:

1
Amount Per Serving:
Calories:

350
Total Fat:

13g
Saturated Fat:

7g
Trans Fat:

0g
Unsaturated Fat:

5g
Cholesterol:

34mg
Sodium:

367mg
Carbohydrates:

57g
Fiber:

7g
Sugar:

29g
Protein:

5g