Cherries are in season, and this recipe for cherry vanilla crisp is an especially yummy way to celebrate that! It's perfect paired with a bit of ice cream.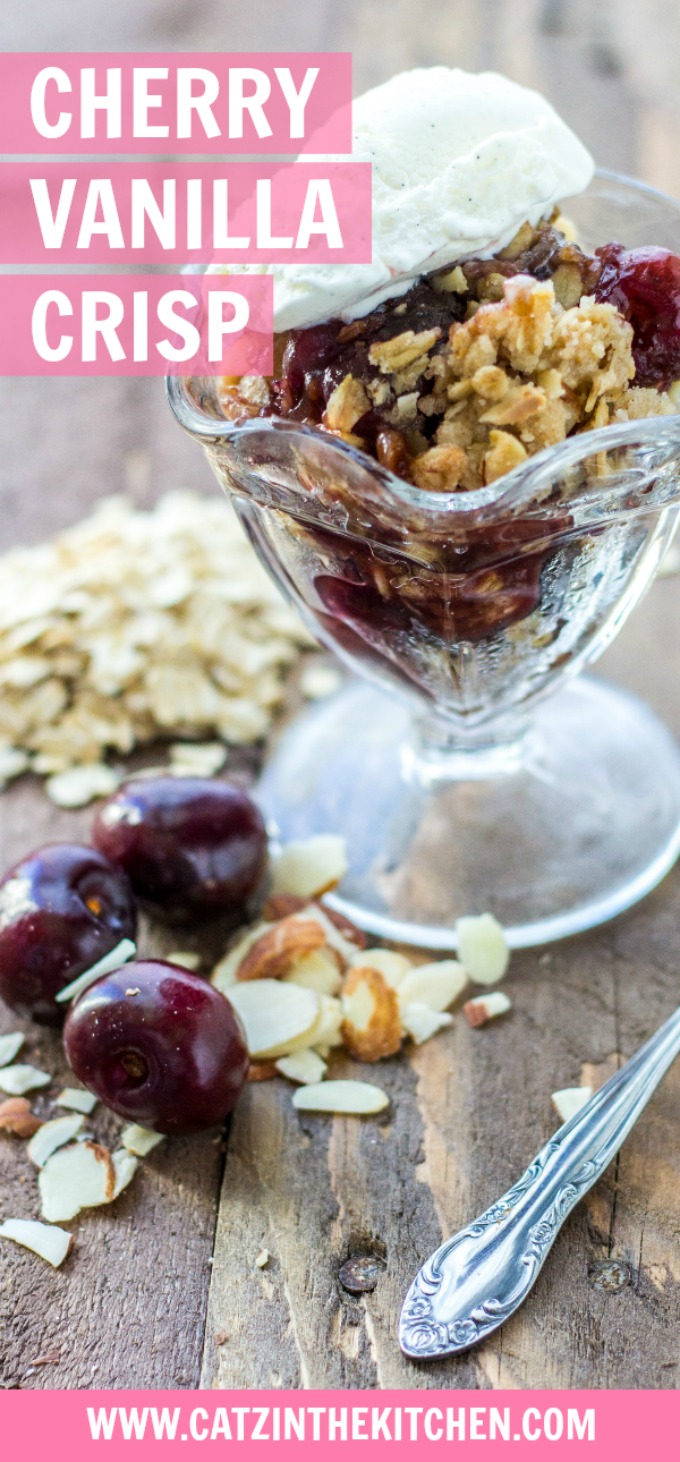 I used to have this "attitude" about wish lists. You know, Amazon has a wish list category on their site. And I always thought it was kind of a presumptuous thing to make for yourself so other people could buy for you.
Well, my feelings on this have changed quite a bit over the years. I now have a wish list on Amazon as well as wish lists for each of my kids. But hold on, before we get all judgy (you know, like me, for example), hear me out. These wish lists are not necessarily so that other people know what to buy for me. They are mostly for me… Yes, me!
You see, randomly throughout the days, weeks, and months I get to thinking and it usually goes something like this: "Oh! That would be helpful for me to have. I'll throw it on Amazon so I don't forget later." Or there's this thought…"That would make such a great gift for so and so's birthday or Christmas. I'll throw it on their list so I've got some ideas when that time rolls around."
You see where I'm going with this.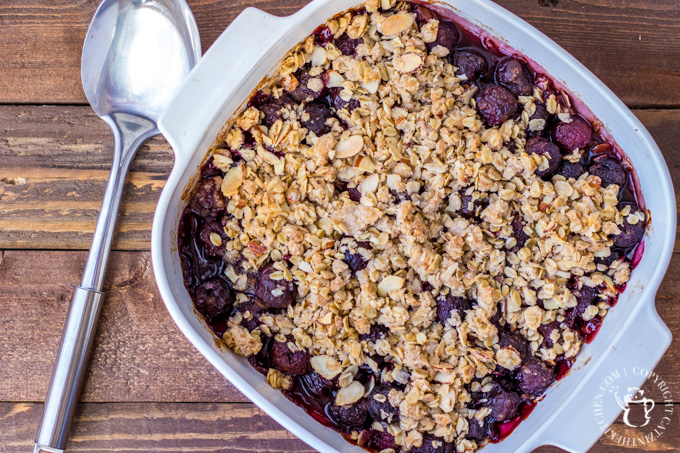 Let me tell you what one of the oldest items on my wishlist is. It's the cherry pitter! I remember throwing that baby on my list over three years ago after I was given this HUGE bucket of fresh cherries by my in-laws and stood in the kitchen for…an hour (no joke), getting the pits out of every single cherry to freeze and to make a dessert that night. Some of the most tedious work I'd ever done. And my hands were stained a pinkish-red color for days!
But it has taken me this long to finally order the darn pitter because I usually don't think of it until cherry season is over. Well, not this year, my friends! I'm finally ahead of the game and I'm not letting my pregnancy brain get in the way of any amazing desserts I want to share with you just because I forgot to order the requisite tools! Which brings us to this cherry vanilla crisp.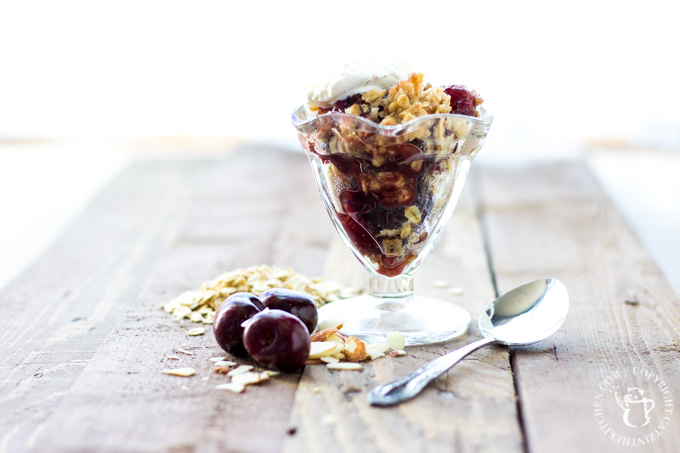 This recipe for cherry vanilla crisp is delightful and lovely – spring and summery all in one bite! It really is all of those things! Hard to believe right? Well, it is, especially if you've got a cherry pitter. Kids, just go online and buy yourself one. It will be here at your doorstep in like two days if you've got Amazon Prime…which always makes me think of Optimus Prime from Transformers…anyway…
You know what, I like my new cherry pitter so much, I think we'll just give one away. Here's a fun little giveaway to get one of your very own. Sure, they're not very expensive, and you should definitely buy one if you don't win, but you might as well try first…right? (Note: this is our first time trying this particular giveaway provider, so please be patient with us! Also, just to be clear, OXO has no affiliation with this post or the giveaway.)
OXO Good Grips Cherry & Olive Pitter

Reasons why I love this dessert:
It really does have that cherry vanilla flavor. Like the drink, but without the carbonation.
It can be made in advance! I made this early in the day and when dinner was ready, I just warmed it back up in the oven for about 10 minutes. Cherry Perfection!
It's just nice to finally have some fruit that reminds me of berries in season. This whole pregnancy I've been craving fruit and berries and now that the season has finally arrived, I'm beside myself with joy. No, really!
Which is to say, if you make this Cherry Vanilla Crisp, you will also have a little yummy joy of your own…and hopefully a cherry pitter. Unless you bought frozen cherries to use…which you could do. But, cherries are in season and I strongly recommend that you buy them all up before they are not!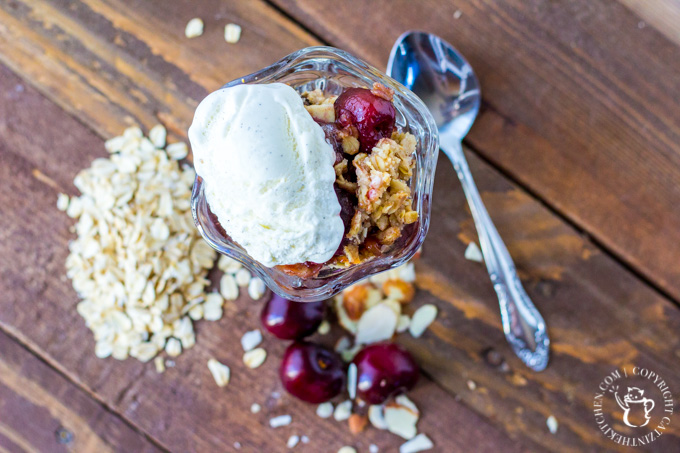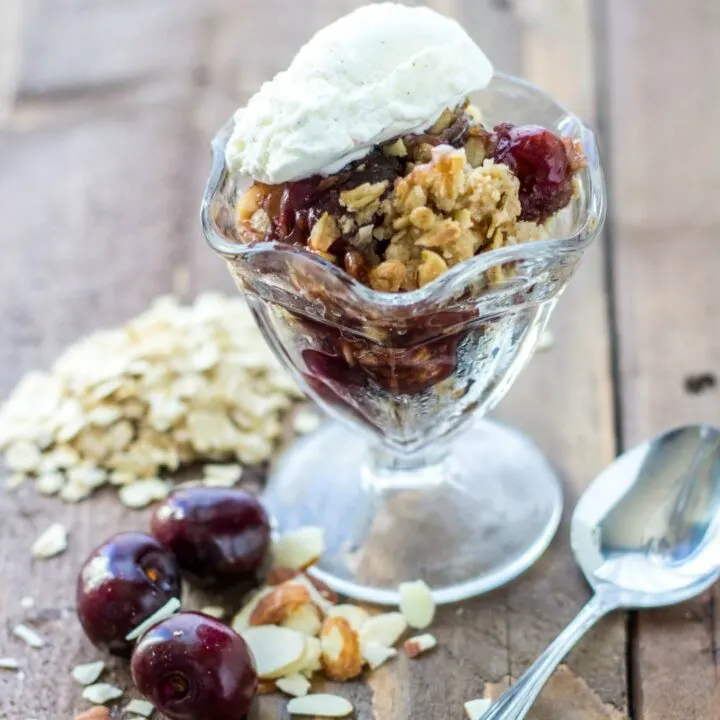 Cherry Vanilla Crisp
Total Time:
1 hour
20 minutes
Cherries are in season, and this recipe for cherry vanilla crisp is an especially yummy way to celebrate that! It's perfect paired with a bit of ice cream.
Ingredients
4 TBSP unsalted butter, melted + plus more for greasing a baking dish
6 cups (roughly just a hair over 2 lbs) pitted cherries (thawed if frozen
3/4 cup sugar
1 1/2 TBSP vanilla extract
1/4 tsp almond extract
1 tsp ground cinnamon, divided
Pinch of salt
1/4 cup + 2 TBSP all-purpose flour
2/3 rolled oats
1/3 cup sliced almonds
Instructions
Preheat oven to 350 degrees. Butter a 9-inch square baking dish.
Toss the cherries in a large bowl with 1/2 cup sugar, vanilla and almond extract, 1/2 tsp cinnamon, salt, and 2 TBSP flour. Transfer to the prepared baking dish.
Whisk the remaining 1/4 cup flour, the oats, 1/2 tsp cinnamon, and almonds in a medium bowl. Stir in the melted butter until combined, then sprinkle the mixture over the cherries. Bake until the filling is bubbling and the topping is golden brown, about 50-60 minutes. Let cool slightly, before serving. Top with some vanilla ice cream.
Notes
Slightly adapted from Food Network Magazine
Nutrition Information:
Yield:

8
Serving Size:

1
Amount Per Serving:
Calories:

182
Total Fat:

8g
Saturated Fat:

4g
Trans Fat:

0g
Unsaturated Fat:

4g
Cholesterol:

15mg
Sodium:

18mg
Carbohydrates:

25g
Fiber:

1g
Sugar:

20g
Protein:

2g
Nutrition information isn't always accurate.