This recipe for homemade country apple dumplings is made easy using crescent rolls! The cinnamon and sugar goodness will keep you coming back all year long!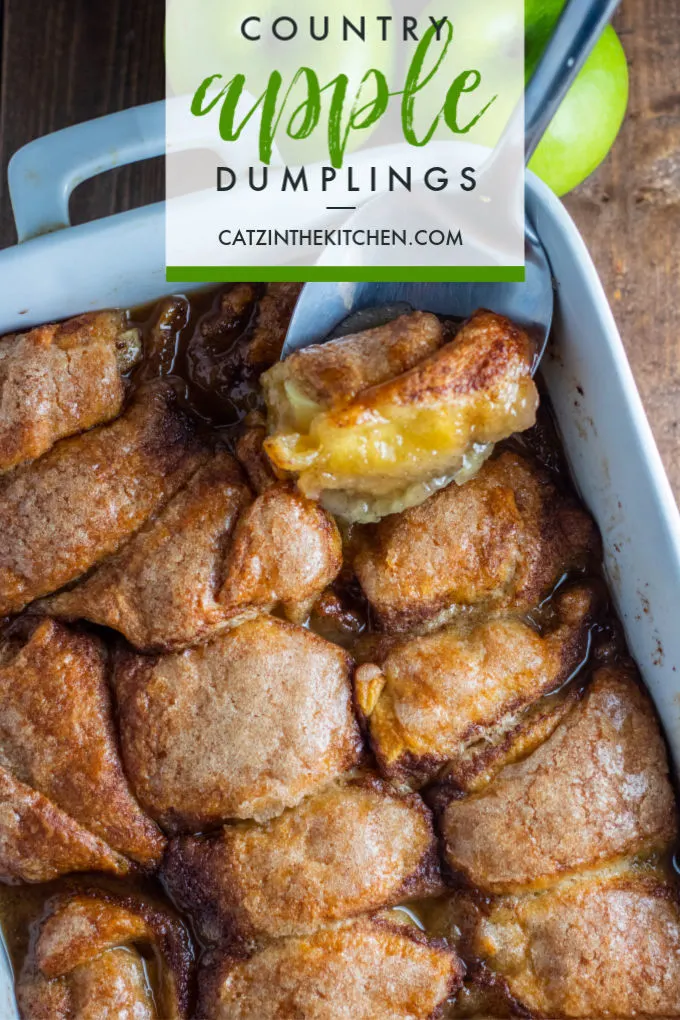 I'm not going to lie – I've been eating a lot of dessert lately, and for the record, I have no regrets either. It might be because "it's that time of the year" ya know, the holidays (yes, I wrote this in November…!). I mean, when you're already testing a ton of recipes for Thanksgiving and Christmas, why not throw in a few more for good measure…?
Go big or go home. That's what I say!
Have you ever noticed that whenever people come into someone's home, they all inevitably gather in the kitchen? The kitchen is the heart of the home and dessert is the cherry on top!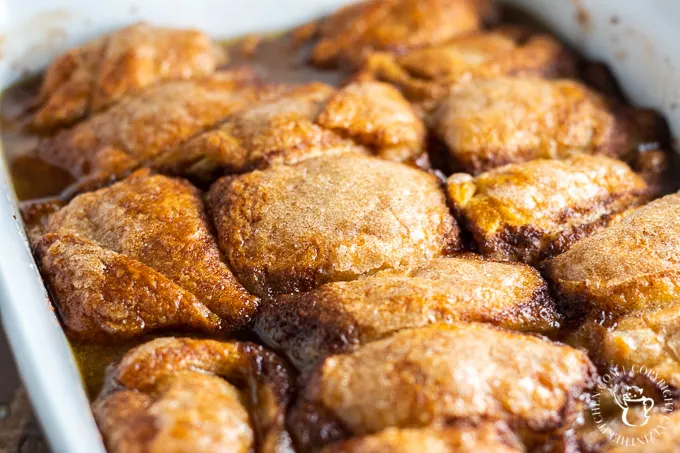 When I first welcomed people into my home, I had a lot to learn (still do!). I didn't really grow up with a lot of people other than family and a few friends coming into my childhood home, so when it was my turn to do so, I was awkward and more concerned with the appearance of my home than the experience inside my home. Does that make sense?
It took me time, a few years (I'm a slow learner…) to begin to understand the difference between entertaining and hospitality. The main difference between the two, in my humble opinion, is that hospitality should put the focus on the people in your home, not your home itself. You may have candles lit, soft music playing, or a cheese board out – those things are wonderful if you've got them and your heart is centered on the people you're serving! You see, nothing about having people in your home is about impressing them…which is hard for people like me, because I like the idea of impressing someone and making them think believe that I have everything handled!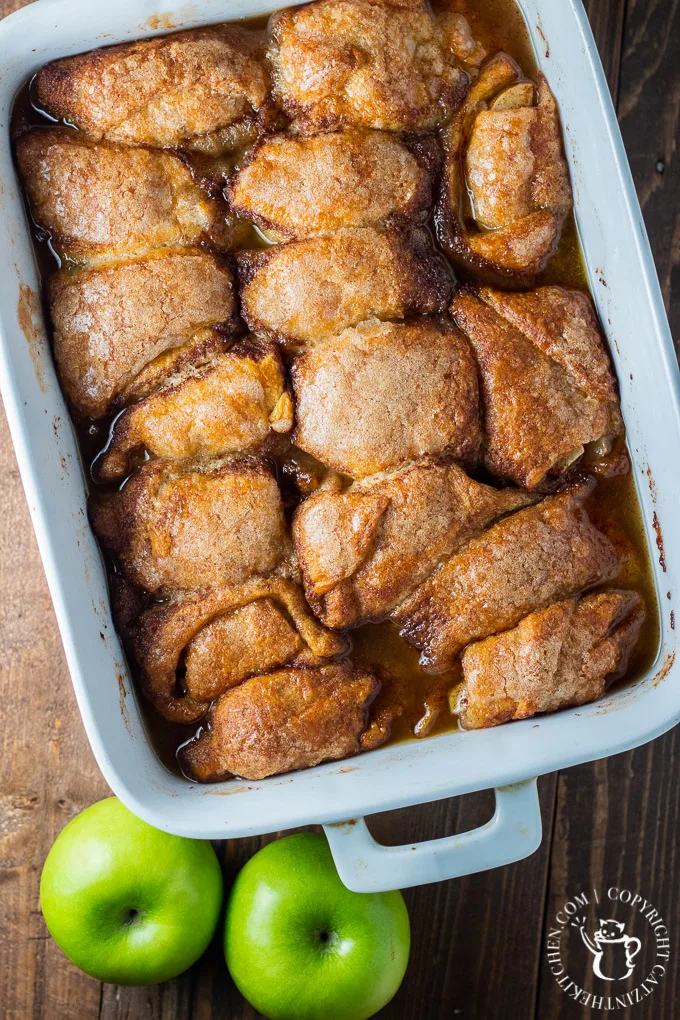 And you should know that generally I don't! In fact, with this recipe, my daughter and one of Josh's sisters made it! I tested it earlier and knew how to make it and how it tasted and was supposed to look, but the night we were having our company (Josh's siblings) over for Bible study, I was late due to a previous appointment and when I walked in I was a bit frazzled, so my daughter took over. And I'll tell you, at first, I was a bit ruffled. I was going to make dinner for everyone, including dessert, so my pride was pricked. But then, I realized how nice it was for my daughter and sister to bake together, how bonding that can be. But also, I've learned from experience that people like to feel useful – so, how nice it was to take advantage of that work! What a blessing that can be! What a blessing it was for me in that moment, because instead of rushing into my house from an appointment that went long and stressing about getting all of the dinner and dessert prep ready, I had help. They stepped in and gave me a few moments to collect myself so that I could enjoy the experience inside my home and let go of the perfection. And they enjoyed feeling helpful…while, you know, actually being helpful!
You guys, when I came to that realization, it was freeing and I let go and I had a wonderful evening and went to bed unstressed, joyful, and thankful.
I'm sharing this dessert with you because it is something you can make on your own without help and actually not stress about. But, it is also a fun dessert to make with your company…and it tastes amazing!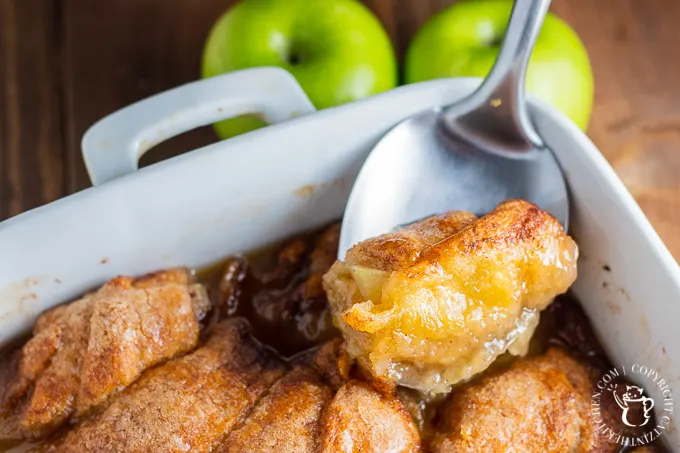 I personally love it even more because it is so inexpensive. Apples are cheap. Crescent rolls are easy to find and I always keep some sort of 7-Up or Sprite on hand because my kids like it when they get sick – settles the stomach, apparently. It's a pretty easy and delicious dessert for company or for your family or to bring to someone's home – and I'm telling you that it is so amazingly delicious. It's sweet, but not sickeningly sweet. The crescent rolls get this yummy crispy crust on top from the 7up and cinnamon sugar mixture and the apples are baked to perfection.
I loved this dessert because while it feels very "fall" it is actually a perfect all season dessert…and it's perfect if you're a beginner at opening up your home to others, or if you're well-seasoned in hospitality. No stress. No fuss. Just a lovely experience with people you love and want to get to know better, in your home.
Country Apple Dumplings
This recipe for homemade country apple dumplings is made easy using crescent rolls! The cinnamon and sugar goodness will keep you coming back all year long!
Ingredients
2 large Granny Smith apples, peeled and cored
2 (8-oz) can refrigerated crescent roll dough
1 cup butter
1 1/2 cups sugar
1 tsp cinnamon
1 (12 -oz) can 7up or other lemon, ginger drink
Instructions
Preheat oven to 350 degrees. Grease a 9x13 baking dish.
Slice each apple into 8 wedges. Separate dough into 16 triangles, rolling up 1 apple wedge in each triangle (if you have some smaller slices, double up the apples), starting at the smallest end. Pinch to seal completely, then transfer to prepared baking dish.
Melt butter in a small saucepan. Stir in sugar and cinnamon and drizzle over dough. Pour 7up around the sides of the dish and over the dough. Bake until golden brown, 35-45 minutes. Let stand 10 minutes before serving.
Nutrition Information:
Yield:

16
Serving Size:

1
Amount Per Serving:
Calories:

271
Total Fat:

16g
Saturated Fat:

9g
Trans Fat:

0g
Unsaturated Fat:

5g
Cholesterol:

32mg
Sodium:

160mg
Carbohydrates:

33g
Fiber:

1g
Sugar:

24g
Protein:

1g