A dessert that's not just a crisp and not just a cake, this pumpkin apple bake uses a single bowl for prep, and comes together so quickly!
I'll admit, I usually have shared a few pumpkin recipes by this time in the fall season. I love pumpkin recipes and if you don't believe me, check out the pumpkin archive here on the blog. Which reminds me, should I do a Top 10 of my favorite pumpkin recipes post? I'm thinking, yes!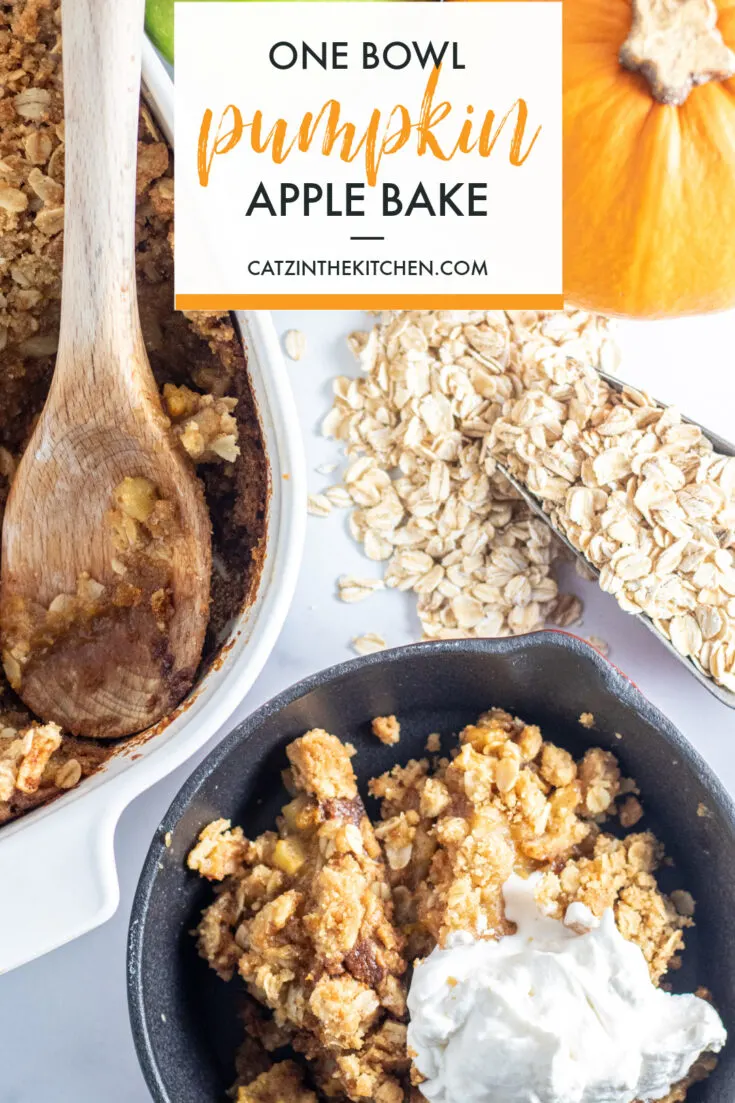 I know some people are die hard apple people once fall hits and others are on team pumpkin. I actually know one person who doesn't like apples, and compared eating apples to eating gravel. I think it's safe to say that person is probably on team pumpkin (and, you know, also wrong…about the apples). Whatever side you prefer, consider this dessert to be a marriage between the two. I think it's delightful. It's like a cake, yet kind of apple crisp-like. And because it isn't a cake or a crisp, but more of something in the middle, I've just decided to call it a bake.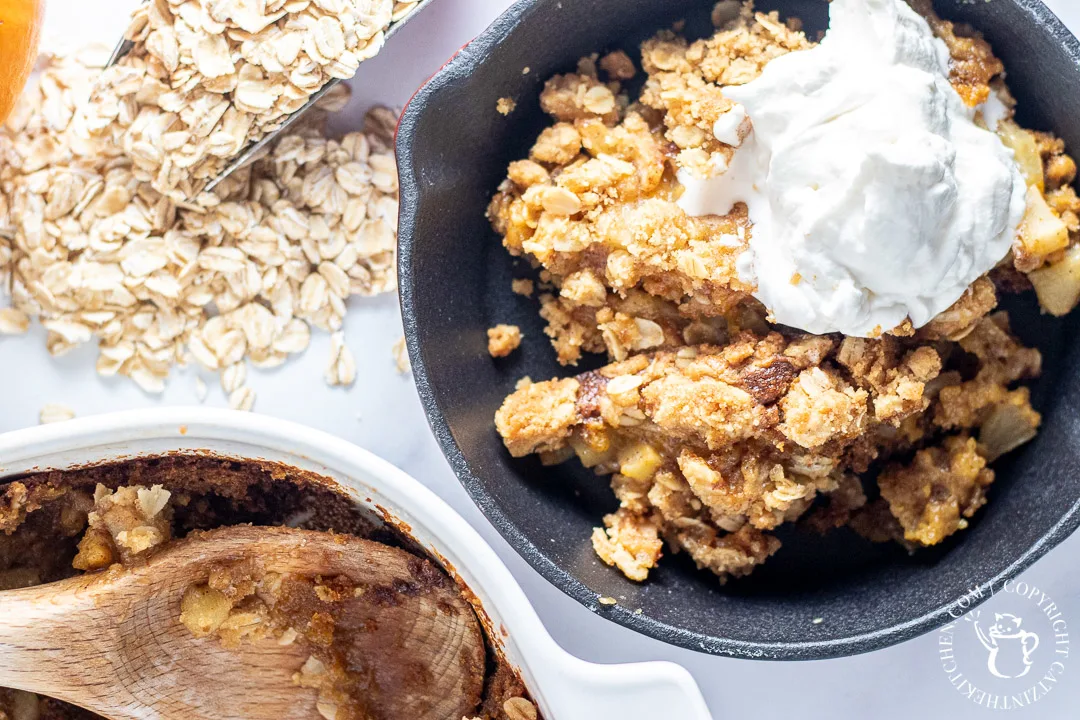 Here's why:

First – you only need one bowl and one baking dish for this entire recipe. I promise…you only dirty one bowl. I mean you will dirty other things like measuring cups and spoons, but as far as dishes are concerned it's minimal mess. I already just love this recipe for that reason alone!
Second – easy ingredients you probably already have on hand, so obviously it's my favorite kind of recipe: pantry friendly. I used Granny Smith apples in this dessert, but you can use whatever kind you like.
Third – it's quick! I think it only took me about 15-20 minutes to prepare it and then it baked for around an hour.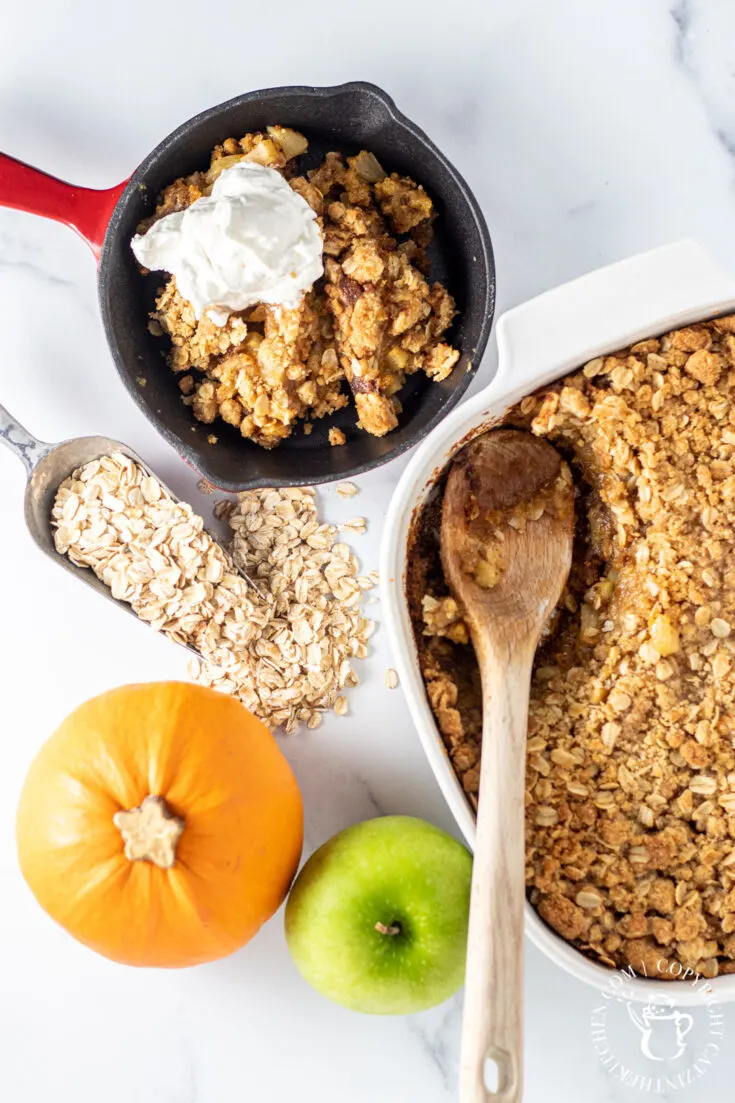 While this works beautifully for a very simple dessert, might I also suggest that you could enjoy this for breakfast, too? I know my kids did. Actually, I caught my whole family sneaking forkfuls throughout the day and before I knew it, this bake was gone.
I would also suggest this recipe as an easy one to start your young chefs off with (if you've got kids, that is). It's pretty non-intimidating and they will have fun tossing things into the bowl and mixing them around. If you homeschool – this is a great lesson in home cooking or I guess we could call it Home Ec…?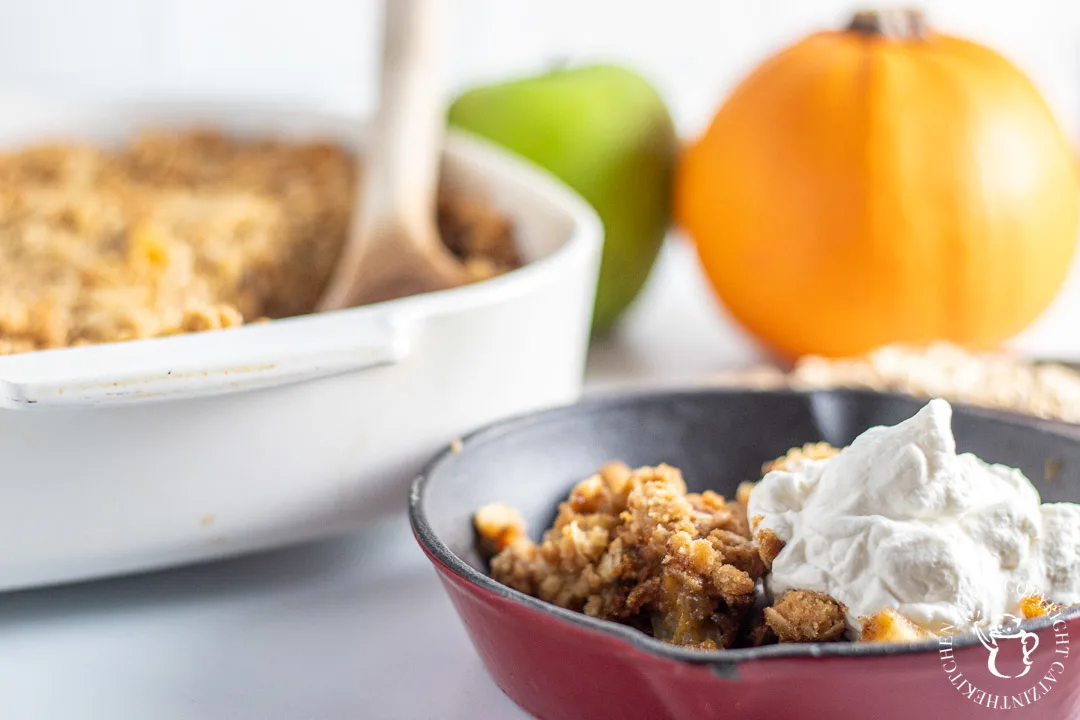 One of the things you could also consider doing is doubling this recipe and making an extra one for a friend. Maybe you know someone who is sick. Or maybe you just want to surprise your neighbor or best friend. Since you're already making one, you could easily make two and still have the same amount of dirty dishes! That's my kind of meal ministry!
I hope you guys give this dessert a try – make it sometime next week and then let me know what you think! I love hearing from you.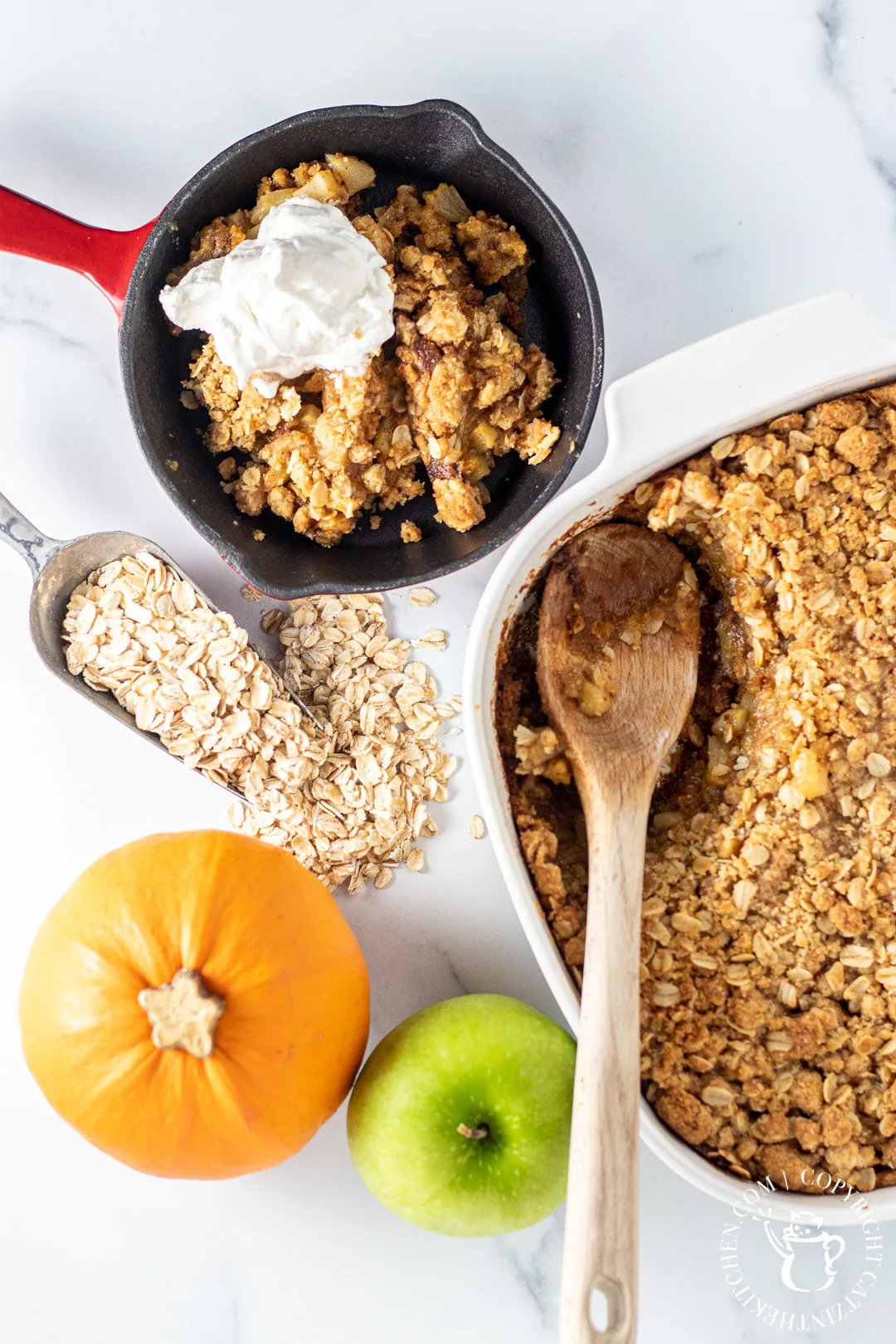 One Bowl Pumpkin Apple Bake
Total Time:
1 hour
18 minutes
A dessert that's not just a crisp and not just a cake, this pumpkin apple bake uses a single bowl for prep, and comes together so quickly!
Ingredients
Pumpkin Cake Layer
1 tbsp unsalted butter for the pan
1 cup all purpose flour
3/4 tsp baking soda
1/2 tsp kosher salt
1 cup pumpkin puree
1/4 cup heavy cream
1/2 cup vegetable oil
1/2 cup granulated sugar
1/2 cup packed brown sugar
2 large eggs
2 tsp pure vanilla extract
2 tsp pumpkin pie spice
Apple Layer
3 large apples, peeled and finely diced
1/2 cup packed brown sugar
1 tsp ground cinnamon
Pinch of kosher salt
Topping
6 tbsp unsalted butter, melted
3/4 cup all-purpose flour
3/4 packed brown sugar
3/4 cup rolled oats
1/4 tsp kosher salt
Instructions
Preheat oven to 350 degrees, Butter a 9-inch square baking dish.
Make the pumpkin layer; In a large bowl, whisk together the flour, baking soda, and salt. Add the pumpkin puree, heavy cream, oil, sugars, eggs, vanilla, and pumpkin pie spice. Whisk to combine. Spread the batter evenly on the bottom of the baking dish.
Make the apple layer: In the same bowl, toss the apples, brown sugar, cinnamon, and salt. Scatter the apples evenly over the pumpkin batter.
Make the Topping: Using the same bowl, combine the melted butter, flour, brown sugar, oats, and salt until small clumps form. Spread the topping over the apples.
Place the baking dish ona baking sheet to insulate the bottom and catch any drips as it bakes. Bake until the cake is slightly domed and the edges are set and gently bubbling and when a toothpick inserted in the middles comes out with moist crumbs, but not wet. This bakes anywhere from 60-75 minutes. Serve hot or at room temperature. Whipped cream is delightful with it.
Nutrition Information:
Yield:

10
Serving Size:

1
Amount Per Serving:
Calories:

534
Total Fat:

25g
Saturated Fat:

8g
Trans Fat:

0g
Unsaturated Fat:

16g
Cholesterol:

69mg
Sodium:

251mg
Carbohydrates:

74g
Fiber:

4g
Sugar:

48g
Protein:

5g
Nutrition information isn't always accurate.