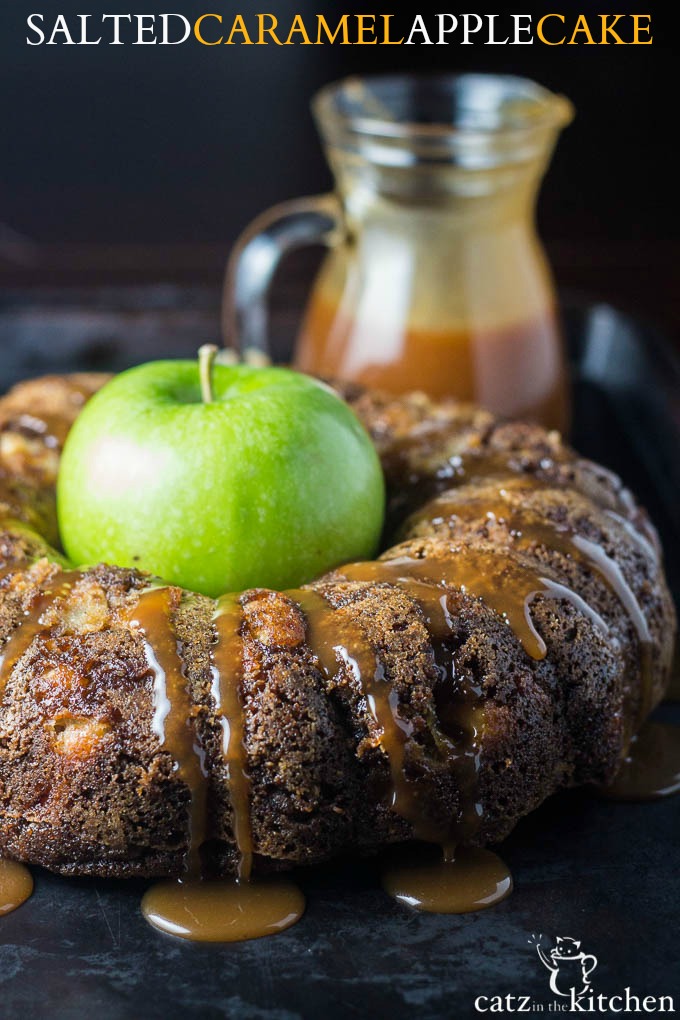 I've been posting a pumpkin recipe at least once a week since the beginning of September. I don't know about you, but I happen to love that. However, I realize that some of you may be tired of #pumpkinflavoredeverything, and for those of you that are over the pumpkin recipes, I'm giving you a week off.
Probably just one week…
…because I can't promise you that there won't be any pumpkin recipes next week. That's my disclaimer. It's just that good…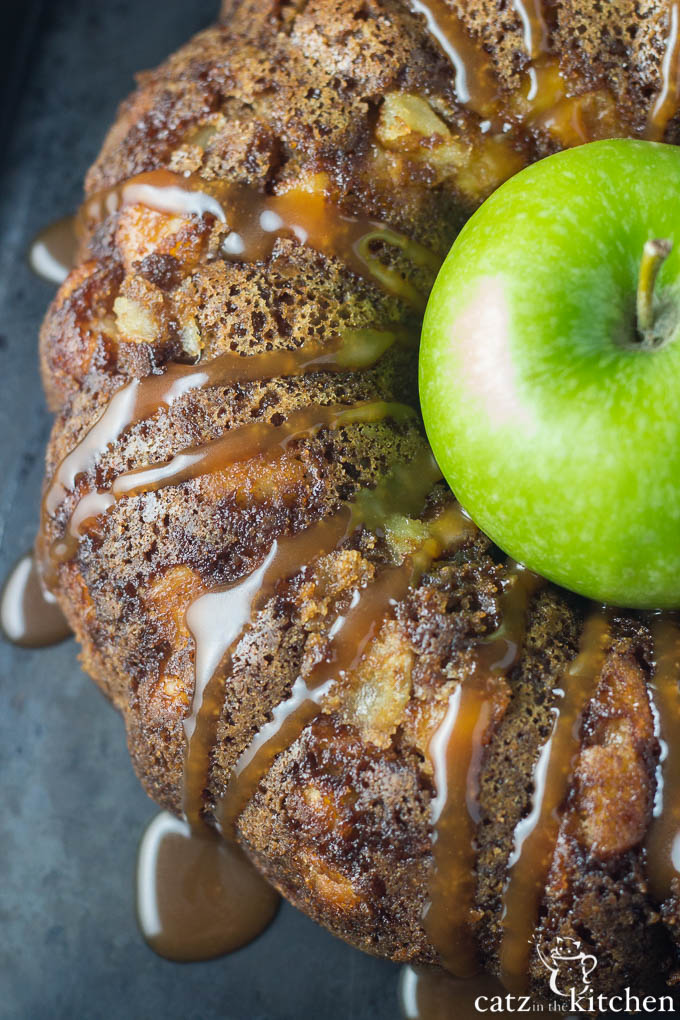 You guys all know that I'm pumpkin-obsessed, right? But…I also love salted caramel and apples. Apples happen to be my favorite fruit and you can find a sliced Granny Smith apple on my lunch plate nearly every day. It just makes sense that an apple-infused dessert drizzled in salted caramel would be my next favorite "fall" favorite.
Last year, we made this cake in adorable little mason jars in the Homemaking & Hospitality class I attend. I remember loving the texture, flavor, and look of it…and I couldn't wait to make it for the blog!
Obviously, I never got around to making it last year, but when I made my list of autumn-inspired desserts I wanted to share with you all, this one was on the list and BOY, it is something else!
I don't make cakes all that often because, well, cake is a lot for five people to consume (three of whom are small…), and I always feel kind of weird giving half sections of cake or pie to people. Plus, Josh isn't a cake guy. He's more of a pie guy.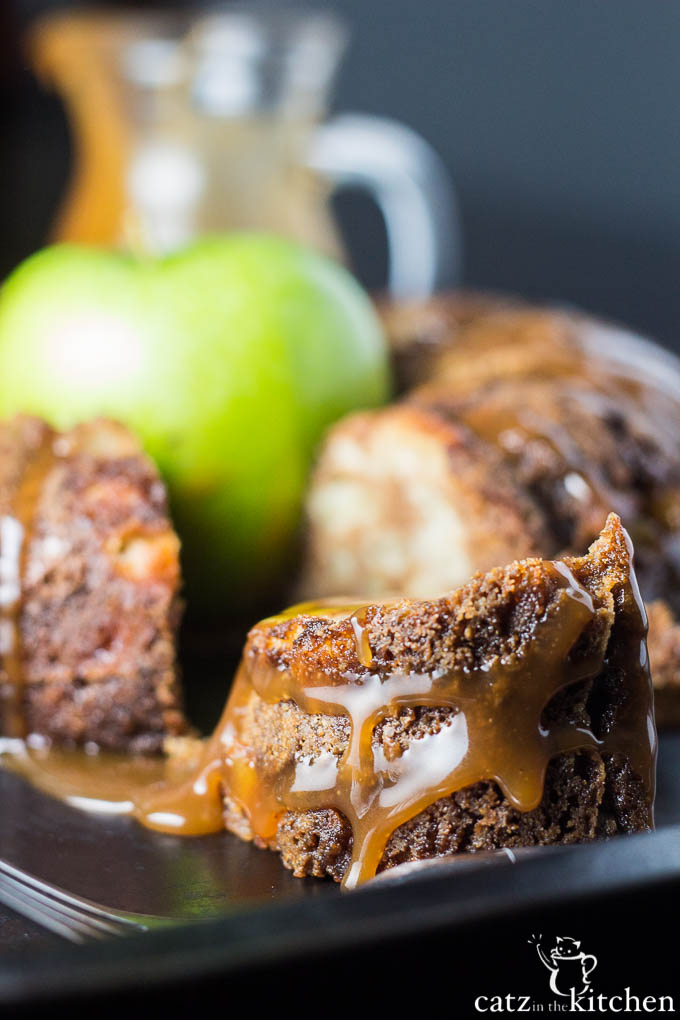 This cake, however, he could not get enough of. He was stealing bites as soon as he shot the photos, he took some to work to share with co-workers, and I think he even ate more of it than I did! (Editor's note: Yep.)
That right there says a lot.
What I love about this cake is the crunchy crust of the exterior. It is just kind of amazing and it makes you want another bite, and then another one, and then one more…and well, you get the idea.
This cake would be so beautiful for a festive gathering, potluck, or even for a birthday cake!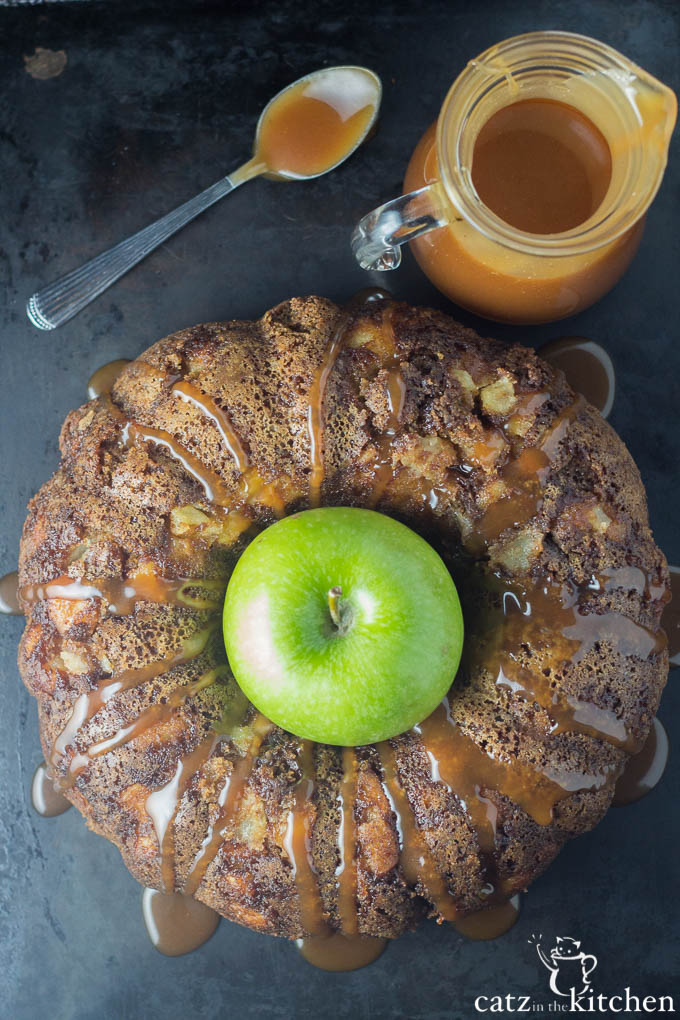 I know I wouldn't mind having this as my birthday cake. #justsaying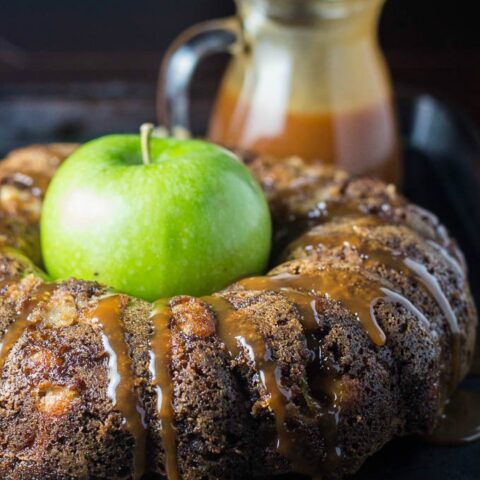 Salted Caramel Apple Cake
Total Time:
1 hour
5 minutes
Need a break from pumpkin recipes, but still want to be festive for fall? Try the salty sweet goodness of this outrageous Salted Caramel Apple Cake recipe!
Ingredients
2 cups sugar
1 cup unsalted butter, room temp
2 cups flour
2 eggs
2 tsp. baking soda
2 tsp. cinnamon
1/2 tsp. sea salt
4 medium Granny Smith Apples, cored and chopped
1 tsp. vanilla extract
Salted Caramel Sauce
Instructions
Pre-heat oven to 350 degrees*
In a large mixing bowl, cream together sugar, butter, and eggs. In a separate medium sized bowl, whisk together the dry ingredients.
Add the dry ingredients to the wet mixture.
Add chopped apples and vanilla extract and mix with a flat beater if using a KitchenAid or use a white spatula to fold in the apples and extract.
Pour the batter into a greased Bundt pan, (The batter will be thick) and bake for 45 minutes. Alternatively, you can grease 16 half pint canning jars for about 25 minutes or until the toothpick comes out clean. Just be sure to fill each jar with about 1/2 cup of batter.
Let cool a bit after baking and drizzle with Salted Caramel sauce or vanilla ice cream.
Nutrition Information:
Yield:

10
Serving Size:

1
Amount Per Serving:
Calories:

473
Total Fat:

20g
Saturated Fat:

12g
Trans Fat:

0g
Unsaturated Fat:

7g
Cholesterol:

86mg
Sodium:

400mg
Carbohydrates:

71g
Fiber:

3g
Sugar:

49g
Protein:

4g
Nutrition information isn't always accurate.