Nothing fancy about this simple, wonderful recipe for a basic pumpkin cheesecake! If you love pumpkin and cheesecake…you need to make this.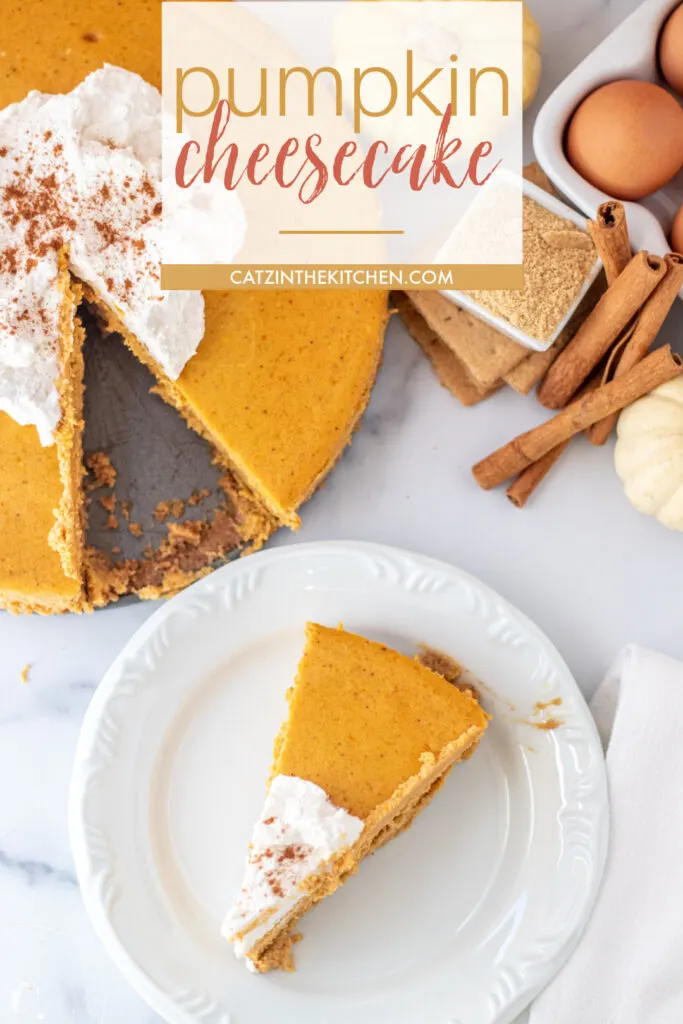 When September rolls around, I instantly start craving all of the yummy fall comforting dishes, like soups, casseroles, and apple spiced desserts, and of course, pumpkin flavored everything. Today, I'm bringing to you a pumpkin cheesecake.
Now you might ask, hey Chels, don't you already have a pumpkin cheesecake on the blog? I'm so glad you asked (and are paying attention), because I do! But, I do not have a "classic" pumpkin cheesecake in my archives. I have a pumpkin latte cheesecake, swirled pumpkin cheesecake bars, and a pumpkin cranberry cheesecake. But no basic, classic, pumpkin cheesecake. Seeing as how cheesecake is Grace's favorite dessert, I felt obligated to not only make one for Grace, but to also get one on the blog for you guys.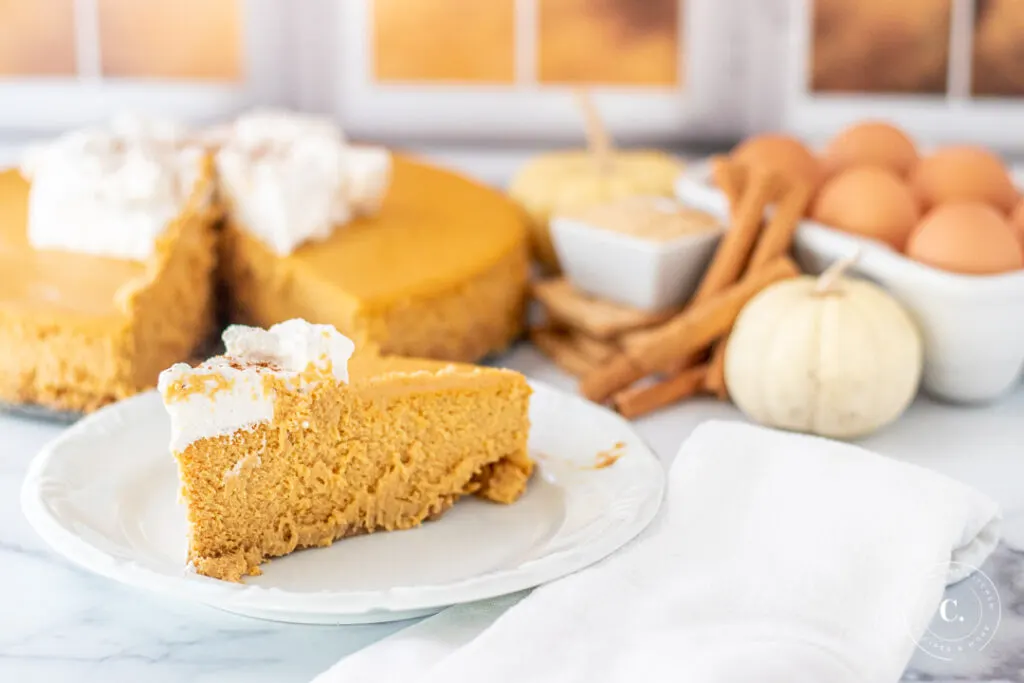 This recipe is about as basic as cheesecake gets. It's a simple graham cracker crust with a very basic cheesecake filling + pumpkin-y additions. It's all very straightforward and nothing to get to worried about. I say that, because I know a lot of people get very intimidated when it comes to cheesecake, and I don't need you to feel that way! Don't worry yourself with cracks or an uneven pie crust. I mean, great, if your cheesecake doesn't crack or if you get your graham cracker crust perfectly symmetrical all around the sides of the springform pan! However, I've made plenty of cheesecakes that do have cracks and plenty of crusts that are thicker on one side and thinner on the other, and you know what? It doesn't hinder the taste, and it really doesn't mess up the presentation that much either.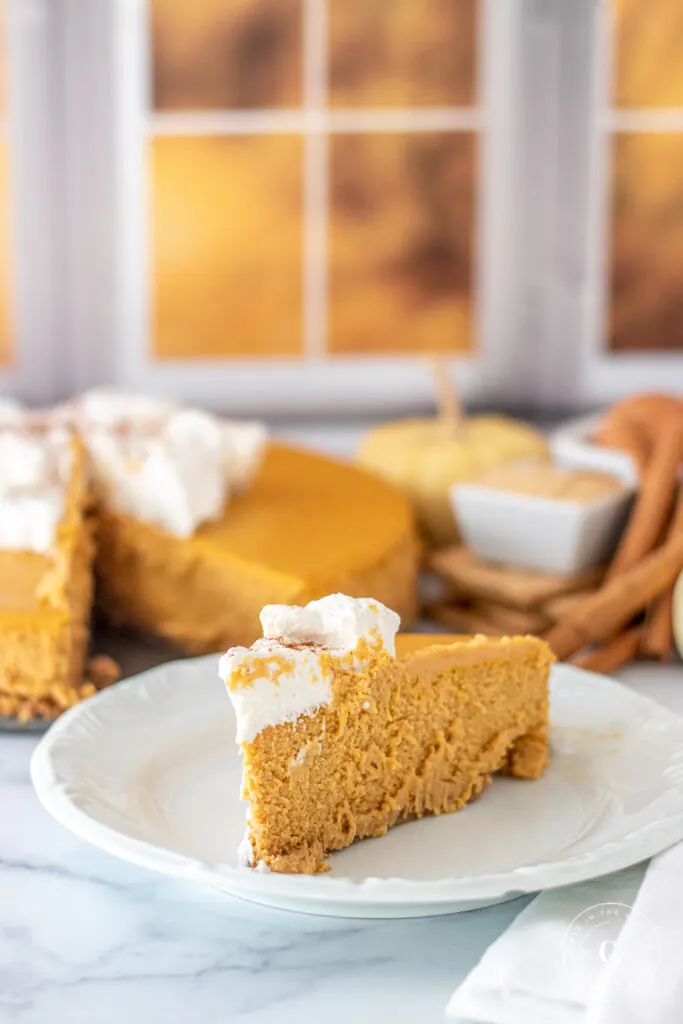 I'm saying this to encourage you, because once a cheesecake is baked, no one is really going to be able to tell (or care!) if the crust is uneven, and if the filling does have a crack on top – plop some whipped cream on that baby and no one is the wiser. But also, what is really more important anyway? Making a dessert for the ones you love to enjoy…or the perfect presentation of it? Honestly, this is something I often have to remind myself (or even something my husband or kids will remind me) when I begin to get frustrated over my perfectly imperfect desserts.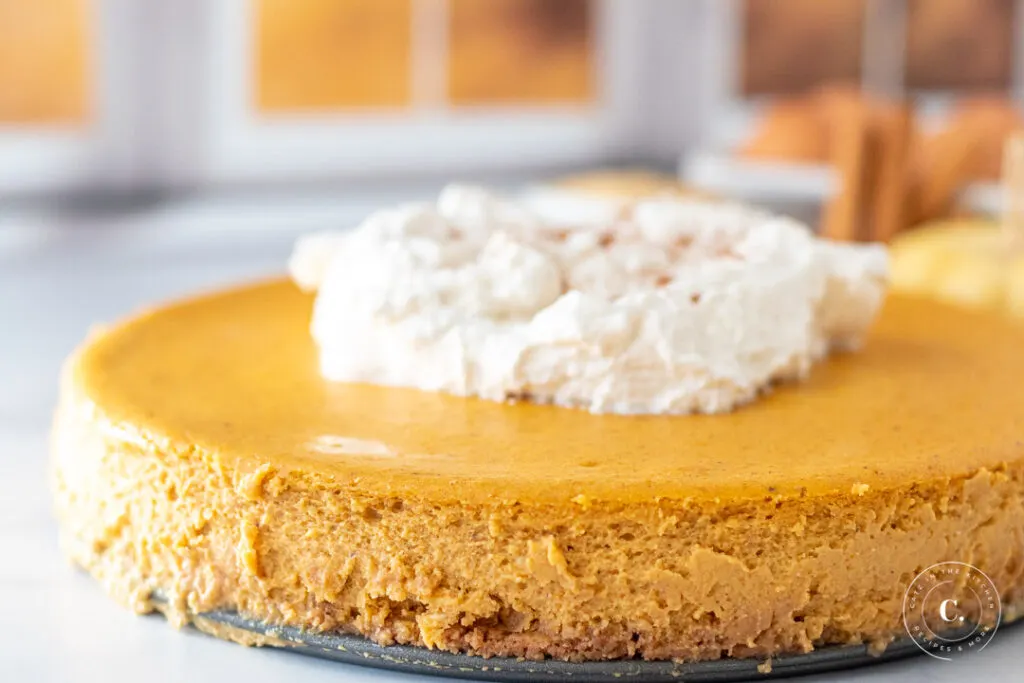 But onto this cheesecake. If you don't love pumpkin…don't make this. I have other delightful cheesecakes on the blog that don't contain pumpkin. And if you don't like cheesecake, but love pumpkin, don't make this. I have a lot (and I do mean A LOT) of other pumpkin desserts on the blog that you will love! Some of my favorites on both sides of the aisle include: Maple Walnut Cheesecake, Blueberry Swirl Cheesecake, Maple Pumpkin Cake, and Pumpkin Pie Pudding.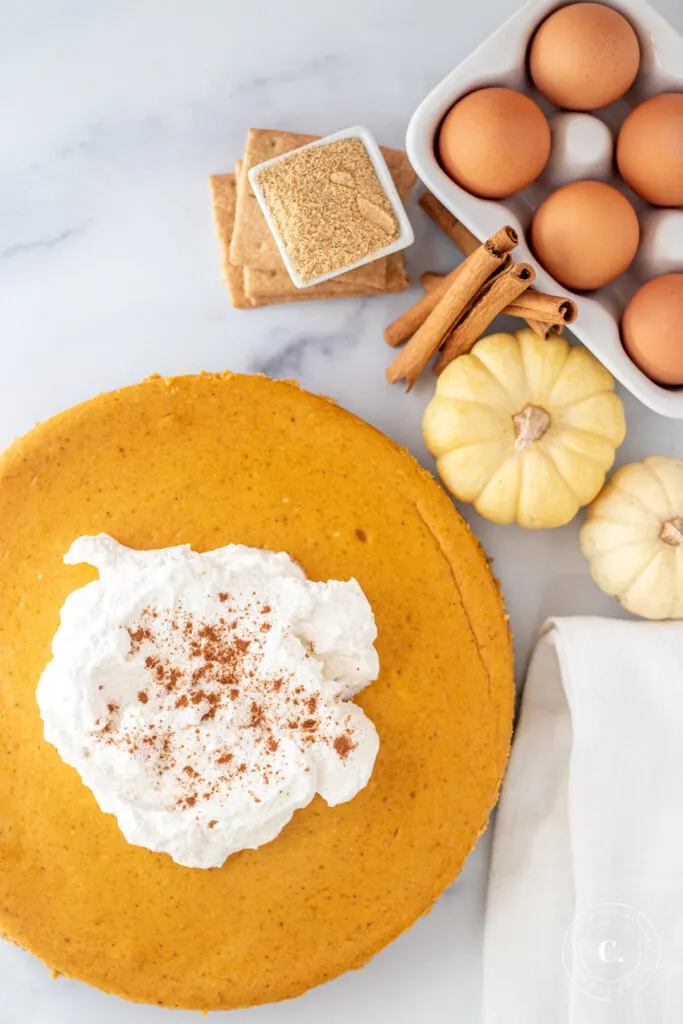 If you love a basic, no frills cheesecake, chances are you will really love this one! The crust is simple and easy. The filling is easy to pull together and requires minimal ingredients. It tastes like everything that is good about fall and brings back all of that nostalgia from when you were a kid getting excited about the holidays (or maybe that's just me!).
For the record – I'm not ready for the holidays, at least not yet, but I could definitely go for a velvety slice of this spiced cheesecake. How about you?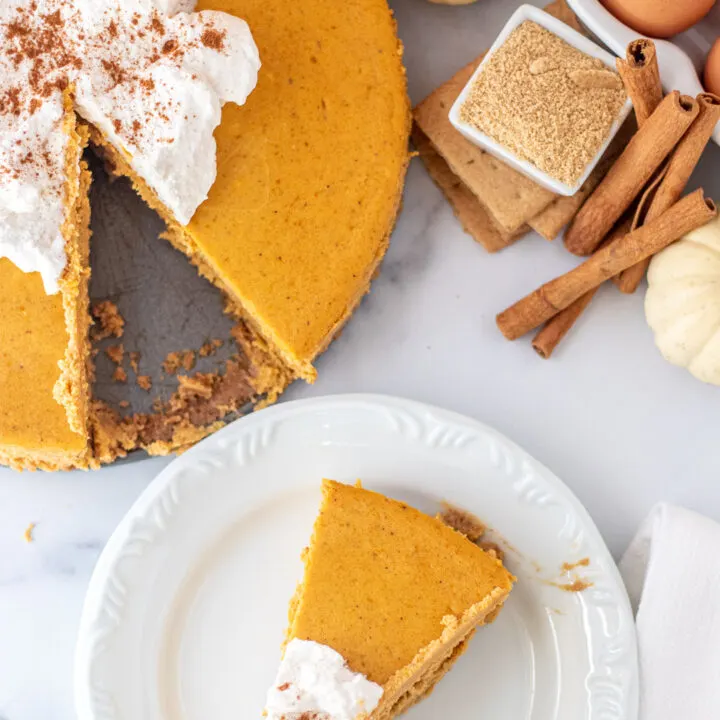 Pumpkin Cheesecake
Cook Time:
1 hour
30 minutes
Total Time:
11 hours
5 minutes
Nothing fancy about this simple, wonderful recipe for a basic pumpkin cheesecake! If you love pumpkin and cheesecake…you need to make this.
Ingredients
For the Crust
1 1/4 cups graham crackers crumbs
5 tbsp unsalted butter, melted
2 tbsp sugar
Pumpkin Filling
3 8 - ounce packages cream cheese (at room temperature)
1 1/2 cups sugar
1 15- ounce can pure pumpkin puree
1/4 cup sour cream (plain Greek yogurt works too)
1 tbsp pumpkin pie spice
2 tsp pure vanilla extract
1/2 tsp salt
4 large eggs (at room temperature), lightly beaten
Homemade Whipped Cream, for topping
Instructions
Preheat oven to 325 degrees. Wrap the outside (bottom and up the sides) of a 9-inch springform pan with foil to prevent leaking.
Make the crust: Toss the graham cracker crumbs, melted butter, and sugar into a bowl until combined. Firmly press the crumbs into the bottom of the pan. Bake until set and slightly darker in shade, about 10 minutes. Transfer to a rack to cool completely.
Bring a kettle of water to boil. Make the filling: Beat the cream cheese in a large bowl with the mixer on hmedium-high speed until smooth, about 2 minutes. Add the sugar and beat until light and fluffy, about 3 more minutes. Add the pumpkin, sour cream(or Greek yogurt), pie spice, vanilla, and salt and beat until combined. Add the eggs and beat on medium-low speed until just combined; switch to a rubber spatula for the last few stirs, making sure to get the bottom of the bowl. Pour the filling into the cooled crust; gently tap the pan on the counter to release any extra air bubbles.
Set the cheesecake into a roasting pan or large baking dish and set in the middle of the oven. Carefully pour the boiling water into the roasting pan until it comes up about one-third of the way up the sides of the springform pan. Bake the cheesecake until it's set around the edges, but the center is still jiggly, about 1 1/2 hours. Turn the oven off, crack the door open slightly and leave the cheesecake into the oven for 30-45 more minutes. Transfer to a rack, run a thin knife around the edge and let cool completely. Cover the cheesecakse and refrigerate until fully chilled, at least 8 hours or overnight.
Let the cheesecake sit at room temperature about 30 minutes before serving. Remove the springform ring. Top with whipped cream.
Notes
Recipe Source: Food Network Magazine
Nutrition Information:
Yield:

8
Serving Size:

1
Amount Per Serving:
Calories:

452
Total Fat:

23g
Saturated Fat:

12g
Trans Fat:

0g
Unsaturated Fat:

8g
Cholesterol:

146mg
Sodium:

337mg
Carbohydrates:

58g
Fiber:

2g
Sugar:

47g
Protein:

7g
Nutrition information isn't always accurate.