This ginger peach cheesecake recipe is quick, easy, and SO GOOD! There's no crust to make, so it comes together in about 15 min, then oven, then fridge!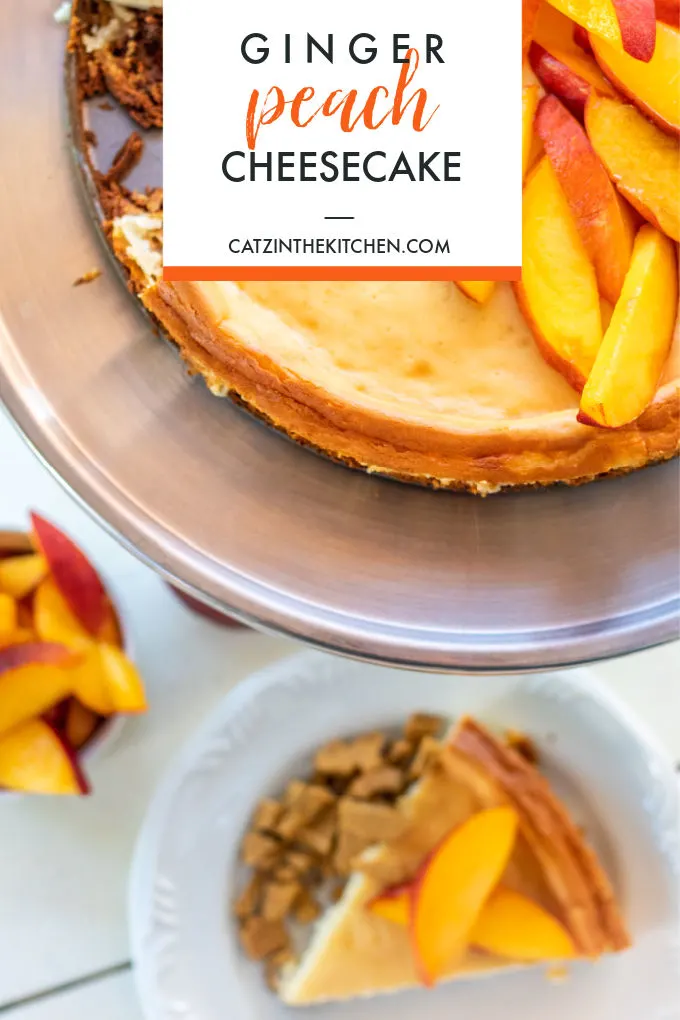 I blame all of my cheesecake baking that I've been doing lately on Grace. She's been doing all of the "growing up" things like getting her first car, first job, and next month, it's her license. Cheesecake happens to be Grace's favorite thing on the planet and so I guess it's natural that with all of her growing up, I would savor these days with her still at home and want to bake her all the things.
That's got to be it, because I just don't make cheesecake that often. But here I am making my second cheesecake in two months. I didn't share the last cheesecake I made, but I should. It's just a simple, basic cheesecake – you know basic cream cheese filling and graham cracker crust – but you can really dress those types of cheesecakes up if you want to.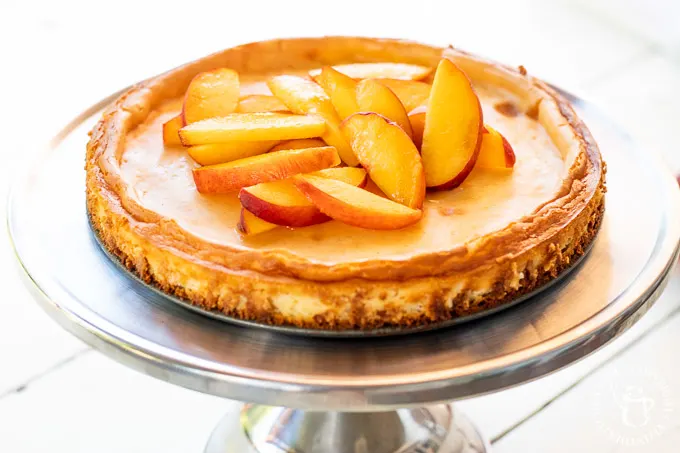 The reason I don't make a lot of cheesecake is that they can be a bit time consuming. I mean, making a graham cracker crust is simple, but it does require time and a bit of a mess.
This ginger peach cheesecake is essentially the opposite of any cheesecake I've ever made. The easiest crust and filling. I literally had this baby in the oven within a matter of about 15 minutes. I think it's because instead of using a graham cracker crust we're using gingersnap cookies that are just placed on the bottom of the springform pan. I mean, how simple, right? The filling is just as easy. It's cream cheese, sugar, eggs, peach nectar, and orange zest! The only thing that would hinder you is if you forgot to take out the eggs and cream cheese an hour or two before you began the bake.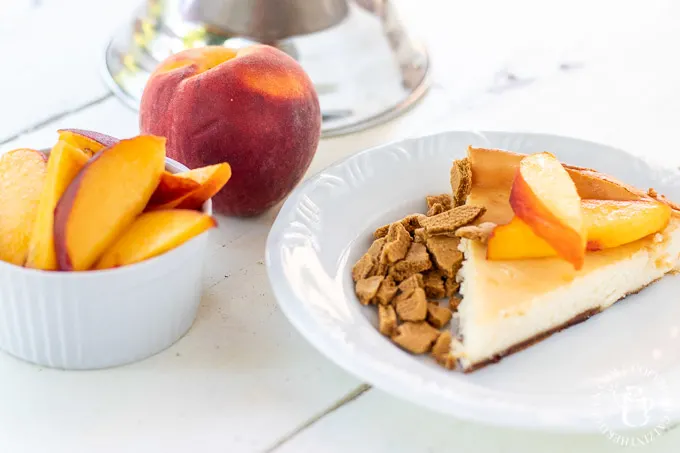 In a cheesecake, you really need eggs and cream cheese to be at room temperature. What I usually do the morning I know I'm going to be baking something is head down to the kitchen to fill up my water bottle before my workout and take out anything that needs attention for later. If I'm baking, that usually involves eggs and butter. If it's chicken or some sort of protein, I address that then, too, and stick it in the fridge to thaw.
It helps you feel more prepared and in control of the meals or desserts you're going to be serving later, because it always bites when you forget a step and then have to delay your time in the kitchen – let's be honest, not all of us enjoy cooking and baking, and even those of us who do don't always have the time!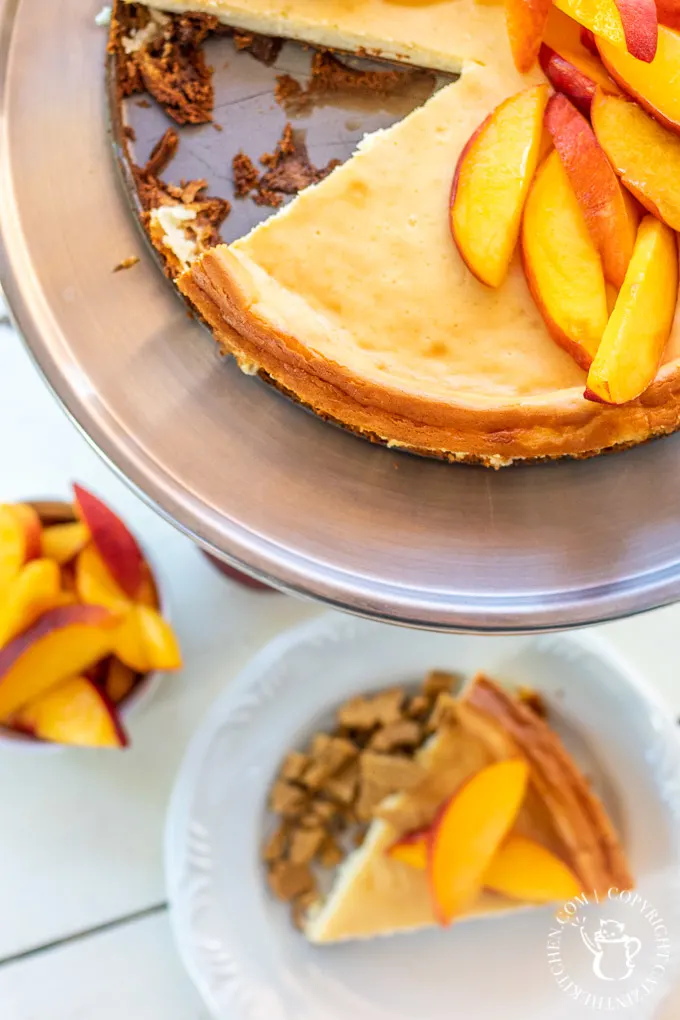 With that being said, this ginger peach cheesecake is absolutely perfect for a beginner baker. It's beautiful and sweet and spicy (spicy from the ginger, not like jalapeño spicy!), without being complicated or too much of a time commitment.
The crust is a cookie that requires zero work from you
The filling is basic ingredients that you can find in any store and won't cost an arm and a leg
The topping couldn't be simpler with freshly sliced peaches that have been lightly tossed in the sweetest mixture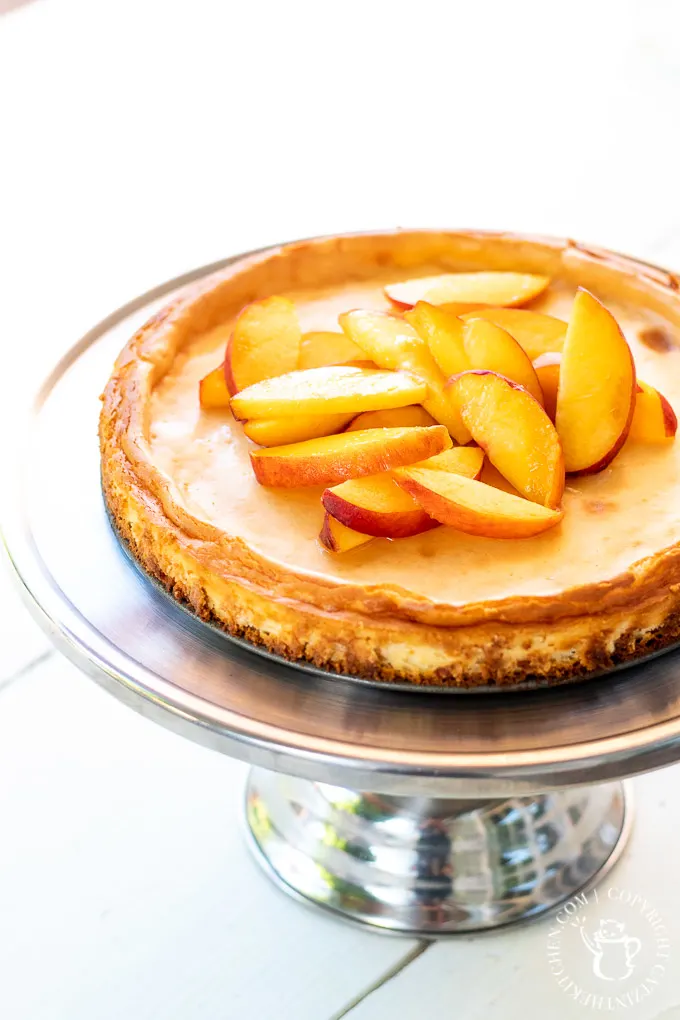 The only complicated part of this recipe is letting your cheesecake cool, completely and sit in the fridge for eight hours or *gasp* overnight. Well, that and making room in your fridge for the cheesecake to take its little catnap. If you can wait the appropriated amount of time, you're a superhero. If you can't, then you're human like the rest of us! (We didn't quite make it – still so good!)
The only special instruments you need for this recipe is a springform pan and a mixer. Handheld will work for you, but your hand/arm may get tired, because you will be beating that cream cheese filling for a good five minutes at the beginning of the recipe. If you're a superhero, you can handle that, but if you're just a human like me, a stand mixer will do ya just fine!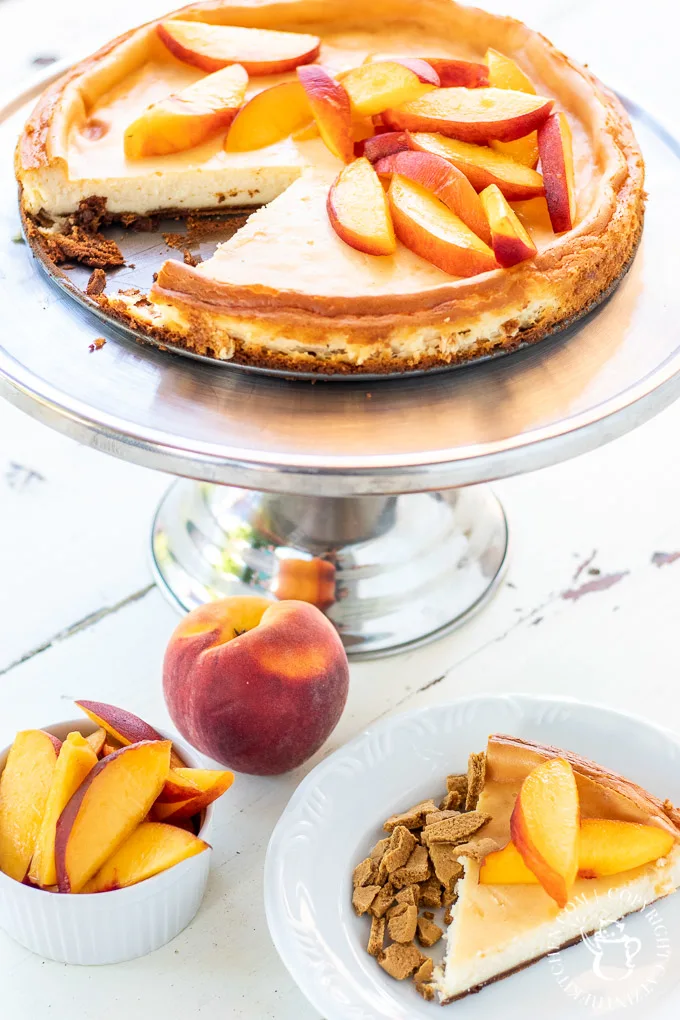 Here's the other thing I love about this cheesecake, aside from its simplicity – it's not overly sweet. In the filling, there is only one cup of sugar, which is not a ton considering that's the only thing sweetening up 3 blocks of cream cheese. It uses fresh peaches which also happen to be not just Grace's favorite, but I think our whole family's favorite stone fruit. The flavor is not masked, but enhanced. The spice of the ginger, freshness of the orange zest, and sweetness of the peach nectar give the cheesecake a subtle, but noticeable tap on those tastebuds that make you sit back after that first bite and go, "WOAH!"
Go grab those fresh peaches from the farmer's market and get baking!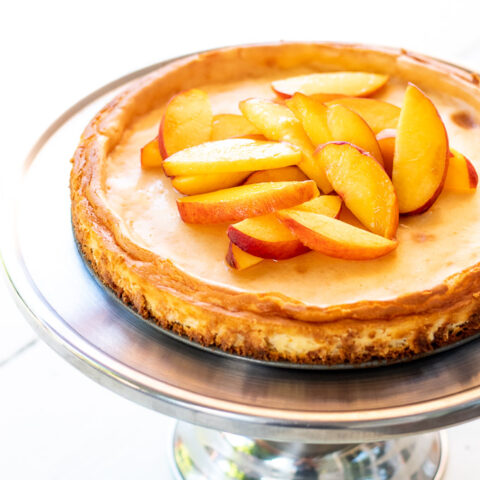 Ginger Peach Cheesecake
Cook Time:
1 hour
15 minutes
Total Time:
9 hours
30 minutes
This ginger peach cheesecake recipe is quick, easy, and SO GOOD! There's no crust to make, so it comes together in about 15 min, then oven, then fridge!
Ingredients
The Crust
2 tbsp unsalted butter
1 box (1 lb) Gingersnap cookies - you won't need the whole box. Feel free to munch on a cookie or two.
Filling
3 (8 oz) packages of cream cheese
1 cup sugar
1/2 tsp orange zest
1/4 tsp salt
3 eggs, room temperature
1/4 cup peach nectar - they sell the nectar in cans at the store
Topping
2-3 peaches, pitted and sliced
1 tsp sugar
2 tbsp fresh orange juice
Instructions
Preheat oven to 325 degrees.
Wrap the outside of a 9 - inch springform pan with foil. Butter the inside of the pan and line the bottom with gingersnaps, breaking as needed to fit. There will be a few gaps, it's okay.
For the filling, beat the softnend cream cheese, 1 cup sugar, orange zest, and salt together on medium-high speed until fluffy, about 3-5 minutes. Beat in 3 eggs, one at a time, until just combined, then beat in the peach nectar.
Pour the filling into the crust and bake for 1 hour to 1 hour and 15 minutes. You want the center of the cheesecake still jiggling slightly. Transfer to a rack and let cool completely, then refrigerate 8 hours or overnight.
The topping is simple. Toss 2-3 sliced peaches with 1 tsp of sugar and 2 tbsp of fresh orange juice until the sugar dissolves. Spoon the dressed peaches over the cheesecake.
Nutrition Information:
Yield:

8
Serving Size:

1
Amount Per Serving:
Calories:

232
Total Fat:

8g
Saturated Fat:

4g
Trans Fat:

0g
Unsaturated Fat:

4g
Cholesterol:

81mg
Sodium:

135mg
Carbohydrates:

39g
Fiber:

1g
Sugar:

35g
Protein:

4g
Nutrition information isn't always accurate.