This recipe for chocolate cheesecake strikes a balance of decadence without being too rich or too sweet, with hints of vanilla and almond.
Not only is cheesecake one of my dad's favorite things in the entire world to eat, but it's also Grace's favorite thing. It's her weakness. Her kryptonite. The one thing she can never say "no" to which actually happens to be a good thing for me as her mother (potentially not such a good thing for her…I kid, she's enjoys in moderation, as we all should!).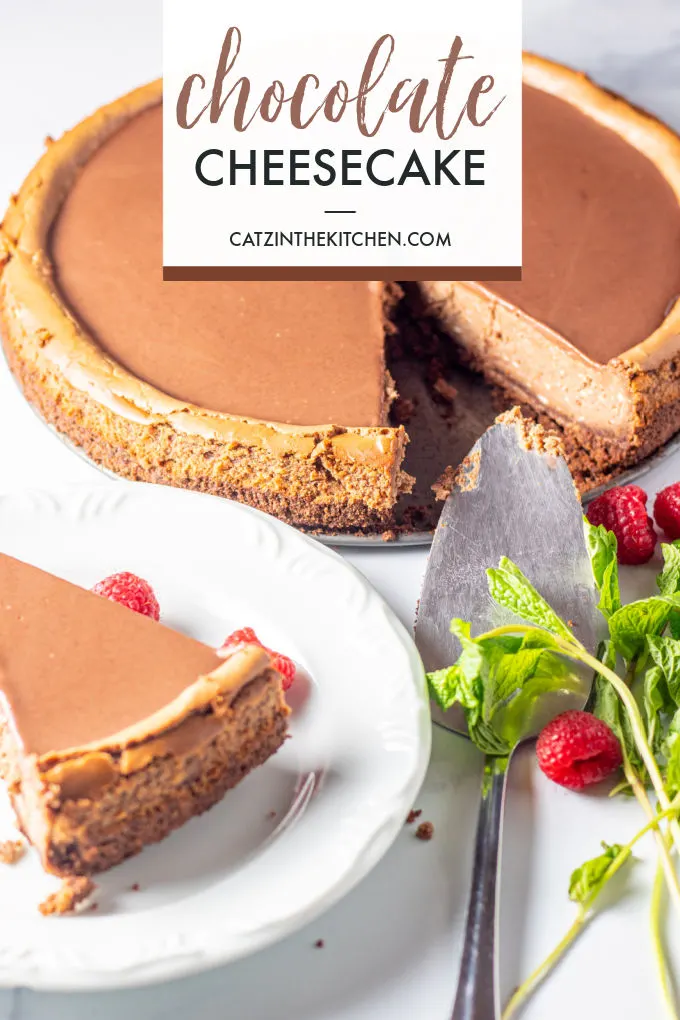 It's been awhile since I've shared a cheesecake recipe on here…I think the last time I made one, it was the Ginger Peach Cheesecake from this past summer. That's a long time for me to go without making cheesecake in this household – Grace has found that subtly buying cheesecake from the grocery store is one of the best ways to get my attention and remind me of just how long it's been.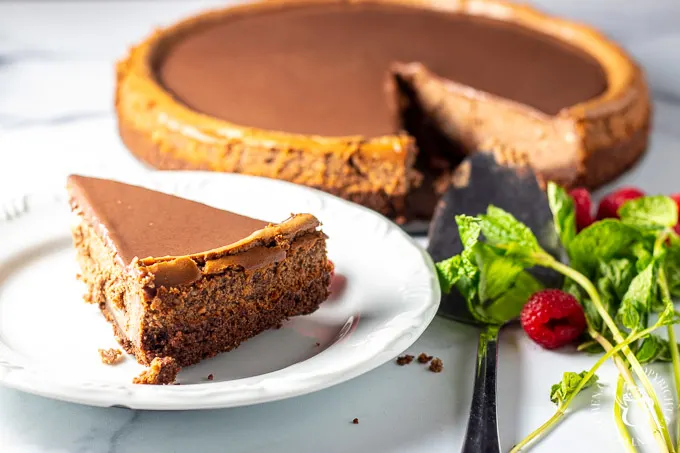 Okay, so we all know how I feel about chocolate right? I'm not a big fan. Sure, I can enjoy a brownie or some chocolate ice cream with peanut butter or even occasionally I'll want to drink some Grown Up Hot Chocolate or even settle for the SO Delicious dairy free dipped coconut almond frozen dessert (it's wrapped in chocolate) and I happen to really enjoy it on those occasions.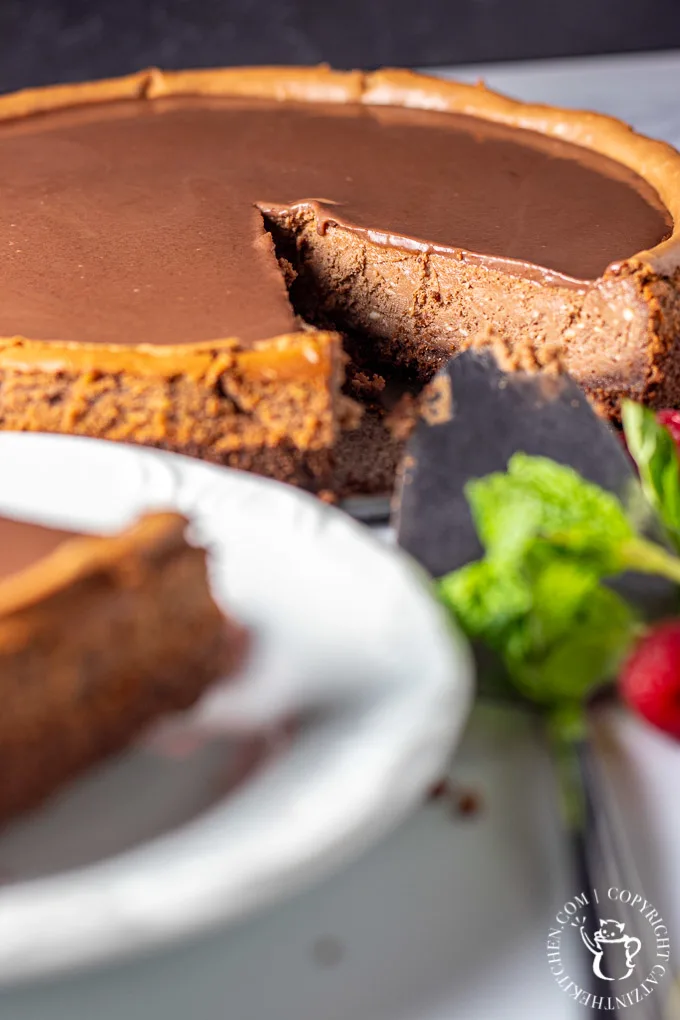 I'll rarely ever just reach for straight up chocolate. It always has to be mixed with something else like caramel, sea salt, or toffee. I know, it's weird, right? However, I made this exact chocolate cheesecake back in 2012 when my dad came to visit one summer and posted some really bad pictures of it on the blog and…well, between Grace reminding me that I haven't made cheesecake in a while and having some old blog posts I wanted to update, it was time to remake this chocolate cheesecake. And guess what – I'm really glad I did. I forgot how much I actually like this particular cheesecake, and here's why:
It's not rich, so I can actually eat more than a few bites AND enjoy it!
It uses semi-sweet chocolate – so, not a sickeningly sweet cheesecake.
The sweetness and chocolate is offset with almond & vanilla extract which adds flavor and a bit of complexity to an otherwise ordinary chocolate cheesecake.

Now I know that cheesecake can seem like an incredibly intimidating baked treat. It's not, actually. The first time I made a cheesecake I was young, green (as in 20 years old) and not at all a baker…of any kind! I didn't have a springform pan so I used a pie plate and it came together beautifully. I honestly had no idea it was something felt intimidating by many until later on.
So if I can bake it, you can bake it!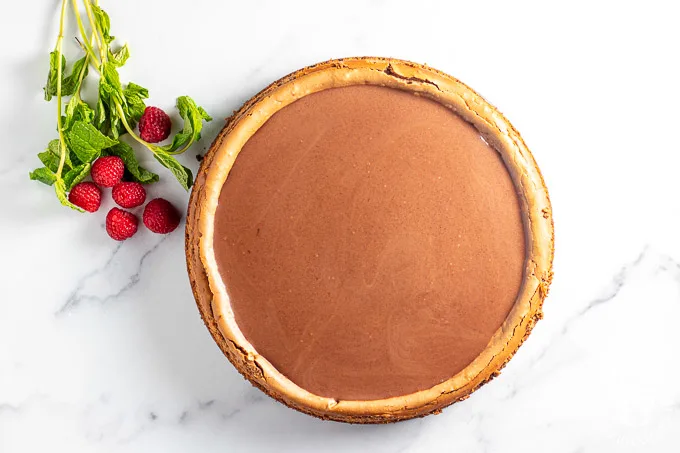 This cheesecake is silky and luscious. Beautiful with some berries on top and a sprig of mint, maybe a dollop of whipped cream? But it doesn't really need any of those things to be better. It just is, simply by being itself!
If you love cheesecake and you love chocolate then you should definitely give this one a try. I do recommend a springform pan if you've got one or feel so inclined to get one. They're not expensive and mine isn't anything fancy or special. Pretty basic and it's lasted me over 10 years so far. This is the one I have – it's nonstick and awesome! But if you look to buy another one, make sure it's nonstick…I think you'll thank me later because I never have to grease mine and nothing sticks to it.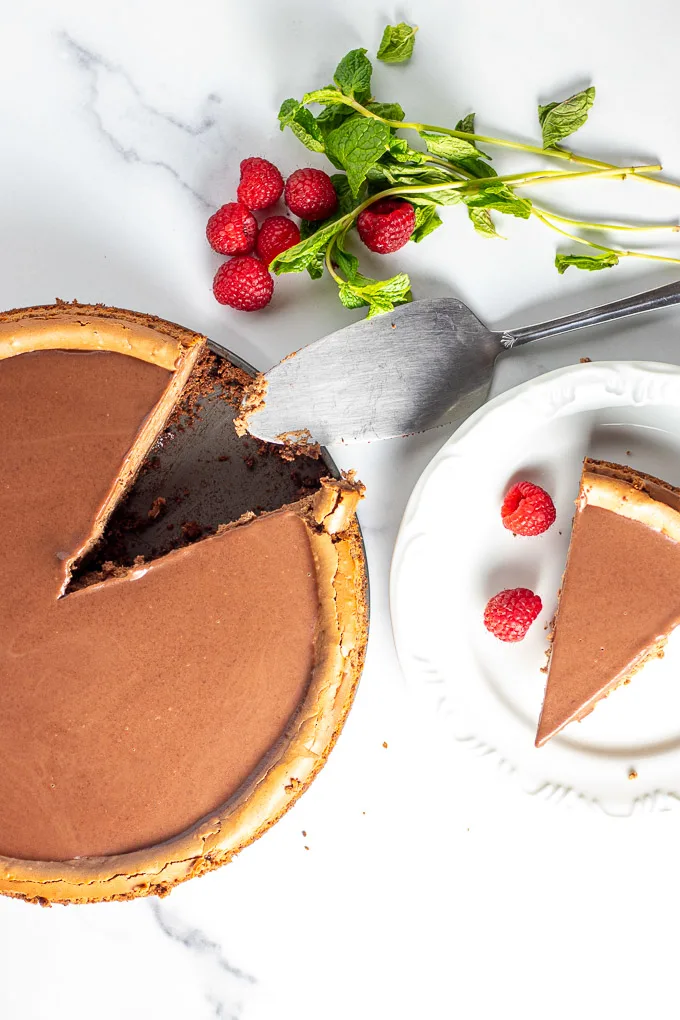 Feeling up to the challenge of making cheesecake? Make this one – inexpensive ingredients, lots of flavor, and you'll have one happy family or maybe just a really grateful daughter or father (Editor's Note: or husband).
Happy Baking!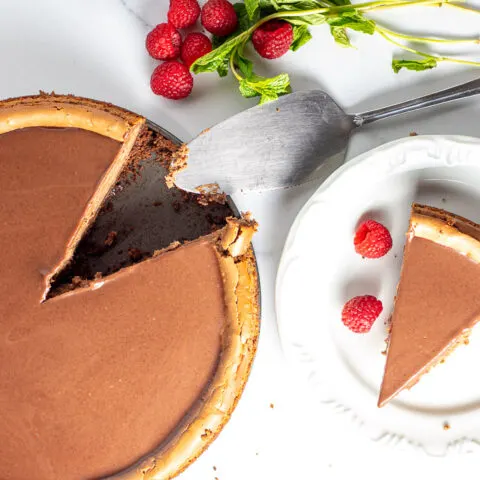 Chocolate Cheesecake
Total Time:
8 hours
5 minutes
This recipe for chocolate cheesecake strikes a balance of decadence without being too rich or too sweet, with hints of vanilla and almond.
Ingredients
Crust
1 1/4 cups graham cracker crumbs (about 20 squares)
1/2 cup sugar
1/4 cup (unsweetened) cocoa powder
6 tbsp unsalted butter, melted
Filling
3 packages (8 ounces each) cream cheese, softened
3/4 cup sugar
3 eggs (room temperature)
1 cup (6 ounces) semisweet chocolate chips, melted.*
1 tsp almond extract
1/2 tsp vanilla extract
Topping
1/4 cup semisweet chocolate chips
1/3 cup heavy whipping cream
1 tbsp honey
Instructions
In a large bowl, combine the graham cracker crumbs ( you can either buy the crumbs from the store or use a food processor to achieve this), sugar, and cocoa. Stir in melted butter until crumbly. Press onto the bottom and 1-inch up the side of the springform pan. Make sure to grease the pan if it's not non-stick. Set aside.
In a small bowl, beat cream cheese and sugar until smooth. Add eggs; beat on low speed just until combined. Stir in melted (and slightly cooled) chocolate and extracts just until blended. Pour into crust.
Bake at 350 degrees F. for 45-50 minutes or until center is almost set. Cool on a wire rack for 10 minutes. Carefully run knife around the edge of pan to loosen; cool 1 hour longer. Refrigerate until completely cooled - about 2 hours.
In a small saucepan over low heat, melt the chocolate, cream, and honey; stir until smooth. Remove from the heat and cool for 5 minutes. Pour topping over the cheesecake. Chill for at least 4 hours or until topping is set. Refrigerate leftovers.
Notes
* I melted the chocolate chips in a double boiler. But you can melt them in the microwave stirring after every 15 secs to get it to the consistency you need it to be.
Recipe Source: Taste of Home
Nutrition Information:
Yield:

12
Serving Size:

1
Amount Per Serving:
Calories:

279
Total Fat:

15g
Saturated Fat:

8g
Trans Fat:

0g
Unsaturated Fat:

5g
Cholesterol:

76mg
Sodium:

107mg
Carbohydrates:

34g
Fiber:

1g
Sugar:

29g
Protein:

4g
Nutrition information isn't always accurate.