This recipe for Maple Walnut Cheesecake is now one of our family favorites – not too sweet, silky smooth, and just a bit nutty!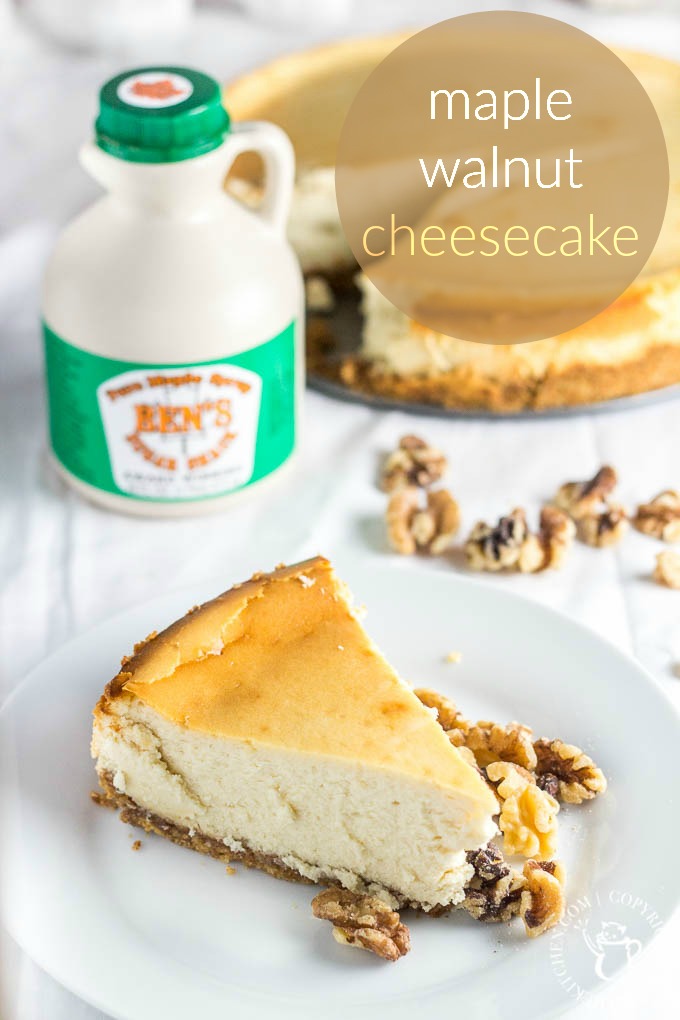 Originally, this recipe was meant to be shared back around Christmas. But then we decided that we needed a two week break to enjoy our family and relax and it never got shared. Sorry about that! Life, ya know!
I know that first few weeks of January isn't typically the best time to share a dessert, let alone a cheesecake, but cheesecake lovers shall not be denied. I'm a firm believer in balance and that you should be able to enjoy foods that bring you happiness and foods that also bring people together.
In our house, cheesecake definitely brings people together! My oldest, Grace, is a cheesecake lover (as you probably know, because I've mentioned it a lot in the past) and she gets so excited when I break out the springform pan. Cheesecake also happens to be the only dessert my dad requests of me when he visits from Las Vegas. In fact, my stepmom, originally from China, recently expressed an interest in learning how to make cheesecake…for him! So you see, cheesecake brings people together.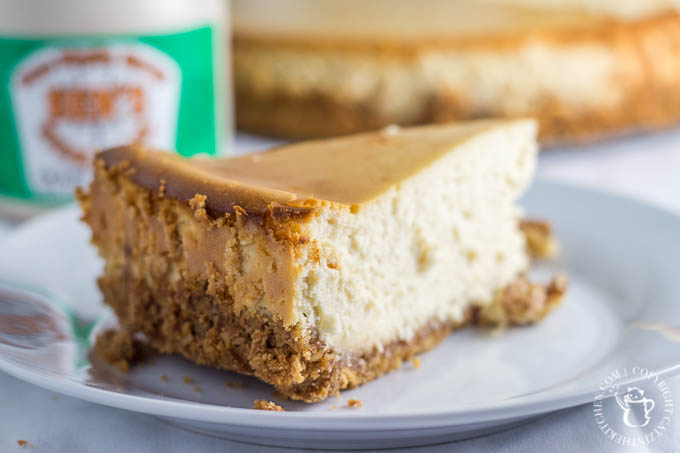 You could make this maple walnut cheesecake all year long, but in my opinion, the warm, homey flavors just seem to walk hand in hand with fall and winter vs. spring and summer. However, if you're in the market for a delicious cheesecake for spring and summer, then you've got to make this blueberry swirl cheesecake! It's kind of out of this world!
But I believe you could get away with this cheesecake for say, Valentine's Day, or Easter, too (though this Carrot Cheesecake seems rather made for Easter…).
As a mom and wife, I think it's important to sometimes break up the monotony of daily routines and do something fun and unexpected. Over the years in our home, cookies, cakes, and brownies have become less and less of an expected treat and more of an unexpected surprise! While it is healthier to limit those things within the home, it also makes dessert more of a special occasion that's not just reserved for birthdays or anniversaries. Basically, I think it means more to everyone around me when the sweet things are made at random as opposed to having a sweet thing made weekly.
Does that make sense?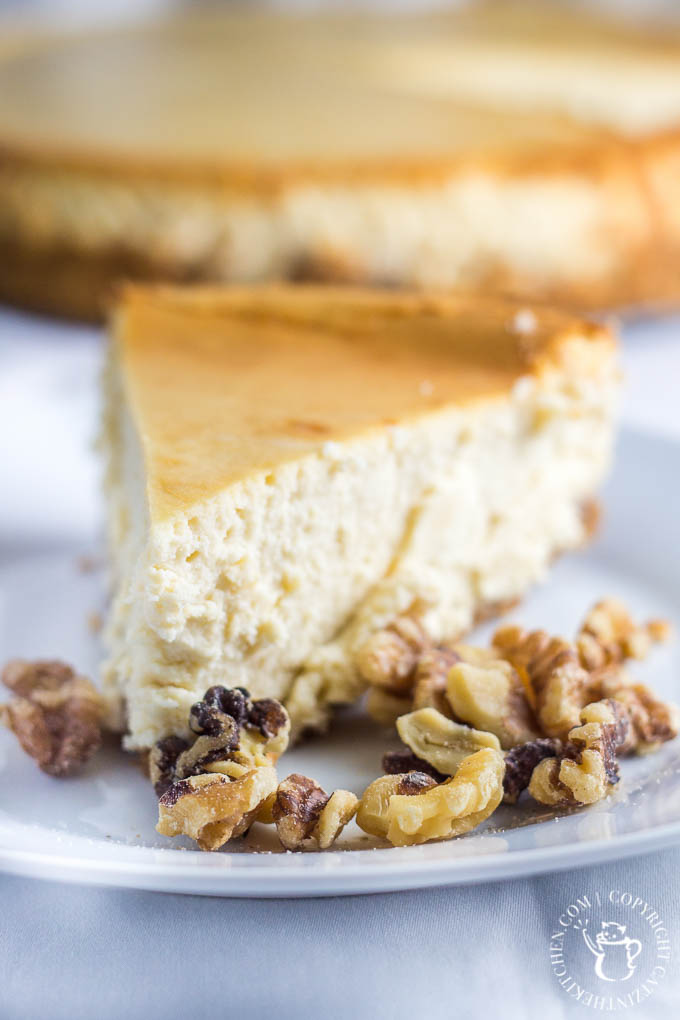 Cheesecake is definitely one of the surprises I like to pull out from the "secrets of how to be an awesome mom" book. Because that's a thing.
This cheesecake is definitely going into that dessert rotation because it is AAMAZING!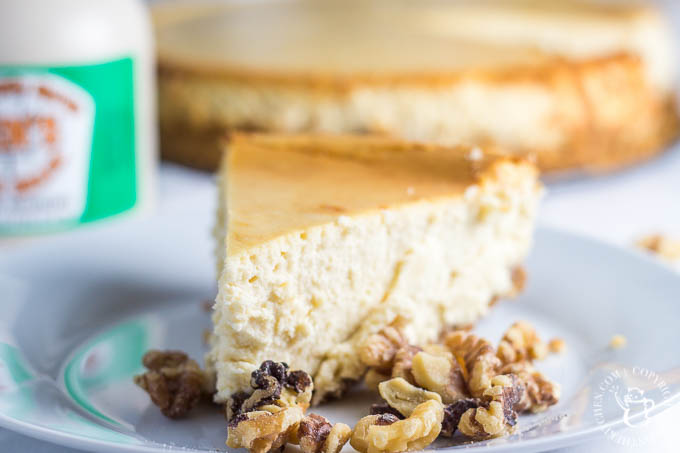 The maple flavor is in your face but in such a perfect way! The cheesecake itself is not too sweet (which is why I think I like it – definitely why Josh likes it!), but it's got this nice nutty flavor and texture from the walnuts in the crust. It's smooth and creamy. The way the flavor lingers…it's just completely cravable. Grace, my resident cheesecake connoisseur, was in heaven and said it was one of the best she had ever had!
Good enough for me!
I hope she and the rest of the family savored it because who knows when they'll see the next cheesecake. I mean, I gotta keep them on their toes somehow. Right?!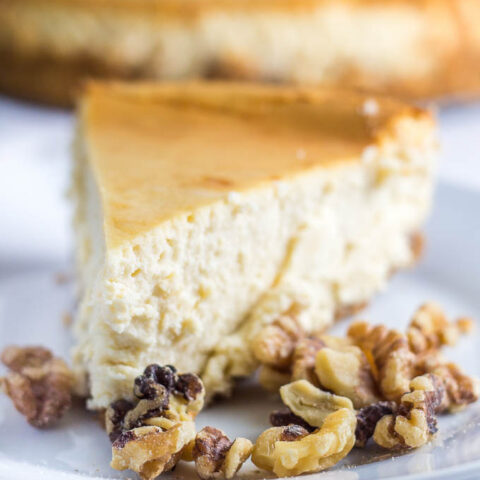 Maple Walnut Cheesecake
Cook Time:
1 hour
10 minutes
Total Time:
1 hour
50 minutes
This recipe for Maple Walnut Cheesecake is now one of our family favorites - not too sweet, silky smooth, and just a bit nutty!
Ingredients
Crust
1 sleeve graham crackers (about 9 crackers)
3/4 cup cup chopped walnuts pieces
1/3 cup packed brown sugar
4 TBSP unsalted butter, melted
Pinch of nutmeg
Pinch of Kosher salt
Filling
4 (8 ounce) packages cream cheese, at room temperature
3/4 cup pure maple syrup
1/2 cup granulated sugar
4 large eggs
3 TBSP all-purpose flour
1/2 cup heavy cream
1 TBSP lemon juice
1/4 tsp maple extract
Instructions
Fill a roasting pan halfway with water and set on a rack in the lower third part of the oven; position another rack in the middle of the oven and preheat oven to 350 degrees. Wrap the outside (bottom and side) of a 9-inch springform pan with foil.
To make the crust: In a food processor, pulse graham crackers until finely ground. Add the walnuts and brown sugar and continue pulsing until finely ground. Add the melted butter, nutmeg, and salt and pulse to combine. Press into the bottom and 1 inch up the sides of the pan. Bake until the crust is lightly golden, about 10 minutes. Transfer to a rack and allow to cool completely.
To make the filling: Beat the cream cheese in a stand mixer with the paddle attachment on medium speed until nearly smooth, about 1 minute. Add the maple syrup and sugar and beat until smooth, about 2 more minutes. Add the egg, one at time, beating after each addition. Increase the speed to medium hight and beat in the flour, heavy cream, lemon juice, and maple extract until the filling is smooth and silky, about 1 more minute.
Pour the filling into the cooled crust. Transfer the cake to the oven, placing it on the middle rack, directly above the water bath. Bake until golden and set around the edge but the center still jiggles a little, about 1 hour and 10 minutes. Transfer to a rack and let cool to room temperature, then cover and refrigerate until cold and set, at least 5 hours or overnight. Let the cheesecake sit at room temperature for 20 minutes, then run a thin knife around the edge of the springform pan to remove and serve.
Nutrition Information:
Yield:

10
Serving Size:

1
Amount Per Serving:
Calories:

319
Total Fat:

18g
Saturated Fat:

7g
Trans Fat:

0g
Unsaturated Fat:

9g
Cholesterol:

103mg
Sodium:

67mg
Carbohydrates:

37g
Fiber:

1g
Sugar:

32g
Protein:

5g
Nutrition information isn't always accurate.