Get your autumn mood on with this simple, overnight no-bake dessert! Pumpkin Pie Pudding is easy, along with being yummy looking as well as tasting!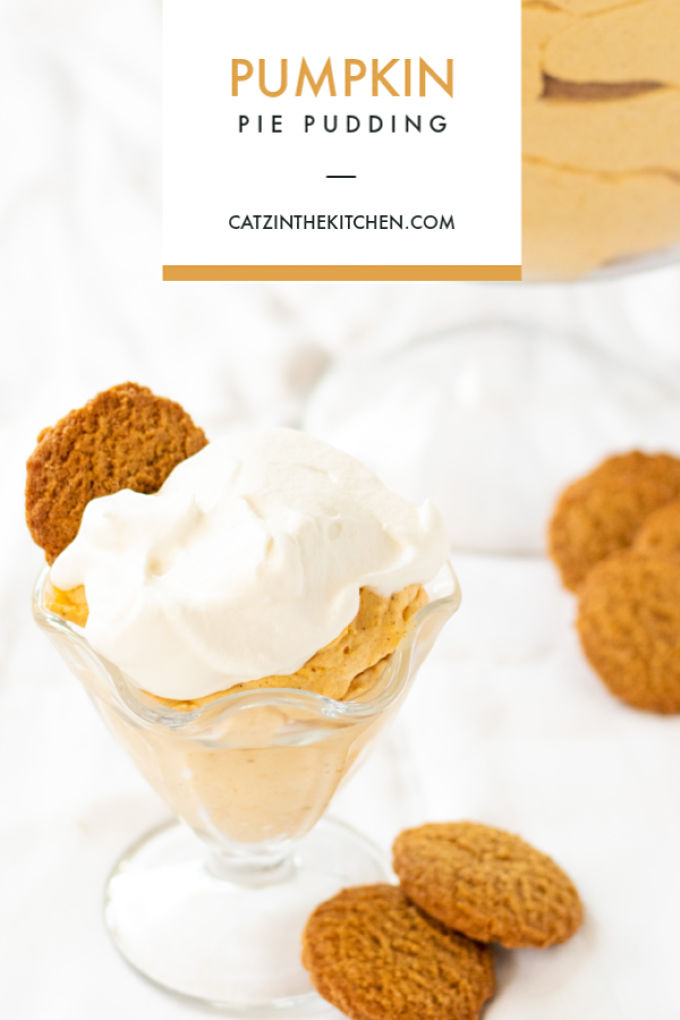 I think we all know by now that I'm not ready for fall and yet here it is, in all its glory! These past few fall seasons have been, well, a bit harder. Last year, I was newly postpartum and just not wanting to decorate at all because it felt overwhelming. This year, I'm not in much of a decorating mood because I really enjoyed my summer, but also, I don't want to clutter the house when I've got a baby toddling around who is eager to get into everything.
Do ya hear me? I know I can't be the only one who feels this way right now.
I do love fall food, though. It's so warm and comforting. It smells of deep, rich herbs like rosemary and sage, it makes you feel bundled up from the inside out, and I think it soothes the soul when everything else outside is kind of withering away.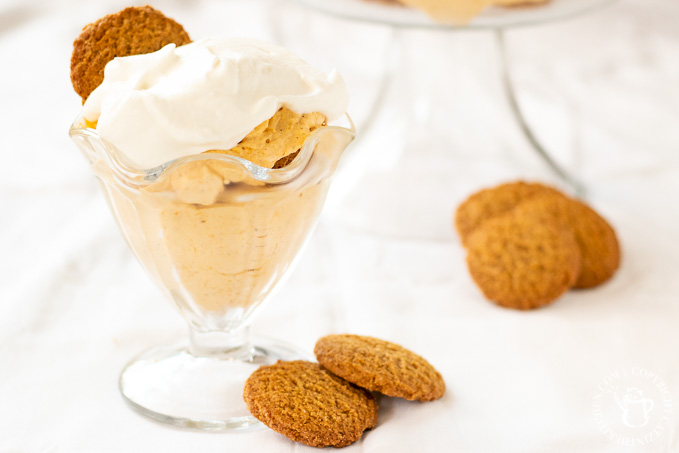 Fall does beckon me with its colors, scents, decor, and cozy clothes. It invites me to curl up on the couch with a book and the fireplace on, it tells me to slow down when everything around me is speeding up, and…it only makes since that my first "fall" recipe of the season involves pumpkin.
If you weren't aware, I'm a pumpkin fanatic (except for the PSL – I just can't drink them anymore!). We have so many pumpkin recipes on our blog that we've carefully cultivated over the years – we've trained our children to love it and look forward to using this ingredient as much as we do!
It seemed fitting to break out the first pumpkin "dessert" while we had some people over for Bible study a few weeks ago. Most of Josh's siblings join us once a week for some food, some catching up, and a little Bible fellowship (though this often goes off on theological, philosophical, or historical rabbit trails!). We just got done with Colossians after picking back up post-summer break.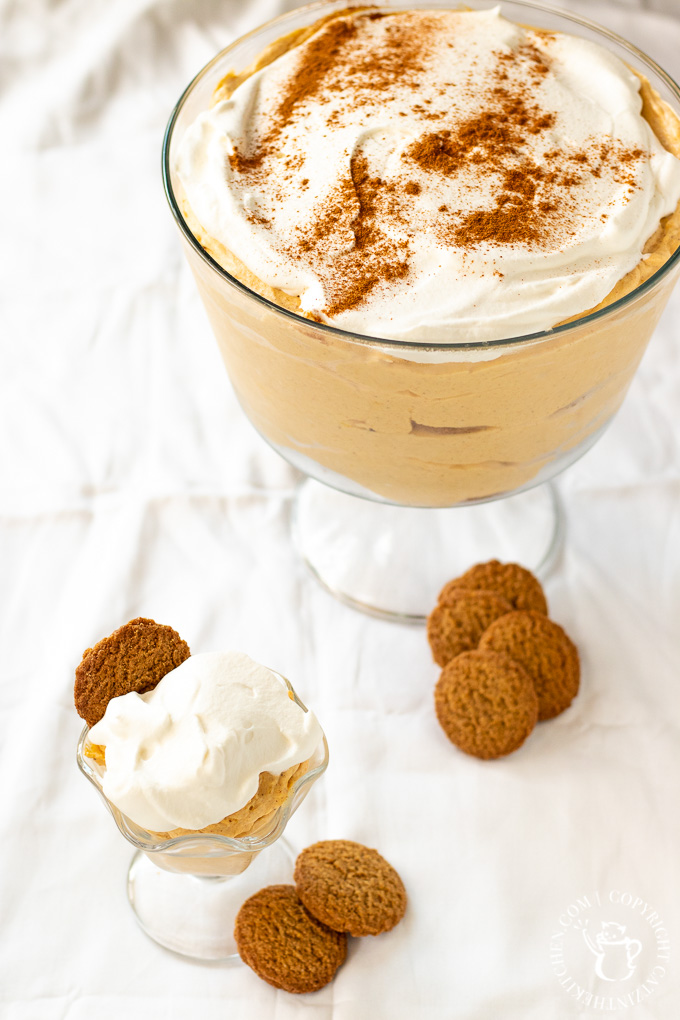 "The kids" are really great about offering to bring sides or dessert, but I thought I would surprise them all with this pumpkin pie pudding. It tastes like it sounds – like straight up pumpkin pie – which I'm always down for. I don't only enjoy pumpkin pie on Thanksgiving, you know!
You may be wondering how this can taste like pumpkin pie when there isn't a crust…to solve that little problem, I've added cookies that I've layered in-between the pudding. You could use wafer cookies, but I used gingersnaps because they felt more festive.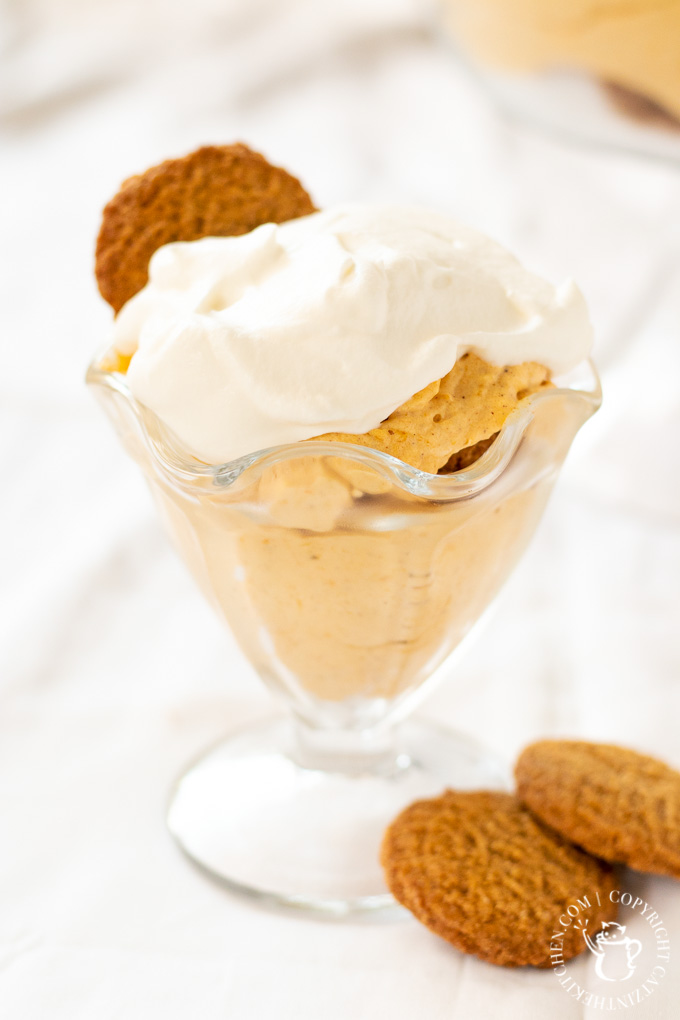 I'm just going to throw this out there right now – if you get assigned dessert for Thanksgiving – make this instead of pumpkin pie! I know it goes against all the rules of "tradition", but why not make a new tradition with a new signature dish?
And I mean, really, who doesn't like pudding?! This easy dessert is no bake – so there is no oven-monitoring. It can be made in advance, which is awesome, and it just gets better the longer it sits.
I like to serve little desserts like this in parfait/sundae dishes – I found all of mine at Goodwill over a (long) period of time and it is such a fun way to elevate a simple treat like pudding.
One more thought on these little dessert dishes – how cute would a set of six of these be for a White Elephant gift? I know that's a gift I could get behind!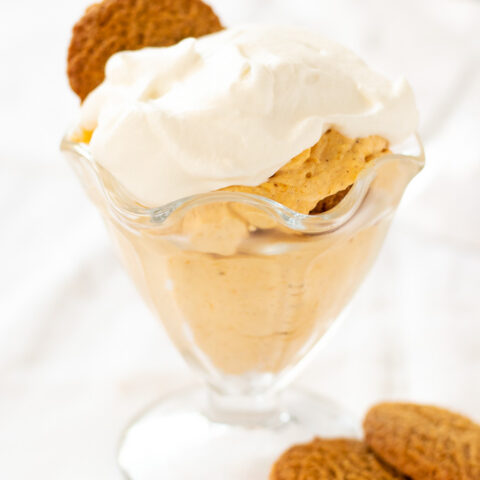 Pumpkin Pie Pudding
Total Time:
8 hours
30 minutes
Get your autumn mood on with this simple, overnight no-bake dessert! Pumpkin Pie Pudding is easy, along with being yummy looking as well as tasting!
Ingredients
1 (14 oz) can sweetened condensed milk
1 (15 oz) can pumpkin puree
1 tsp ground all spice
1 1/2 tsp pumpkin pie spice
1 (5.1) box instant vanilla pudding
3 cups heavy cream + 1 cup reserved, optional
2 (12 oz) bag/box of wafer cookies or gingersnaps
Instructions
In a medium bowl, combine sweetened condensed milk, pumpkin, and spices + 1/4 cup water. Using an electric mixer, beat everything together until smooth and thick, about 2 minutes.
In a large bowl of your stand mixer, whip 3 cups of heavy cream until stiff peaks form, and gently fold the cream into the pudding to lighten the pudding. Fold the cream until it is streak free. This takes a few minutes so be patient and don't rush it or you'll squash all of the light air you're folding into the pumpkin mixture.
In a trifle bowl, place an even layer of cooking on the bottom, then spread half of the pudding over the cookies, then add more cookies (reserving some cookies to top the trifle with or place in each person's individual bowl), then adding the rest of the pudding over the cookies. Cover and refrigerate for 4- 8 hours, overnight is best.
Before you're ready to serve, make some homemade whipped cream with the remaining one cup of heavy cream (or you could use cool whip). Spread evenly over the top pumpkin pudding layer and sprinkle lightly with ground cinnamon and garnish with leftover cookie crumbs or cookies if desired.
Nutrition Information:
Yield:

12
Serving Size:

1
Amount Per Serving:
Calories:

111
Total Fat:

8g
Saturated Fat:

5g
Trans Fat:

0g
Unsaturated Fat:

3g
Cholesterol:

24mg
Sodium:

37mg
Carbohydrates:

8g
Fiber:

1g
Sugar:

5g
Protein:

1g
Nutrition information isn't always accurate.