These adorable little potted chocolate mint puddings with cookie crumble "dirt" aren't just fun to look at – they're yummy, too! A great Earth Day treat!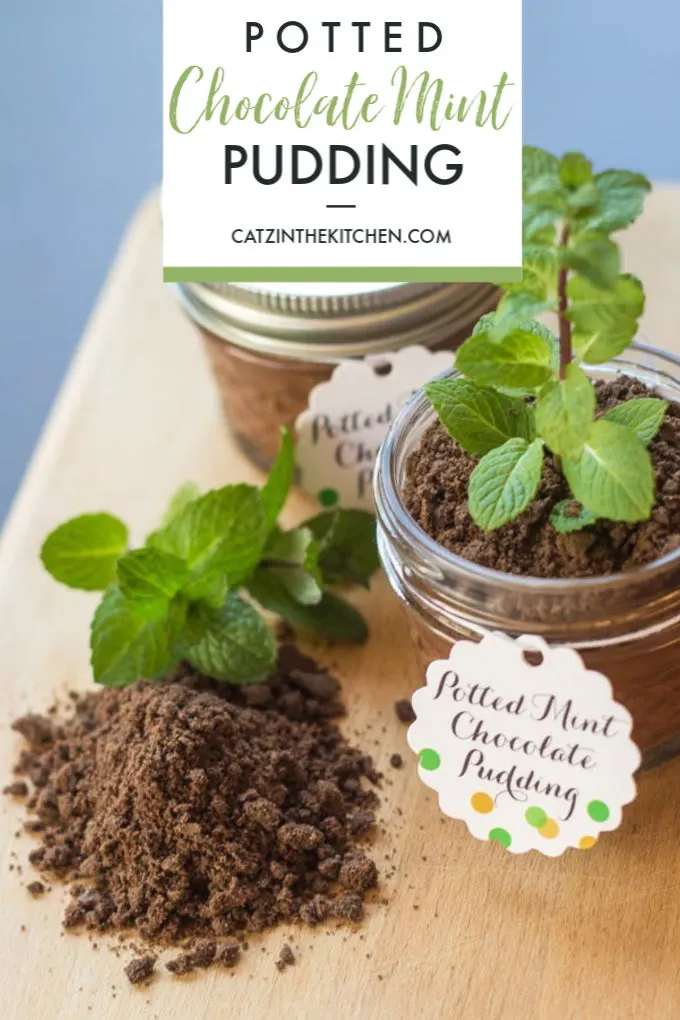 This post originally went up on the blog back on Earth Day in 2015, but without a recipe card – just an idea, and a fun way to show off these adorable little jar labels. Five years later, we're all finding ways to keep the kids entertained at home – why not get them together and "plant" some of these cute little edible treats, complete with tasty dirt? It also just so happens that Earth Day is falling on April 22 again this year! And while it may not be a good time to run out to the store to make these if you don't have some of the ingredients on hand, stock this easy one away for your next grocery order, and have a very tasty little gardening session with the littles in your home!
Hey, guys! I'm over at Evermine today sharing these super cute Earth Day potted chocolate mint puddings. This year, Earth Day lands on April 22nd, which leaves you plenty of time to host an planting / potting party and gather all of your friends around to plant herbs, seeds, and just get your hands dirty.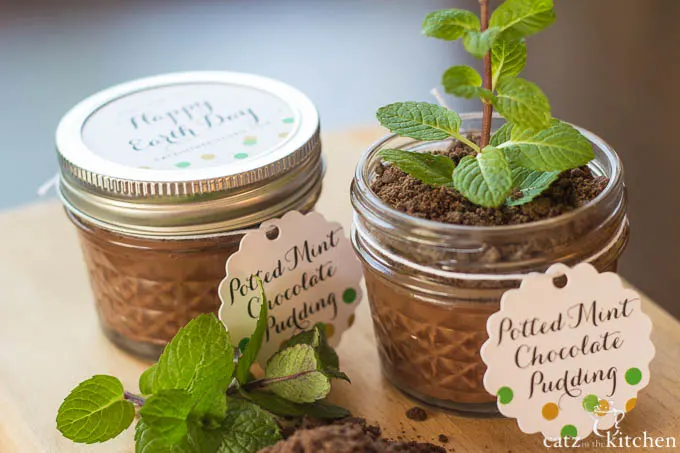 This is one of those desserts that can be made in advance, and it's such a cute way to treat all of your friends after a hard day's work. I don't have a very green thumb, though it is something I'm working on, but if I may make a suggestion…mint is one of those herbs that just can't be killed.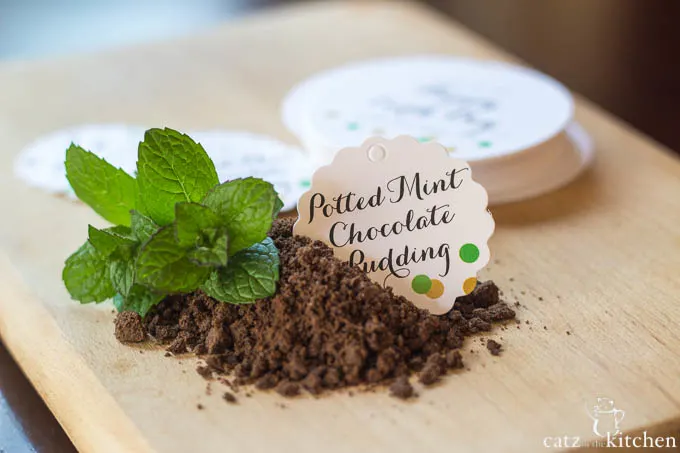 You can head on over to Evermine for the recipe and to see the rest of the photos and get inspired about what you can plant on Earth Day this year.
(Editor's Note: While Evermine did provide these labels and some compensation for the creation of these photos back in 2015, this post itself and the recipe are not sponsored by or affiliated with Evermine.)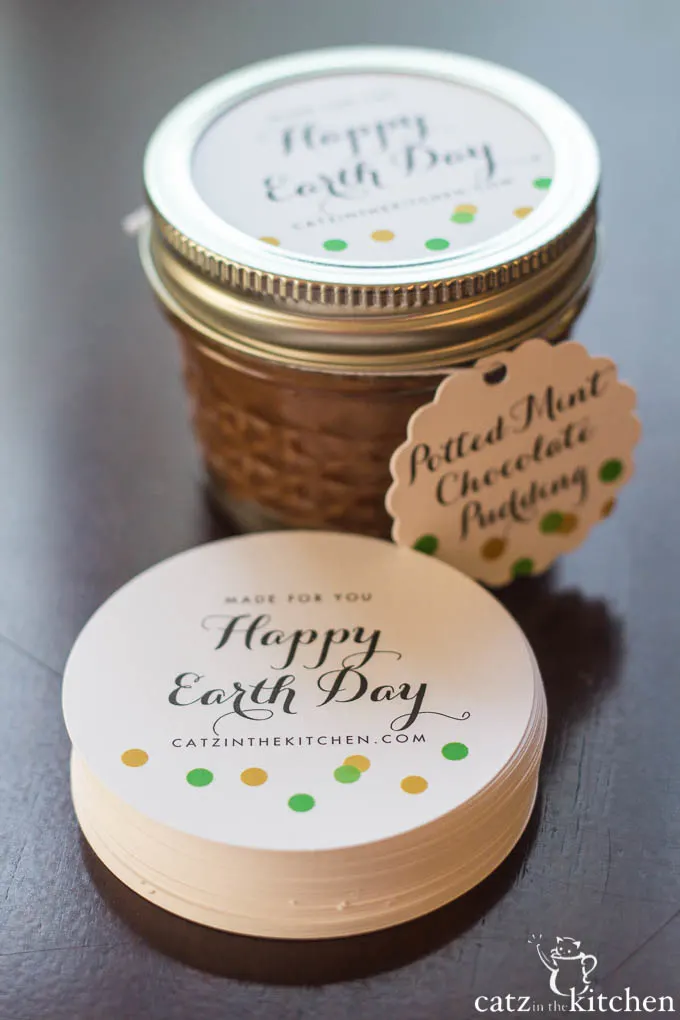 Potted Chocolate Mint Pudding
Cook Time:
1 hour
30 minutes
These adorable little potted chocolate mint puddings with cookie crumble "dirt" aren't just fun to look at - they're yummy, too! A great Earth Day treat!
Ingredients
1/4 cup sugar + 2tbsp
3 tbsp cornstarch
1 tbsp + 1 1/2 tsp unsweetened cocoa powder
1/8 tsp salt
1 1/4 cups heavy cream
1 1/4 cups whole milk
1/2 tsp pure vanilla extract
1 cup (6 ounces) semisweet chocolate chips
1/2 tsp pure mint extract
1 tbsp + 1 1/2 tsp unsalted butter, cut into small pieces
10 chocolate Oreos or other chocolate wafer
Garnish: mint sprigs
Instructions
Whisk together sugar, cornstarch, cocoa, and 1/8 teaspoon salt in a medium saucepan. Combine cream, milk, and vanilla in a liquid measuring cup.
Pour 1 cup cream mixture into sugar mixture, and whisk until cornstarch is dissolved. Add remaining cream mixture, and whisk until smooth. Bring to a boil, whisking constantly, and cook until thick, about 5 minutes. Reduce heat to low, and add chocolate. Whisk until chocolate melts, about 1 minute.
Remove from heat. Add mint extract and butter, and whisk until butter melts. Quickly divide pudding, whisking as you work to prevent sides from setting up, among eight 4-ounce glasses or glass flowerpot votive candle holders, leaving about 1/2 inch of space at the top of each. Refrigerate until set, about 1 1/2 hours.
Just before serving, pulse cookies in a food processor until finely ground. Top each pudding with 1 tablespoon ground-cookie "dirt," and garnish with a planted mint sprig. Serve chilled.

Notes
Recipe Souce: Martha Stewart
Nutrition Information:
Yield:

8
Serving Size:

1
Amount Per Serving:
Calories:

291
Total Fat:

20g
Saturated Fat:

12g
Trans Fat:

0g
Unsaturated Fat:

5g
Cholesterol:

48mg
Sodium:

139mg
Carbohydrates:

26g
Fiber:

1g
Sugar:

17g
Protein:

3g
Nutrition information isn't always accurate.