These swirled pumpkin cheesecake brownies are fun, festive, and easy to make! Not too sweet, with a subtle pumpkin flavor, let the kiddos help whip them up!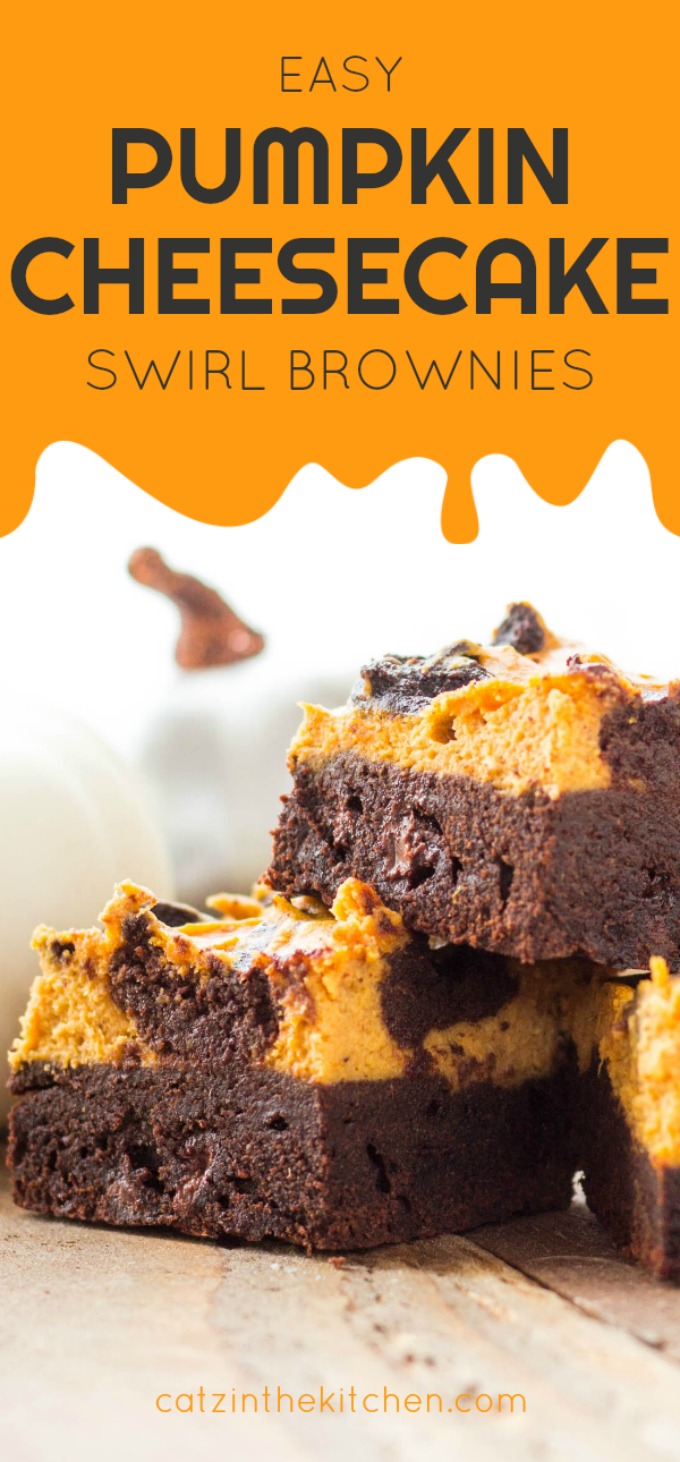 One of my motives behind starting this blog so many years ago was to get the family more involved in the cooking and planning process. In the end, that motive has paid off! Josh has come to find the kitchen to be a retreat in the evenings when he comes home tired from work. Grace has discovered her independence and I believe much of her confidence from being able to stretch her culinary wings (She has proven to not only be capable of many baking endeavors, but also making more complex, French-inspired dinners!).
You may even remember our little Cooking with Gracie series of posts from back in the day when I would bring Grace into the kitchen with me to try out various recipes from one of her cookbooks.
Of course, I want Eden and Christian to benefit from being in the kitchen, too! Which leads me to this recipe. I think every mom struggles with balancing enough time between each kid in general, but when a new baby comes into the picture (as in our case) the struggle becomes even more challenging. I find that there are simply not enough hours in the day to take each child aside and spend one on one time with each of them!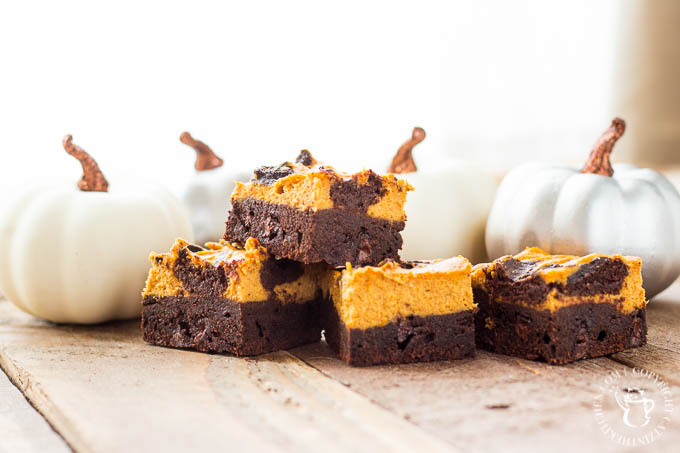 One afternoon a few weeks ago, Josh took all the kids out to run a few errands (probably to Home Depot…) and Eden and I stayed behind because I really wanted to spend some time baking with her. She really doesn't get much of an opportunity to grow in this area because Grace, Josh, and I are usually around to get all of the kitchen and cooking things done. However, I want her to feel capable in the kitchen and proud of herself and what she's accomplished. I just think it is so so important for kids to feel this way when they cook. Even when things go wrong!
Remind me to tell you the story of how Grace made funky tasting chicken enchiladas. (Hint…she used the wrong can of soup…it wasn't cream of chicken!)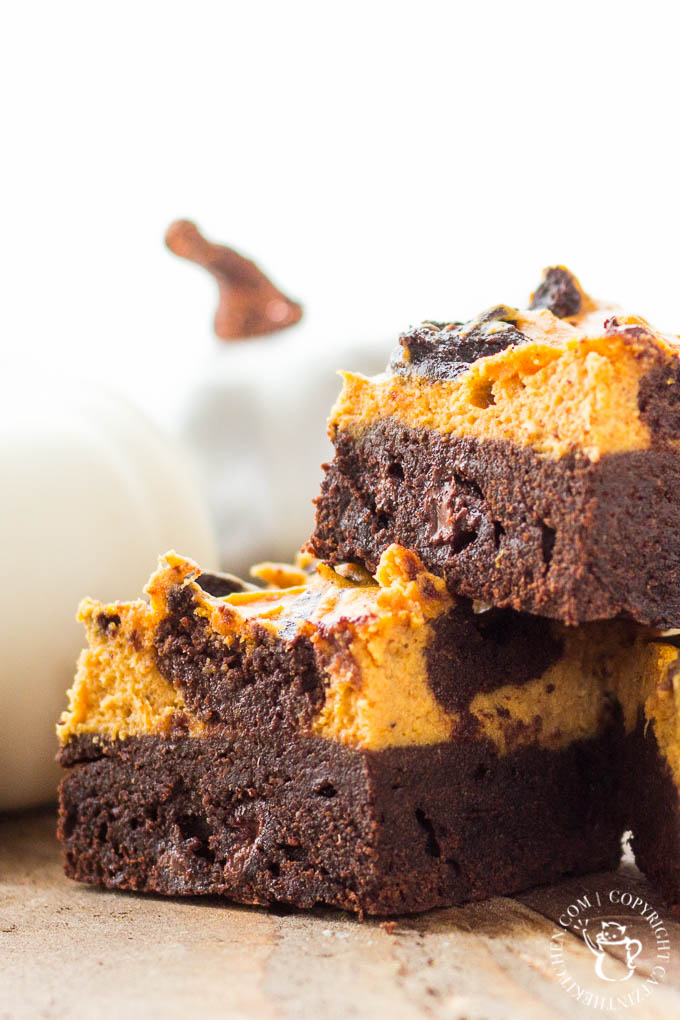 Aside from me using the electric mixer (those things are kind of crazy) and swirling the chocolate, she basically made the entire batch of these pumpkin cheesecake swirl brownies – and they were mighty delicious, too!
The brownies aren't too sweet, you can pleasantly taste the pumpkin, and best of all – they are so easy! Which easy is kind of necessary when there aren't enough hours in the day!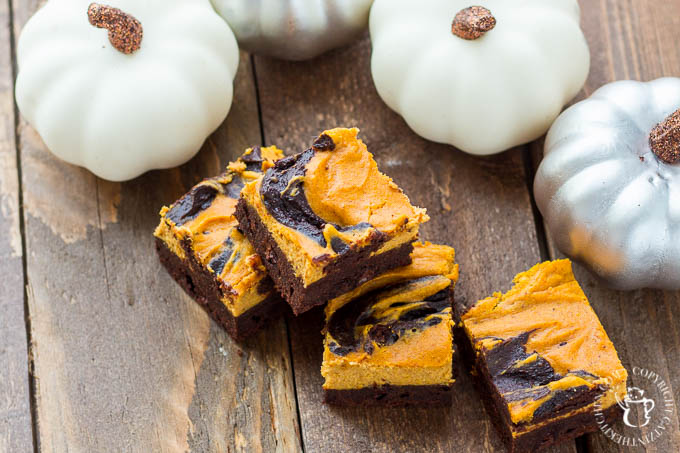 If you're looking for a recipe that is easy and simple enough to make with your kiddos by your side, I encourage you to try this one out. She and I had so much fun and I'm looking forward to doing it again – she's got her eye on a few recipes from the Halloween issue from Food Network Magazine…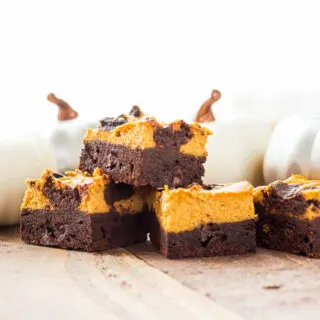 Swirled Pumpkin Cheesecake Brownies
Yield:
16 brownie squares
These swirled pumpkin cheesecake brownies are fun, festive, and easy to make! Not too sweet, with a subtle pumpkin flavor, let the kiddos help whip them up!
Ingredients
Brownie Layer
2/3 cup whole-wheat flour
1/2 cup unsweetened cocoa powder
1/2 tsp salt
1/4 tsp ground cinnamon
2 large eggs
1 cup packed light brown sugar
1/4 cup canola oil
1/4 cup canned pumpkin puree
1 tsp vanilla extract
1/2 cup bittersweet chocolate chips
Cheesecake Layer
4 oz reduced-fat cream cheese (at room temp)
1 large egg
1/2 cup canned pumpkin puree
3 tbsp light brown sugar
1 tbsp white whole-wheat flour
1/2 tsp ground cinnamon
1/4 tsp ground nutmeg
1/8 tsp ground ginger
1/4 tsp vanilla extract
Instructions
Preheat oven to 350 degrees F. Line an 8-inch square baking pan with foil, leaving a 2-inch overhang on two sides and lightly coat with cooking spray.
Prepare the brownie batter by whisking 2/3 cup flour, cocoa, salt, and 1/4 tsp cinnamon in a small bowl. Beat 2 eggs, 1 cup brown sugar, oil, 1/4 cup pumpkin and 1 tsp vanilla in a large bowl with an electric mixer on medium speed until smooth. Add the dry ingredients and beat on low speed until just blended, scraping down the sides.
Prepare the cheesecake layer by beating cream cheese (with clean beaters) with an electric mixer until smooth. Add egg, pumpkin, brown sugar, flour, cinnamon, nutmeg, ginger, and vanilla; beat until well blended.
Reserve 1/3 cup of the brownie batter for the topping. Fold chocolate chips into remaining batter and scrape into the prepared pan, making sure to spread it into the corners. Spread the cheesecake batter over the brownie layer to cover evenly. Drop the reserved brownie batter by generous teaspoonfuls over the top and draw a dull knife through the stop of the two batters to create a swirl design.
Bake until a toothpick inserted into the center comes out mostly clean, 35-45 minutes. Let cool in the pan on a wire rack. When cool, use the foil as handles to lift the brownies from the pan before cutting into squares.
Notes
Approx 186 calories per brownie square
Nutrition Information:
Yield:

16
Serving Size:

1
Amount Per Serving:
Calories:

183
Total Fat:

9g
Saturated Fat:

3g
Trans Fat:

0g
Unsaturated Fat:

5g
Cholesterol:

40mg
Sodium:

124mg
Carbohydrates:

22g
Fiber:

2g
Sugar:

14g
Protein:

4g
Nutrition information isn't always accurate.
SaveSave