This recipe is a serious melding of savory and sweet, where serrrano chiles meet Oregon raspberries! Try these Savory Black Raspberry Goat Cheese Crêpes!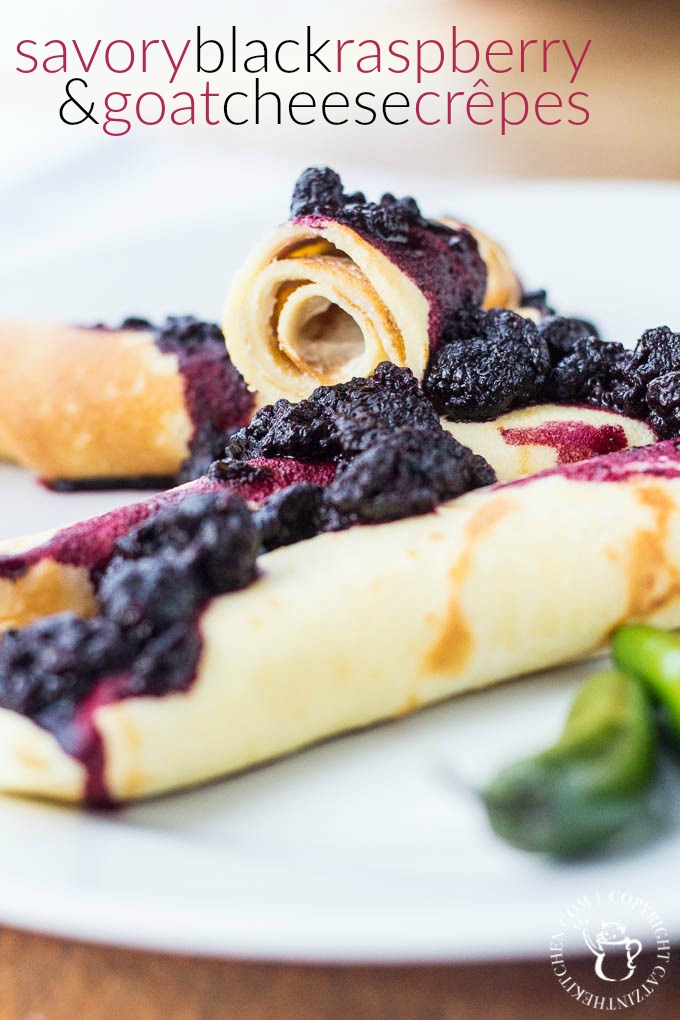 Way back in the good ole days (that would be 2013), we discovered this amazing and slightly spicy recipe for a savory blackberry sauce. At the time, of course, we were using it to douse pork chops in…and it was good for that. Like, really good for that. We were all a bit blown away by how deep and delightful the sweet and savory flavor was.
On the sweet side (we'll get to savory in a minute), you've got honey and sweet, succulent (local!) Oregon berries, be they blackberries, which we used for the pork, or black raspberries, which we are using in this recipe. We're utterly spoiled with the abundant goodness of Oregon's berry crop every year, and though we try not to take it for granted, sometimes it's hard to remember that we're pretty blessed to have easy access to such a dynamic, healthy, and natural ingredient!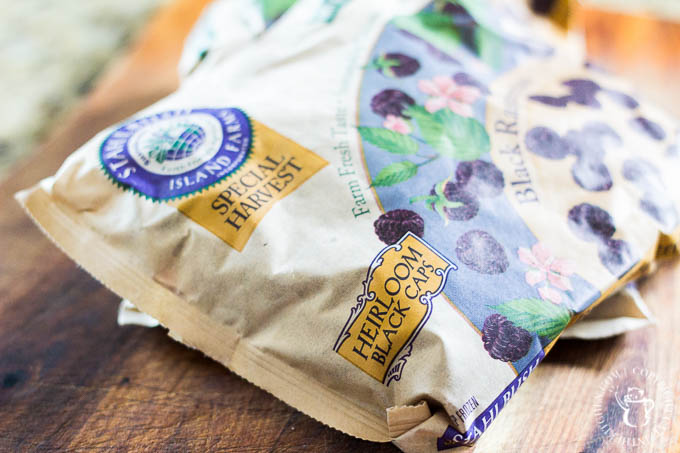 We pick them from local farms or buy them at the farmers' market when they're in season, but one great thing about berries is how well they freeze! For sauces, smoothies, and many desserts, frozen berries are perfect, making them accessible to us year round, as well as the rest of country, which has its collective hands full growing lots of other important fruits and veggies, I'm sure…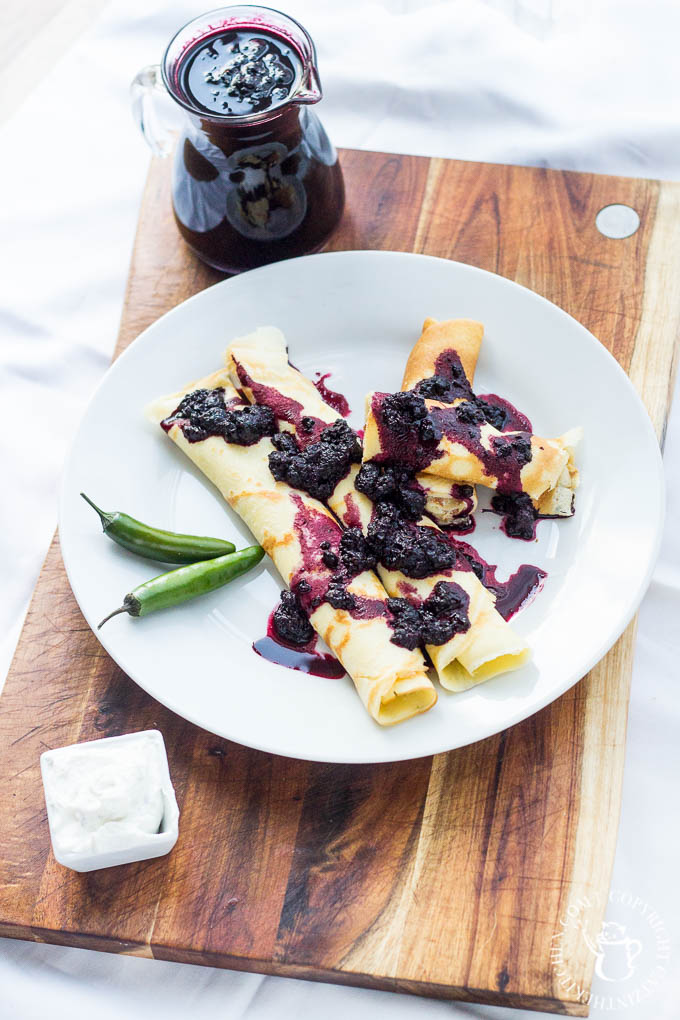 Knowing we love to cook and bake with berries, the Oregon Raspberry & Blackberry Commission has asked us to consider coming up with a new berry recipe now and again (that's where this smoothie and these empanadas came from, as you might recall). This time, we cooked up something a bit more savory – savory black raspberry goat cheese crêpes!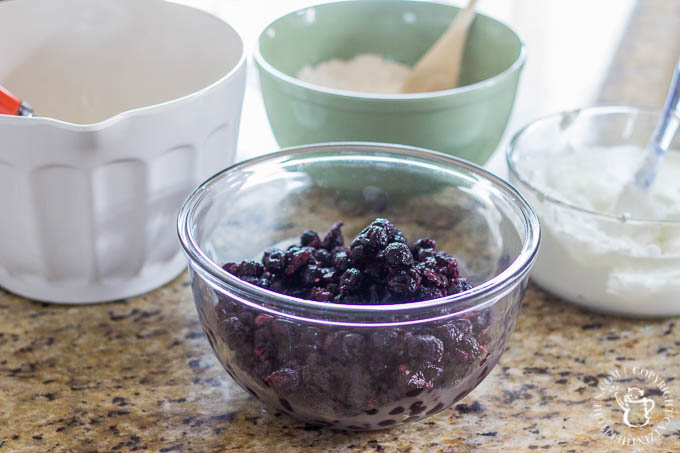 The prep is actually pretty simple for what is really quite an elegant plate. Think of it as four bowls – one for wet crêpe ingredients, one for dry crêpe ingredients, one for the filling, and one for the sauce. Keep it simple, and you're in good shape!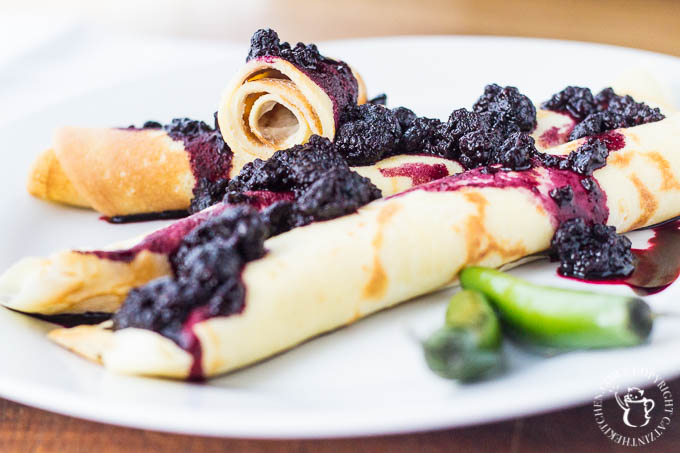 I mentioned I would get back to the savory side of this sauce. It's a tour-de-force of wonderfully flavorful ingredients working in harmony! You've got freshly grated ginger, freshly ground black peppercorns, tart lemon juice, and bold balsamic vinegar all complementing the slightly subdued heat of a serrano pepper. Combined with the sweet berries and honey, this sauce is a flavor that you'll happily let linger in your mouth…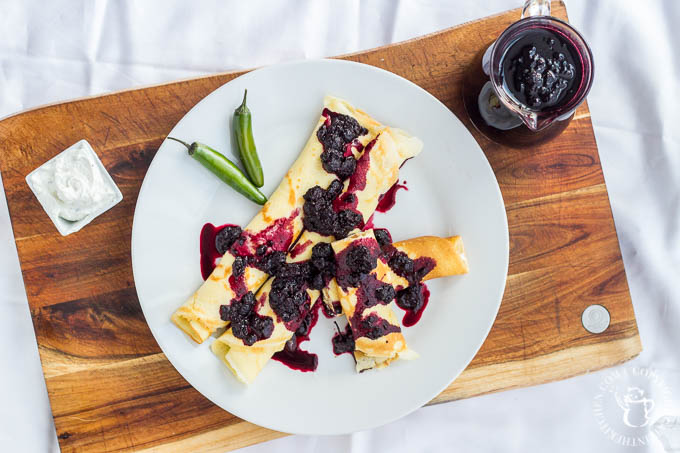 If you're worried about the heat, don't be. Serranos are a bit hotter than jalapeños, to be sure, but they're small, there's only one of them, and the seeds and really spicy bits are all removed. On top of that, the simple, creamy filling of goat, cream, and cottage cheeses cools it down even more, making the heat a pleasant background note that spices things up just the right amount. This is a recipe we feed our kids, and all three of them, including the three-year-old, down it and beg for seconds.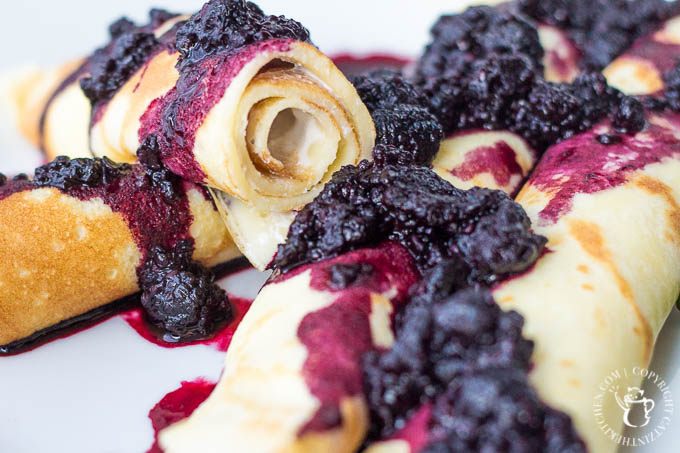 So, what are you waiting for? Do you think crêpes are only for breakfast or dessert? Think again – savory crêpes are a thing because they should be, not because they're a fad! Personally, I think we eat crêpes savory and sweet just to have an excuse to always be eating crêpes…but what do I know?
I do know this – you need some berries in your life, and this is one perfect, slightly unusual way to make that happen!
The Oregon Raspberry & Blackberry Commission provided funding to purchase the ingredients used to develop this recipe, though we were not otherwise compensated for writing the post. Of course, all thoughts, photos, opinions and the recipe itself are our own.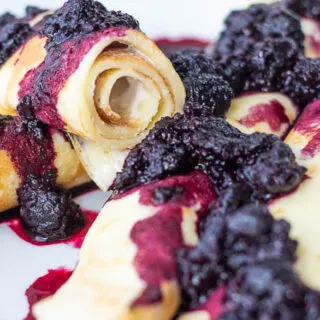 Savory Black Raspberry Goat Cheese Crêpes
This recipe is a serious melding of savory and sweet, where serrrano chiles meet Oregon raspberries! Try these Savory Black Raspberry Goat Cheese Crêpes!
Ingredients
Berry Sauce
Kosher salt
Freshly ground black pepper
2 cups frozen raspberries or blackberries (add more if sweeter flavor is desired)
1 tbsp minced fresh ginger
1 serrano chile pepper, seeds removed, minced (may reduce to half if very sensitive to heat)
1/4 cup honey
1 tbsp balsamic vinegar
1/4 cup lemon juice
Filling
8 oz goat cheese
1 cup cottage cheese
1/4 cup Greek yogurt
Freshly ground black pepper and chopped thyme to taste
Crêpes
4 tbsp melted butter
softened butter or non-stick cooking spray for crêpe pan
1/2 tsp salt
2 1/2 cup milk
1 3/4 cup flour
6 eggs
Instructions
Filling
Combine cheeses in a food processor or blender until smooth.
Add pepper and thyme to taste and stir to mix thoroughly.
Refrigerate until ready to serve.
Berry sauce
Mash berries in a medium bowl. Some chunks will remain.
Add ginger, honey, black pepper, salt, chile, vinegar, and lemon juice to the berry mixture.
Stir to combine, and add to saucepan over medium low heat. Simmer, stirring frequently, for 8-12 minutes.
Crêpes
Combine flour and salt in a medium bowl. Whisk together and set aside.
In a large bowl, add eggs and milk. Whisk together, and add dry ingredients whisked together in previous step. Add the melted butter and whisk the entire mixture together until smooth (use a blender if necessary).
Preheat the oven to 200 degrees, and place a large cookie sheet lined with wax paper inside.
Heat one or two medium crêpe pans (about 10 inches) over medium heat. Take a bunched up paper towel and dip it in the softened butter. Carefully wipe the butter around the heated crepe pan, greasing it thoroughly. (If your pans allow, you may use non-stick cooking spray instead.)
Using a 1/4 cup measuring cup, draw 1/4 cup batter from the bowl and add to the greased crêpe pan. Lift the pan from the heat and swirl it to coat the pan evenly with the batter. Allow the crêpe to cook for 30 seconds to a minute, watching the surface of the crêpe closely. When it appears to have thickened slightly, slide a rubber spatula under one edge and check to see if the crêpe is slightly browned. As soon as the slightest browning appears, remove the cookie sheet from the oven with an oven mitt, and flip the crêpe onto it directly. Replace the cookie sheet in the oven to keep the crêpes warm. Re-coat the pan with additional butter or cooking spray, and repeat for remaining crêpes. The batter should make about 15-20.
Lay a crepe out flat, and spread a tablespoon or two of the filling on it. Roll the crêpe up, ensuring that the cream spreads evenly throughout the length of the crêpe.
Top with berry sauce and serve immediately.
Nutrition Information:
Yield:

20
Serving Size:

1
Amount Per Serving:
Calories:

175
Total Fat:

8g
Saturated Fat:

5g
Trans Fat:

0g
Unsaturated Fat:

3g
Cholesterol:

76mg
Sodium:

247mg
Carbohydrates:

17g
Fiber:

2g
Sugar:

5g
Protein:

8g
Nutrition information isn't always accurate.