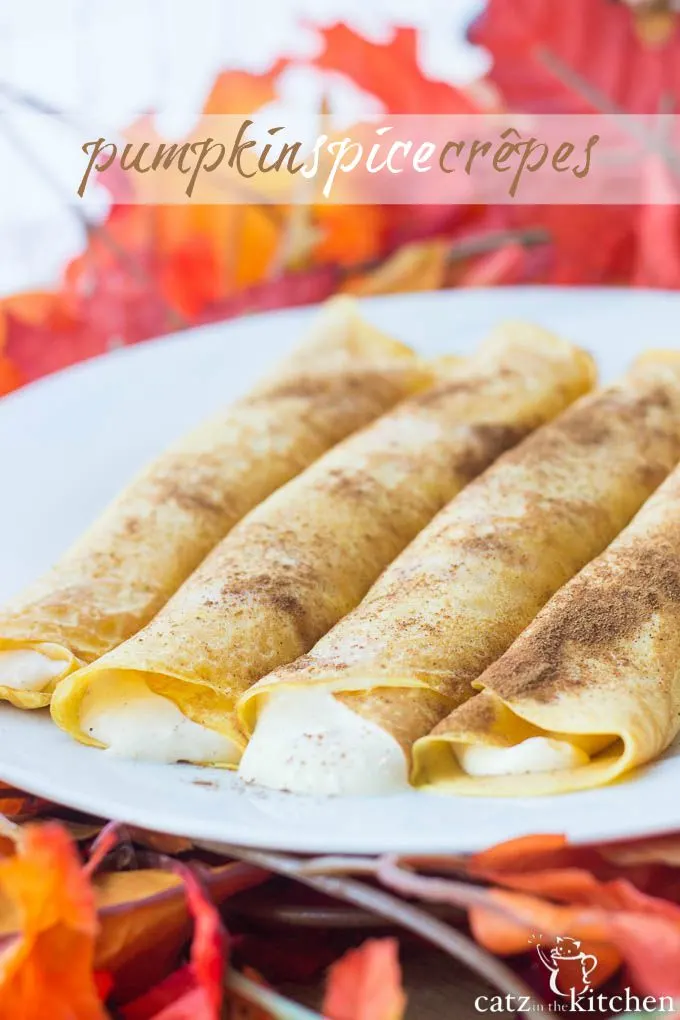 Crêpes. Or crepes, if you really just can't deal with circumflexes invading your daily life. But crêpes are French, of course, which is undoubtedly one of the many things that make them so dang scrumptious, thus the traditional spelling. But I digress. We love crêpes here at Catz. Our kids love them. They love them so much that I had to purchase a second crêpe pan just to satisfy their little crêpe cravings!
Shockingly, then, there is but a single crêpe recipe on our site. This situation must be rectified.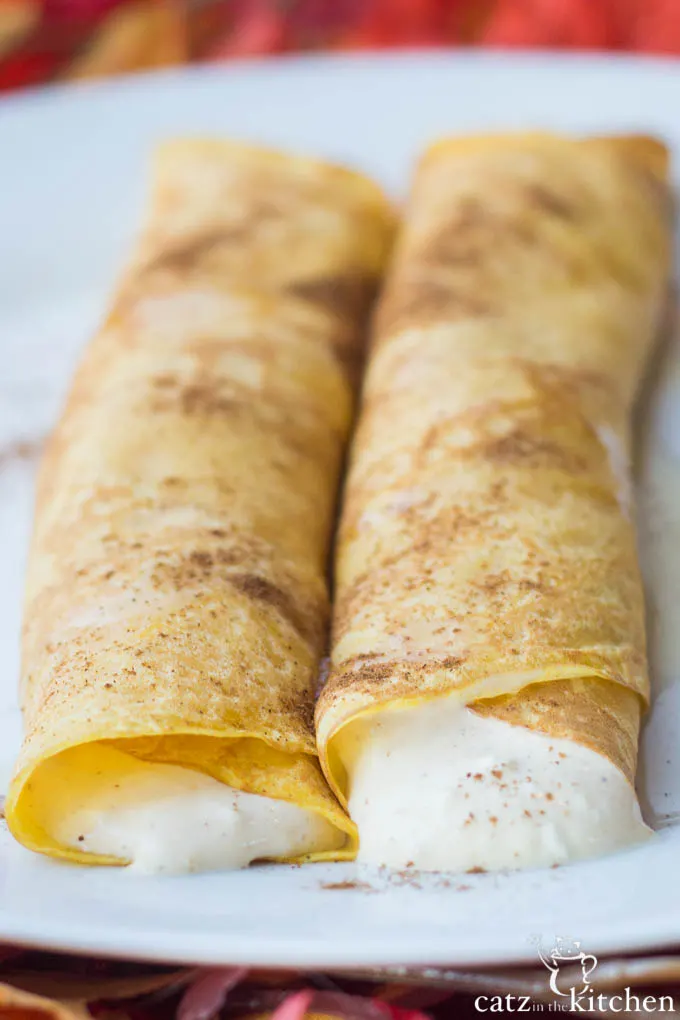 Well, I suppose that's what I'm doing now. Actually, Chels and I have designs on a number of crêpe recipes this fall, including some savory ones. We're well aware that savory crêpes are nothing new, but we haven't made any at home yet (though I did have some excellent ones at a little crêpe stand around the corner from the office), so I think the time has obviously come.
This recipe, on the other hand, is most definitely sweet, seasonal, and aimed squarely at brunch. The filling is creamy and sweet without being overpowering, thanks to the maple syrup that provides some of the sweetness and a bit of pumpkin to offset. And it was fun to make! I don't tackle the KitchenAid mixer very often, but on this particular morning, my 11-year-old daughter Gracie and I stood in the kitchen together surrounded by open containers of ingredients (pumpkin, syrup, sugar, cream, yogurt, and spices), adding a bit of this and a bit of that until we achieved the mix of flavors we sought.
Once we had the filling down, we worked together (see reference above to second crêpe pan) to make about 25 crêpes, figuring we'd have lots of leftovers and could save the rest for another day. Towards the end, Gracie was really starting to get the hang of it, swirling the batter around the pan and gently turning the crêpes out onto a waiting baking sheet. Our estimation on the leftover situation, though, was way off – when brunch was over, there were only three crêpes left! We're taking that as a good sign…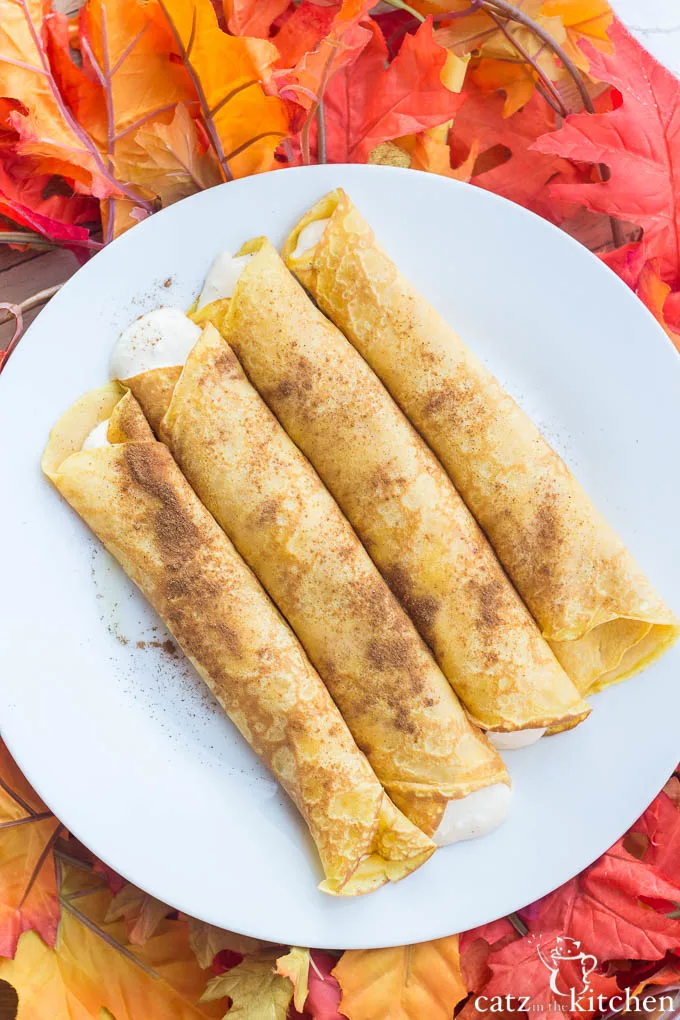 Make these yummy autumn-inspired brunch treats with one of your kids – it's a great way to get them involved in the kitchen!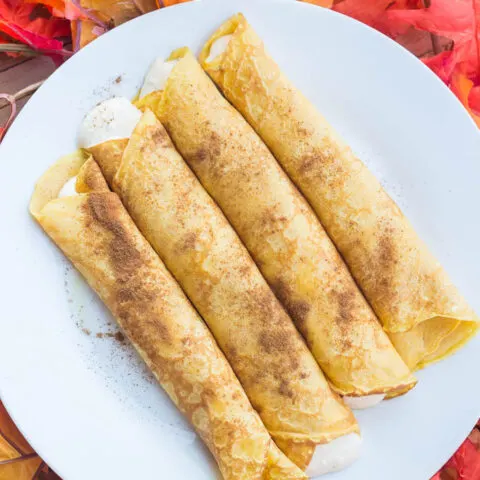 Pumpkin Spice Crêpes
Who doesn't love crêpes? Try this autumn-inspired pumpkin spice crêpe recipe for brunch this weekend!
Ingredients
Pumpkin Cream Filling
1 cup Greek yogurt
1 1/2 tbsp pumpkin
1 1/2 tbsp sugar
4 oz cream cheese
1/4 cup heavy whipping cream
1/4 cup powdered sugar
cinnamon and maple syrup to taste
Crêpes
2 tbsp melted butter
softened butter for crêpe pan
1/4 cup sugar
1/4 tsp salt
1 1/4 cup 2% milk
3/4 cup plus 2 tbsp flour (14 tbsp or 7/8 cup)
3 eggs
1/2 cup pumpkin
Instructions
Add the cream cheese, yogurt, powdered sugar, pumpkin (for filling), sugar, whipping cream, syrup, and cinnamon to a bowl and beat until smooth (use a KitchenAid mixer if available). Set aside.
Combine flour, sugar, and salt in a medium bowl. Whisk together and set aside.
In another medium bowl, add eggs and milk. Whisk together, add pumpkin (for crêpes), whisk together again, and add dry ingredients whisked together in previous step. Add the melted butter and whisk the entire mixture together until smooth.
Preheat the oven to 170 degrees, and place a large cookie sheet inside.
Heat a medium crêpe pan (about 10 inches) over medium heat. Take a bunched up paper towel and dip it in the softened butter. Carefully wipe the butter around the heated crêpe pan, greasing it thoroughly.
Using a 1/3 cup measuring cup, draw 1/3 cup batter from the bowl and add to the greased crêpe pan. Lift the pan from the heat and swirl it to coat the pan evenly with the batter. Allow the crêpe to cook for 30 seconds to a minute, watching the surface of the crêpe closely. When it appears to have thickened slightly, slide a rubber spatula under one edge and check to see if the crêpe is lightly browned. As soon as the slightest browning appears, remove the cookie sheet from the oven with an oven mitt, and flip the crêpe onto it directly. Replace the cookie sheet in the oven to keep the crêpes warm. Re-coat the pan with additional butter, and repeat for remaining crêpes. The batter should make about 12.
Lay a crêpe out flat, and spread several tablespoons of the filling on one side. Roll the crêpe up tightly, ensuring that the cream spreads evenly throughout the length of the crêpe. Serve immediately, topping with additional maple syrup and cinnamon.
Nutrition Information:
Yield:

12
Serving Size:

1
Amount Per Serving:
Calories:

169
Total Fat:

10g
Saturated Fat:

6g
Trans Fat:

0g
Unsaturated Fat:

3g
Cholesterol:

78mg
Sodium:

149mg
Carbohydrates:

14g
Fiber:

0g
Sugar:

12g
Protein:

6g
Nutrition information isn't always accurate.