This Lemon and Pea Alfredo is an Italian summer pasta dream come true! Bright, fresh, nutty, creamy, and tangy, it's flavor-forward in the best possible way.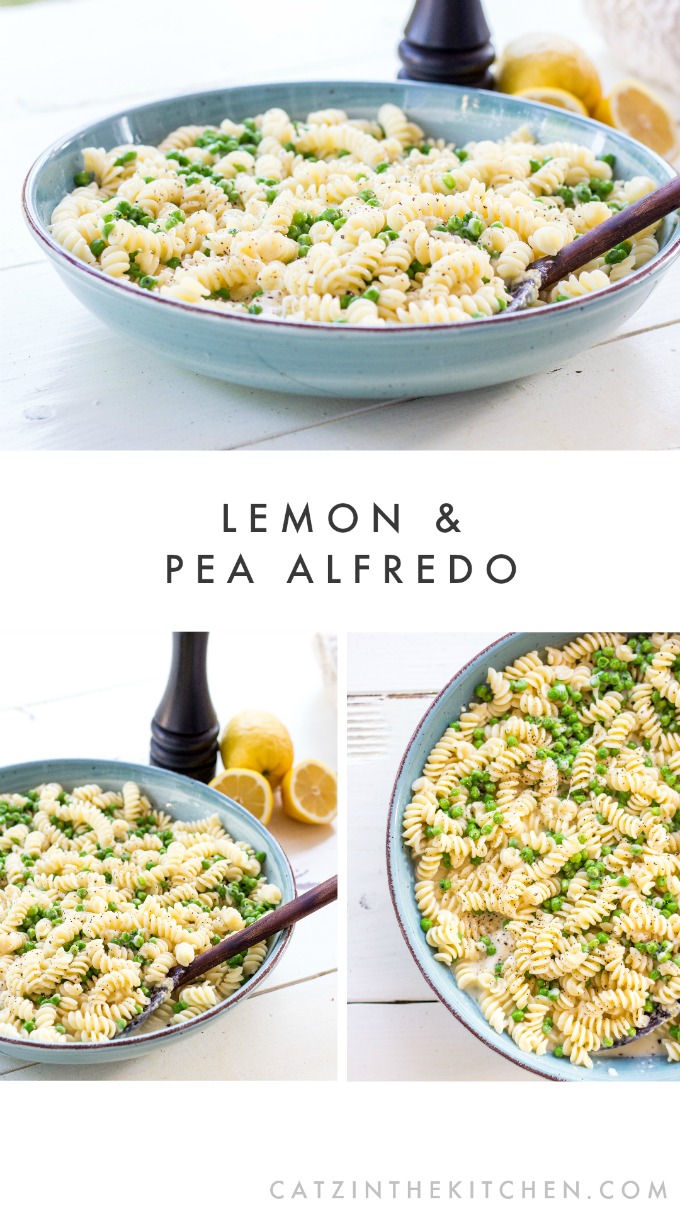 You probably know by now that on Mondays I try to serve meals that are meatless (vegetarian…ish). Now, oftentimes that can mean I'm getting our protein in some other way, perhaps by using beans or some sort of fish.
And sometimes it just means we eat pasta.
Now, I love me some pasta A LOT! But I've scaled back on how often I actually serve pasta in our home, simply because I'm trying to limit the amount of carbs we're eating at dinnertime. We're not on any kind of diet and we don't have any food allergies preventing us from eating some of our favorite foods. But I hope by limiting foods that are bread or pasta heavy, our general diet will be healthier!
That doesn't mean we don't eat pasta, though, because we do, and it always feels like a treat. In the summer months, I serve pasta a little less. I think it's because when it's hot out, you don't (or I don't) want to feel weighed down by anything heavy.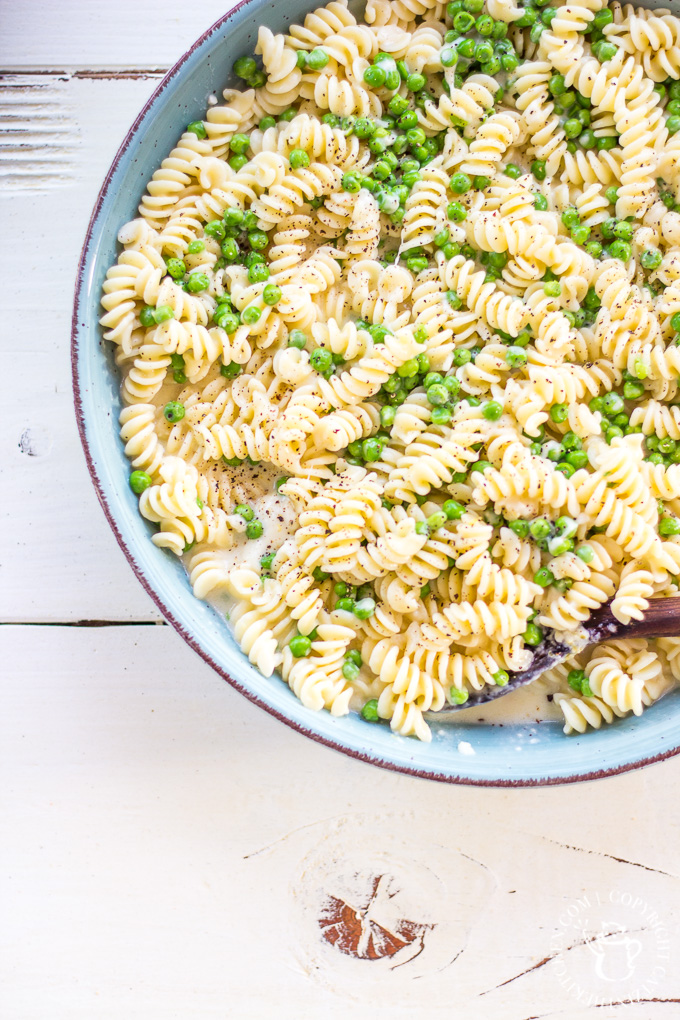 But there is an exception to almost every rule! If you want pasta during the summer, choose bright and fresh flavors that are creamy, but light. Solution: this Lemon and Pea Alfredo.
I first came across this recipe in Giada's Italy, by none other than Giada De Laurentiis. First, let's all pronounce her name correctly – it's Jaw-dah. Not Gee-awda. In our family we are big fans of The Next Food Network Star and it drives me nuts when the contestants pronounce her name wrong. I sometimes wonder if they've ever watched any of her shows, let alone the network. I know. I shouldn't judge. We all mispronounce things. But…really?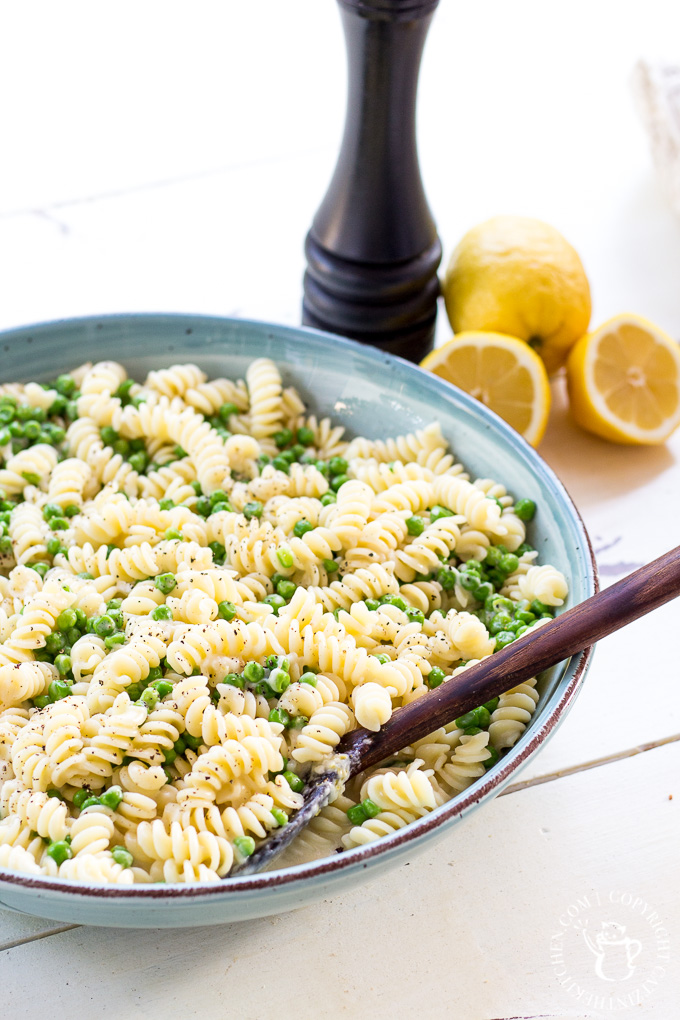 Giada's newest cookbook is so pretty and I think inspired not only by her newest Food Network show, also called Giada's Italy, but by her roots, as most of her cooking is Italian-based with a little California flair. This cookbook feels more Italian than Californian and I can appreciate that – I have yet to go to Italy and I don't think I'll be going anytime soon since I still have some little people at home. So, basically, I can bring a little bit of Italy (see what I did there?) into my kitchen.
Enter this Lemon and Pea Alfredo. Let's just talk about the alfredo sauce for a moment. It's not from a jar. It's homemade and it is simple. We're talking sharp and nutty parmigiano-reggiano (which is richer and more flavorful than regular parmesan) and tangy, creamy mascarpone cheese…which happens to be one of my faves because you can use it in so many ways.
(Catz tip: both of these cheeses can be on the spendy side in a regular grocery store. If you've got a Trader Joe's near you, you'll pay less without sacrificing quality.)
Then to the sauce you're adding fresh lemon juice and zest which gives the cheeses that pop of flavor and brightness, while the green peas add that pop of texture and color to plate and palate. The original recipe calls for pink peppercorns, which I don't keep in my pantry, and therefore did not buy, so I just used good old freshly ground black pepper – because we've all got pepper in our kitchens!
I like to keep it simple, ya know?!
We all did a little taste test before we sat down for dinner and were all freaking out over how good this pasta was. I think this will be my new favorite summer pasta!
About this cookbook. I think there are a lot of things about it that appeal to me. A lot, if not most, of the recipes are ones I would make for my family. The others are ones I would make specifically for Josh and I if we were to just make dinner for us or if we were having people over. Some of the ingredients for those recipes are a bit spicy or involve a lot of different kinds of fish – which is very Italian, from my perspective!
The pictures in this book are gorgeous and make me want to hop on a plane this moment and go experience this Italian life for a week. However, there is not a picture for every recipe which is always a bummer for me. I'm a very visual person and I like to see what the end product looks like. But, I expected this going in, as all of Giada's other cookbooks are the same way.
Other recipes I want to make:
Mezzi Rigatoni with Butternut Squash and Spicy Sausage
Hazelnut Chicken
Olive Oil and Honey Panna Cotta
Peach and Almond Crostata
And I did make one other recipe from this cookbook – wait for it – a Black and White Brownie Ice Cream Cake, which is to die for!!! Seriously one of those cakes that you could bust out all year long with its deep, intense flavors.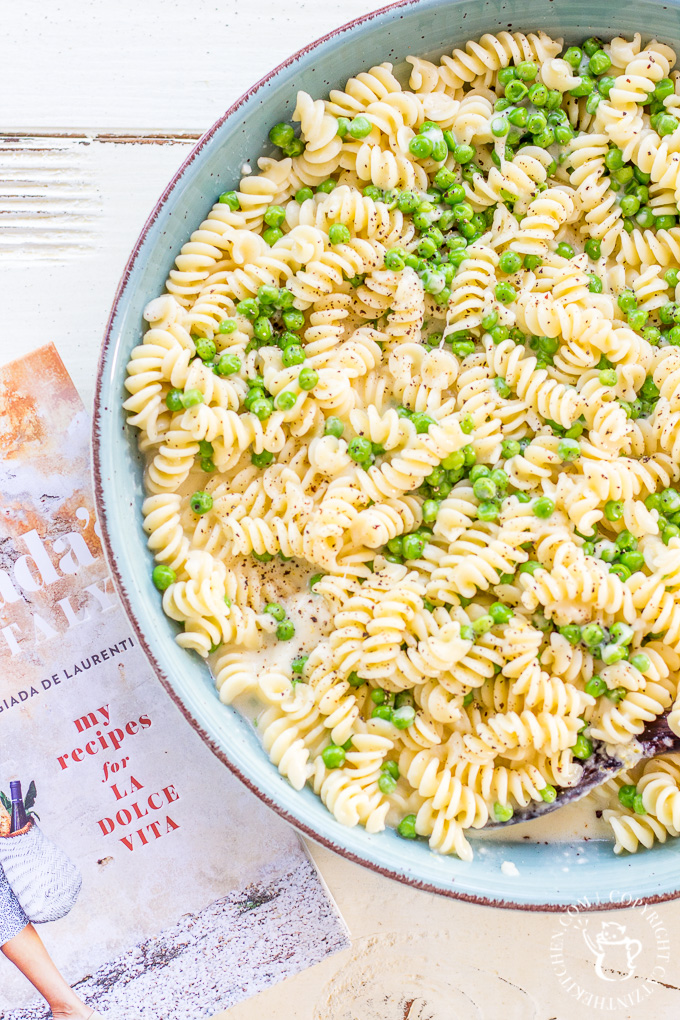 You can purchase the cookbook through Amazon here
If you're wanting to add more Italian recipes to your repertoire in your effort to live la dolce vita, or just have a mix of recipes that center around Italian cooking for your family or your significant other and/or entertaining, I would recommend this cookbook. It's beautiful, it's got classic recipes with tons of flavor and it's just special.
Lemon and Pea Alfredo
This Lemon and Pea Alfredo is an Italian summer pasta dream come true! Bright, fresh, nutty, creamy, and tangy, it's flavor-forward in the best possible way.
Ingredients
Kosher Salt
1 pound Fusilli pasta
3 tbsp unsalted butter
1 clove garlic, minced
2 1/2 cups grated Parmigiano-Reggiano, plus more for serving
1 cup mascarpone cheese, at room temp.
2 tsp grated lemon zest
1 1/2 cups frozen peas, thawed
1 tbsp freshly squeezed lemon juice
Freshly ground black pepper (or 1 tsp ground pink peppercorns)
Instructions
Bring a large pot of salted water to boil over medium-high heat. Add the pasta and cook just until tender, about 10-11 minutes.
When the pasta is cooking in the boiling water, add the butter to a high-sided skillet or pot. When the butter has melted, add the garlic and cook, stirring often until soft and aromatic - don't burn the garlic or it will taste bitter. Add 1/2 cup of water from the pasta pot and reduce the heat to low.
When the pasta is ready, don't drain the pasta. Using a slotted spoon transfer the pasta to the pan with the garlic sauce and reserve the cooking water. Raise the heat to medium and add 1 1/2 cups of the Parmigiano-Reggiano onto the plain pasta. Stir with two wooden spoons to toss and combine. Add the mascarpone cheese, lemon zest, and 3/4 tsp salt, tossing to coat - add additional pasta water to thin the sauce and continue cooking the pasta. Add the peas, lemon juice and remaining 1 cup of Parmigiano-Reggiano and toss well to combine. Keep adding pasta water to thin the sauce to your desired consistency; you will probably use around 1 1/2 cups water total. Sprinkle with black pepper or ground pink peppercorns and add additional Parmigiano-Reggiano, if desired. Serve immediately.
Nutrition Information:
Yield:

6
Serving Size:

1
Amount Per Serving:
Calories:

737
Total Fat:

53g
Saturated Fat:

31g
Trans Fat:

1g
Unsaturated Fat:

16g
Cholesterol:

153mg
Sodium:

1204mg
Carbohydrates:

44g
Fiber:

4g
Sugar:

4g
Protein:

23g