This chicken and broccoli Alfredo casserole is a recipe that lives in winter but beckons spring. Read along and I'll tell you why…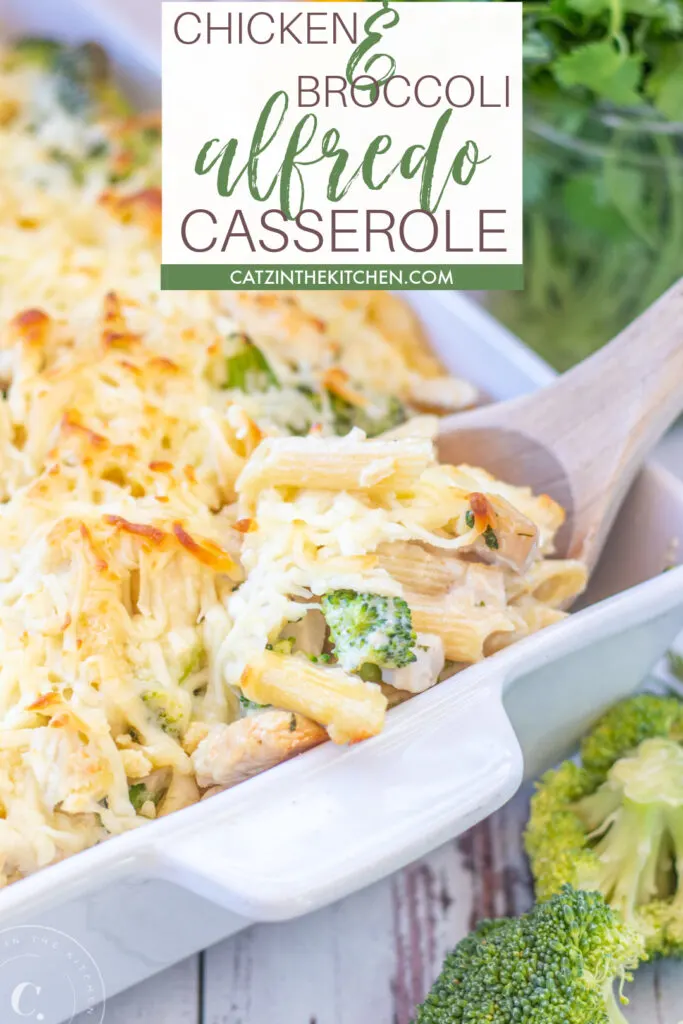 It's February and I'm missing spring. Every year about this time I begin feeling like this. I'm missing the sun. I'm craving warmer breezes. I need to taste little hints of spring in my food. The reality is, though, that it is still winter, and here in the PNW, winter looks like grey skies with either rain showers or just really cold temperatures. The fireplace is always on and I'm living in leggings. Oh, you, too? I knew that we were destined to be friends! 😆
Fall and winter, in my opinion, is very much casserole season. It's a big deep baking dish full of cheesy, comfort-y goodness, and this chicken & broccoli Alfredo casserole is a bit of both seasons. Winter, with pasta, cheese, and being baked to perfection. But also spring, with fresh herbs, bright lemon juice, and zest.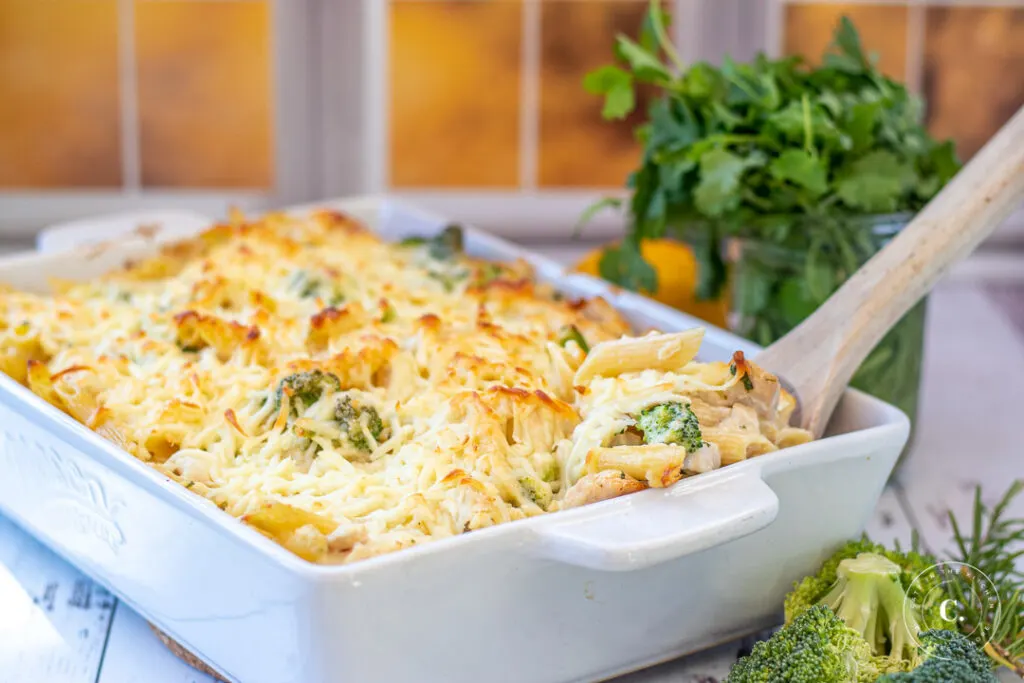 Sounds good, right?
However, this is a true winter dish despite the beckoning flavors, and I'll explain why. During the cold winter months, I like to linger in the kitchen in a different way than I do in spring. I spend a lot time at the stove blending flavors to make rich aromas and mouthwatering bites.
This meal is no exception. You begin by poaching chicken in an aromatic bath of garlic, chicken broth, lemon infusions, rosemary, and bay leaves. You are literally blasting an explosion of flavor into this chicken. And that process takes some time. I have always pictured this meal to be the perfect relaxing weekend meal – this is not a dinner you want to try and throw together on a weeknight when one child has ballet lessons, one kid needs to be at a sports tournament, and the baby has found their way into the bathroom and is unwinding the toilet paper roll…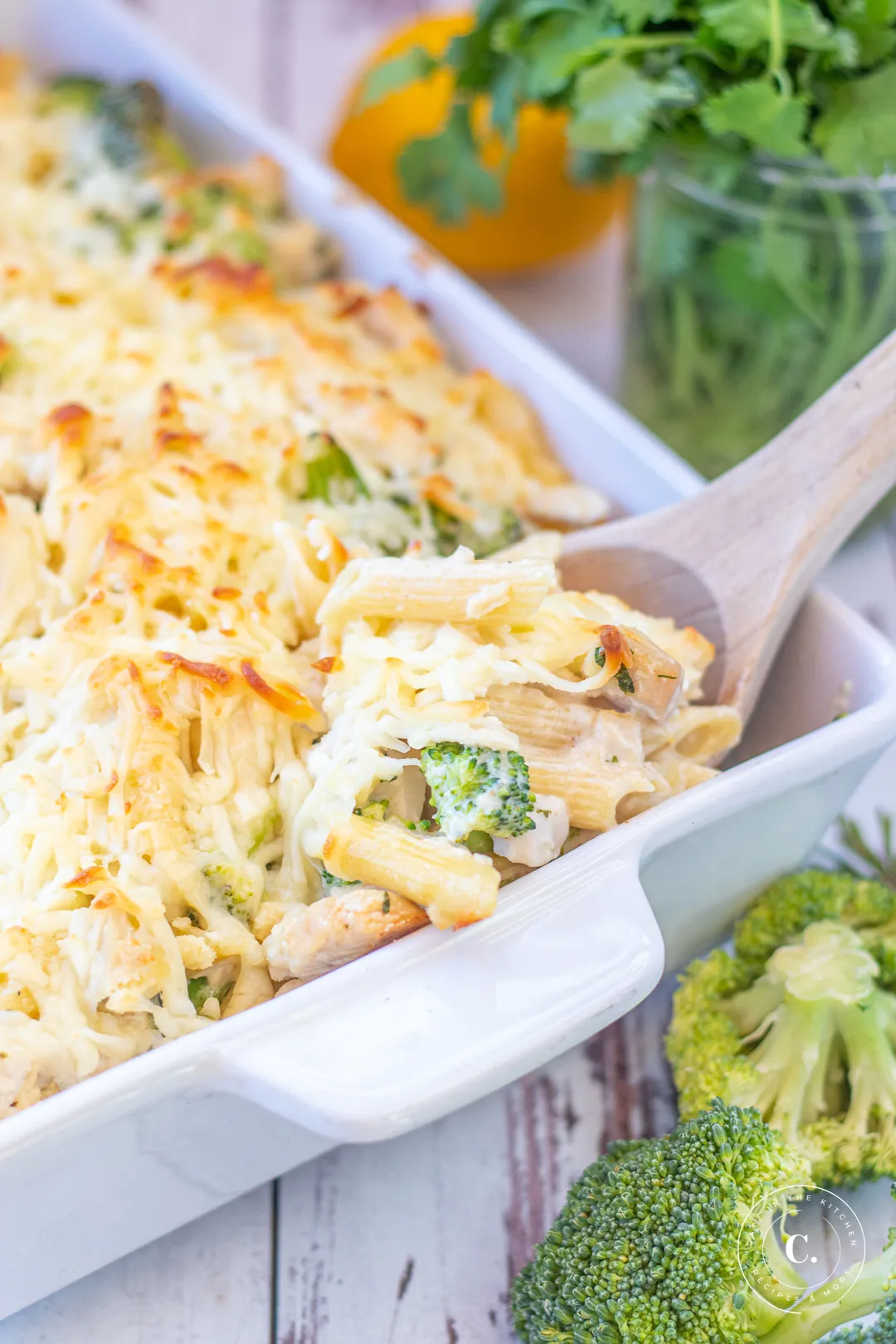 I get these images of what I think things should look like in my mind (it drives Josh nuts…), but in my head, while I'm making this dinner, it's lightly raining, the kids are playing quietly, and I have Ella Fitzgerald or Sinatra streaming from one of my smart devices while I stand in my kitchen with a cute apron on, a glass of white wine in one hand and a wooden spoon in the other, staring garlic around.
I bet you can't possibly see why this would drive Josh nuts. Seems pretty idyllic to me. (Editor's note: I love the picture. It's the predictable disappointment when life is less idyllic than fiction that gets me going.)
Unrealistic or not, I want us both to have some sort of a honeymoon cooking experience in the kitchen in the dead of winter. So here is what you need to do. First, make sure you have all the ingredients – there is nothing expensive or complicated in this recipe. Next, please read through all of the steps because I love to skip this step almost every time. I read through the first line and I'm like, "looks good! Next." Don't be like me. Read the steps. Then give yourself plenty of margin to cook so that your evening is not stressed with a hungry family. While I do try to give really honest time estimates, the reality is that we all cook at different speeds, especially if we get interrupted a few times, by kids, the phone, or maybe the dog who needs to go outside. Lastly, and this one might be the most important – be flexible and give yourself grace. Maybe this time in the kitchen is where you need to be. Maybe you're hoping to just be left alone to let your mind wander or listen to that podcast for which you've been waiting to have a free minute. Perhaps let your spouse know that you need the time in the kitchen for yourself so you guys can work together to make this time therapeutic for you.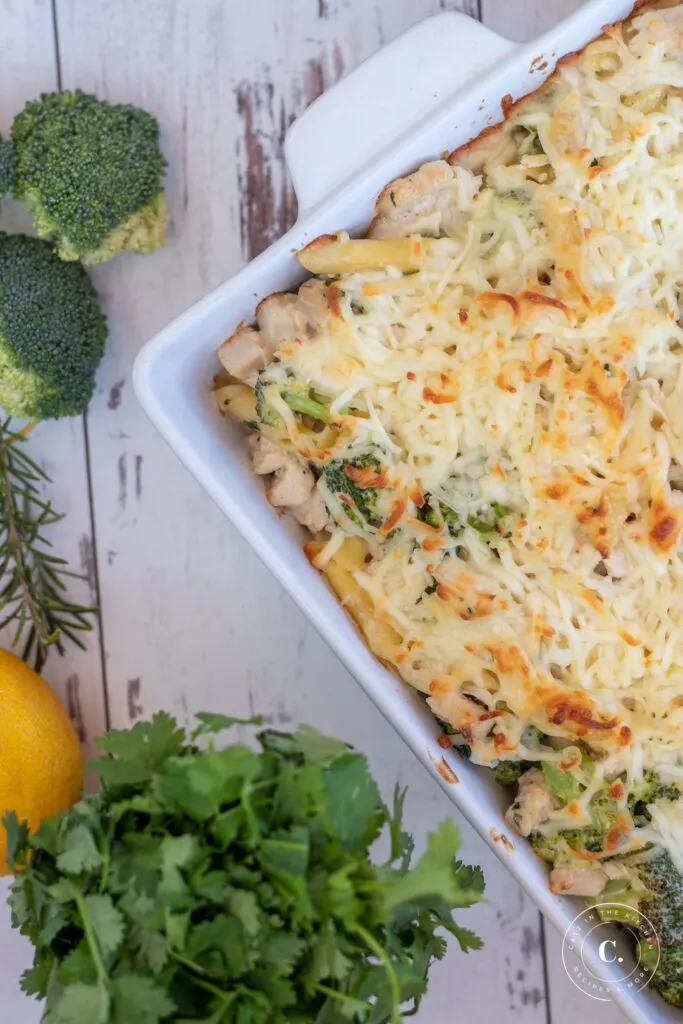 Cooking is a form of therapy. I cannot tell you how many times Josh and I have wandered into the kitchen to prepare a meal and it has given us the reset we needed, or given us a chance to process some news, or even cry. (Editor's note: I don't know who was crying, but it wasn't me.)
Food is healing. I find the preparation of this meal to have that kind of therapeutic, healing substantive time. Whether you're cooking this meal or some other meal and you need a moment, an hour to just simply be…make sure that you are sharing that with your spouse so they can support you and back you up.
And then, invite everyone to the table and be with your people. Listen to everyone share about their day. If your family does read alouds, maybe read at the dinner table when everyone has nearly cleaned their plate. Share a prayer request. Maybe ask for forgiveness if you lost your cool with your kids or your spouse. The table is where we can all come and be with our people and be ourselves.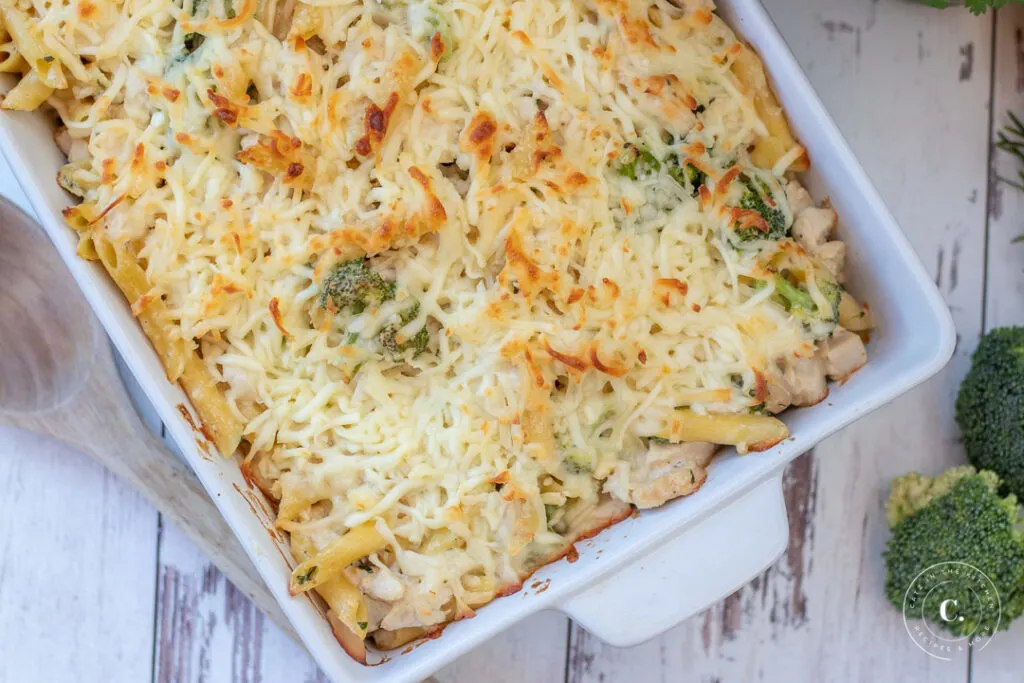 Yes, food is healing, but so is sitting around the table with the people who you love most, sharing a meal.
With those thoughts, I leave you with this recipe to enjoy one weekend with your people.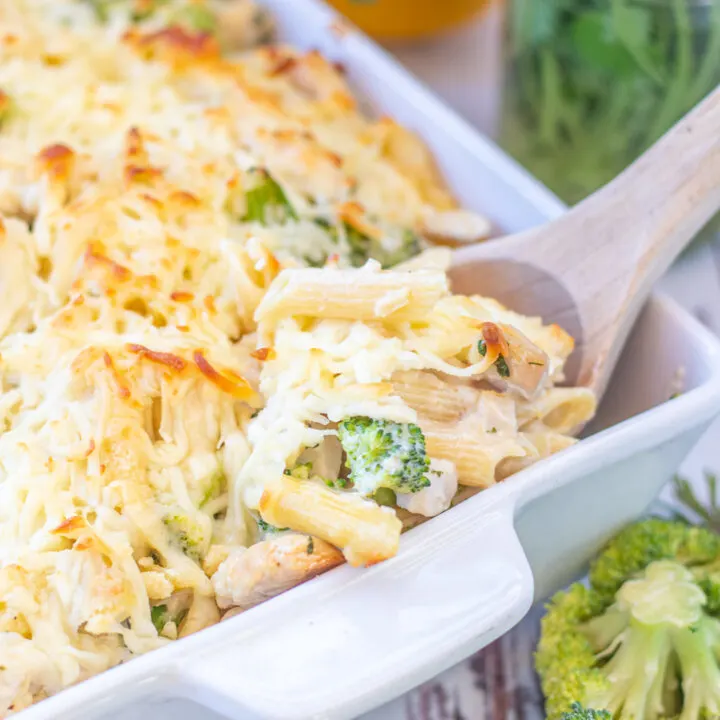 Chicken & Broccoli Alfredo Casserole
Total Time:
1 hour
10 minutes
This chicken and broccoli Alfredo casserole is a recipe that lives in winter but beckons spring. Read along and I'll tell you why...
Ingredients
4 tbsp unsalted butter, plus more for the baking dish
Kosher salt
1 1/2 lbs skinless, boneless chicken thighs, cut into large chunks
2 1/2 cups chicken broth
6 cloves garlic (4 crushed, 2 chopped)
1 lemon zested + 1 tbsp lemon juice
2 sprigs rosemary
2 bay leaves
1 pound penne pasta
6 cups small broccoli florets (about 1 pound)
4 tbsp all-purpose flour
2 cups heavy cream
Freshly ground pepper
1 1/4 cups grated parmesan cheese
1/4 cup chopped fresh parsley
2 cups shredded mozzarella cheese
Instructions
Preheat oven to 400 degrees. Butter a 9x13 baking dish (11x14 baking dish would be preferable). Bring a large pot of salted water to a boil.
Put the chicken in a dutch oven or other pot, then add chicken broth, crushed garlic, lemon zest, rosemary sprigs, and bay leaves. Partially cover and bring to a simmer over medium-low heat. Cook partially covered, until the chicken is tender 20-22 minutes. Strain through a fine-mesh sieve (you should have 2 cups of liquid - add water to make 2 cups if you don't though). When the chicken is cool enought to handle, tear or shred into small pieces. Wipe the dutch oven clean.
Add the pasta to the boiling water and cook until just al dente, addting the broccoli during the last two minutes of cooking. Drain the pasta and broccoli in a colander and rinse with cold water to stop the cooking process. Let drain in the colander while you make the sauce
Melt the butter in the dutch oven over medium heat. Add the chopped garlic and cook until sizzling, about 30 secs. Sprinkle in the flour and stir to make a paste; cook until the flour is no longer raw, 1-2 minutes. Whisk in the reserved chicken broth and the heavy cream; season with 1 tsp salt and a few grinds of pepper. Return to a simmer, whisking to make a smooth sauce. Cook over low heat until thickened 3-4 minutes.
Remove the pot from the heat. Stir in 1 cup of parmesan cheese, parsley, and lemon juice. Add the chicken, pasta, and broccoli and stir to coat. Transfer to the baking dish and sprinkle with the remaining 1/4 cup of parmesan cheese and the mozzarella cheese. Bake until the top is golden and the edges are bubbly, about 25 minutes. Allow to rest for 5 minjutes before serving.
Notes
Recipe Source: Food Network Magazine 2021
Nutrition Information:
Yield:

10
Serving Size:

1
Amount Per Serving:
Calories:

544
Total Fat:

35g
Saturated Fat:

20g
Trans Fat:

1g
Unsaturated Fat:

13g
Cholesterol:

172mg
Sodium:

780mg
Carbohydrates:

29g
Fiber:

4g
Sugar:

4g
Protein:

31g
Nutrition information isn't always accurate.