This simple recipe for Overnight Monte Cristo Breakfast Casserole is the perfect choice for an easy holiday breakfast or brunch!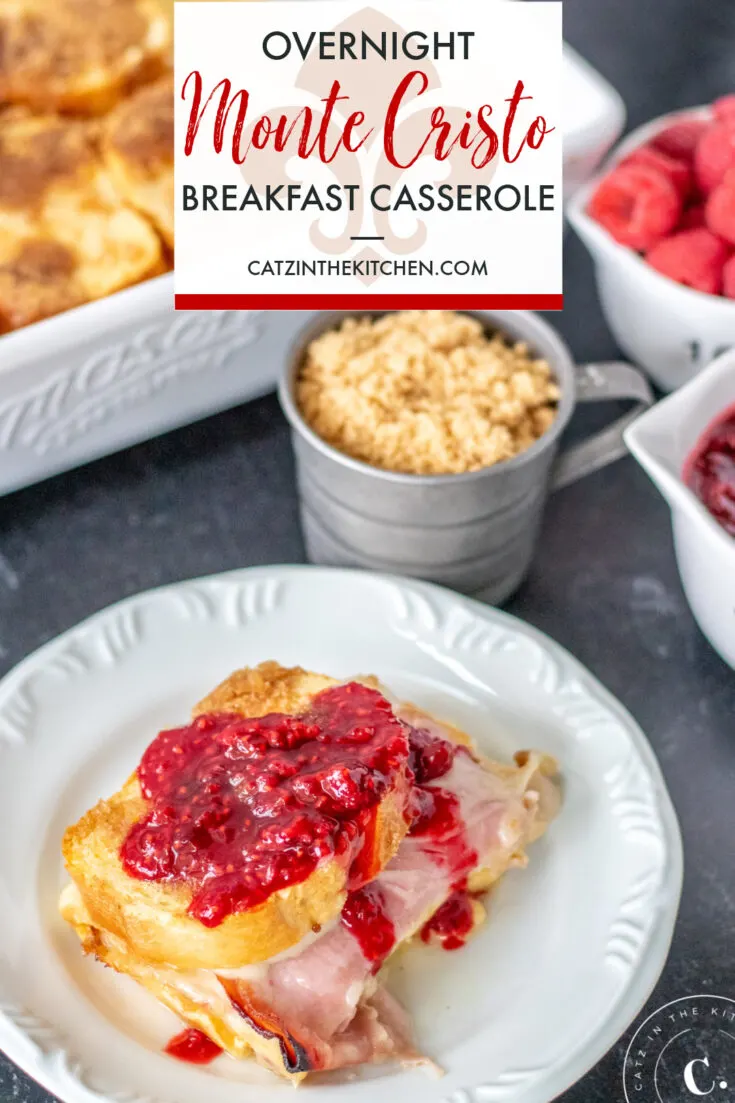 I've made no secret of the fact that I'm a big fan of the Monte Cristo sandwich. In fact, we have a couple of (non-traditional) Monte Cristos on the blog already – the Monte Cristo Club, and the Apple Bacon Cheddar Monte Cristo (yum!). When it comes down to it, though, I think our entire family's favorite Monte Cristo (and related Monte Cristo memory) is the one you can order at the Cafe Orleans (or the Blue Bayou) inside Disneyland. It's a huge sandwich (or at least it was the last time we were there in 2017), and definitely one we would split up and enjoy as a family. We have great memories of sitting out on the cafe's patio, people watching and dipping the deep-fried cheesy meaty goodness that is a Disneyland Monte Cristo in jam for the irresistible sweet-savory combination we were all craving.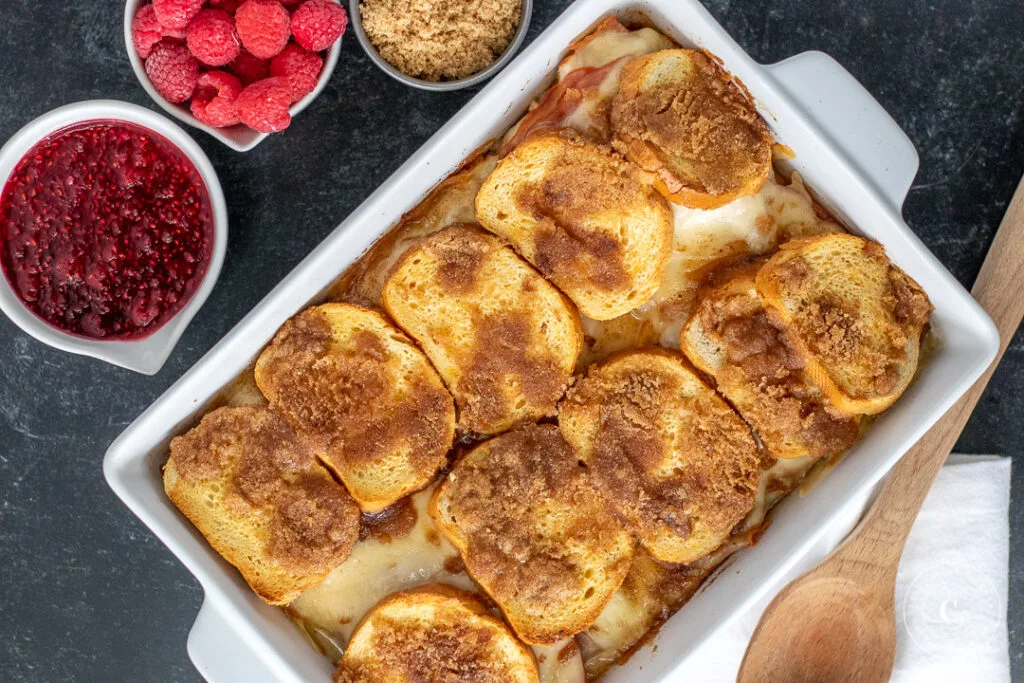 Is the Disneyland version a true Monte Cristo? I'm not quite a certified sandwich expert (I feel like I have to be getting close here, though), but I would say…sure. A Monte Cristo is essentially a variation on the traditional French croque monsieur, which is amazing if you haven't tried it (or, for an even more indulgent take, the croque madame, one of my personal all-time favorite sandwiches…), but dipped in egg or batter and fried (not necessarily deep-fried, but fried one way or the other). It has a bit of a French toast thing going on, more or less. The reality seems to be, according to a bit of Googling I did, that Disneyland had a major hand in popularizing this sandwich, offering it on their menu at the Blue Bayou since the mid-60's, so I think we'll call it legit.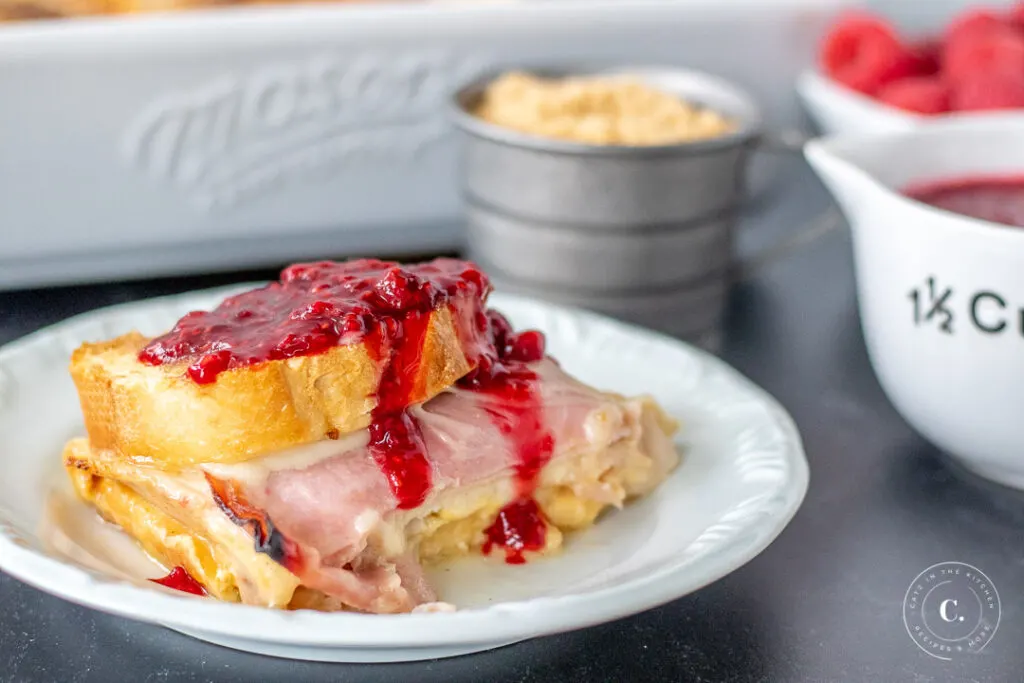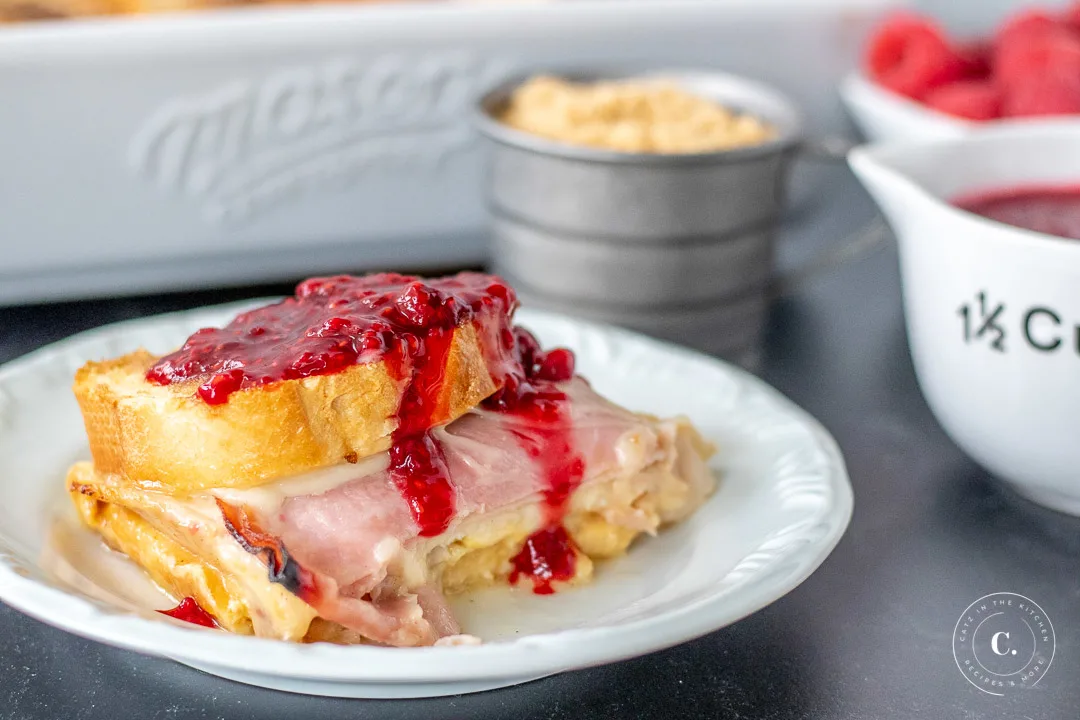 Regardless, this version is a quite non-traditional take! The creator of this recipe has ingeniously transformed the tastes and textures of the Monte Cristo into overnight casserole form, which makes it much simpler to prepare, somehow somewhat healthier (?!), and an easy choice for Christmas morning breakfast, should you so choose. A little prep the night before, a tiny bit of work morning of, and you've got a spectacularly tasty, not to mention quite appetizingly colorful, holiday brunch.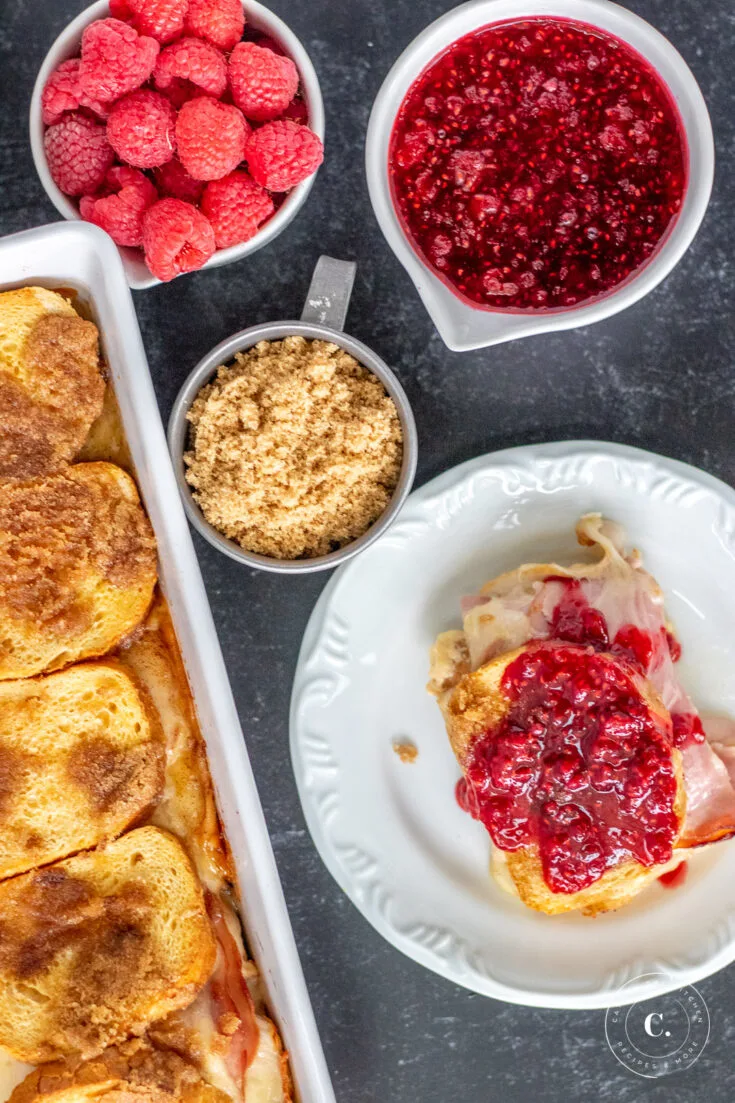 The way this ends up coming together, it's like 10 mini Monte Cristo sandwiches in a baking dish. As you slice into it for serving, you naturally cut between the pieces of bread, serving up a baked-together sandwich of French bread, ham, turkey, and Swiss, all pulled together by the egg mixture and a hint of dijon mustard. That in and of itself is delectable and indulgent, but when you drizzle the raspberry jam over it, you get that perfect sweet-savory combination that, for me and my family, brings back those memories of sitting out on the Cafe Orleans patio in the Southern California sunshine, watching the steamboat cruise by – a warm, welcome memory during cold and rainy winter mornings!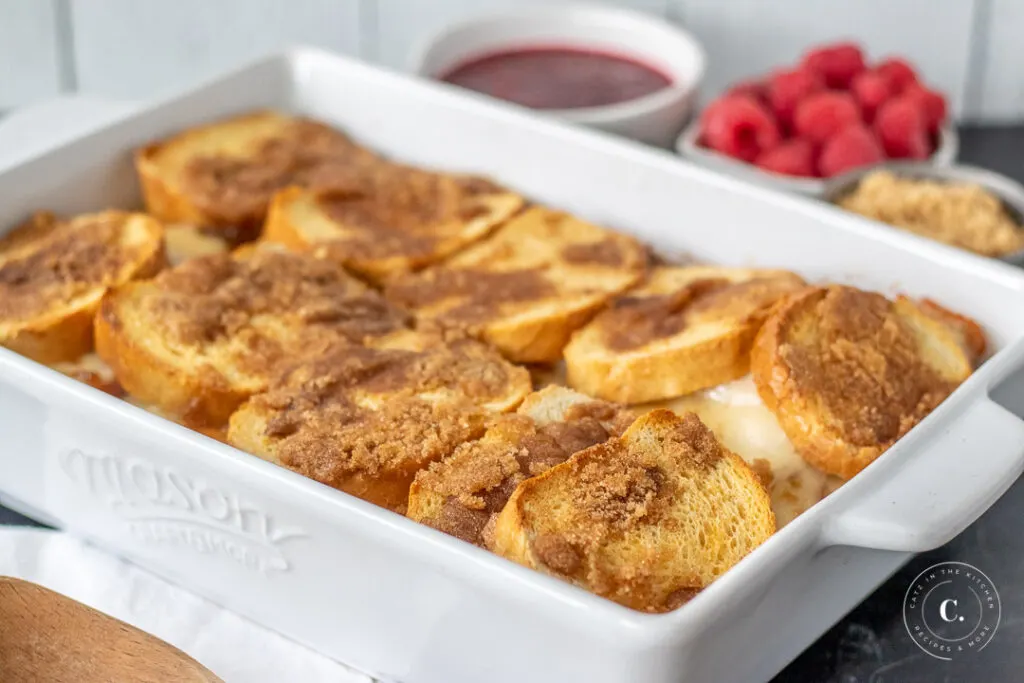 You can obviously enjoy this casserole anytime all year round, but I do think it has a special convenience for holiday mornings, and Christmas specifically. We like something yummy, warm, and indulgent for Christmas brunch, something that can be baking while we're going through the stockings, but also something that doesn't require much work. This one hits the sweet spot, with it's easy prep the night before, and simple topping and baking morning of. That said, if you aren't feeling the Monte Cristo vibe this year, give our classic overnight sausage egg and cheese breakfast casserole a peek, or perhaps something a little fancier, like this overnight eggnog pecan French toast or cranberry orange croissant French toast!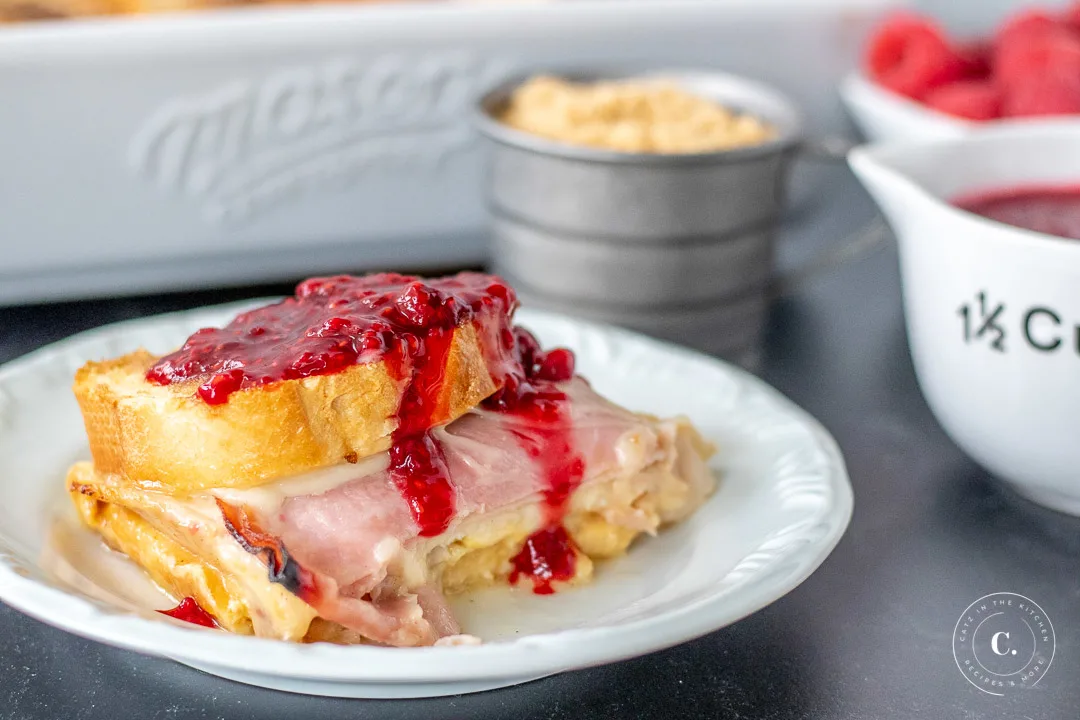 Overnight Monte Cristo Breakfast Casserole
Additional Time:
12 hours
10 minutes
This simple recipe for Overnight Monte Cristo Breakfast Casserole is the perfect choice for an easy holiday breakfast or brunch!
Ingredients
Casserole
1 loaf French bread, cut into 20 slices
2 tbsp dijon mustard
1/2 lb deli ham slices
1/2 lb deli turkey slices
1/2 lb Swiss cheese slices
1 1/2 cups milk
6 eggs
2 tsp sugar
2 tsp vanilla
Topping
1/4 cup unsalted butter, softened
1/2 cup brown sugar, packed
1/2 tsp cinnamon
Raspberry Sauce
2 cups raspberries (fresh or frozen)
1/4 cup maple syrup
1/3 cup sugar
1 tbsp cornstarch
1/4 cup cold water
1/4 cup lemon juice
Instructions
Lightly grease a 9x13 baking dish with cooking spray or equivalent. Layer 10 slices of bread in the bottom of the pan. Spread mustard over the bread, and then layer ham, cheese, and turkey on top, followed by remaining 10 slices of bread.
Whisk eggs, milk, sugar, and vanilla together in a large bowl and then pour over the top, evenly coating the bread. Cover and refrigerate overnight.
The next morning, preheat the oven to 375 degrees. Meanwhile, remove casserole from refrigerator.
Mix topping ingredients together in a small bowl, and then sprinkle over the casserole. Bake uncovered for 30-40 minutes, or until golden brown.
While casserole is baking, combine sugar and cornstarch in a small saucepan. Add lemon juice, water, and maple syrup, stirring together until smooth. Add the raspberries and bring the mixture to a boil. Cook until thickened, stirring frequently (about 2 minutes). Allow to cool slightly while casserole finishes baking.
Let casserole stand for 10 minutes before serving. Drizzle each piece with raspberry jam.
Notes
Original recipe by Mary Steiner of Parkville, MD, as published in the Dec 2018 edition of Taste of Home Magazine.
Nutrition Information:
Yield:

10
Serving Size:

1
Amount Per Serving:
Calories:

473
Total Fat:

18g
Saturated Fat:

9g
Trans Fat:

0g
Unsaturated Fat:

7g
Cholesterol:

170mg
Sodium:

1035mg
Carbohydrates:

55g
Fiber:

3g
Sugar:

28g
Protein:

24g
Nutrition information isn't always accurate.