This baked cranberry orange croissant French toast is one of those dishes that comes out gourmet-looking and sophisticated, but is actually absurdly simple!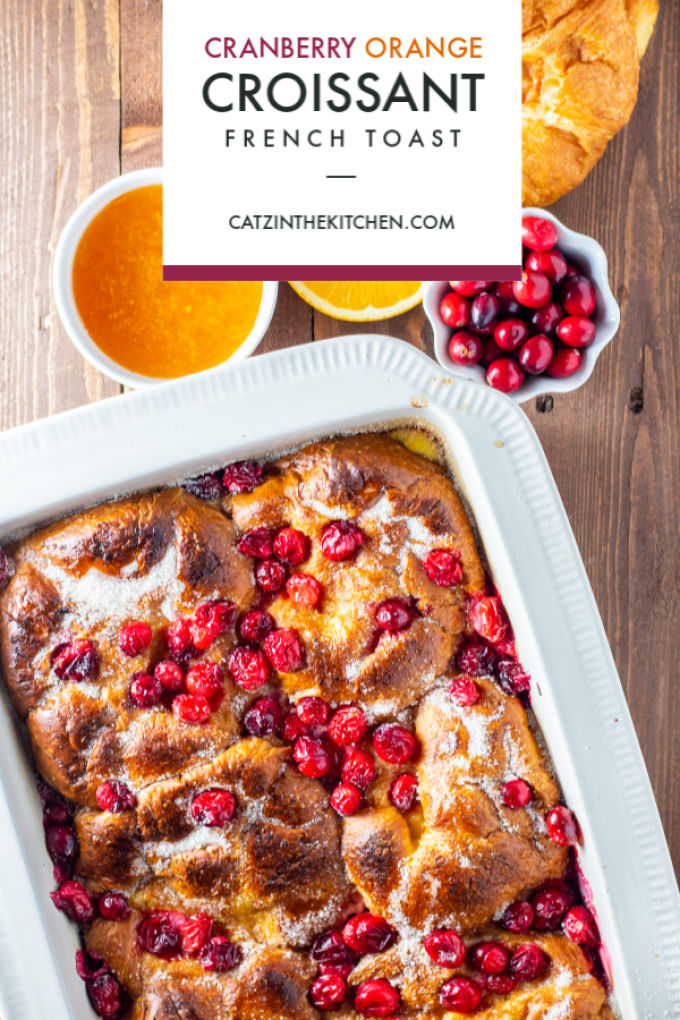 Let's talk Christmas breakfast. Or Christmas brunch, as the case often is. Or, you know what, let's not keep it that narrow. Let's say just any holiday morning meal situation that happens during the fall and winter-ish months. Whether you're feeling festive, feeding visiting relatives, or just looking for a warm, easy way to get your own little fam some tasty brunch, this cranberry orange croissant French toast is an excellent choice.
We have a traditional Thanksgiving / Christmas breakfast option that we normally go with, a simple recipe I grew up on and still cherish, this ever-popular overnight sausage egg and cheese breakfast casserole. We make it pretty much every Thanksgiving and Christmas morning, but sometimes you've got to shake things up. Chels came across this recipe for croissant French toast (which we've ordered at restaurants occasionally), delectably enhanced with a bit of citrus flavor, and thought…wouldn't this be a great holiday dish if there were some cranberries involved? (We love cranberries.)
When I say this dish is simple…I mean, like, unbelievably so. It's tasty and sophisticated and oh-so-tasty when complete, but the process of whipping up this little brunch delight is outrageously uncomplicated. Everyone can (and should) make this at some point this holiday season!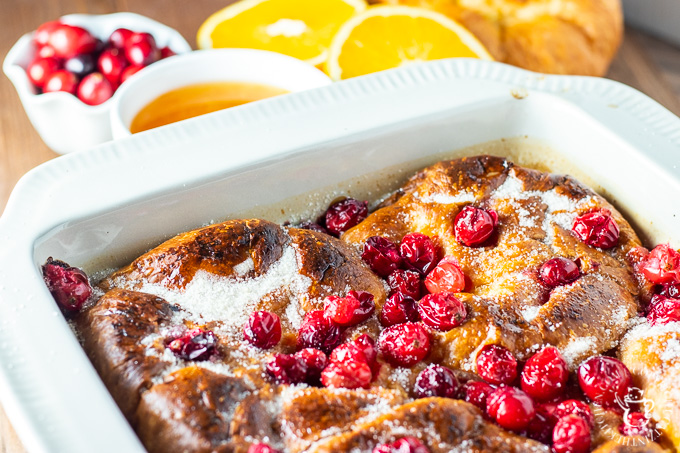 How easy is this dish to put together? Um…it's a little ridiculous. You put the croissants in the baking dish. Yep, that part's rough.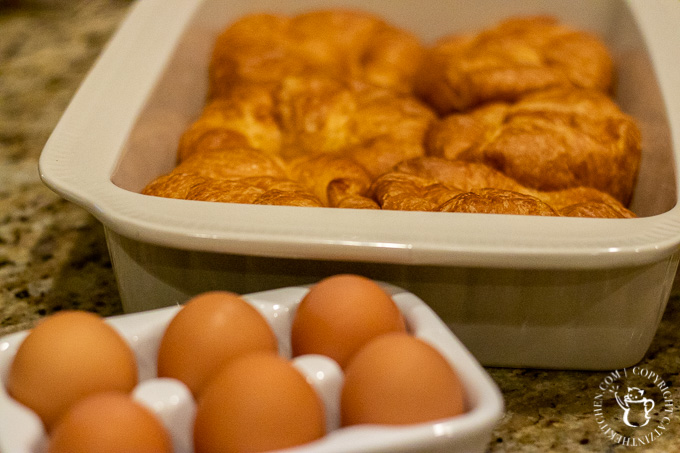 You do have to whip up an egg mixture, so if whisking isn't your thing, find a friend. But it's easy. If you can make scrambled eggs, you can do this. After you've whisked it up, you pour it over the croissants and put them in the fridge. Takes classical French training, obviously.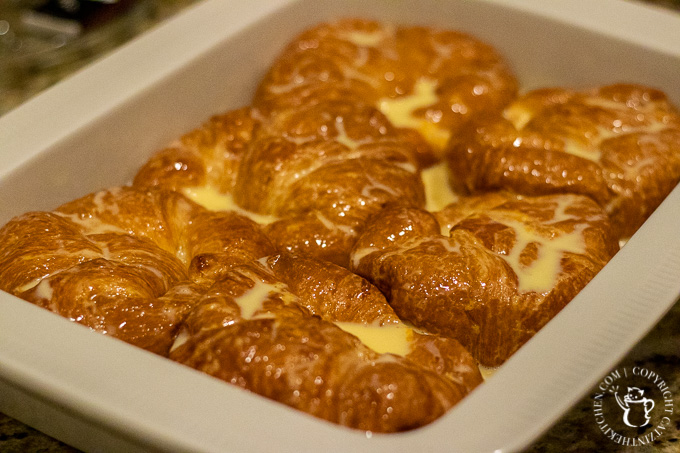 After about an hour in the fridge, you top it with cranberries and bake it in the oven. This, of course, involves the very delicate and highly technical process of preheating the oven, opening the oven, and closing it again. You can do this. I have faith in you.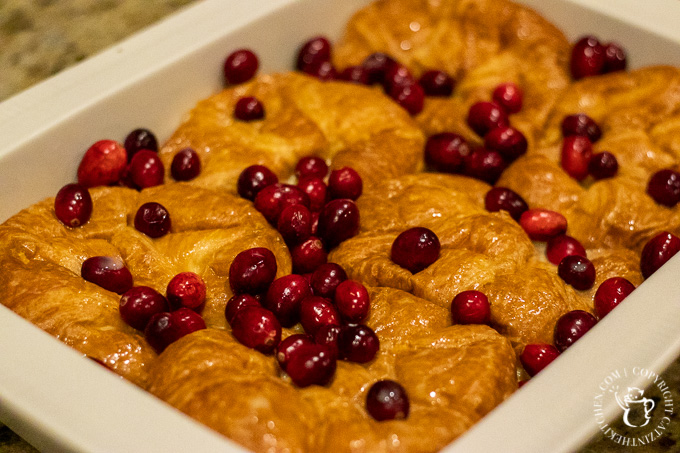 When it comes out of the oven, you broil a bit of sugar on top of it, and then mix together some marmalade and water and put it in the microwave. I don't care what your level of culinary experience is…pretty sure you can operate the microwave.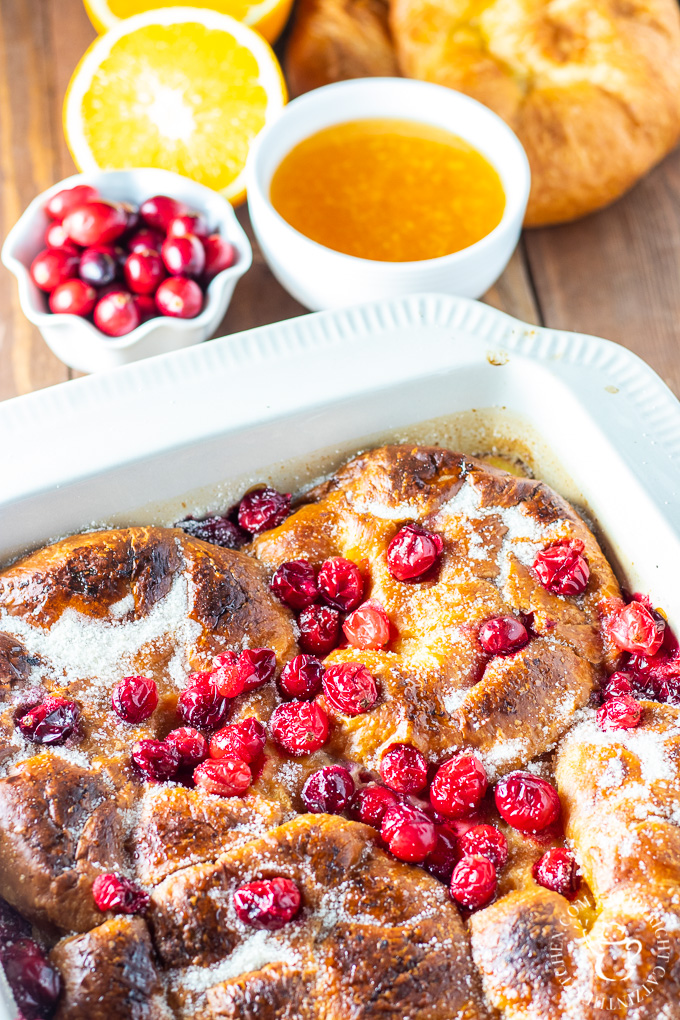 And that's it! This absurdly simple recipe yields what I would describe as a restaurant-quality, bright, cherry, festive croissant French toast dish that will serve a crowd, is easy to double or triple as needed, and is just tasty as all get out. If you're hosting company this year, or just looking for an easy way to bring a little fun and color to your holiday brunch…go get yourself some croissants and bake!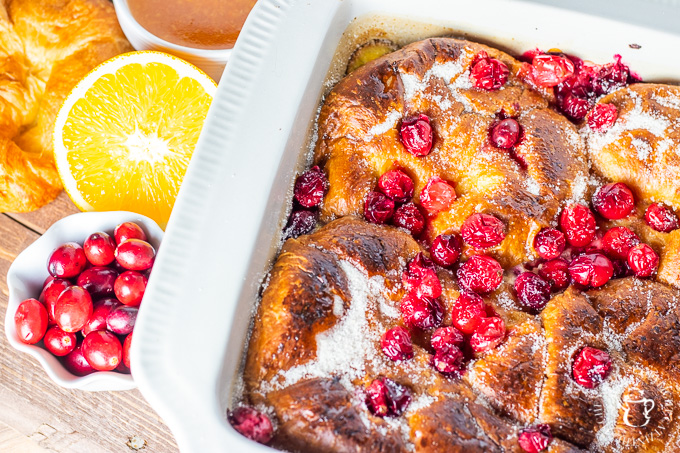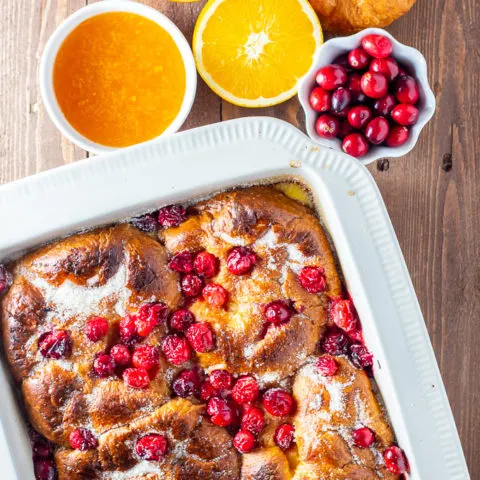 Cranberry Orange Croissant French Toast
This baked cranberry orange croissant French toast is one of those dishes that comes out gourmet-looking and sophisticated, but is actually absurdly simple!
Ingredients
5 large eggs
1/4 cup sugar, plus one add'l 1 tbsp sugar
1 1/2 cup whole milk
Grated zest of 1 orange
3 tbsp fresh orange juice
1 cup cranberries
1 1/2 tbsp vanilla extract
6 croissants
1/2 cup orange marmalade
Instructions
In a large bowl, whisk together the eggs, milk, orange zest, 1/4 cup sugar, vanilla, and orange juice.
In a 9x13 baking dish, place the croissants in a single layer, squeezing together as necessary to make them fit.
Pour the egg mixture evenly over the croissants, and place a plate or pan over the top to keep them submerged. Place in the refrigerator for a minimum of 30 min, but up to an hour.
As you get to the end of the soaking time, preheat the oven to 350 degrees.
Removing the plate or pan from the top of the croissants, sprinkle the cranberries on top, cover the baking dish with foil, and place in the oven. Bake until the egg mixture is set, or about 40 min.
Once set, remove the dish from the oven and preheat the broiler. Sprinkle the remaining sugar on top of the croissants and broil for about 2 min, until the sugar is slightly bubbly.
While the croissant French toast is broiling, whisk the marmalade with 1/4 cup water in a small bowl that is safe for the microwave, and then microwave until warm (a minute or two).
Serve French toast immediately, with orange syrup on the top or on the side.
Nutrition Information:
Yield:

8
Serving Size:

1
Amount Per Serving:
Calories:

380
Total Fat:

15g
Saturated Fat:

8g
Trans Fat:

0g
Unsaturated Fat:

6g
Cholesterol:

155mg
Sodium:

311mg
Carbohydrates:

51g
Fiber:

2g
Sugar:

31g
Protein:

10g