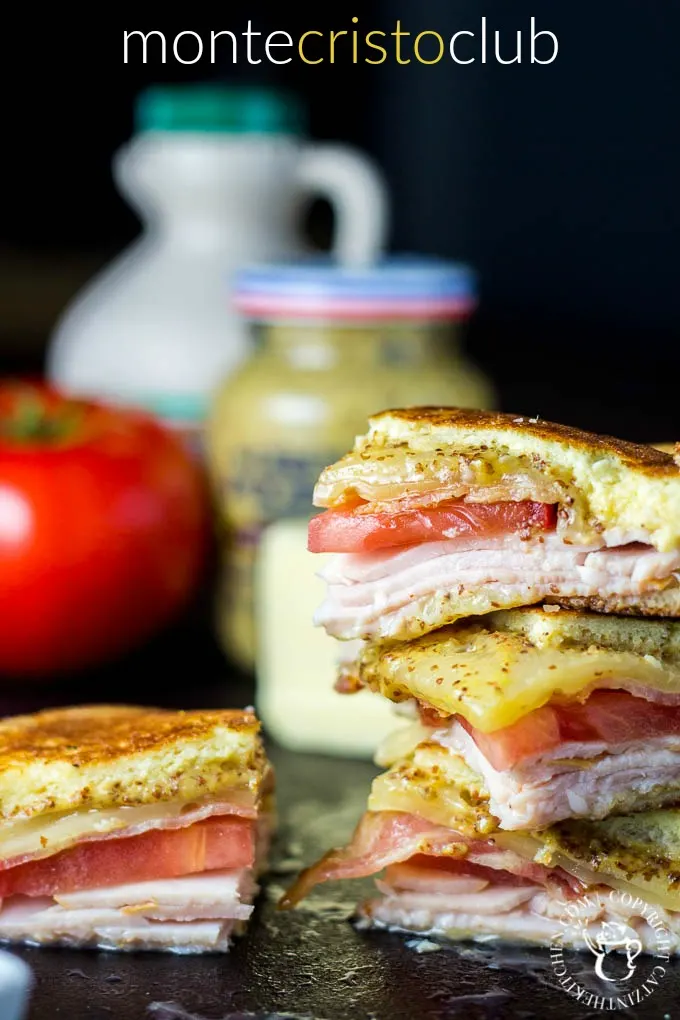 Well, it appears we're on a bit of a sandwich kick! Last week, the Philly Cheesesteak Panini, and this week, the Monte Cristo Club! It's fine with me. I love a good sandwich, in virtually any variety. However, I am perhaps overly partial to hot sandwiches, for whatever reason. Maybe it's the gooey, melted cheese, the crisped, warm bread, or the way the tomatoes burst with moisture when heated.
Whatever it is…I'm a fan.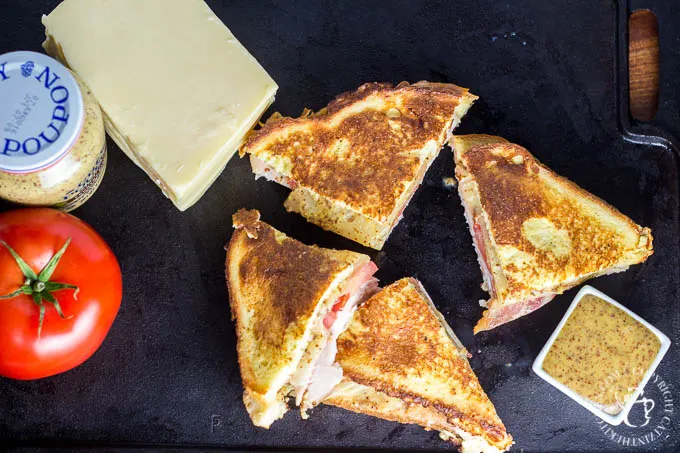 Of course, the wonderful thing about sandwiches is the absolutely endless possibilities. Bacon? Tomato? Mustard, in dizzying varieties? Turkey? Eggs? Swiss cheese? White cheddar?
Maple Syrup?
You'll find all of those things (or most of them, anyway) in this delectable little creation. It's one of Rachael Ray's infamous thirty minute meals, and it is both efficient and spectacular.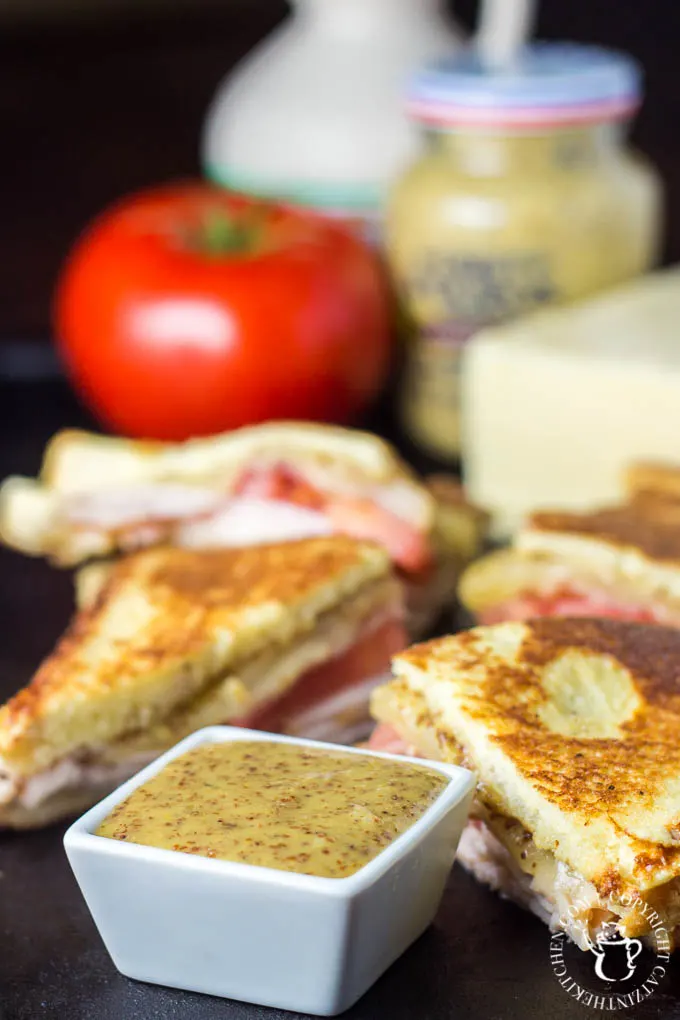 The sandwiches are great, but it's the mustard sauce that really makes this delectable little morsel. It's dijon mustard and maple syrup. Not the sugary "maple syrup" substitute brown food coloring stuff…real maple syrup. It's not as expensive as I always thought, and it's worth every penny…and then some.
At any rate, if you're in the mood for a savory / sweet lunch or dinner that you can make in half an hour for as few or as many people as you want…look no further.
YUM.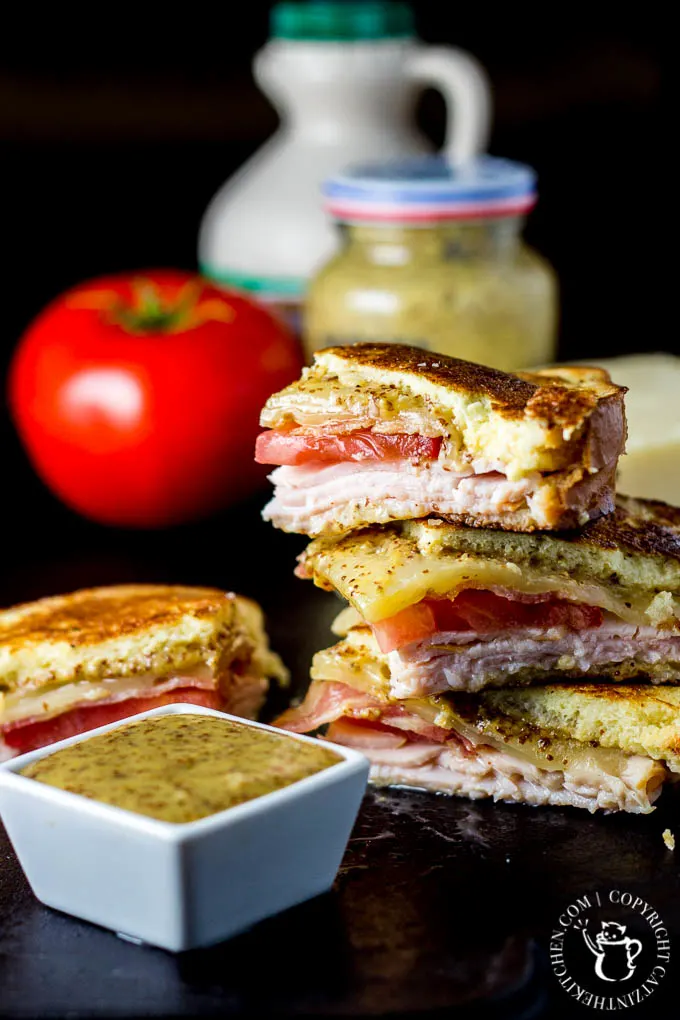 Monte Cristo Club
These Monte Cristo Club sandwiches are quick, easy, craveable, and oh, so, yummy in their savory sweet goodness.
Ingredients
1 lb bacon
1/2 cup dijon mustard
3 tbsp real maple syrup
5 eggs
1/2 cup half and half
8 (1/2-inch thick) slices country style white bread
8 slices white cheddar
1 lb sliced turkey breast, from the deli
1 large tomato, sliced
8 slices Swiss cheese
2 tbsp unsalted butter
salt and pepper to taste
Instructions
Mix the mustard and the syrup in small bowl.
In a shallow dish or baking pan, whisk the eggs and milk together, and then season with salt and pepper to taste.
Spread the maple mustard mixture on one side of each of the pieces of bread. Top four of the slices of bread with two of the slices of Swiss cheese, two slices of cheddar, one quarter of the turkey, one quarter of the bacon, and one slice of tomato. Top with the remaining slices of bread.
Melt the butter over medium heat on a skillet or griddle.
Dip the sandwiches in the egg mixture until well-coated, then place on the griddle and tent with foil.
Grill for about three minutes, or until the bread is browning and the cheese is melted.
Cut in half and serve immediately.
Notes
Nutrition Information:
Yield:

4
Serving Size:

1
Amount Per Serving:
Calories:

1372
Total Fat:

95g
Saturated Fat:

42g
Trans Fat:

1g
Unsaturated Fat:

45g
Cholesterol:

541mg
Sodium:

4782mg
Carbohydrates:

33g
Fiber:

3g
Sugar:

17g
Protein:

93g
Nutrition information isn't always accurate.